- By Aurel Bacs
A while ago I came across an advertisement for the Swiss lottery company and it said something that seemed at first sight quite banal. In big letters were written the words "winner" and "participant", and the ad stated: "We guarantee that every single winner was a participant."

At first I thought they meant that every participant was guaranteed to win something, but of course what it really meant was that you could not win if you did not play. This is how I view no reserve lots at auctions.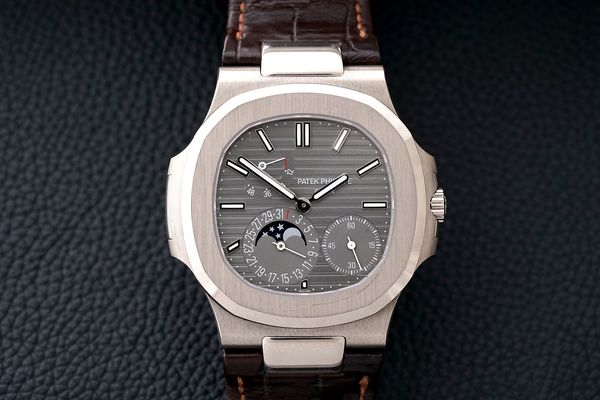 Lot 169 - One of the no reserve lots of The Geneva Watch Auction X, a white gold Patek Philippe Nautilus Reference 5712G with an estimate of CHF 30,000 - 60,000
A no reserve lot is a watch that is offered without a reserve price being set by the owner, meaning that whatever the highest bid his or her watch receives during the auction will be the final price achieved by the watch, even if that bid falls short of our catalogue's low estimate.
Technically speaking, if a gold Rolex Daytona is sold without reserve, it could be sold for CHF 1,000. Of course, that is a hypothetical scenario. It is the consignor's hope, and the auction house's mission to expose the lot to the largest possible crowd in order to achieve the highest hammer price. Does that always happen?
Intriguingly, clients often say about no reserve lots: "I'm sure I won't win the watch because there will be hundreds of collectors bidding on it," and often this is followed by a confession. "This is why I am not going to bother bidding on this lot," they say.

In my view a collector who sees a no reserve lot that way hasn't thought it through because if everyone thought that way, then no one would actually bid. Following that logic, he or she actually has a great opportunity of getting the watch for a steal.
Another interesting point is that in Switzerland a lottery ticket costs a few Francs, whereas leaving an absentee bid or an advance bid online has absolutely no cost associated - other than a few minutes of one's time to fill a registration form.
Chances to win a gold Rolex Daytona at CHF 1,000 are remote, I agree, but you never know, you may be surprised by the outcome of the auction.
Another question clients have is, why are watches sold without reserve? Somehow, in many collectors' minds, no reserve watches are the leftovers from a collection, unwanted watches below a certain threshold. I don't agree with that assessment and in particular see it very differently when looking at the upcoming Phillips Geneva Watch Auction X, where almost 1 in 10 watches is offered without reserve.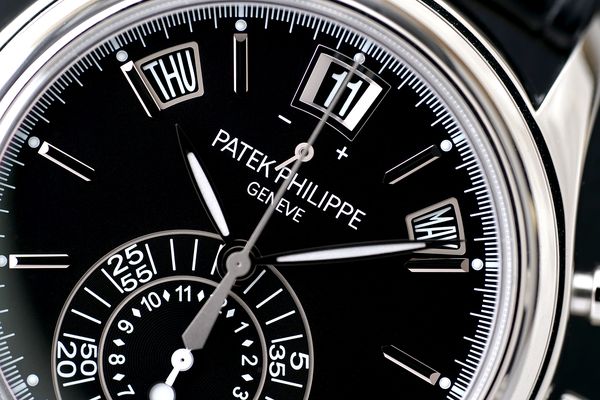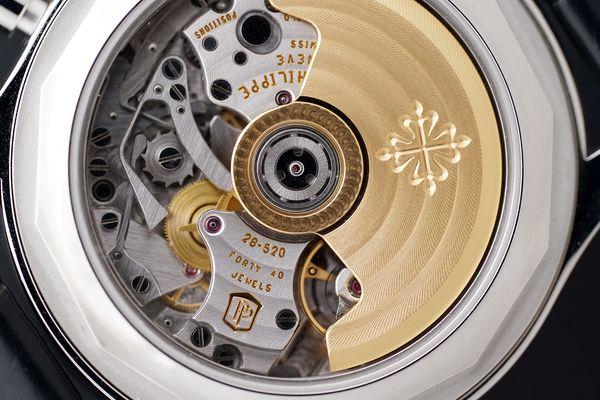 Lot 273 - Sold without reserve, this very rare and attractive Patek Philippe Ref. 5960 annual calendar, in platinum, bears the prestigious Patek Philippe Seal specifying a movement tolerance of no more than -3/+2 seconds per day.
No reserve consignments are often set by consignors who have decided that they want to move on - possibly to buy something else - and do not find it dramatic if their watch falls a little short of its true market value, sells for exactly what everyone believes it is worth, or exceeds it!
They're watches that are no longer coherent with the collector's tastes, watches that simply should not return home, and where the expected future funds are mostly already for another acquisition in the collector's mind - consequently an unsold lot would defy the purpose of the consignment much more than potentially falling just short of reasonable expectations.
Such is the case of a young man, who consigned two Hublot Big Bang models, that he acquired at a time when he was massively into Soccer, hence the set of limited edition models made for Diego Maradona and "Association Suisse de Football" (Swiss Soccer Association), Lot 148 of our sale.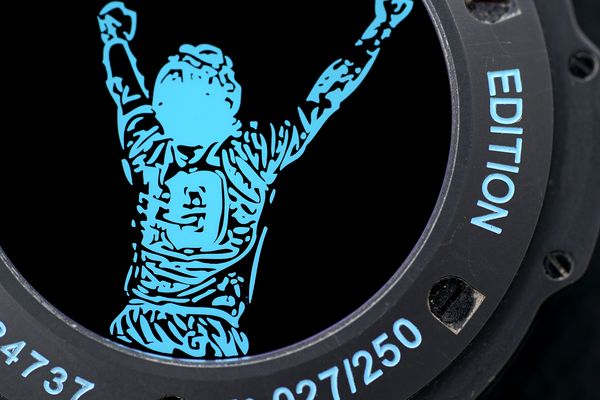 Lot 148 - A pair of football (soccer) themed limited editions by Hublot
These collectors simply accept the verdict of the market on the night of the auction as final. The truth is, they have often moved one from the watch the moment it was consigned and entered into an auction catalogue.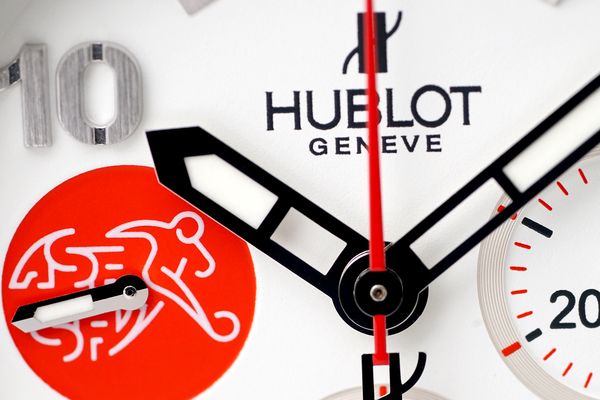 Lot 148 of The Geneva Watch Auction X
When I look at The Geneva Watch Auction X, I am amazed to see a variety of watches, in both price points and styles, that are clearly marked as no reserve lots. By the way, no reserve lots are easily identifiable in our printed and online catalogues as they feature a small dot next to their estimates as well as the following statement, in red lettering, at the bottom of the page: "LOT OFFERED WITH NO RESERVE".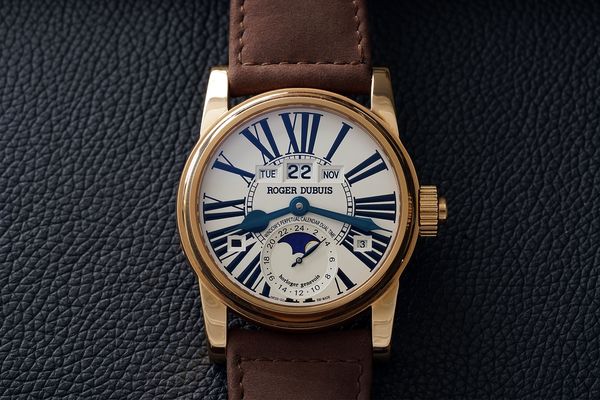 Lot 100 of the Geneva Watch Auction X
Our sale begins with a no reserve lot, and one that sets the tone for the others included in our sale. Lot 100 is indeed a pink gold limited edition dual time perpetual calendar made Roger Dubuis, a once independent watchmaker that is today a key member of the prestigious Richemont Group. In similar condition we have Lot 101, a rare and very attractive pink gold Panerai split-seconds chronograph limited edition. Numbered 222, it is part of a limited edition of only 300 pieces.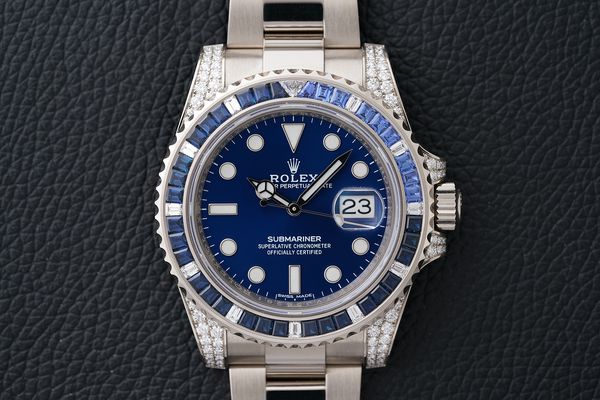 Lot 281 of The Geneva Watch Auction X
Another perhaps more surprising no reserve lot is Lot 281, a nearly mint condition sapphire-set Rolex Submariner made earlier this year and sold in boutiques worldwide for the equivalent of a new Porsche convertible.

And hardest to believe is our fantastic line-up of extremely desirable contemporary Patek Philippe wristwatches, including annual calendars (Lot 210), dual time chronographs (Lot 142), but also a number of very popular Nautilus models, such as the reference 5712 – in stainless steel (Lot 103) and white gold (Lot 169), in both cases sold with accessories but without any reserve.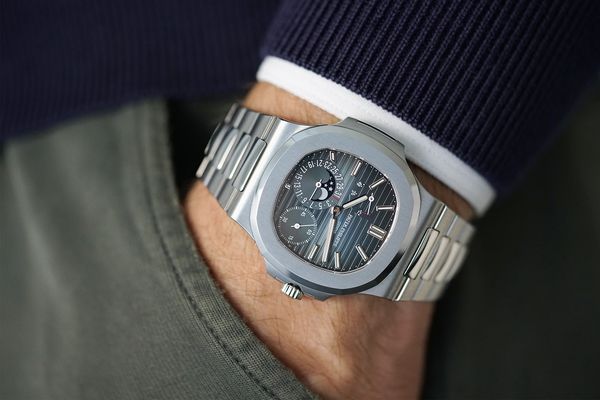 Lot 103 of The Geneva Watch Auction X - A no reserve Ref. 5712A in stainless steel
For lovers of vintage watches, and I am one of them, it is hard to resist our Lot 186, a literarily unworn and iconic Movado chronograph in pink gold, not only blessed with a famous and famously inverted in-house chronograph calibre 95M with the start-stop button at the bottom and the reset button at the top, but also a Taubert & Fils-made case that is second to none and on parity with Patek Philippe's reference 1463 chronograph (see Lot 179).

How much would you pay for a like-new Nautilus, or an exceptional pink gold vintage chronograph ? I know that you've got a number already in mind, but I don't understand why you haven't submitted it using our absentee bid form.

Make no mistake. All of these watches will be bought by November 9 and 10, but only by those who participated.