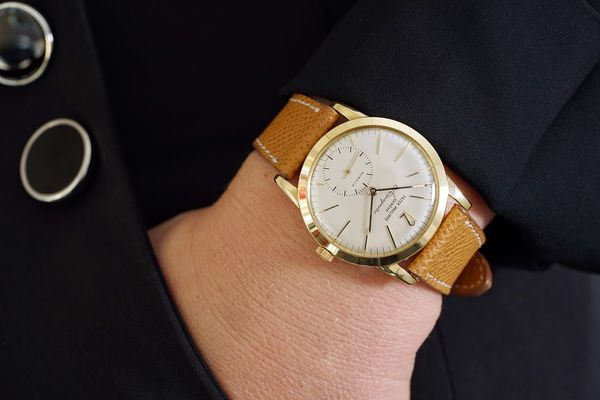 Lot 26 - Patek Philippe Amagnetic, sold by Gübelin
A new type of tool watch appeared on the market in the 1950s. Driven by newly available technology, the antimagnetic watch was a wristwatch that protected its movement when worn near strong magnetic fields. Since antimagnetic watches were destined for professional use, their design were often more sober, and the cases made with non-precious metals. I like tool watches a lot because they usually tell an interesting story as they are witnesses of the needs of their era. But I also love elegant and thin watches with refined dials, that are powered by beautiful mechanical calibers.
This is exactly what the present Patek Philippe 2570/1 is: a superbly designed yellow gold wristwatch, with an eye-catching "Art Deco" type elongated hour marker at 12, powered by the antimagnetic caliber 27AM400. The freestyle type of font used to print the name of the model "Amagnetic" on the dial is just like a subtle signature on a masterpiece. Height of refinement, this watch bears Gübelin's signature on its dial as it was sold there, and aficionados will be pleased to know that the retailer's service line is hand engraved inside the caseback. For me this watch is proof that a tool watch can be elegant - by Virginie Liatard-Roessli, Specialist, Head of Sale.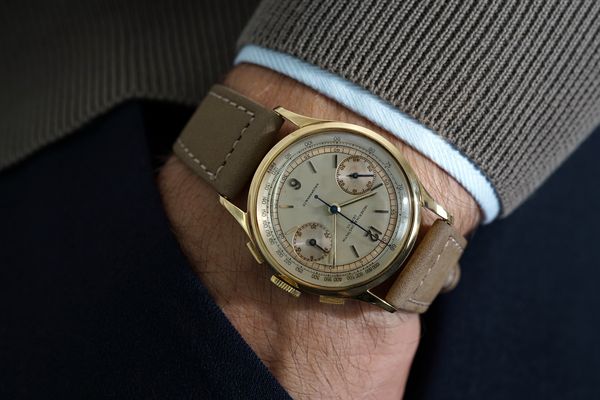 Lot 61 - Vacheron Constantin Ref. 4072 chronograph sold by Hausmann
Vacheron Constantin's vintage chronographs are in my opinion amongst the most beautiful on the market thanks to their perfect balance. The reference 4072 is the model that was in production for the longest, starting in 1930 until the late 1960s. The case design never changed, but the dials did, meaning the reference perfectly mirrored the changing styles during that period of watchmaking. The present example, made in 1941 for Rome's prestigious watch retailer Hausmann & Co, is a stunning example with its visually arresting three-tone dial and well preserved case - by Alexandre Ghotbi, Head of Watches, Continental Europe and the Middle East.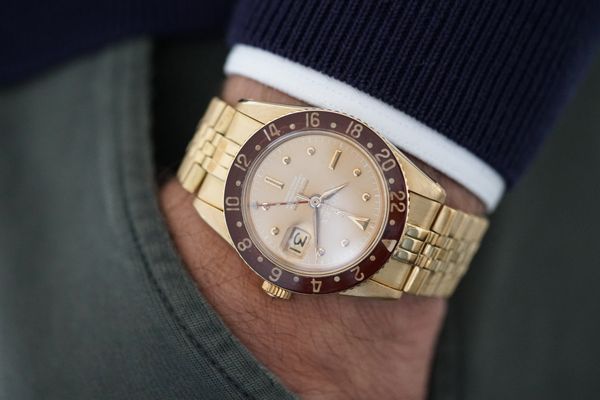 Lot 14 - Rolex GMT-Master Ref 6542 sold by Serpico Y Laino
One of the most important GMT-Masters to ever grace the auction market, this yellow gold is the only known and correct yellow gold reference 6542 retailed by Serpico Y Laino to ever appear in the public eye. Its state of preservation is exceptional. The retailer's signature is visible on the dial, and the bezel is intact, which is particularly impressive considering the delicate nature of bakelite. Most importantly, there are hallmarks on the case, which is a common feature of Rolex exports to the South American market. A beautiful "big logo" bracelet is yet another great detail. It is an honor to be able to present such an exceptional timepiece - by Tiffany To, Specialist.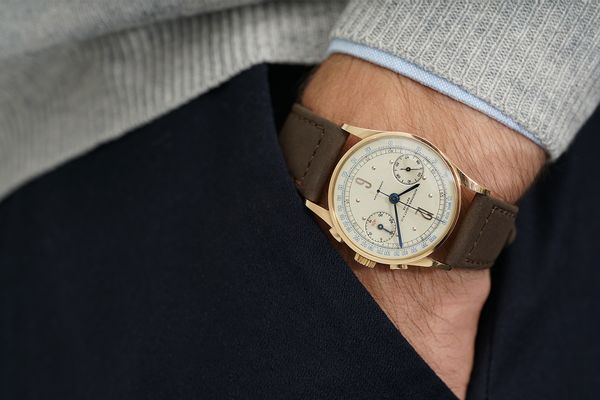 Lot 55 - Audemars Piguet chronograph, number 513, sold by Gobbi
If you know me, you know my obsession with mid-century Audemars Piguet wristwatches. Chronographs, triple calendars, you name it…these are some of the most well-made and TRULY rare timepieces. They also happen to be, objectively speaking, some of the most beautiful. I have shared my love for these before while covering Phillips auctions in the past so you can imagine how excited I am to be on the other side, presenting this pink gold Audemars Piguet chronograph, made in 1939, and sold by Milanese retailer Gobbi. The present watch has no reference number but is described in the Audemars Piguet archives as a watch corresponding to photo number 513, and is one of only three hundred or so chronographs made by the company between 1930 and 1962 - by Arthur Touchot, Head of Digital, Specialist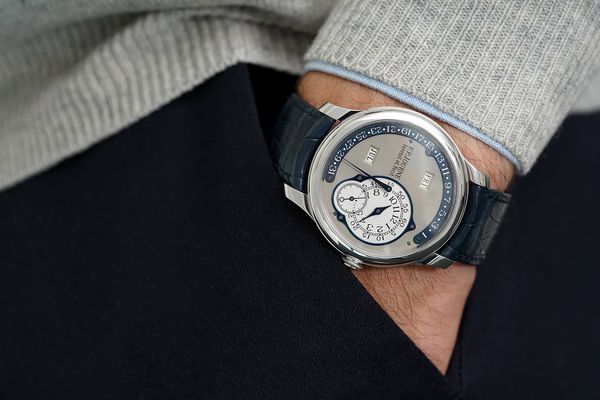 Lot 7 - F.P. Journe Octa Calendrier sold by William and Son to John R. Asprey
As a photographer, I do not have enough knowledge to talk about the historical watches in the auction, although their stories and anecdotes fascinate me. Therefore, I chose this rather contemporary watch for its design, the quality of its materials and the level of its finishing. For its platinum case, polished and bright with beautiful deep engravings on the back of the watch. And finally for its design, which is full of finesse and roundness with its slender hands and curved lugs. It was pleasure for the eyes and a pleasure to photograph! As for the pearly finish of the grey dial, it reminds me of the surface of the satin photo paper commonly used in the era of film photography.
The bottom of the watch reveals a movement dressed in Geneva stripes which subtly goes together with the finely guilloché rotor, and the signature of John R. Asprey. The relationship between its maker and its original owner is indeed quite significant, as I recently discovered on the watchmaker's website that François-Paul Journe had made the mechanism of a planetary clock commissioned by Asprey in 1979. He was only 22 years old at the time. What a genius! - by Clément Rousset, Photographer of the Double Signed catalogue.