Simone Leigh Shower Cap, 2013 (detail)
Simone Leigh's sculptural practice is gaining momentum. Following the institutional acclaim she has been receiving since her important solo shows held at the New Museum, New York, and the Hammer Museum, Los Angeles, in 2016, the artist has seen an unprecedentedly successful year unfold in 2019. She was included in the Whitney Biennial, had a solo show at the Solomon R. Guggenheim, and put up an unmissably monumental statue on the New York High Line, inaugurating the space's 'Plinth' program. For the program's first iteration, Leigh created an almost 5-meter-high bronze bust entitled Brick House; in its upper extremity, the sculpture boasts the gentle undulations of an anonymous woman's sensuous features, in its lower half, the figure's torso morphs into the shape of a skirt and a clay house. This season, Phillips is thrilled to offer Shower Cap, 2013, an exhilarating example from Leigh's sculpted oeuvre that echoes Brick House in its subject matter, and hails the artist's adroit conflation of tradition and modernity in its exquisite rendition.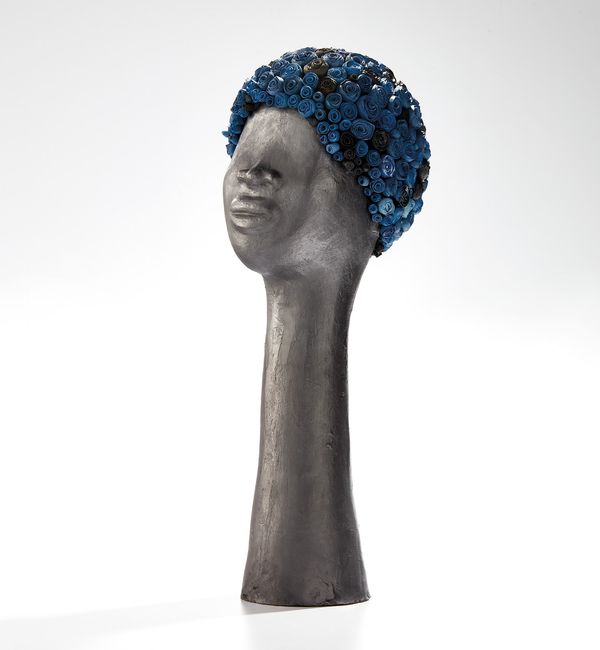 Simone Leigh Shower Cap, 2013
Keeping the viewer in a continued state of rêverie and fascination, Shower Cap is both visually and conceptually arresting. The figure's titular shower cap, endowed with an electric blue hue and adorned with myriad rosebuds, delicately crowns the anonymous woman's head. Through its improbable association with the traditionally sculpted silhouette, the item takes on layered meaning. On the one hand, it brims with chromatic energy, in stark contrast with the statue's pewter-black base; on the other, it touches on nautical notions that have historically been perceived as fraught and divisive. Indeed, while for one portion of society, swimming was seen as a luxurious and leisurely activity, it conversely signified danger – at times fatality – for unprivileged minorities. In this sense, Shower Cap pursues the thematic preoccupation Leigh began cultivating in the early 2010s with her series of aggrandized, porcelain cowrie shells. These were used to represent the worthless currency that Africans used to trade other Africans into transatlantic slavery, thus revealing a "relationship to oceanic trauma and the radical negativity of [an] exchange" (Malik Gaines, 'Simone Leigh by Malik Gaines', Bomb Magazine). Similarly, Shower Cap symbolizes paradoxical notions of beauty and injustice, majesty and tragedy, altogether plunging in an exploration of endlessly complex identity politics.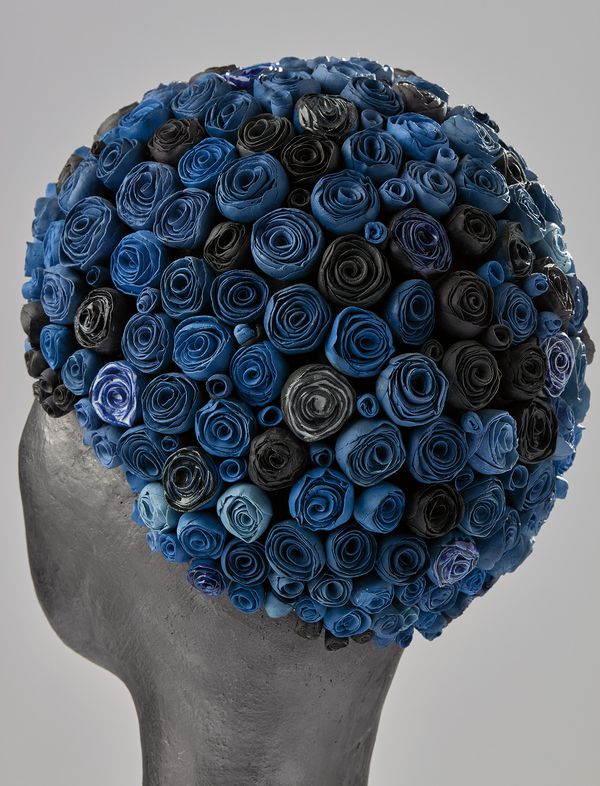 Simone Leigh Shower Cap, 2013 (detail)
Further touching on notions of black subjectivity, Leigh interrogates the voice and visibility of her sculptural figures, as she deprives them of key sensory features: their eyes and ears. A signature trait in Leigh's sculptural output, the removal of human orifices could – in line with the artist's thematic concerns – symbolize the loss of sentience imposed on black women in the face of systemic racial inequalities. Alternatively, and perhaps even more poignantly, the absence of senses could signify a form of liberation. As beckoned by Helen Molesworth in her raw, poetic and admiring Artforum essay, Leigh's large, anonymous figures are self-sufficient, living in their own internal worlds as if unbothered by the surrounding clamor. "They remain self-possessed, looking inward, contemplating and thinking things that I cannot fathom," she writes. In other words, Leigh conveys a realm where female figures are "sentinels holding space for a culture that is very much in the making, a culture in which whiteness is neither the center nor the frame" (Helen Molesworth, 'Art is Medicine', Artforum).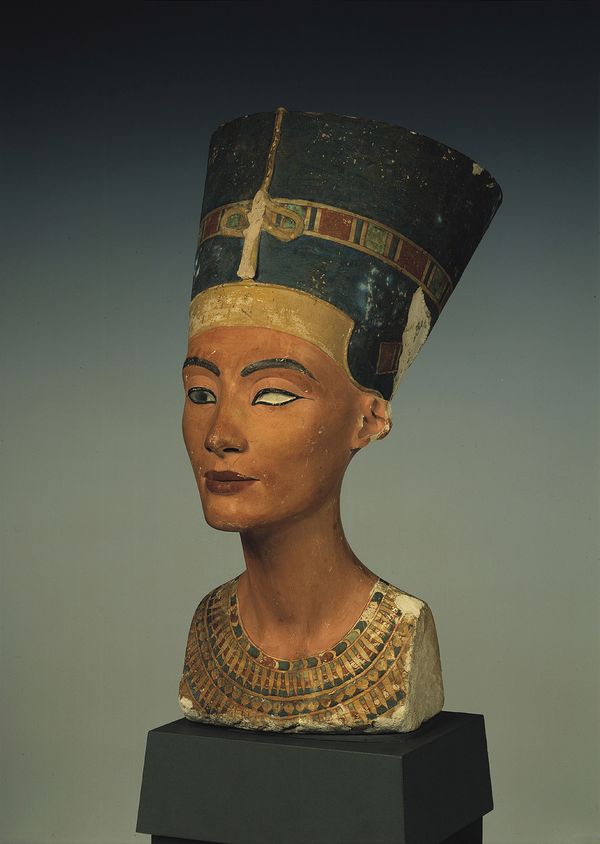 Bust of Queen Nefertiti from Amarna, Thutmosis's workshop, c. 1350 BCE, limestone and painted plaster, Aegyptisches Museum - Staatliche Museen zu Berlin. Image: Scala, Florence/bpk, Bildagentur fuer Kunst, Kultur und Geschichte, Berlin.
With her fresh artistic vision, Leigh endows sculpted silhouettes with an unflinching presence, a deep social and political countenance, a certain je ne sais quoi which leaves the viewer dumbfounded. Shower Cap does all this, while simultaneously inviting comparison with seminal statuesque archetypes such as the eminent Bust of Nefertiti, whose long, strong and graceful features similarly celebrate the supremacy of womanhood in a matrilinear context.