Bridget Riley, 1963. Photograph by Ida Kar.
Bridget Riley is one of the most prominent members of the Op Art movement, exploring the use of optical illusions to create the impression of movement, warping or hidden imagery within a work.
Riley was born in London, where her father worked as a painter and owned a local printing business. During World War II, she was sent to live in Cornwall with her sister and mother, and it was this rural seaside landscape that would go on to inspire her work throughout her life. Influenced by both her setting and her father's profession, Riley chose to study at Goldsmiths' College and the Royal College of Art. After her father was seriously injured in a car accident, she delayed her career to help support him, taking jobs as a teacher and commercial illustrator. A trip to Italy in 1960 reawakened Riley's creative spirit. Invigorated by discovering works in the Futurist genre, she returned to London with newfound clarity for what she wanted her artwork to achieve. She spent the early 1960s creating and refining her first pieces of Op Art, limiting herself to a pared-down color palette of only black and white.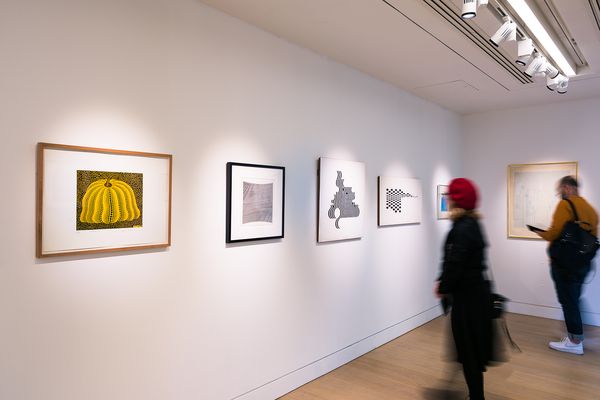 Three works from Riley's early oeuvre on display in Phillips' Berkeley Square galleries alongside Yayoi Kusama's Pumpkin 2000 (Yellow)
Executed in 1965, lots 28-30 from Evening & Day Editions in London are exemplary of Riley's early oeuvre. Rendered in black and white with repetitive shapes and hypnotic patterns, they all elicit the impression of motion as the eye travels across the composition. Even in their minimal simplicity, the rhythms and motions of the natural world are evoked.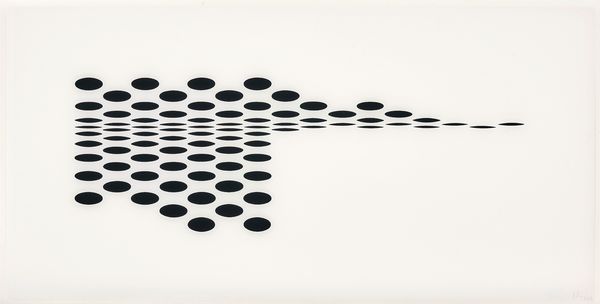 Bridget Riley Untitled (Fragment 7), 1965
Untitled (La Lune en Rodage - Carlo Belloli) oscillates as lines of varying girth travel across the surface; the piece simultaneously embraces its flatness while also implying depth through its shifting curves. Untitled (Fragment 7) evokes the motion of a waterfall, as flattened ovals appear to move back and then forward again, with uneven edges giving the stark composition a more organic feel.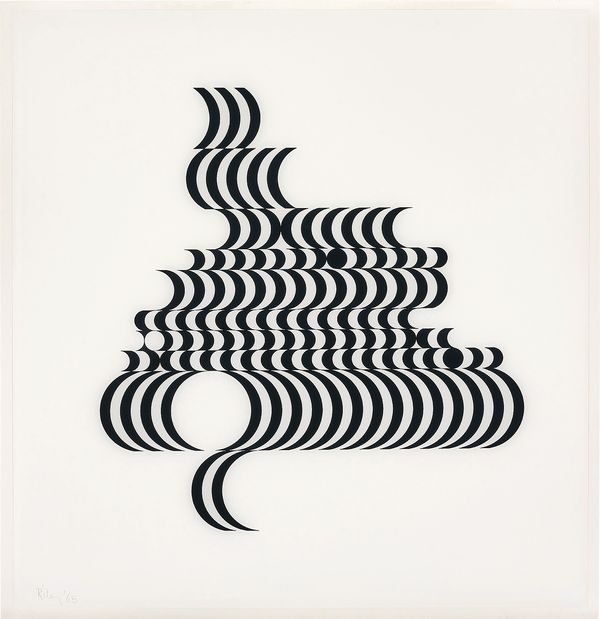 Bridget Riley Untitled (Fragment 2), 1965
Untitled (Fragment 2) bears unmistakable references to the Futurist work that Riley would have seen in Italy, which utilized repetitive, curving forms to suggest motion through both time and space in their subjects. Similarly, the crescents in Untitled (Fragment 2) move outward from the center in no clear pattern—turning, beginning and changing directions in seemingly random places. With figuration obscured, the sense of motion and passage of time grows in importance.
My black-and-white paintings had been about states of being, states of composure and disturbance, but when I introduced color in 1967 this began to change.
In 1967, a seismic shift occurred in Riley's work as she introduced color to her palette for the first time. Though examples of her early work show the clear Pointillist treatment of color, now Riley began to experiment with the combination of color, and the potential for narrative and emotion that it brings, and the precision and clean lines of Op Art. The artist recalled, "I had to give visual sensation more rein — my black-and-white paintings had been about states of being, states of composure and disturbance, but when I introduced color in 1967 this began to change. Color inevitably leads you to the world outside...I was beginning to find my way with a whole host of sensations to do with color." Often described as being rhythmic, or akin to a unique language, Riley's works in color deal less in creating optical illusions and instead focus on the psychological effects of color.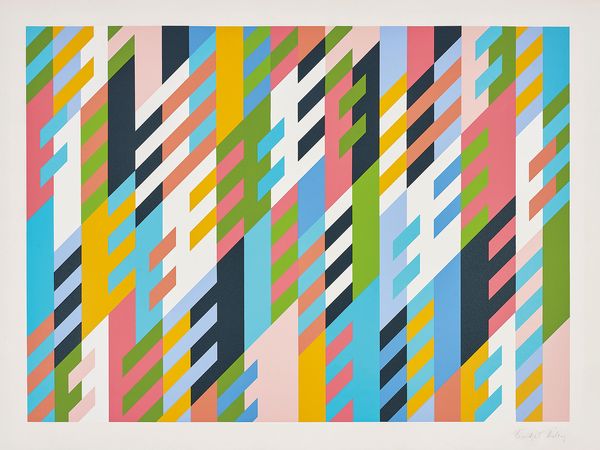 Bridget Riley New Day, 1988/1992
New Day comes from Riley's series of "Rhomboid" compositions executed in the mid-to-late 1980s and early '90s. Moving away from the lines and primary shapes that defined her earlier work, these works emerged as the artist sought to find new ways to generate interaction between colors. In this work, the distinction between color and shape falls away, each leaning on the other for definition on the same plane. Notably, Riley's 1988 painting of the same name was featured in her 2008 retrospective exhibition at the Musée d'Art Moderne de la Ville de Paris.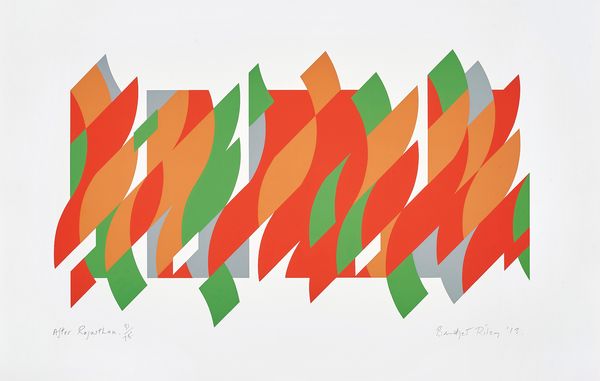 Bridget Riley After Rajasthan, 2013
Lots 168, 169 and 170 are all examples of Riley's "Curve" compositions. Using arabesques as the base shape, they belie the constant preoccupation with motion in Riley's work. Perhaps one of the most literal interpretations of her childhood spent by the sea, Riley reflected, "The sensations [the curve paintings] belong to all of us...those sensations of shine and shimmer are amongst our most common visual experiences. By recognizing that what I had brought about in a purely abstract context was something that, in ordinary life, we share, though mostly unconsciously, it, therefore, became valid."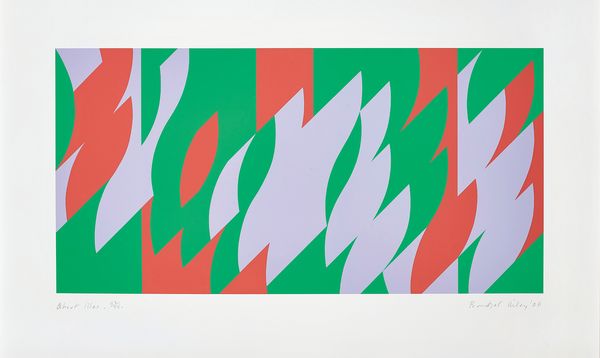 Bridget Riley About Lilac, 2007
Today, Riley continues to live and work in London and Cornwall, as well as Vaucluse, France. As one of the most important living British artists, Riley has been the subject of numerous solo and group exhibitions at famed institutions like the Tate and the Serpentine in the United Kingdom as well as Dia:Chelsea in the United States.