It was love at first sight.
According to Chaumet's records, Tukoji Rao Holkar III, Maharaja of Indore, visited their Paris Salon on October 1st, 1913. He was shown "two magnificent and inseparable pear-shaped diamonds of 46.70 and 46. 95 carats," along with a modern drawing of a lavalier necklace, all for the asking price of more than 231,000 Francs. Captivated by the diamonds' innate beauty, impressive size and high quality, the Maharaja returned the next day to purchase the splendid necklace, which was sent to him two weeks later.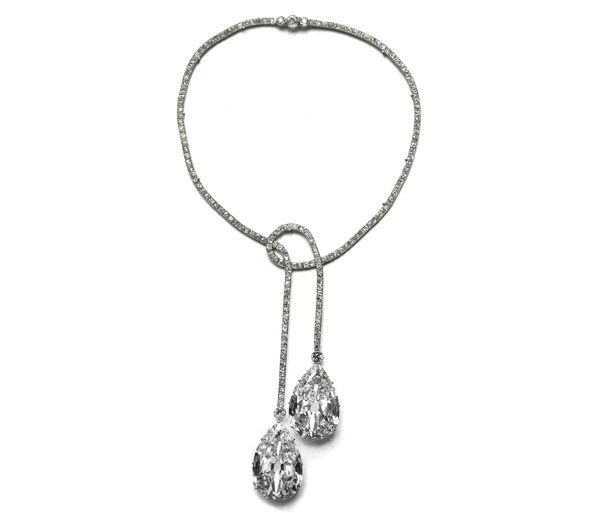 The world was changing, and the evolution of design and fashion were deeply interwoven. The first quarter of the 20th century saw enormous innovation as the desire for majestic and breathtaking creations increased with the growing number of affluent patrons, royalty and newly moneyed tycoons. While most of the Maharajas were interested in transforming their old jewelry into current fashion, this purchase from Chaumet reflects a sophisticated interest in departing from color and embracing modern, elegant designs.
Yashwant Rao Holkar II was the only son of Tukoji Rao Holkar III. Educated in England and well-traveled across Europe, he also brought a modern perspective, understanding the attraction to this emerging paradigm. During his studies in the 1920s, Yashwant Rao befriended like-minded German architect Eckart Muthesius, who he hired to create the furniture and decorations of the Manik Bagh Palace or "Garden of Precious Stones." This past June, Phillips sold an important and beautiful sideboard from the palace's banquet hall.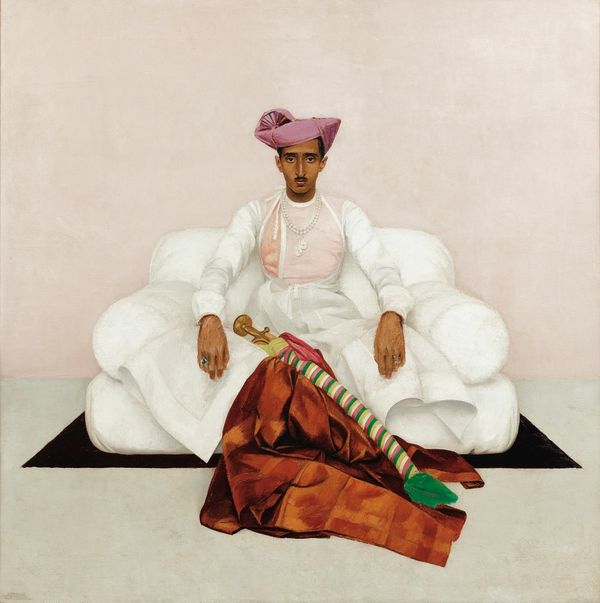 Oil-on-canvas painting by Bernard Boputet de Monvel, circa 1933-34, depicting Yashwant Rao Holkar II wearing the Chaumet necklace with traditional dress
The Maharaja, who succeeded his father at the age of 17 in 1926, and his first wife, Shrimant Akhand Sahib Soubhagyavati Sanyogita Bai Holkar, also educated in England, were undoubtedly attracted to the changes brought by Cubism; examples of this modern taste were reflected in their furnishing, artwork and jewelry. Perhaps this is why they sought the Parisian jewelry house of Mauboussin, in 1931, to update the graceful necklace by Chaumet. Acknowledged for their modern designs, Mauboussin had received awards in 1924 at the French Exhibition in New York, the gold medal in 1925 at the International Exhibition of Modern Decorative and Industrial Arts, and again in 1929 and 1931 for their outstanding creativity. Perhaps this is why, in 1933, Mauboussin was officially appointed purveyor to Yashwant Rao Holkar, the Maharaja of Indore.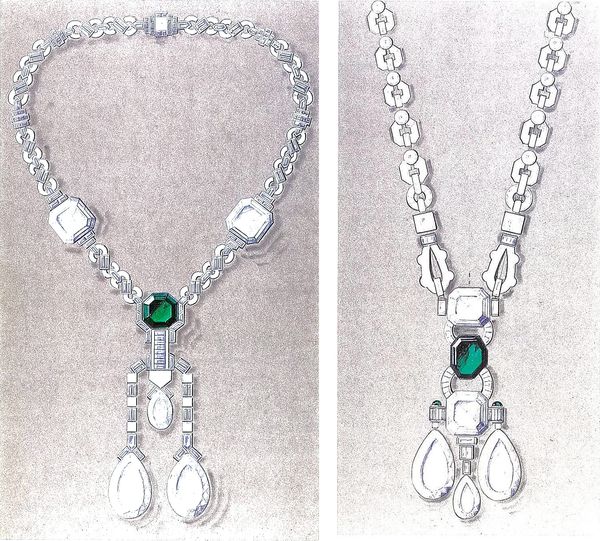 Mauboussin sketches for a ceremonial necklace commissioned by the Maharaja of Indore with supplied pear-shaped diamonds, 1938
Society portrait painter, Bernard Boutet de Monvel, was commissioned to capture this transformation. One image portrayed Yashwant Rao Holkar II wearing the Chaumet necklace with traditional dress, while the other of Maharani Sanyogita Bai Holkar showed her dressed in the vogue style of the 1930s, bejeweled with an important emerald and diamond sautoir suspending the remarkable Indore pear-shaped diamonds.
The next transformation along the journey of the Indore Pears came in 1946 when they were purchased by Harry Winston, known for his innate ability to recognize and bring to life the exceptional qualities of gemstones. Under his skillful eye, Winston recut the diamonds to 44.14 and 46.39 carats and retained them in his personal collection. In 1949, Harry Winston launched the Court of Jewels, a national traveling exhibition to educate the American public. Aside from the Indore Pears, other natural and historic wonders included 72.20 carat Idol's Eye, Catherine the Great's emerald, an important 337-carat sapphire and the Hope Diamond. A record number of visitors attended this exhibition, and Winston donated admission fees to two charities—The United Hospital Fund and March of Dimes.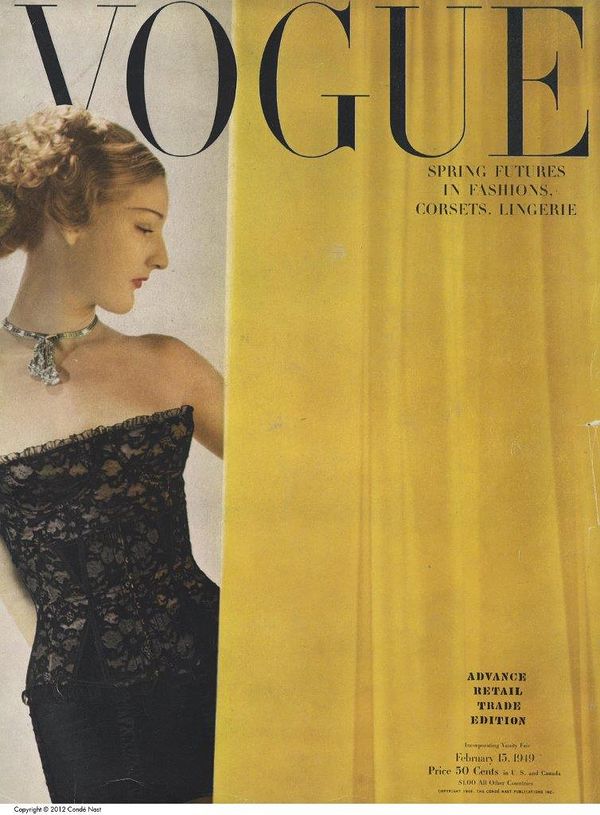 Cover of Vogue, February 15, 1949, showcasing a model wearing the necklace created by Harry Winston with French lace bustier by Pauline Gordon
Harry Winston designed a baguette-cut diamond necklace suspending the Indore Pears, selling it in 1953 to a client from Philadelphia. The piece was returned to Winston in 1958 then resold to a client in New York. After returning again to Winston, he then sold this jewel to a member of a royal family before the diamonds found their way to auction.
Today, these rare and beautiful historic diamonds are set as a pair of pendant earrings within the Robert Mouawad Collection, among the most important gem collections in the world, established in Lebanon in 1890.
What will the future hold for the famous Indore Pears?
RELATED STORIES
Designing for the Manik Bagh Palace: Eckart Muthesius and the Maharaja >
A Cartier Brooch from a Bygone Era >