Carlos Cruz-Diez (1923-2019) in Paris 2018, in front of Induction du Rose No 206, 2016 © Photo: Lisa Preud'homme/Atelier Cruz-Diez Paris © Adagp, Paris 2018
Inspired by such artists as Georges Seurat and Josef Albers, Carlos Cruz-Diez was a major protagonist in the field of Kinetic and Op Art, a movement based on "an awareness of the instability of reality." Considered one of the greatest artistic innovators of the 20th and 21st centuries, Cruz-Diez' passing certainly marks the end of an era in contemporary art. Last year, his work was featured in Phillips X's inaugural show, Carlos Cruz-Diez: Luminous Reality. Phillips Specialist Valentina Garcia had the privilege of speaking with Cruz-Diez ahead of the exhibition to learn more about the artist's journey into the world of color.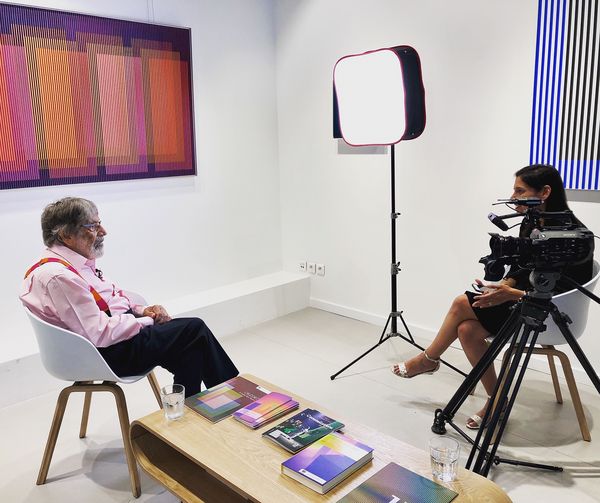 Carlos Cruz-Diez and Valentina Garcia together in the artist's Paris studio © Atelier Cruz-Diez
VALENTINA GARCIA: You're known as the "master of color." What originally interested you in the subject and led you to dedicate your career to this investigation?
CARLOS CRUZ-DIEZ: I arrived at color in looking for a new conversation. And I'll tell you, it was the consequence of failure. When I finished school and began painting, I thought that artists were like reporters: that you had to paint the things you saw, the social problems you experienced. So that was what I began to paint, and it was a failure because my work didn't do anything to fix those problems—they just stayed the same. I began a long process of self-reflection and investigation, which lasted several years, into what art could be, who I could be as an artist. I saw that I had to invent my own art, my own discourse. I realized that I had the chance to start something new with this investigation into the world of color.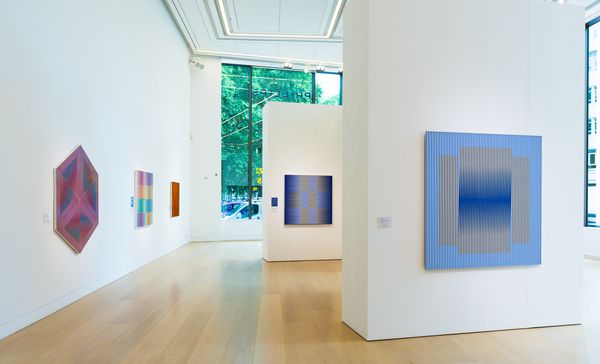 Carlos Cruz-Diez: Luminous Reality installed in Phillips' Berkeley Square galleries © Atelier Cruz-Diez
VG: Color is something that one can control, yet light is uncontrollable and changes constantly. How does light affect the process of your work?
CCD: The process of my work is based on light. You could say that all my works are light-traps. When the light enters them, it begins to be active. You can argue that one can "play" with all of the chromatic possibilities that the work offers. Light is the foundation of my work, because color is light and light is color.
Carlos Cruz-Diez: Luminous Reality installed in Phillips' Berkeley Square galleries © Atelier Cruz-Diez
VG: Through the decades, you've constantly changed and innovated your processes. What is the role of technology in your art?
CCD: I am always eager to integrate new innovations as soon as society offers them to me. I see it as a new contribution to the discourse. Technology has always been an ally to artists. Think of how it's benefited writers, from the time we wrote with stones, to drawing with a quill, moving to the invention of the pencil, the invention of the typewriter, and finally computer programs. As time passes, there have been more and more ways to get your message out there, to contribute to the discourse. And we've seen the same development in art as in writing. Without tubes of paint, Impressionism would not have existed. Technology has always been associated with art and artists. It allows them to express themselves.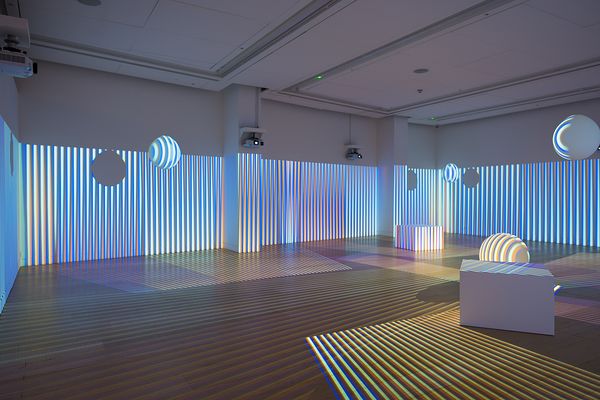 Carlos Cruz-Diez: Luminous Reality installed in Phillips' Berkeley Square galleries © Atelier Cruz-Diez
VG: Your work requires the spectator to "activate" it, sometimes in a rather subtle manner, and other times in a completely immersive experience. Do you believe that the spectator is part of the work?
CCD: It's crucial to include the viewer in the work. For thousands of years, art was contemplative, and over time it morphed to invite participation. And so the spectator began to form a part of the artwork or to contribute to its direction. As a result, all of my works invite participation. The works are kinetic and without active participation, they die. Without participation, the discourse in the work dies. It evolves in real-time and space. Contemplation is not enough: they require real, intentional participation in order to be activated.
Carlos Cruz-Diez: Luminous Reality installed in Phillips' Berkeley Square galleries © Atelier Cruz-Diez
VG: In the past, you've spoken about the social responsibility of art. What is the message of your art and how does it relate to social responsibility?
CCD: This is something that I've always been concerned with, as I don't believe that art is inherently disassociated from man nor society. This is why, when I came out of Fine Arts school, I began painting all the social problems I saw. But telling somebody that they are poor doesn't mean that you're solving their problems. People decided that these images could not represent their problems in their real lives. And so we must find a discourse that is imminently pictorial, fully plastic, to give the work an independent meaning. I imagine that this issue is something all artists keep in mind.
Color is light, time and space. Color is not in the past, it is a continuous present. — Carlos Cruz-Diez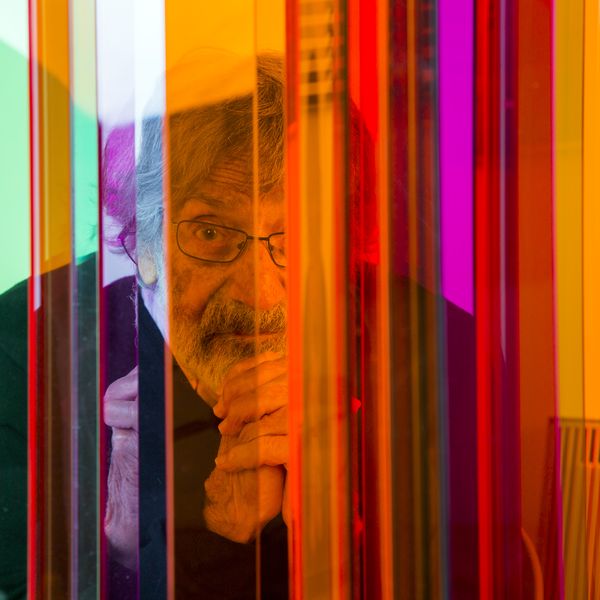 Carlos Cruz-Diez, Paris 2017 © Photo : Atelier Cruz-Diez / Lisa Preud'homme
VG: As an artist who has been working for over six decades, what is most exciting about what you're working on now?
CCD: It really surprises me how much I'm working on right now. I'm working on a lot of different things, there's so much activity, so many chances to make new work. My work is appearing in new places all over the world. I think I've begun to discover and to enjoy all that I have, that people hear and accept what it is that my art proposes.
But it's really all cyclical. When I first started with this discourse in my work, people did not understand a thing. That's why I came to Paris in the first place. I came here to give myself a global platform for these ideas. And now, today, people are beginning to understand the ideas I've been working on for all these years.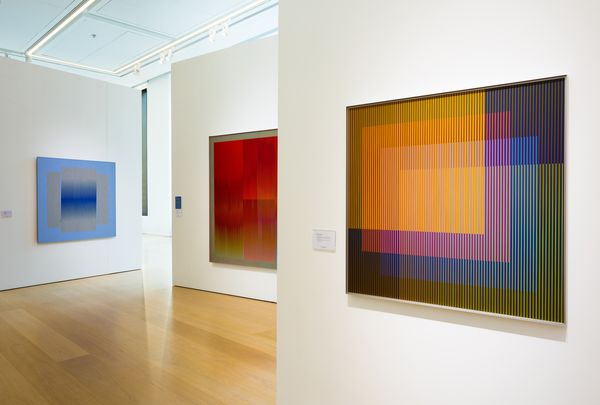 Carlos Cruz-Diez: Luminous Reality installed in Phillips' Berkeley Square galleries © Atelier Cruz-Diez
VG: Right, so this was the first reason that you moved to Paris…
CCD: Yes, the reason I came to Paris was that it was the center of the diffusion of ideas. Even New York wasn't really on that level at this point… that didn't really happen until the mid-sixties, and I arrived in Paris in 1955. First I came and spent two years between Paris and Barcelona. I then returned to Venezuela and when I came back to Paris I told my family that I would be staying there, that Paris was where I was meant to be.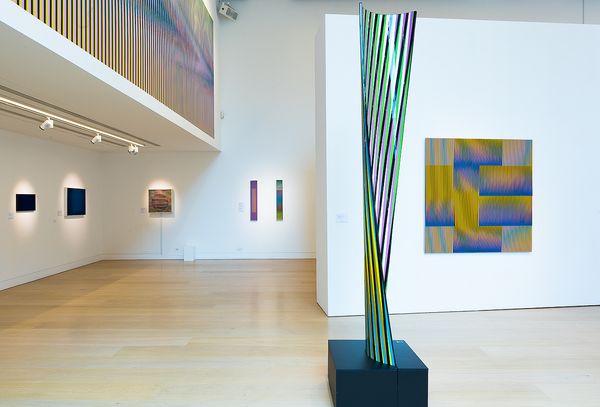 Carlos Cruz-Diez: Luminous Reality installed in Phillips' Berkeley Square galleries © Atelier Cruz-Diez
VG: As of eight or ten years ago, many more galleries and museums have been showing your work. At this moment, it does seem that many more people are realizing the important contributions you've made to art history.
CCD: Well, I came to Paris to spread my ideas. And today, I am very satisfied because I can finally see that people are enjoying the work I've been doing so insistently over the years. The art is helping people to discover things.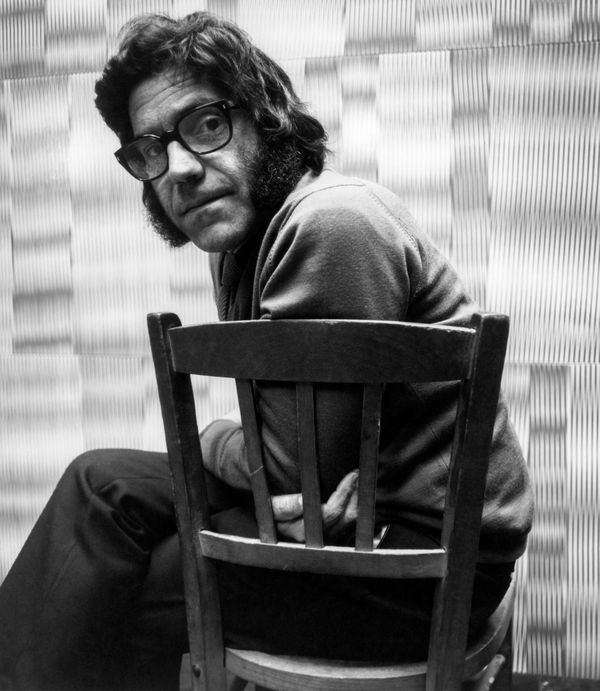 Carlos Cruz-Diez, 1975 © Photo: Alfredo Boulton
VG: Sometimes people say that they don't understand your work when they see it, but at the same time they like the way it looks and find pleasure in it.
CCD: For me, it is not a matter of understanding the work. It is a matter of enjoying art. To understand art is to understand love. Art is like a woman: one can never understand, only enjoy.