Detail of Børge Mogensen's 'Hunting' chair, model no. 2229, designed 1950
Phillips is delighted to offer eight pieces of exemplary design from the collection of Terry Ellis and Keiko Kitamura. Offering a fusion of European and Japanese modernist design, the works represent a cross-section of the couple's eclectic taste and keen eye for exceptional craftsmanship. Ellis was born in the West Indies, before emigrating to London as a child and Kitamura was raised in Tokyo; the couple met in London in the 1980s while Kitamura worked as a stylist and Ellis was a buyer for the cult men's fashion store, Barnaby which stocked brands such as Doctor Martens and John Smedley, offering an eclectic mix of sportswear, crisp English tailoring and European street style. Later, having collaborated as stylists, they traveled together to Japan. There, Ellis and Kitamura introduced themselves to department store Beams and, as buyers, slowly introduced modern furniture and design to the fashion-focused company, significantly expanding on the aesthetic of the brand's stock.
Launching their own brand in 2003, Ellis and Kitamura established Fennica to provide a platform for their love of design and artisanal craft. Fennica presents a style that combines traditional Japanese handicraft with classic designs collected from Northern Europe. Encompassing homeware through to clothing, the brand epitomizes the couple's collecting ethos and transcends locality in their passion for timeless design.
We didn't start off being collectors – but if we wanted to find out about particular objects, we had to buy them when we saw them. Then we could start to edit. Now we spend everything we earn. — Terry Ellis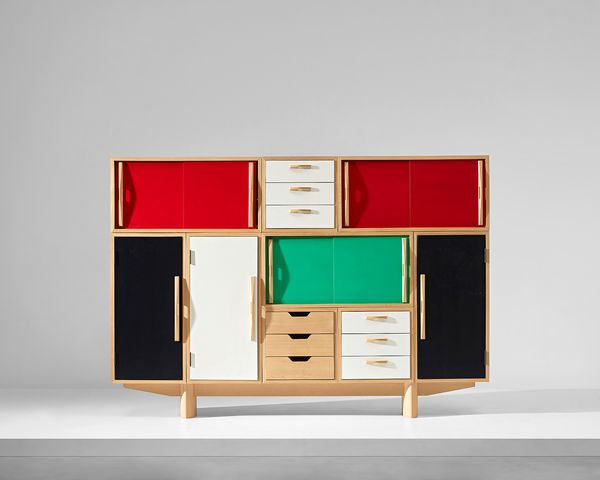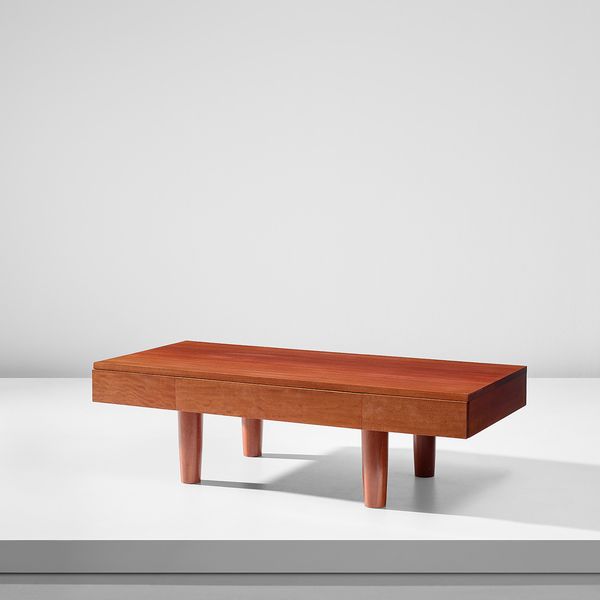 Top, Sori Yanagi Prototype and unique cabinet, produced in 1998; Bottom, Sori Yanagi Prototype modular desk/low table, produced in 2000
HEATWAVE includes four works by the maker, designer and director of the Nihon Mingeikan (Japanese Folk Crafts Museum) Sori Yanagi. Keen to trace the Japanese modernist tradition in their work for Beams, the couple sought out pieces by Yanagi and introduced his designs to the store with formidable success. Their close collaborative relationship with the Yanagi studio is evident in (Lot 48) Prototype modular desk/low table which was purchased directly at an exhibition of Yanagi's designs at the Sezon Musuem of Modern Art, Nagano, in 1998. Ellis and Kitamura requested that the desk be adapted to convert from a desk to a low table in the Japanese design tradition. Prototype and unique cabinet (Lot 47) is another example of a rare and unique piece of Yanagi's design. The work is the only one of its size to incorporate the multi-color palette for the doors and was produced with two others for the same 1998 Sezon exhibition, one of which Yanagi specifically chose to furnish his office at the Nihon Mingeikan.
Yanagi and his wife were fascinated with Scandinavian modernism, so were all their friends. In the 1960s in Japan there were people buying the best Scandinavian design, and they were the same people who collected Mingei. — Terry Ellis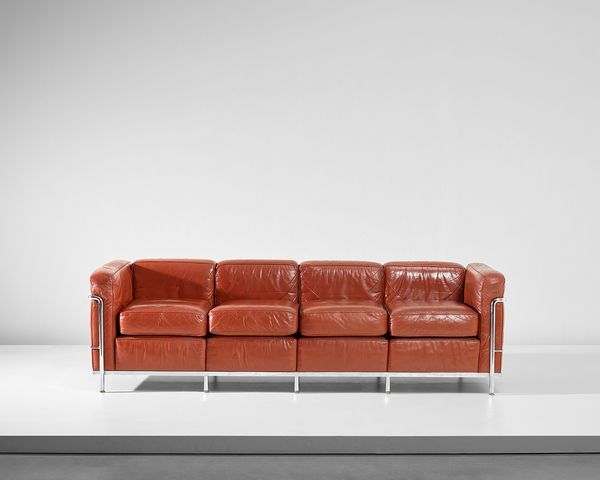 Charlotte Perriand, Pierre Jeanneret and Le Corbusier LC3 Sofa, produced 1965-1969
Offered from the collection are also iconic and recognizable examples of European modernism with fascinating provenance. Lot 51 is the LC3 sofa by Charlotte Perriand, Pierre Jeanneret and Le Corbusier. First designed in 1928, this example was specially commissioned for the Queen Elizabeth II oceanliner, the jewel of Cunard's fleet of ships and synonymous with luxury travel in the 20th century. The design was produced in 1968-69 using the highest quality materials and particularly weighted for ocean travel.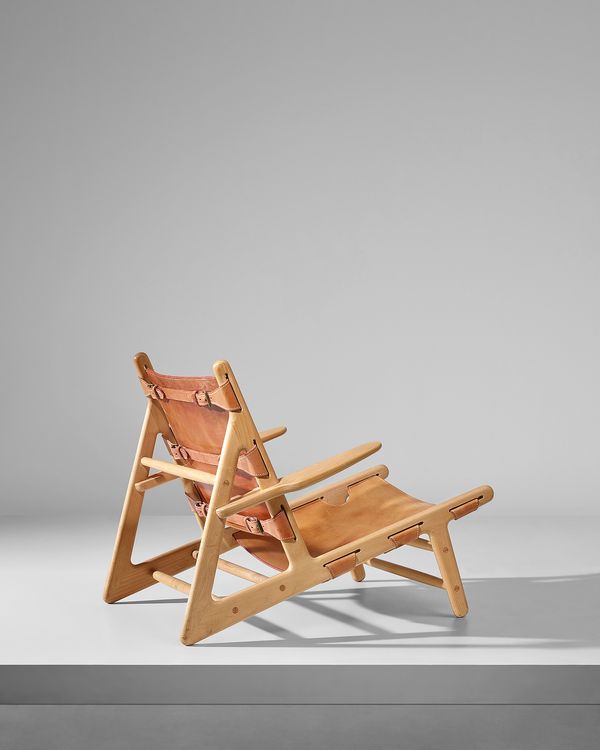 Børge Mogensen 'Hunting' chair, model no. 2229, designed 1950
Børge Mogensen and Arne Jacobsen's chair designs epitomize the simple elegance associated with 20th Century Danish Design. Lot 54, Mogensen's Hunting Chair, was exhibited at the Copenhagen Cabinetmakers' Guild's in 1950 under the theme of 'A Hunting Lodge' and was the designer's first piece using an exposed wooden frame and saddle leather seat.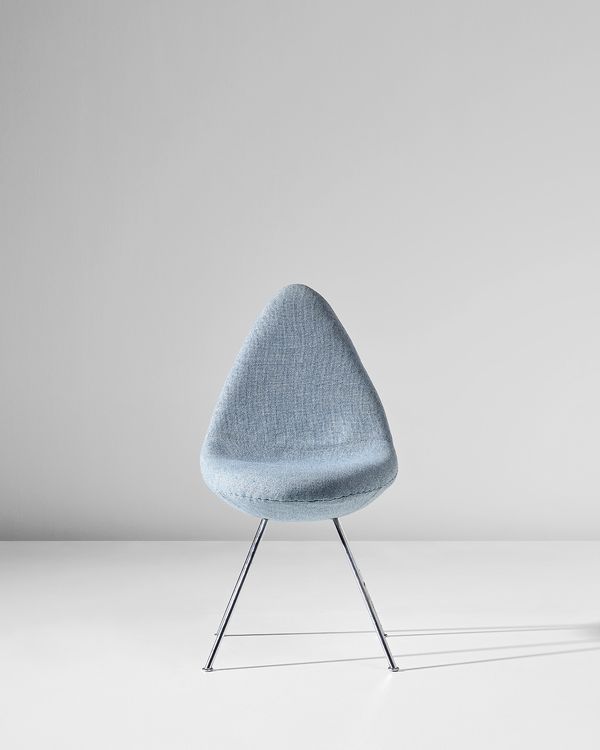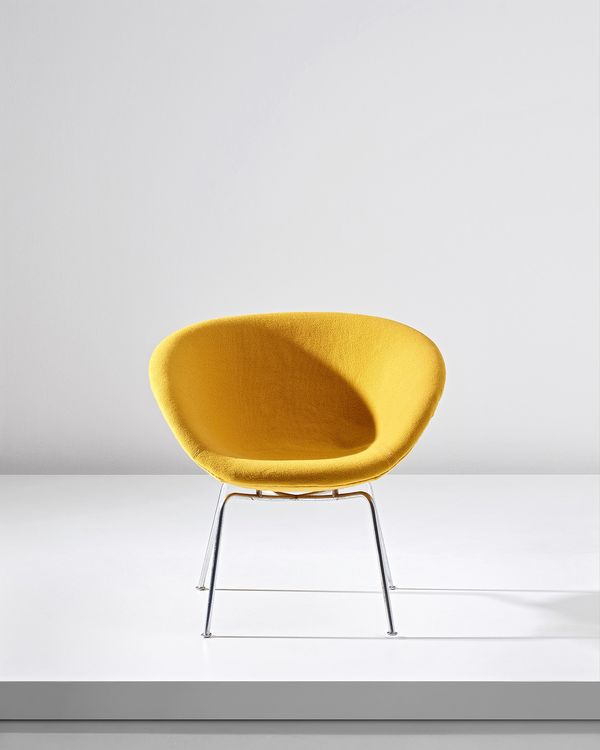 Top, Arne Jacobsen 'Drop' chair, designed circa 1958; Bottom, Arne Jacobsen 'Gryden' (Pot) chair, designed circa 1959
Jacobsen's Drop and Pot chairs (Lots 52 & 53) were designed for the SAS Royal Hotel, Copenhagen. The project was the architect and designer's most prestigious commission and considered the 'world's first designer hotel' (Michael Kaminer, 'Copenhagen's Royal Hotel: The First Designer Hotel', The Washington Post, 12 July 2009). Jacobsen produced every detail from the building's façade to the door knobs in the bedrooms. The jet-age aesthetic of these chairs has earnt them the accolade of being two of the most celebrated and popular designs of the 20th Century.
The collection of works will be sold on Friday 26th July at 17:00 BST and are currently on view at our 30 Berkeley Square galleries.