Julian Schnabel Portrait of Ryan Brant Holding a Copy of William Gaddis's "JR", 2011 © Julian Schnabel / ARS, New York / DACS 2019. Image: Phillips.
This June, Phillips is honored to present a unique group of works from the estate of Ryan Brant. Encapsulating Brant's brilliant entrepreneurial spirit and extraordinary creative mind, shining through an all-too-short life, the four paintings offered in our Day and Evening Sales trace the practice of a single artist, KAWS, whose innovative approach has earned him extraordinary international acclaim in recent years. Echoing Brant's passion and commitment for graphic imagery, – having headed of one of the world's leading video game companies, Take Two – the two sister paintings entitled KIMPSONS, dated 2005, along with UNTITLED (HTLD5), 2011, and UNTITLED (MBFV5), 2016, present a potent illustration of his committed eye, informed by prodigious beginnings.
KAWS UNTITLED (MBFV5), 2016
With a degree in Economics from the Wharton School of Business, Brant subsequently followed his father's footsteps into the family business of publishing, working for the family-owned Interview Magazine, notoriously founded by Andy Warhol and John Wilcock in the late 1960s. Aged 21, he founded Take-Two, a company that rapidly became the leader in the games industry, launching the record-breaking video game franchise Grand Theft Auto. Concurrently, Brant developed his interest in literature and art – a combination of disciplines which, together, conjured his unfaltering drive to create stories alongside his similarly themed professional task.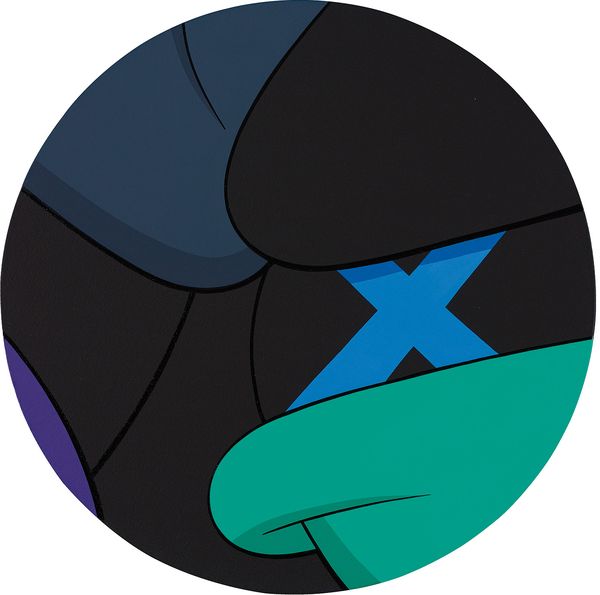 KAWS UNTITLED (HTLD5), 2011
Beginning his career as a street artist in New Jersey, KAWS – Brian Donnelly's chosen moniker – remained relatively unknown throughout the 1990s, until experiencing a meteoric ascent to the international contemporary art scene in recent years. Following his production of limited edition toys, mainly iterations of his own highly-graphic subjects, the artist began appropriating familiar television and cartoon icons such as Snoopy, the Simpsons, the Smurfs, and SpongeBob. The artist's unique pictorial language has earned him both critical and institutional success, culminating in his first ever survey, slated to take place in 2021 at the Brooklyn Museum.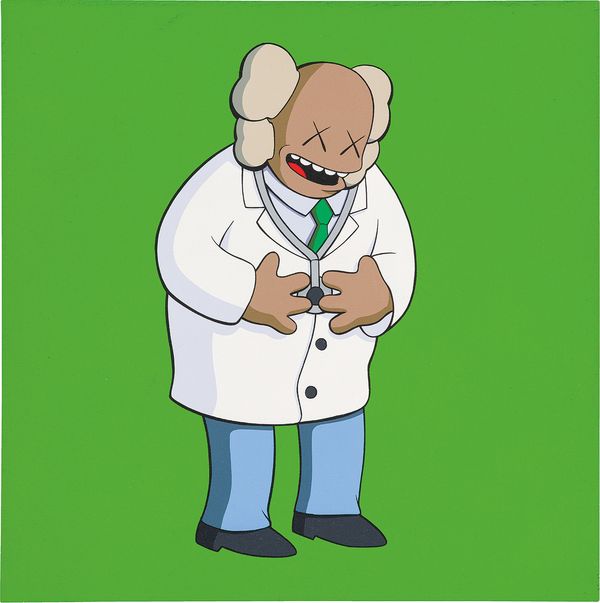 KAWS KIMPSONS, 2005
The two sister paintings presented in Phillips' Day Sale, both titled KIMPSONS and dated 2005, exemplify the artist's ingenious riff upon the Simpsons, while UNTITLED (MBFV5), 2016, lot number 4 in the Evening Sale, presents his irreverent reinvention of Snoopy, flipped upside down so as to impart the composition with additional dynamism. Lastly, UNTITLED (HTLD5), 2011, introduces a more ruffled and indistinct image within its colorful composition: through methods of cropping and enlargement, the painted protagonist eschews strict or even remote mimesis, and falls within a wider category of imaginary characters that KAWS constituted after the early 2000s.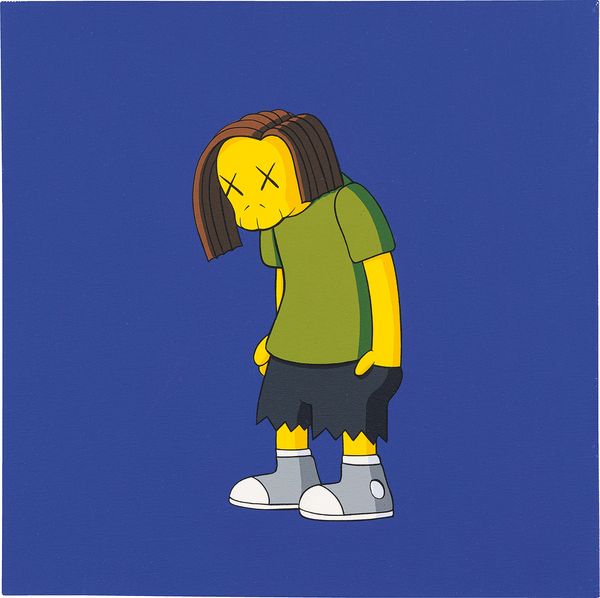 KAWS KIMPSONS, 2005
With the four present works, Brant's formidable passion and expertise in graphic imagery comes to the fore. Reflective of his impressive professional and personal backgrounds, they exemplify the singular vision he cultivated in a number of artistic realms, being both vibrant in tone and crisply contemporary. The sum of Brant's collection reflects an individual who revelled in creating an imaginative parallel world to dive into.