Jean-Michel Basquiat Pink Elephant with Fire Engine, 1984, from the Collection of Alex Rodriguez
In the last decade, Alex Rodriguez has built a delectable art collection boasting some of the most coveted names of the postwar and contemporary art canon. Considered one of the greatest players in Major League Baseball — setting numerous records for the Seattle Mariners, Texas Rangers, and New York Yankees — Rodriguez has employed his passionate spirit and acute eye to pursue new ventures within creative realms. He has also chosen to dedicate himself to personal and art-driven endeavours, regularly visiting artist studios and fairs, and engaging with young artists of his generation.
For Rodriguez, collecting art is a highly personal affair. Drawn to the evocative, storytelling capacity of the artwork, he has relished rediscovering the spaces of his own homes, coating their walls and grounds with striking artworks. One such work, created by Nate Lowman, disrupts the space of the batting cage of his house in Florida; another one by the same artist, shaped like a heart and pulsating with a distinct blue hue, is hung in one of his daughter's rooms, Ella. "Both my girls love Nate. Really, they love anything with color", Rodriguez has said. Sharing his creative interests with his family, Rodriguez insists on the personal tone of his collecting and keeps close relationships with the talent he believes in, following their practice over time. As a result, the artworks he brings together form a narrative of their own, irreducibly connected to his character.
It's no coincidence that Rodriguez's collection is comprised of artists predominantly originating from New York.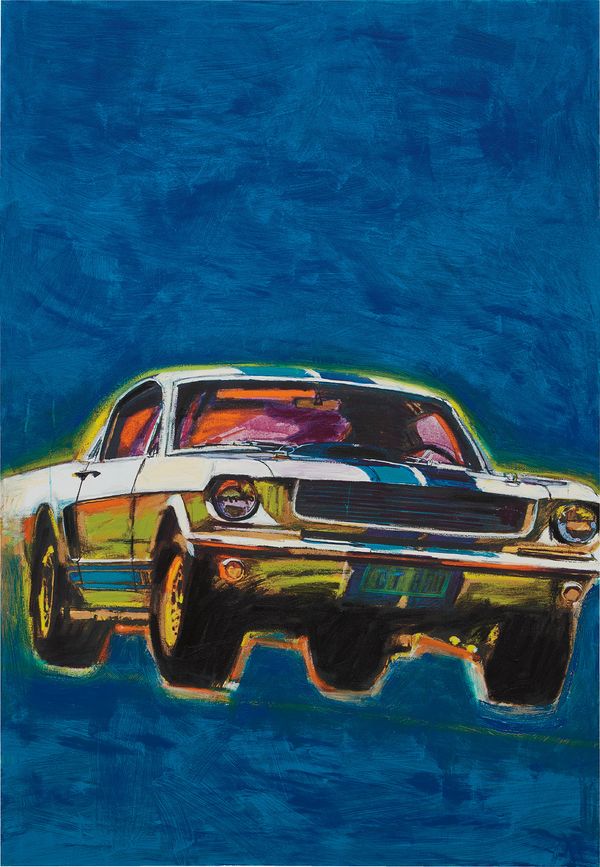 Richard Prince Mustang Painting, 2014-16, from the Collection of Alex Rodriguez
It's no coincidence that Rodriguez's collection is comprised of artists predominantly originating from New York. Having been born and raised in the city, Rodriguez has continued working there during various stages of his life. More particularly, Rodriguez speaks of Richard Prince and Jean-Michel Basquiat, who were both heavily informed by the vibrancy of their city surroundings. Rodriguez has been an avid collector of Prince—in his own words, a "true urban cowboy"—whose body of work interrogates the construction of American identity through the appropriation of mass media. Basquiat, an integral figure to the flourishing artistic culture of downtown Manhattan in the 1970s and 1980s, and known to have left an unimaginable impression on subsequent generations of artists, is Rodriguez's "favorite artist of all time."
Enjoying unique relationships with artists of his own generation, including Joe Bradley and Dan Colen, Rodriguez has found that a reciprocal respect naturally established itself between him and the artists he supports, spurring a desire to engage in a meaningful dialogue relating to their different areas of work. These artists' devotion to their art echoes Rodriguez's very own dynamism and rigor. Deeply committed to following their craft, he observes their artistic processes meticulously, in turn welcoming them to see him play at Yankee Stadium.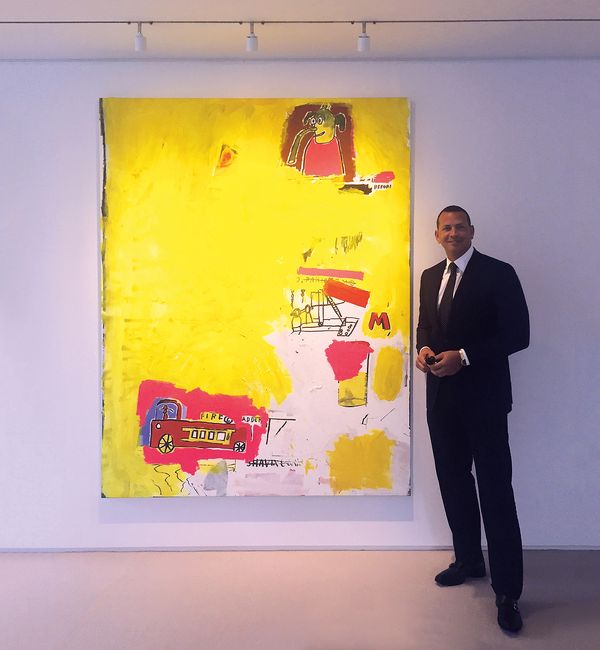 Alex Rodriguez with Jean-Michel Basquiat's Pink Elephant with Fire Engine, 1984, taken in 2019
ROBERT MANLEY: Your collection today brims with some of the contemporary art scene's most coveted names. When did you start collecting?
ALEX RODRIGUEZ: I have been collecting for a decade. A number of gallerists and advisors pointed me in the right direction, and I was fortunate to meet some rigorous artists such as Glenn Ligon and Dan Colen, who informed and forged my collector's eye. In 2011, I got to know Nate Lowman and he created an installation inside my home batting cage. Since then, I have been in conversation with several artists, whose studio practices seem close to my own as an athlete.
RM: What kinds of artworks are you most drawn to?
AR: I am drawn to a range of contemporary artists, from Warhol and Haring to my own contemporaries such as Joe Bradley and Alex Israel. I like works that tell a story, often related to my own personal experiences. Basquiat is one of my favorite artists of all time; each painting he created reads as a diary of his day.
Richard Prince is a true urban cowboy and one of America's top artists.
— Alex Rodriguez
RM: For many people of your generation, there was a fascination with the car culture of the 1960s, as embodied by the Mustang GTO in Richard Prince's Mustang Painting. Could you tell us more about your impression of this work?
AR: The Mustang GTO is a true American icon. In fact, they still make versions of the famous 'pony' and 'muscle' cars today. Richard Prince is a true urban cowboy and one of America's top artists. He is uniquely in touch with the Everyman and Pulp Fiction.
RM: Do you continue to collect today? What are your plans for the future?
AR: I am starting a fresh chapter in my personal life, and after a decade of collecting on my own, I am excited to begin a new collecting journey with Jennifer. We are both committed to the arts and will continue to be great patrons together.