Over a century has passed since grandidierite was first discovered at the cliffs of Andrahomana in Madagascar, yet little facet-grade material has been unearthed. Several sources have been reported across the world, including Algeria, Antarctica, Canada, India, Italy, Malawi, New Zealand, Norway, Suriname and the United States, but deposits are often meager and deplete quickly. Most rough is small, and gem quality crystals larger than one millimeter have only been found in Madagascar and Sri Lanka. In 2014, a new deposit was located in southern Madagascar, about 35 miles northwest of the original discovery site. Near the village of Tranomaro, this new source produces one gem quality crystal for every 10,000 pieces of rough.
Lot 85, An Important Grandidierite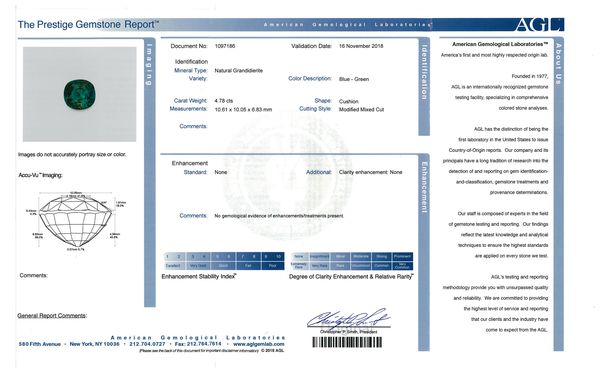 Prestige Gemstone Report from the American Gemological Laboratories
Uncovering facet grade grandidierite is difficult on its own, but cutting the material adds another set of challenges. With two directions of cleavage, grandidierite is more susceptible to damage and breaking during the cutting process. Furthermore, it is a strongly trichroic gem, meaning that it can display a different body color in three crystal directions. It takes a skilled cutter to not only keep the stone intact throughout the cutting process, but to also plan for the stone to display its most desirable color face up.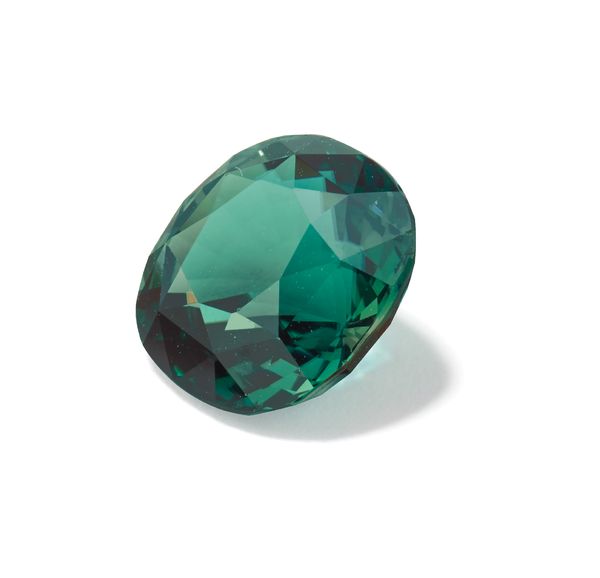 Lot 85, An Important Grandidierite
This example offered for sale possesses a lovely saturated blue-green color and a secondary light yellow color at the edges, which is noticeable when rocked back and forth. While most grandidierite specimens are opaque, the little gem quality material that exists is typically translucent and cut into cabochons. However, this example is transparent and faceted with no eye visible inclusions.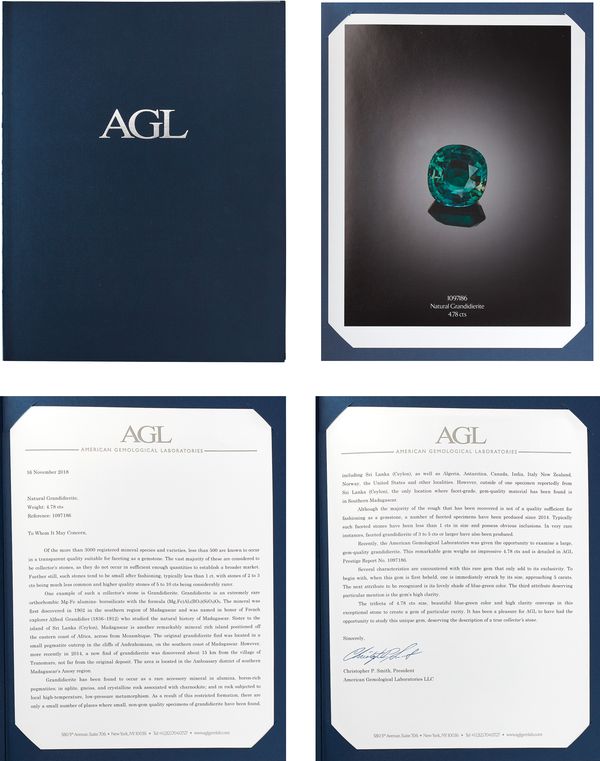 Certification of the gem's quality and exclusivity from AGL President, Christopher P. Smith
Regarded as one of the rarest gemstones in the world, Phillips is honored to present this exceptional grandidierite. It's high clarity, size of 4.78 carats and exquisite shade of blue-green converge to make it a truly remarkable example of an already precious and scarce mineral.