Atsuko Tanaka in her studio in Asukamura, Nara, 1999
"Engage in the newness!" "Don't imitate others!" Such were the calls to action that Jiro Yoshihara put forth when he formed the Gutai Art Association in the Ashiya region of Japan in 1954. Atsuko Tanaka is among the best-known and important artists of this influential group, which radically redefined art for the post-war age by exploring the relationship between art, body, space and time. Born in Osaka in 1932, Tanaka was part of the pioneering Zero-kai (Zero Society) when Shozo Shimamoto asked members of this group to join the newly founded Gutai group. If Tanaka had radically reinvented painting as part of the Zero-kai, she became the key forerunner in the Gutai group's goal of creating "an art which has never existed before".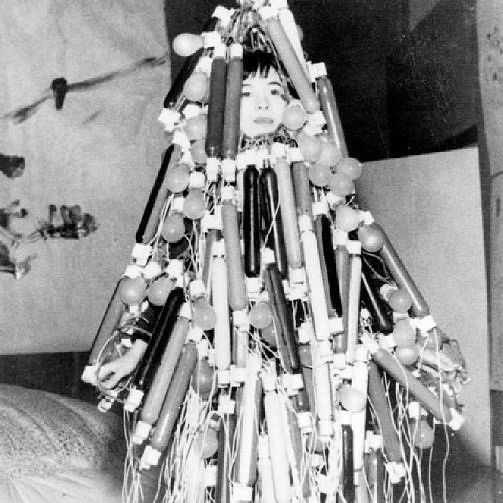 Atsuko Tanaka in her famous Electric Dress, 1956
Her contributions to the first and second installments of the Gutai Art Exhibition, in 1955 and 1956 respectively, were significant precursors to the happenings and performance that would take the New York art world by storm some years later. Tanaka's most famous work is without a doubt Electric Dress, 1956, a wearable contraption composed entirely of light bulbs and tubes that echoed the technological developments that were radically transforming Japan. Borrowing from the aesthetic of neon advertising signs, Tanaka re-interpreted the traditional form of the kimono with a language that vividly echoed the visual spectacle and sensory immersion of modern Japan.
Tanaka was notably the only female artist that critic Michel Tapié highlighted in his 1957 A Mental Reckoning of My First Trip to Japan, based on his travels to Japan with Jackson Pollock: "I have a deep respect for the whole group [Gutai] as a group, but I would like to name four artists who should appear alongside the most established international figures: Shiraga Kazuo, Shimamoto Shozo, Yoshihara Jiro, and Tanaka Atsuko".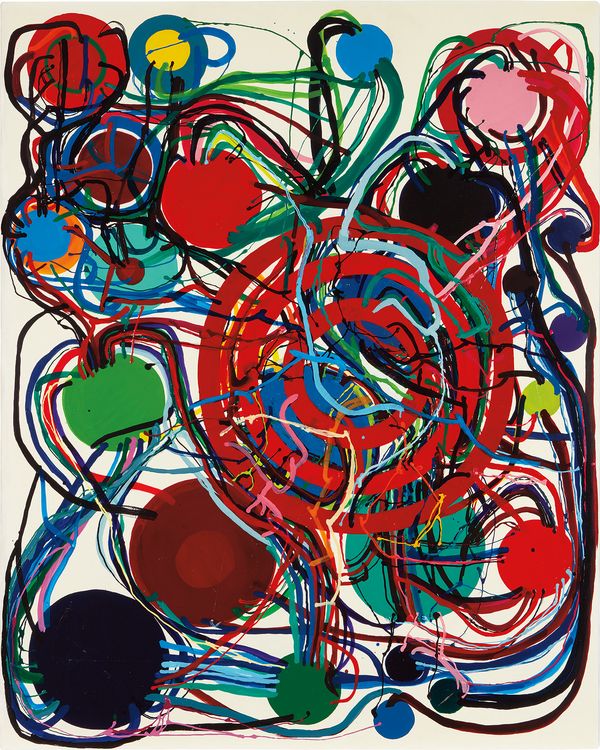 Atsuko Tanaka 85-E, 1985
Tanaka's innovations with light art in the 1950s catalyzed her conceptual painting practice, which would consume her after she left the Gutai group in 1965 until her passing in 2005. Abstract paintings such as 85-E embody the dynamism and sense of immediacy of Electric Dress in two-dimensional form – with its bursts of radial, vibrant color and fluid network of lines allude to the wires and colored bulbs.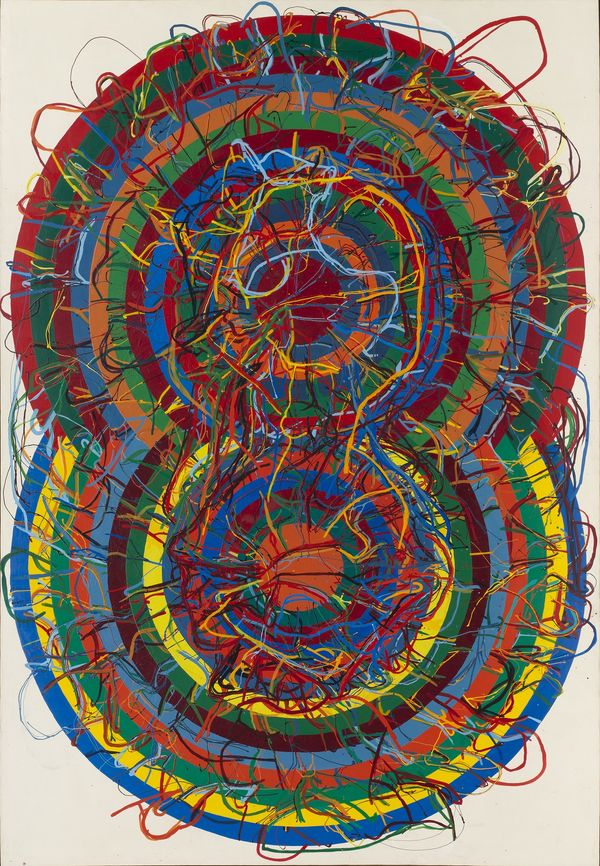 Atsuko Tanaka Untitled, 1964, part of the permanent collection at MoMA
Working with her canvases on the floor of her studio, Tanaka created this painting by first freely creating bright circles, and then adding meandering lines to join them. Tanaka's effervescent forms are charged with an energy that electrifies the pathways dancing between them, brilliantly enhanced by her use of synthetic polymer paint: her favored medium for its fluidity and high-shine finish. While Tanaka created these paintings directly on her studio floor in a manner reminiscent of Jackson Pollock's drip paintings, they operate on a very different conceptual level. Fusing art and technology in direct reference to the rapid transformation and modernization of Japan, 85-E acts as a two-dimensional performance – powerfully demonstrating Tanaka's almost singular preoccupation with capturing energy and connectedness.
While Tanaka was featured in the seminal exhibition The New Japanese Painting and Sculpture at the Museum of Modern Art, New York, in 1966-1967, her legacy has only recently received the international attention it deserves in the past decade – notably with her inclusion in the documenta 12 in Kassel in 2007. Atsuko Tanaka's work is included in a number of internationally important public collections, including that of the Museum of Modern Art in New York.