Christina Quarles Moon (Lez Go Out N' Feel Tha Nite), 2017
In Moon (Lez Go Out N' Feel Tha Nite), 2017, Christina Quarles creates a hybrid universe where meanings are in flux and identities remain fluid. Informed by the artist's self-identification as "a queer, cisgender woman who is black but is often mistaken as white", Quarles' figures are decidedly ambiguous, their polymorphous bodies caught between shifting perspectives and planes. Suspended in a state of painterly metamorphosis, these figures reflect the artist's own subjective experience of displacement in relation to personal topics like race, gender and human relationships.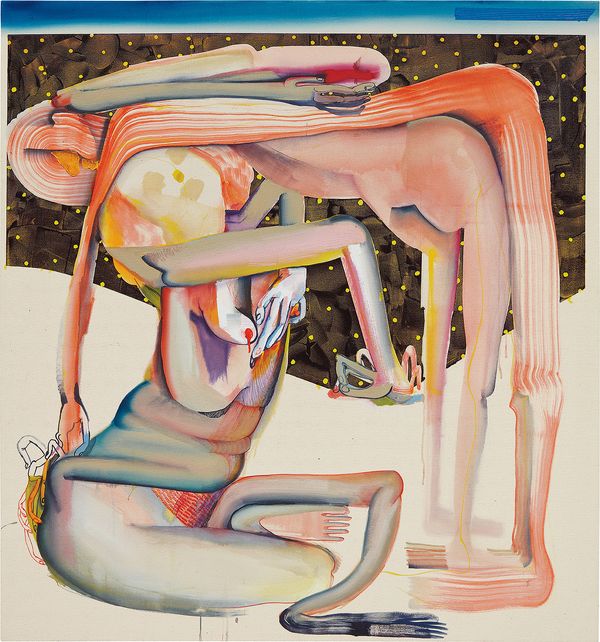 Christina Quarles Pull on Thru Tha Nite, 2017; Sold for $225,000 against a $30,000 low estimate at Phillips New York's November 2018 Evening Sale
Charged with expressive brushwork and a phantasmagoric array of colors, Quarles' unique style and approach to painting have recently garnered significant critical and institutional attention. Since 2017, her works have been included in major group exhibitions at the New Museum, New York, the Studio Museum in Harlem, and the 2018 biennial Made in L.A. at the Hammer Museum, Los Angeles, where art critic Christopher Knight championed her "as perhaps the biennial's most exciting discovery" (Christopher Knight, "Made in L.A. 2018", Los Angeles Times, June 5, 2018, online).
In Moon (Lez Go Out N' Feel Tha Nite), a couple embraces, their androgynous bodies morphed into one. Set against a mysterious backdrop of shifting forms and floating planes of color, Quarles' figures are suspended in an unidentifiable landscape, stretching, bending and compressing into the rectilinear frame of the composition. A moonlit panorama hovers to their left, the stark outline at odds with the sinuous contours of the intertwined couple. Perhaps a window to an outside world or a two-dimensional picture hanging on the wall, the planar form creates a spatial divide against which the bodies resist, abut and flow through. Shifting between interior and exterior space, Quarles' seductive vignettes probe margins and destabilize fixed notions of identity, eluding viewers' attempts to fix them in a specific time and place.
I'm interested in depicting an experience of living in a body rather than looking at a body. I'm interested in finding different ways to explore my experience of certain identity positions that I'm familiar with. – Christina Quarles
Recalling the gestural brushstrokes of Abstract Expressionism and embodying the seductive aura of Surrealism, Moon (Lez Go Out N' Feel Tha Nite) oscillates between figuration and abstraction with sophisticated ease. The figure's blonde, cascading hair is rendered with a precise tactility, mimicking the striated texture of actual hair. Carefully articulated fingers and toes extend in all directions, as the artist considers hands to be the most fully realized extension of ourselves. At the center of the composition, Quarles paints a vivid bouquet of flowers with heavy impasto, signifying femininity and the domestic sphere. In an alternate dimension, a full moon – a symbol of spiritualism and sexuality – floats in a smooth, dark sky over a mountain range. Ripe with metaphor and pulsing with painterly finesse, Moon (Lez Go Out N' Feel Tha Nite) offers a unique window into Quarles' intimate world, where race, gender and identity are as fluid as the bodies that inhabit it.