Willem de Kooning Untitled XVI, 1976
I get the paint right on the surface. Nobody else can do that. — Willem de Kooning
Masterful in its dynamic brushwork and energetic composition, Untitled XVI, 1976, exemplifies Willem de Kooning's work at the height of his prowess as a painter. Fully employing the luscious tactility of oil paint, he filled the entirety of his canvas with visceral brushstrokes that merge into a vibrant union of shapes and surfaces. De Kooning's gestures range in size, texture and direction, coalescing into an inspired balance between control and chaos. With a strong palette dominated by white, black and red, de Kooning kept his colors rich and varied, blending their tones with both subtlety and considerable visual impact. The painted passages of Untitled XVI evoke a churning seascape, immersing the viewer into a stunning abstraction which channels the gray light of the North Atlantic as it illuminates the roiling waves breaking onto the shore with tremendous velocity and ineffable rhythms, while also suggesting a figural presence.

Held in only two private collections since its creation in 1976, Untitled XVI, has been exhibited widely around the world over the past four decades. It was first featured in Willem de Kooning: Painting and Sculpture, a major international traveling exhibition organized by the Hirshhorn Museum and Sculpture Garden, Washington, D.C., and the United States International Communications Agency in 1977. Touring for two years throughout continental Europe, it traveled to museums in places such as Yugoslavia, Poland, Germany, Norway and the Netherlands. More recently, this work was included in the innovative exhibition Museum Moments: Time and Energy for Art, 2012, held at the Kunsthal Rotterdam. In 2017, Untitled XVI was exhibited in a museum-quality show celebrating the work of two great painters, de Kooning and his Chinese contemporary Zao Wou-Ki, to inaugurate Lévy Gorvy's opening in New York.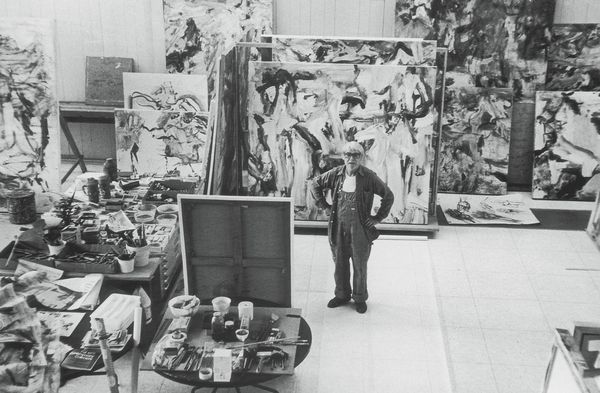 Willem de Kooning in his studio in East Hampton, New York, March 26, 1978. Photo by Fred W. McDarrah/Getty Images, Artwork © 2019 The Willem de Kooning Foundation/Artists Rights Society (ARS), New York
De Kooning had relocated to Springs on Long Island's East End permanently in 1963, leaving behind the intensity of New York City. Designing a spacious new studio, the artist immersed himself in the bucolic, and decidedly rural, coastal landscape. Over the next two decades, he would engage with a pastoral mode very different from the urban themes and women featured in his previous paintings. It took some time living there for his environs to make a substantial impact on his work, however.
"When I moved into this house," de Kooning observed in 1976, "everything seemed self-evident. The space, the light, the trees – I just accepted it without thinking about it much. Now I look around with new eyes. I think it's all a kind of miracle." By the mid-1970s, the artist fully brought the spirit of the area's land, sea and light into his paintings. Indeed, the unique light of the North Atlantic coast pervades Untitled XVI—its richly varied tones suggesting the unbridled movements of air and water along the coastline.

Untitled XVI offers an extraordinary demonstration of de Kooning's artistic boldness at a high point in his career, as he renewed his commitment to painting after devoting significant efforts to sculpture and lithography in the early 1970s. The resultant body of works that he produced from 1975 through 1977 are among his most renowned, both critically and in the marketplace — his auction records since 2006 have been works from this period. During this era, the artist, then in his seventh decade, brought his accumulated powers as a painter to bear on a series of abstract paintings that responded brilliantly to the pastoral Long Island landscape. Presenting the first of these paintings in the fall of 1975 with the gallerist Xavier Fourcade, followed by subsequent exhibitions in 1976 and 1977, this astounding series of work received wide critical praise.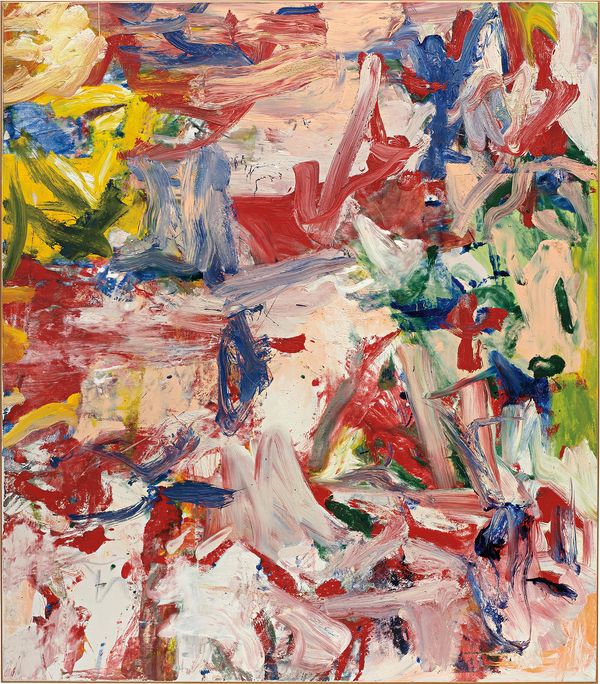 Willem de Kooning Untitled XIX, 1977. The Museum of Modern Art, New York, Digital Image © The Museum of Modern Art/Licensed by SCALA/Art Resource, NY, Artwork © 2019 The Willem de Kooning Foundation/ Artists Rights Society (ARS), New York
De Kooning's paintings of the 1970s are an annihilation of distance. The close-ups are about closeness, a consuming closeness. These paintings are crystallizations of the experience and amazement of having body and mind dissolve into another who is all delight. — David Sylvester
A master of abstraction, de Kooning evokes the ever-changing elements of land, sky and sea without literal depiction or, indeed, without adhering to the conventions of landscape representation. In his studio, de Kooning surrounded himself with these paintings, reacting to them as a group as he worked, and built on their innovations as they progressed. The artist began the mid-1970s abstractions by covering the canvases with lead white, then sanding them down to give those supports a tremendous luminosity. Blending his oil paint with water, safflower oil and kerosene, he varied its viscosity to achieve the consistency he desired, as seen in the lustrous painted surface in Untitled XVI.
The resultant depth of colors and range of facture are unparalleled. The artist asserted: "I get the paint right on the surface. Nobody else can do that." The brushes and other tools de Kooning used to paint were no less unconventional. As John Russell reported after visiting the artist, "People often think that a great painter has to have great brushes, and it's true that some of them insist on hair so fine that it could put the silkworms out of business. But de Kooning uses (apart from knives and spatulas) everyday housepainters' brushes that come in a 'Pak-o-Four' for $1.49. He also has devices of his own invention—pullings and tuggings and overlayings—for the perfecting of the licked look that gives so sumptuous a consistency to his recent paintings."
This sumptuousness is evident in the intense passages that emerge from the painting's center and sides, where de Kooning's robust brushstrokes twist and turn into spatially complex layers of intense color and emergent form.