Matt Dike and Jean-Michel Basquiat, Los Angeles, circa 1986. Photo by Salomon Emquies.
By Peter Relic
Los Angeles, April, 1982: A top‐down burgundy 900 Saab Turbo rolls up to the curb at LAX, Johnny Taylor's "Eargasm" playing from the Blaupunkt stereo. The driver is Matt Dike, Larry Gagosian's 20‐year old gallery assistant, there to pick up a New York artist in town for a solo gallery show. As Jean‐Michel Basquiat slides into sedan's back seat, Matt Dike thinks, 'I know this guy!' For the moment, he doesn't mention that they've already met.
To Repel Ghosts: Works by Jean-Michel Basquiat from the Collection of Matt Dike provides an extraordinary glimpse into Basquiat's time in L.A. and his working friendship with record producer Matt Dike. The uncanny double door Self‐Portrait was painted by Basquiat while Dike was his assistant and displayed for many years inside Dike's apartment at 6122 1/2 Santa Monica Boulevard in East Hollywood. That second‐story railroad flat was also, crucially, where Dike and his musical partner Michael Ross started their legendary record label Delicious Vinyl and produced massive crossover hip-hop hits including "Wild Thing" and "Bust a Move".
It was while researching the history of Delicious Vinyl that I was able to interview Matt Dike in his Echo Park home. Throughout a handful of visits between 2009‐2012, Dike recounted his friendship with Jean-Michel with enthusiasm and love.
I don't know if the word is bohemian...he was wild.
— Matt Dike on Jean-Michel Basquiat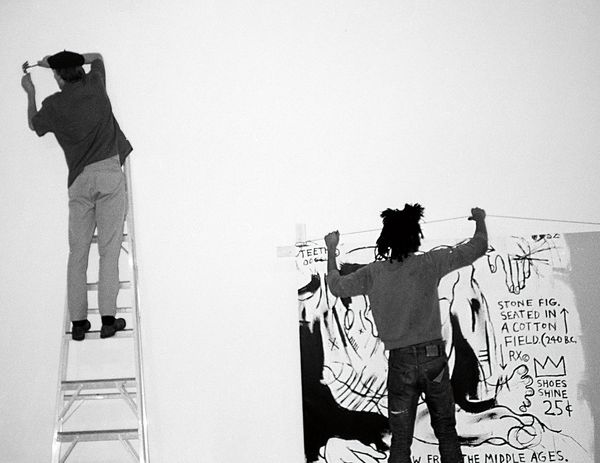 Matt Dike and Jean-Michel Basquiat hanging artwork in Basquiat's studio in Larry Gagosian's home, Venice, California, 1982–1983. Photograph courtesy of Brian David Williams aka B. DUB. Artwork © 2019 The Estate of Jean-Michel Basquiat/ ADAGP, Paris/Artists Rights Society (ARS), New York
"I worked for him for four years," Matt Dike told me. "He was a great guy. I don't know if the word is bohemian...he was wild. He used to buy stuff at Maxfield's, like an Armani suit, then go into the studio and get yellow paint all over his hands and just wipe them down the suit, a twenty‐five hundred dollar brand new suit. Like what?!" During those first couple months together, Dike remembers, he and Jean‐Michel got in a groove. "He liked the wooden frames I was making for him, and even if we weren't working, he'd call me up: 'What are we doing tonight?' I was his guy."
Between painting sessions at the mid‐L.A. loft of Matt's older brother Lane and various studios Gagosian rented for Basquiat, Dike was present at the creation of a number of significant Basquiat artworks. "I remember Jean painting and thinking, this is the ugliest hospital green I've ever seen. I'm going, this is a bad choice of color. Then, I can't believe how dope this looks! Jean is amazing with color!"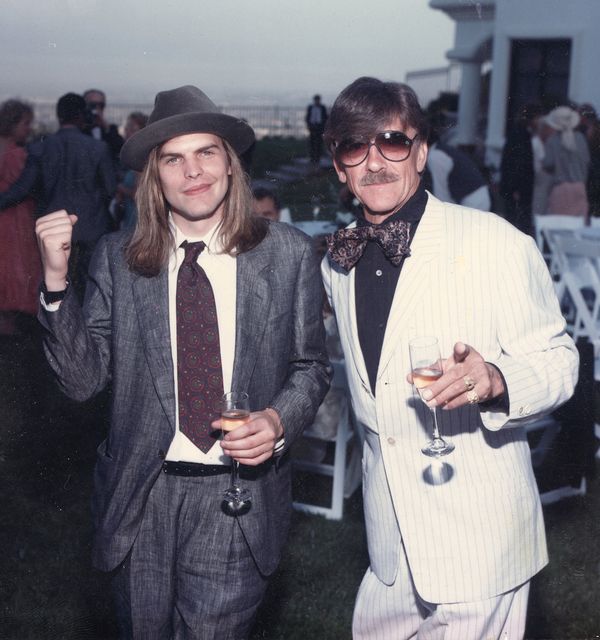 Matt Dike, wearing a suit given to him by Jean-Michel Basquiat, and his father attend Vikyana Dike's wedding. Photo courtesy of Vikyana Dike.
When fellow artists Rammellzee and Toxic flew into L.A. at the behest of Jean‐Michel to coincide with his second Gagosian solo show. Dike squired the crew around town: "I took Ramm, Jean, and Toxic to Tower Records on Sunset. I remember them buying double copies of everything. I was wondering, Why are you buying two copies of that record? That's when I learned about using double copies to keep the break going." That night, Rammellzee and Toxic performed at the Rhythm Lounge nightclub. Filmed on Super‐8 by promoter Salomon Emquies, Basquiat bops his head to the beat as Ramm raps: "Rammellzee is in the place / Jean‐Michel rockin' that gangster bass!"
One afternoon that summer, Dike and Basquiat were hanging out alone. As Dike recalled: "I said to him, 'Hey, I know you.' I wanted to see what he'd say. And he said, 'What do you mean?'"
This big smile came over his face, the greatest smile, because he remembered, and it validated that I knew him from before everything, from when we were 15 years old.
In the fall of 1978, an incoming freshman named Philip Volkoff matriculated at New York University. Volkoff, a childhood pal of Matt, moved into Weinstein Dormitory at 5‐11 University Place, where he became friends with painting student Christopher Panzner. Panzner knew Basquiat, then still tagging obstreperous slogans around downtown under the joint pseudonym SAMO with his friend Al Diaz. Panzner: "Jean would come to my dorm — security always rang up — and we would go to Alphabet City which, at that time, looked like it had been carpet‐bombed." Panzner invited Basquiat to parties in the Weinstein basement where Dike, still a junior at Tuxedo Park High School, had his first stints as a DJ. Dike's initial glimpse of Basquiat remained vivid: "Jean had a mohawk with an arrow cut into it. He was wearing a bedsheet with a hole cut out of it like a poncho and it was covered in all this graffiti, with Gumby stapled to it." It was the memory of those Weinstein nights that, five years later, hanging out in L.A., Dike recounted to Jean-Michel.
"I told him, 'I know you. I know you from Weinstein dorm. From before your fame and everything. I used to DJ those parties at Weinstein. You kept telling me to play 'Got the Time' by Joe Jackson.' And when I said that detail, he knew it was true. I'd played 'Got the Time' twice, Jean was doing this pogo dance, and he was shaking me, 'Play it again! GOT THE TIME! GOT THE TIME!' This big smile came over his face, the greatest smile, because he remembered, and it validated that I knew him from before everything, from when we were 15 years old."
The validation of that pre‐fame connection resurfaced the last time Dike saw Jean‐Michel. It was the summer of 1988, and Dike was in his home studio on Santa Monica Boulevard, about to begin working with Beastie Boys on their opus Paul's Boutique, when Jean‐Michel showed up at the door.
"He'd been in Hawaii and was on his way back to New York, and he stopped in L.A. He asked me, 'Can I stay here?' And I was about to say, 'Jean, what're you talking about? You can stay at the Mondrian!' But instead I said 'Sure!' I had two or three other guys crashing there already. No one knew who Jean was. No one knew he was famous. Nowadays he's the iconic Jean‐Michel. Trust me, it wasn't like that hanging out. Nobody treated him like anything. He must've needed that at the time. He was in career limbo. Andy Warhol had just died. He kept bringing that up, that they'd killed Andy, that it was a conspiracy…Jean was contemplating his mortality.
"At that moment, he got very emotional. Jean was not a touchy‐feely guy, not the type to put his arm around you. But he hugged me and wouldn't let me go. He was crying. He said, 'You're like the only friend I've got right now.' I'm not a really touchy‐feely guy either, but it was really moving."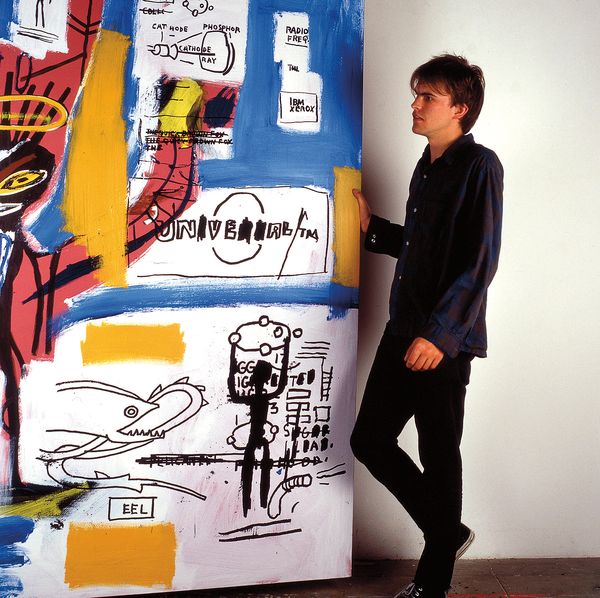 Matt Dike with a painting by Jean-Michel Basquiat, 1984. Photo © Brad Branson Photography Estate, Artwork © 2019 The Estate of Jean-Michel Basquiat/ADAGP, Paris
Jean‐Michel Basquiat died in New York City on August 12, 1988. Back in Los Angeles, Delicious Vinyl was on the brink of unimaginable success. Within six months, Tone‐Loc's singles "Wild Thing" and "Funky Cold Medina" and Young MC's "Bust A Move" would all hit the top ten of the Billboard pop charts. Even as his record label went supernova, Matt Dike's own issues were drawing him towards a seclusion lasting the final two decades of his life. Yet the music Matt Dike made still brings wonder to millions of people around the world—not unlike the iconic work of his old friend Jean‐Michel. The art lives on.
Peter Relic is a writer based in Savannah, Georgia. He is co-author, with Dan LeRoy, of For Whom The Cowbell Tolls: 25 Years of Paul's Boutique (6623 Press, 2014).