Joan Miró in his studio.
Cast just two years before Miró's death, Figure is among the last sculptures the artist produced. A testament to Miro's enthusiasm and passion for creating art, even at the age of 88, the asymmetrical figure has departed from any representation of reality. Various discrete elements and unidentifable forms coalesce into a wholeheartedly free and spontaneous work, just one of many attempts by the artist to surmise meaning from matter. Despite any ambiguity or abstraction within the work, there is a tangible primal sentiment to it: With subtle odes to the figures of totemic and Palaeolithic art, Figure is a means for Miro "to rediscover the sources of human feeling."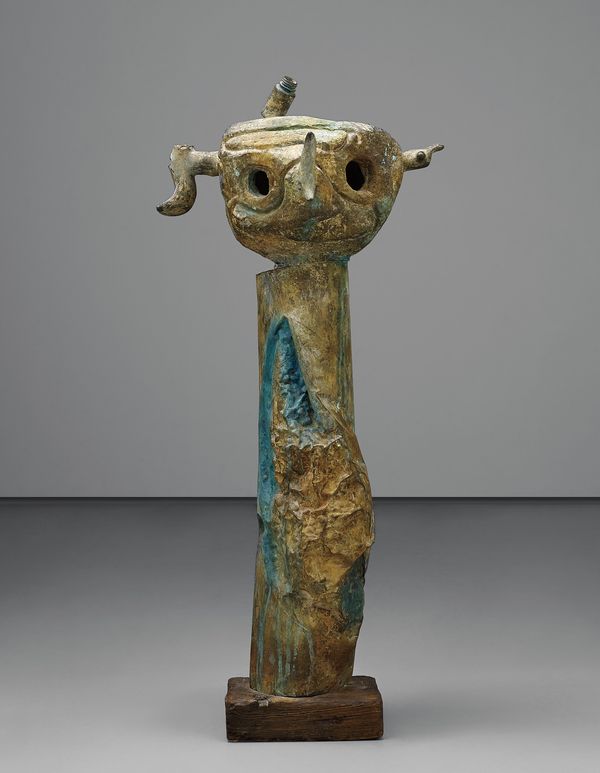 Joan Miró Figure, 1981. Painted bronze.
Miró spent the last two decades of his life enjoying walks on the beaches near his home of Mallorca, Spain, discovering objects he would later incorporate into his work. Figure is an assemblage of such found objects — disparate elements united and transformed by the artist's hand. Here, we find a head anthropomorphized by deep, hollowed eyes and a few delicately incised lines that suggest cheeks, perchance even a smile. Beneath this playfulness is an arguably more monolithic form, bending slightly to produce an amorphous body for the head above. Though cast in bronze at the Parellada workshop in Barcelona, beneath its surface lie ambiguous materials of unknown origins.
I never make sculptures from sketches, I just put them together.

— Joan Miró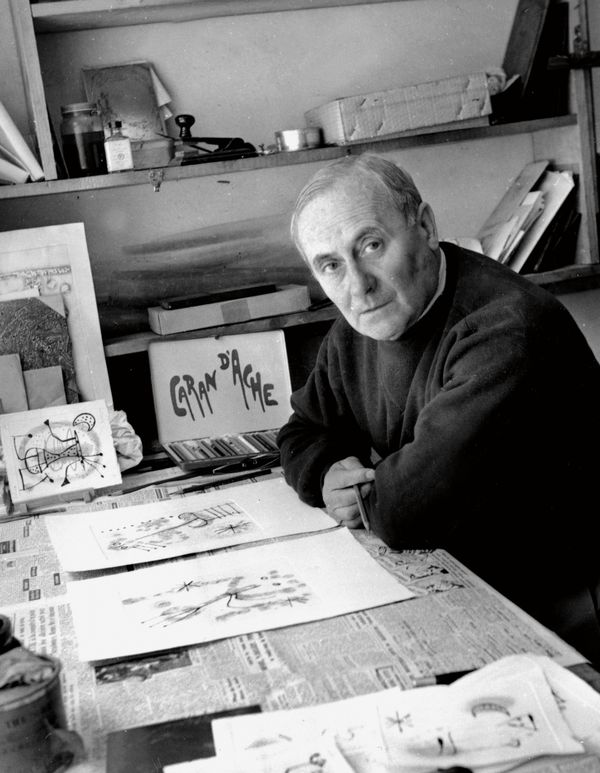 Joan Miró at work, 1957.
Decades earlier in 1938, during the increasing violence of the Spanish Civil War, Miró was forced to leave Barcelona with his wife and daughter and withdraw to Paris. It was in 1940, after being made itinerants again by Nazi air raids, that the Mirós settled on Mallorca, an island enclave slightly removed from the world's turmoil.
Femme, Oiseau, Etoile was produced during this highly unstable period of the artist's life. After completing his Constellation series, Miró began a four year-long odyssey where he explored a variety of forms, signs and symbols with gouache, pastel, watercolor and pencil. The repeated use of these materials was due in part to the rising costs and scarcity of canvas and the lack of a permanent studio. Indeed, it seemed working on paper suited Miró's quasi-nomadic and furtive existence.
Despite the apparent obstacles, the early 1940s represented a highly productive creative period for the artist: hundreds of drawings were made, with many evolutions of the same title as this one. These drawings were exorcisms against the perennial horrors of war that haunted Miró in the two countries he called home.
I felt a deep desire to flee. I shut myself deliberately. The night, music and the stars began to play a role in my painting.

— Joan Miró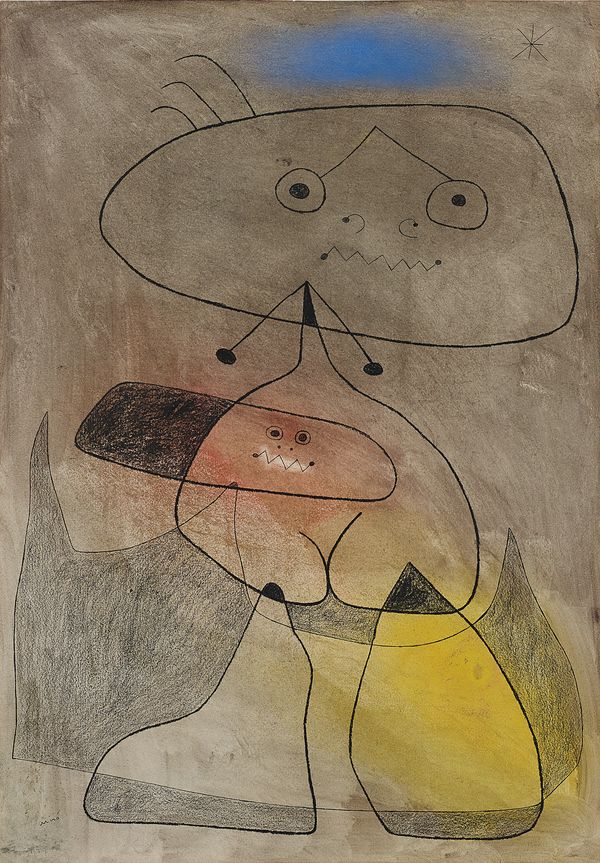 Joan Miró Femme, Oiseau, Etoile, 1943. Gouache, wax crayon, pastel and pencil on paper.
Taking fantastical elements from the Constellation works, Femme, Oiseau, Etoile defied its two-dimensional plane to become a sublime break from reality. Amidst fine lines and freely formed organic shapes, we see an almost violent freedom from any literal representation. In between dusty hazes of blue and yellow pastel, craggy intangible forms recede into the distance. The central amorphous figure defies any categorization; one cannot distinguish woman from bird nor man from nature. The bloated and twisted head with its mask-like face and fattened features bears a small expression of anguish, related in but a few doodles.
This expression, in tandem with the cruel distortions that affect the forms of this work, seem to be a mirror for the atrocities occurring in mainland Europe at the time. A lone abstract star twinkles in the corner of this drawing, the only glimmer of hope in this desolate slate-gray landscape.