Mark Tobey in his studio (1949). Courtesy Arthur Lyon Dahl. Photo by Larry Novak
1950. Desert Town (Wild City) exemplifies the acclaimed calligraphic visual idiom Mark Tobey had honed in the preceding 15 years. Tobey, who had emerged as an artist in Chicago and New York in the 1910s, developed his mature style in Seattle following his move there in 1922. It was notably his exposure to Chinese ink painting while traveling and living in China that prompted his signature "white writing style." Described by famous art critic Clement Greenberg as a "calligraphic, tightly meshed interlacing of white lines which build up to a vertical, rectangular mass reaching almost to the edges of the frame," Tobey's all-over compositions put him at the forefront of the American avant-garde and notably preceded the drip paintings Jackson Pollock would start in the late 1940s.
Created at a time when Tobey had been garnering widespread critical acclaim, Desert Town (Wild City) is a stellar example of the artist's series of City paintings. Intricate and obsessive in detail, Tobey's web-like forms exist within the vast expanse of a rose-hued field of color. It simultaneously evokes the serenity of the desert landscapes that Tobey, who was born in Wisconsin in 1890, grew up around, and pulsates with the frantic movement found in everyday post-war urban life.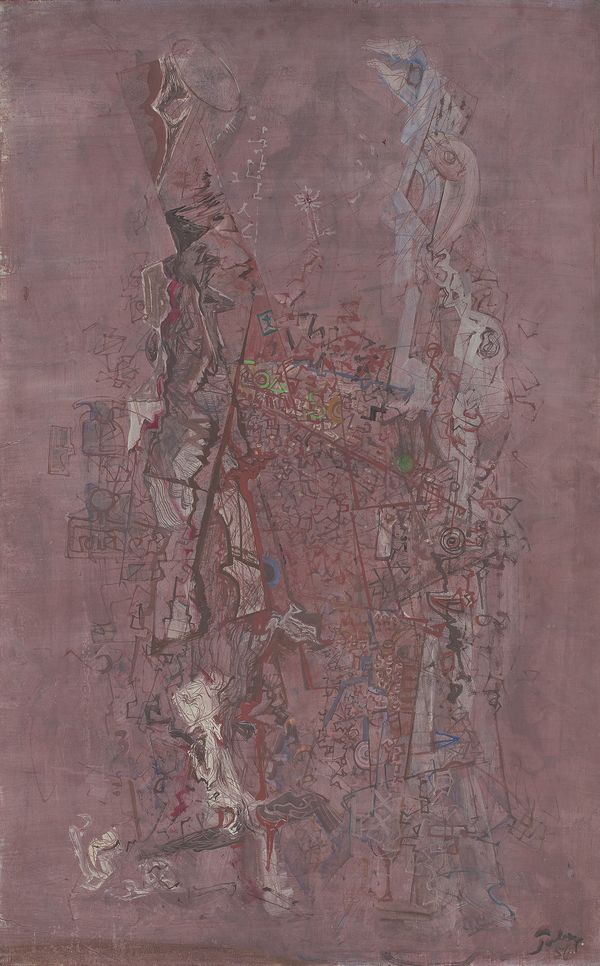 Mark Tobey Desert Town (Wild City), 1950
1952. Desert Town (Wild City) was notably loaned by Marian Guthrie Willard, Tobey's primary dealer, to the 5th Annual Exhibition of Contemporary American Painting at the California Palace of the Legion of Honor in San Francisco in 1952 — a year after Tobey's first ever retrospective at the institution. Just a month after the exhibition closing, the work was one of the 15 works selected for the Renaissance Society's Mark Tobey exhibition in Chicago alongside such icons as Threading Light, 1942, which already then was held in the collection of the Museum of Modern Art, New York.
Tobey's International Breakthrough
1955. By the mid-1950s, Tobey had reached what MoMA curator William C. Seitz called "international prominence." His retrospective exhibitions at the Institute of Contemporary Art, London and his first solo show in Paris, at the Galerie Jeanne Bucher in 1955, cemented his reputation in Europe. This period of success was crowned when he was awarded the International Great Prize at the Venice Biennale of 1958; soon after, in 1961, he became the first non-French artist ever to get a solo show at the prestigious Musée des Arts Décoratifs in Paris.
At present, it would appear Tobey is even more highly regarded abroad than he is at home. — William C. Seitz, 1962
Desert Town (Wild City) captures this unique moment: It was from Galerie Jeanne Bucher in Paris, where Tobey had had his first Paris solo show, that the famed art critic, curator and collector Michel Tapié acquired this work. Tapié was an early and influential theorist of "tachisme," a French style of abstract painting popular in the 1940s that echoed the concerns of Abstract Expressionism. Ever since meeting Tobey in Paris in 1954, Tapié lauded the artist as one of the two leading representatives of this type of post-war painting.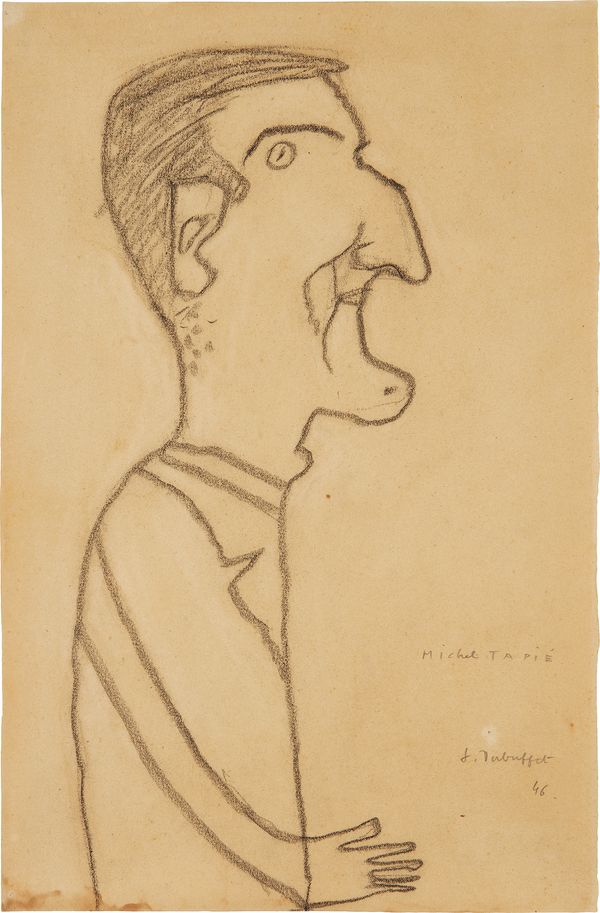 Jean Dubuffet Michel Tapié, 1946. This work will also be offered in our 20th Century & Contemporary Art Day Sale on 15 May 2019.
1960-1971. In 1960, Tobey moved to Basel in Switzerland permanently and, eventually, Desert Town (Wild City) entered the hands of legendary art dealer and collector Ernst Beyeler. The work was included in the Galerie Beyeler's 1970-1971 exhibition Tobey, on the occasion of his 80th birthday.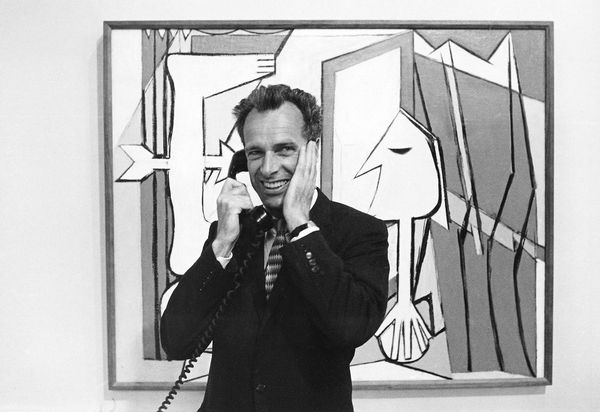 Ernst Beyeler
1970s. Eventually, Desert Town (Wild City) made its way back to the United States into the esteemed collection of Martha Jackson in Buffalo. A supporter of both American and European emerging art, Jackson opened her New York Gallery in 1953 and amassed a remarkable collection of post-war art that was inherited by Jackson's son and daughter-in-law, David and Becky Anderson.
2019. Nearly 60 years later after leaving the Willard Gallery in New York, Desert Town (Wild City) returns as a key highlight of our 20th Century & Contemporary Art Day Sale on 15 May in New York.