Ishiuchi Miyako 絶唱、横須賀ストーリー#73 大滝町 Yokosuka Story #73 Ōdaki-chō, 1977
ULTIMATE is a unique selection of photographs available for sale only at Phillips. In this edition, we have curated a multifaceted collection of exclusive works, ranging from rare masterpieces to unique works and sold-out editions. As this exciting program evolves, so do our criteria for entry. If it's the first, the last, special, unique, a one-off or the only chance to own it, then it might just be the ultimate…
While each work is distinctive, the one thing they all have in common is that they are not available anywhere else. We are thrilled to present fresh-to-market works by three women artists, including Helena Almeida's unique work Seduzir (lot 41), two rare vintage prints from Ishiuchi Miyako's Yokosuka Story (lots 42 and 43), and our cover lot by Anne Collier (lot 45).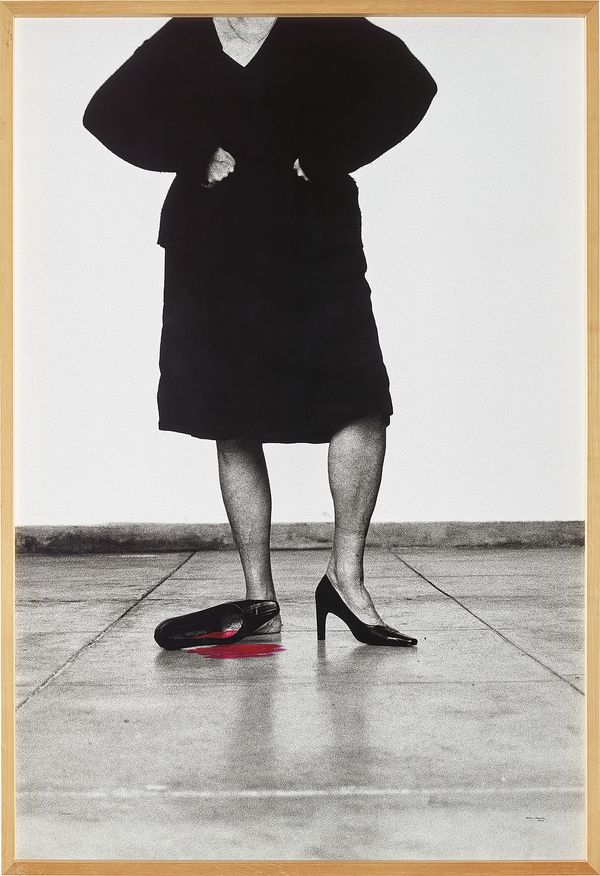 Helena Almeida Seduzir, 2002
A woman's body in a knee-length black dress, her hands clenched at her waist as she stands with one black high heel on and the other off. The discarded shoe lies on its side, with red paint on the insole and on the ground in front. Since 1969, Helena Almeida has produced photographs mainly in black and white. Refusing to be categorised, Almeida is not just photographer, painter, sculptor or performance artist, but all of these, treating herself as the canvas and using her body to paint and draw. Her body stands for all and any body, and is no longer her own.
What interests me is always the same thing: space ... But what I want to work on is emotions. They constitute different ways of telling a story.
Seduzir [Seduce], offered here, is from a body of work Almeida created between 2000 and 2002. Some critics posit that this series investigates the art of allurement and seduction, while others argue that it explores the death of Almeida's sister. Through these images, which number approximately 45, we see Almeida's body in a variety of poses, full figure or in fragments, some with red paint and others without. In the present lot, as with most of her works, the face is out of the frame, enabling the viewer to focus on the figure in the space, on her legs, her feet and her high heels. The red acrylic paint, evoking blood, draws our eye to the discarded shoe; the brightness of the pigment is heightened against the monochromatic imagery. Since the 1960s, Almeida has worked almost exclusively in her studio. In these later works, she frames her actions within these confines, capturing fragmented edges of the space as seen in the present composition.
In addition to her numerous exhibitions worldwide, Almeida was included in the 1982 and 2005 Venice Biennales. She has been exhibited internationally, including her major retrospectives Helena Almeida: Feet on the Ground, Head in the Sky at Serralves Foundation in Porto (2003) and Jeu de Paume's Corpus (2016) in which other works from this series were exhibited. Other Seduzir works reside in the collection of the Calouste Gulbenkian Museum in Lisbon.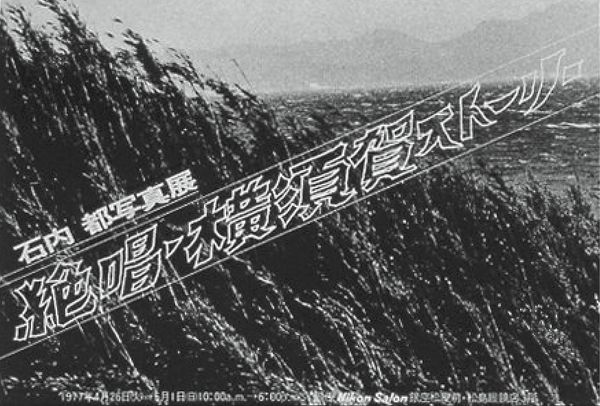 A promotional card for the first exhibition of Yokosuka Story, featuring Ishiuchi's handwriting overlaid on Yokosuka #5
In Yokosuka Story, Ishiuchi Miyako presents a fictional Yokosuka rendered in black and white. Dark, grainy and off-kilter, her photographs are quietly unsettling, as seen in the following two works. Juxtapositions of close-up and faraway views, straight and oblique angles, derelict buildings and solitary figures reflect the tensions she felt growing up in the turbulent base town. On completing her project in March of 1977, Ishiuchi showed 100 photographs of Yokosuka to Nobuyoshi Araki, whose introduction to Jun Miki, photographer and director of Nikon Salon, resulted in her maiden solo show Yokosuka Story from 26 April to 1 May at Nikon Salon in Ginza, Tokyo. In the following year, Ishiuchi founded the publishing company Shashin Tsūshinsha, financed with the three million yen her father had saved for her wedding, to self-publish her first two photobooks, which included Yokosuka Story (1979).
Yokosuka Story #5 (lot 42) and Yokosuka Story #73 (lot 43), offered here, were acquired from Gallery Past Rays in Yokohama, which, in 1997, held the first exhibition of Yokosuka Story in 20 years, showing both early and modern prints, to mark the 20th anniversary of Ishiuchi's 1977 maiden show at Nikon Salon.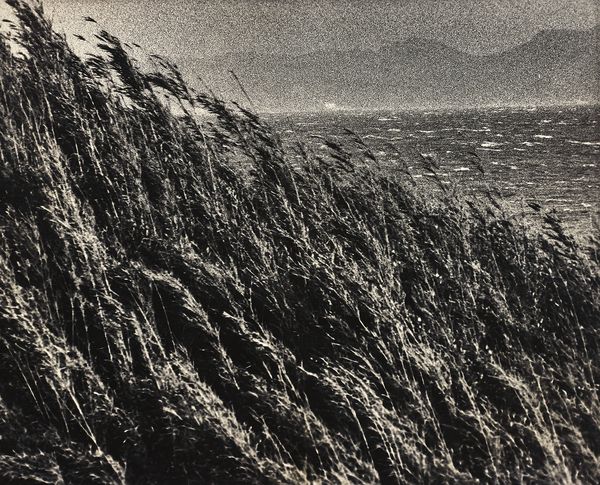 Ishiuchi Miyako 絶唱、横須賀ストーリー#5 野比海岸, Yokosuka Story #5 Nobikaigan, 1976
In this bold composition, the windswept grasses fill more than half of the frame. Ishiuchi's preferred language of grain and the repeated curves of the grasses create an emotionally charged photograph, enabling the viewer to feel the power of the wind and to hear the rustling of the grasses. One of the most important photographs from the project, Yokosuka Story #5 was selected as the image to promote Ishiuchi's 1977 inaugural Yokosuka Story exhibition.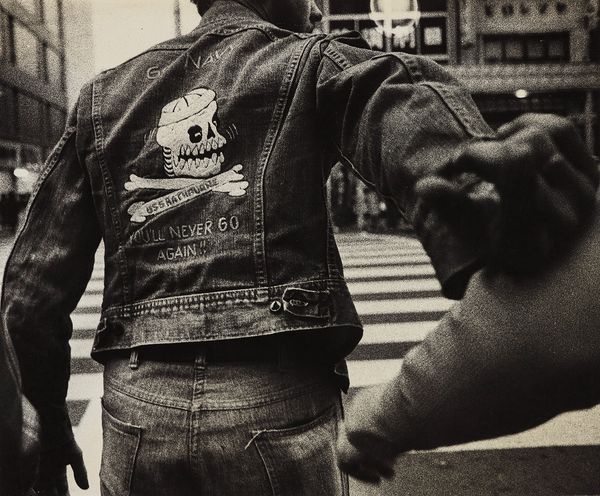 Ishiuchi Miyako 絶唱、横須賀ストーリー#73 大滝町 Yokosuka Story #73 Ōdaki-chō, 1977
Here, we see a close up of the back of an American wearing a denim jacket embroidered with a skull and crossbones and the words 'USS Rathburne' and 'You'll Never Go Again!!' as he is about to cross the road. The ambiguity of the scene is highlighted in Ishiuchi's choice of angles and cropping. Her manipulation of the photographic image in the camera and in the darkroom enables her to tell a personal story that also alludes to broader themes of alienation and disaffection of urban life in post-war Japan.
In 1979, Ishiuchi became the first woman to receive the Kimura Ihei Award, the most coveted photography award in Japan, and the only woman artist to be included in the group exhibition Japan: A Self-Portrait at the International Center of Photography in New York. She represented Japan at the 2005 Venice Biennale and is a multiple award winner, including Japan's Medal with Purple Ribbon (2013) and the Hasselblad Award (2014). Her work has been exhibited internationally and recent museum retrospectives include Ishiuchi Miyako: Postwar Shadows at the J. Paul Getty Museum, Los Angeles (2015-16) and Ishiuchi Miyako: Grain and Image at the Yokohama Museum of Art (2017-18).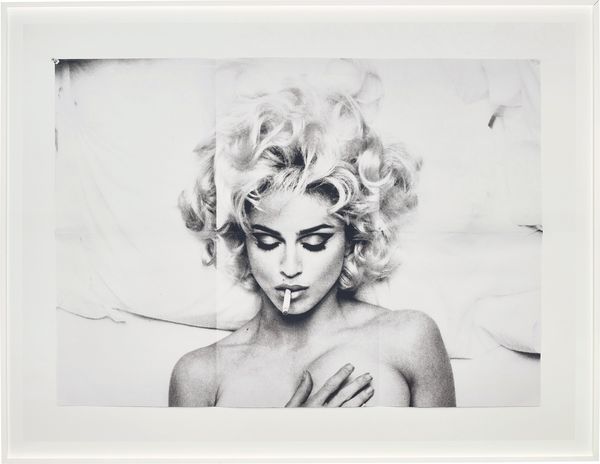 Anne Collier Folded Madonna Poster (Steven Meisel), 2007
A once-folded poster of Madonna from a photograph taken by Steven Meisel for her 1993 single 'Bad Girl' is pinned in the top two corners to a white wall. Photographing found objects and appropriated imagery, Anne Collier questions the ways in which these images are presented and perceived, aiming to elicit 'a sense of emotional or psychological uncertainty' through her image-making process.
In Folded Madonna Poster (Steven Meisel), she transforms the object into the subject and asks us to join her in analysing the process of perception and presentation. The title of the work highlights that this is a picture within a picture; we know both what we are looking at (a folded poster of Madonna) and by whom the image was originally taken (Steven Meisel). In acknowledging these two aspects, Collier draws our attention to how this image was initially presented and consumed. Influenced by the work of Cindy Sherman, Laurie Simmons and other 'Pictures Generation' artists, Collier re-contextualises popular imagery and visual clichés. She challenges how photography structures our ways of seeing by drawing our attention to these mechanics as seen in the present work.