Simon Butler with Greek Girl (Pencils), 2019, by Kevin Francis Gray
Multicolour, a new project from Migrate Art and MyArtBroker, is fundraising to support those affected by the global refugee crisis. Including Anish Kapoor, Rachel Whiteread, Sean Scully and Raqib Shaw, some of the most significant names in contemporary art have created works using pencils and crayons salvaged from the Calais Jungle refugee camp, formerly home to a community of approximately 10,000 refugees, demolished in 2016.
When Migrate Art visited the site of the Calais Jungle in the aftermath of its destruction, they found a flattened wasteland where there had once been so much life. From the rubble and dirt of a former school, a number of coloured pencils and crayons were salvaged and brought back to London. The participating artists were granted the freedom to use them in whatever way they wished—drawing with them, photographing them, incorporating them into sculpture or breaking them apart.
90% of profits from the sale of these works will be donated equally to Migrate's key charity partners: RefuAid, Refugee Community Kitchen, The Lotus Flower and The Worldwide Tribe; while 10% will go towards future Migrate Art projects. As we approach their sale as part of our New Now auction in London on 11 April, we caught up with Migrate Art's founder Simon Butler to hear more about this latest initiative.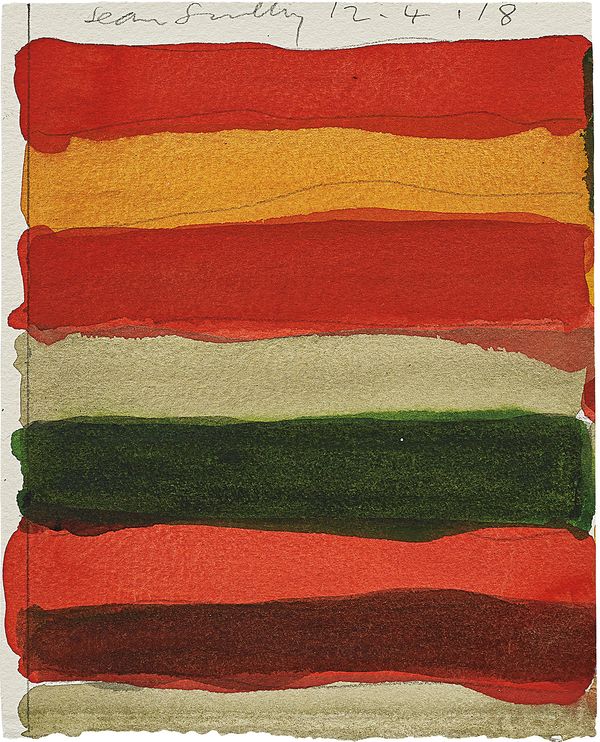 Sean Scully 12.4.18, 2018
PHILLIPS: Tell us about how you founded Migrate Art. Was there a moment or event that made you decide to enter the non-profit world?
SIMON BUTLER: Migrate Art started in October 2016 from a desire to help those affected by the migrant crisis after I visited the Calais Jungle refugee camp in France for the first time. I had worked in contemporary art for around seven years, and I came back to London and wanted to use my knowledge and contacts to raise money for a cause that had such a profound effect on me. Seeing the generosity of people who had nothing completely changed my view of the world.
P: How has the organisation grown or changed since its founding in 2016?
SB: When we started in 2016, the situation had a huge amount of urgency, and the grass-roots organisations I was meeting were in desperate need of funding. Because of this, we sold individual artworks as soon as they were donated to us. Incredible generosity from the likes of Julian Opie and Antony Gormley meant we raised our initial fundraising goal of £50,000 in just a couple of months, which opened our eyes to the potential we had. Whilst in many ways the situation for people in Calais and across the globe is currently harsher than ever, we have now been able to take more time with Multicolour and create a larger project featuring many of the world's most significant artists.
P: For those who might be unfamiliar, what was the Calais Jungle? How did you find yourself collecting art supplies from that location?
SB: The Calais Jungle was a refugee camp in Northern France that was home to approximately 10,000 people before the French authorities demolished it towards the end of 2016. I had visited the camp on multiple occasions when it was still standing, as I wanted to get an understanding of the situation for myself and I saw a very different side to the story than the one I had seen in the news. I then visited the Jungle during the demolition process, which was extremely poignant and sad. A couple of months later I felt an urge to go back and see what was left and found remnants of peoples' lives in the debris and mud. Where the school had previously stood, we found a number of coloured pencils, which we collected and brought back to London. After a few days of thinking about how we could use these items to fundraise in a unique and creative way, Multicolour was born.
The Migrate Art auction is a very creative approach enabling people to help with a desperate worldwide problem. — Rachel Whiteread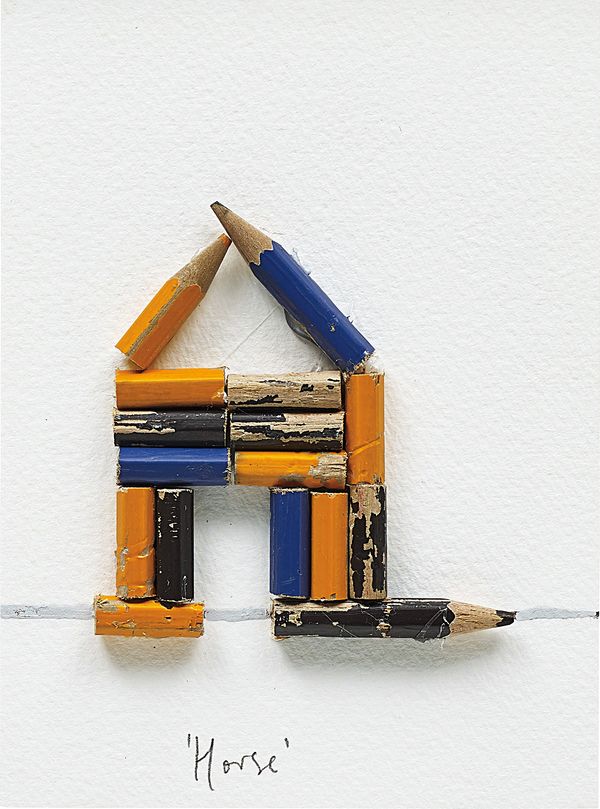 Rachel Whiteread House, 2018
P: What was the process of collecting artists to participate? Had you worked with them before in another capacity?
SB: The journey of confirming our amazing line-up of artists was tough and took a lot of persistence and belief in our idea. Some were artists I had worked with in previous jobs, others came from complete cold calls to email addresses I had found online and a few required the very best of my detective skills! One of my favourite stories came when I found the architecture practice that had designed one of the artist's studios. They had photos of the studio on their website, one of which included a London street sign. I then located the street, travelled over to the studio with an envelope containing a pencil and a hand-written letter and posted it through the studio door. A week or so later, I got an email from their studio manager to confirm that the artist would be happy to take part. It was these occasional successes that made the months of hard work and continuous rejections worth it. We aren't an organisation with a big name behind us like some of the larger NGOs, but I knew our idea and vision for the project was strong enough to get a very high calibre of artists on board.
Whether or not today's refugees are fleeing from political or economic trouble, I identify with and have great empathy for the sense of displacement they must feel. The only way I can express my true feelings is through my art... — Raqib Shaw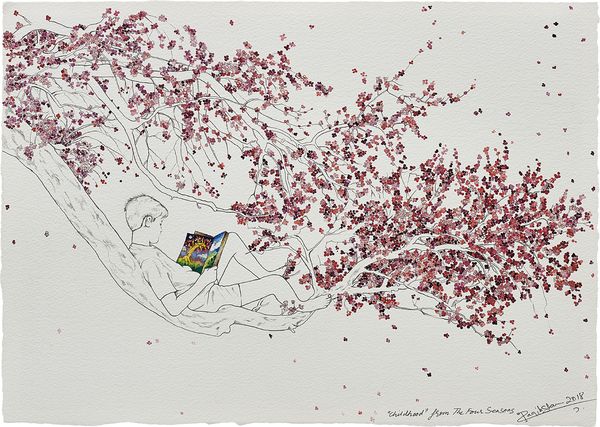 Raqib Shaw Childhood from the Four Seasons, 2018
P: How do you select the charitable partners you donate to? What made these organizations stand out?
SB: Working with our four charity partners was a natural process. It was a conversation with Jaz O'Hara from The Worldwide Tribe that first inspired me to go to Calais. I had met Jaz a couple of times through mutual friends and had seen the amazing work she was carrying out in Calais and decided to reach out to see how I could help. She suggested I visit the camp and start thinking about how I could use my unique skill set to help. In late 2016, I was invited to a conference at The House of Lords along with around twenty other refugee charities. It was here that I met Anna Jones from RefuAid, Taban Shoresh from The Lotus Flower and Janie Mac from Refugee Community Kitchen.
These organisations caught my attention in particular — they were carrying out important work, were highly motivated and had great business knowledge to ensure their enterprises were sustainable. We fully believe in all that they do, and their successes over the last two years are testament to their amazing work. They have included TED talks, a Forbes 30 Under 30 winner, acknowledgments from the Mayor of London, widespread mainstream media coverage and hundreds of thousands of pounds raised for great causes.
What this group of people have achieved in such a short space of time is remarkable.