Mathew Jones The New York Daily News on the day that became the Stonewall Riot reproduced by hand from microfilm records, 1997 © Courtesy www.mathewjones.com
Attempting to bridge two long, intertwined histories, Phaidon's Art & Queer Culture is one of the most extensive surveys of LGBT art and artists over the last two centuries. Scholars Catherine Lord and Richard Meyer joined a group of new contributors—all themselves gay, lesbian, queer and trans—to re-release an edited and updated second edition.
Featuring stars and emerging artists alike, check out some of Phillips' favorite excerpts from the book below.
Steven F. Dansky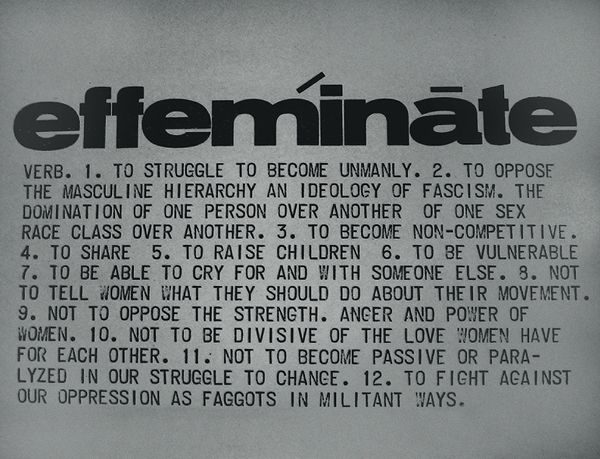 Steven F. Dansky Effeminate, 1972
Effeminate appeared in a journal called Faggotry (1972) edited by the activist and writer Steven F. Dansky. The usually derogatory term 'effeminate' is here redefined as an active verb through which men 'struggle to become unmanly' so as to support women's liberation without trying to 'tell women what they should do'. Dansky, along with John Knoebel and poet Kenneth Pitchford (who was married at the time to radical feminist Robin Morgan) founded a movement called 'Revolutionary Effeminism' in the early 1970s. Effeminists believed that women's liberation was the key to all human freedom and developed a scathing critique of sexism, renouncing all forms of male supremacy. They supported women by, for example, providing childcare without entering or intervening into the women's movement. They preferred to be called faggots rather than gay men and defiantly reclaimed the vernacular epithet 'flaming faggot' by recalling the men burned alive at the feet of witches during the middle ages. Revolutionary effeminists called on 'flaming faggots' to think relationally rather individualistically, and more specifically, to put women's needs before their own.
Felix González-Torres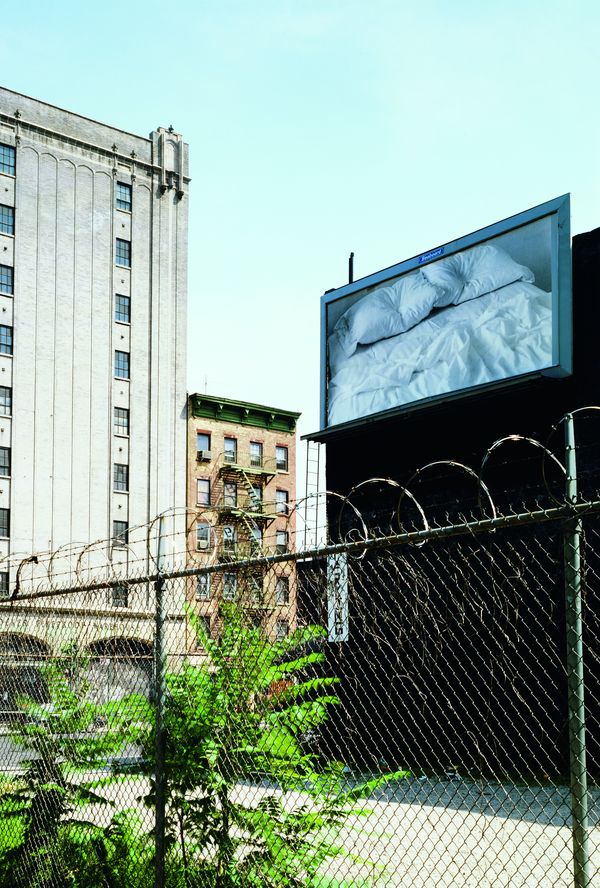 Felix González-Torres "Untitled" (Billboard), 1992
Commissioned by the Museum of Modern Art, New York, for its exhibition 'Projects 34: Felix González-Torres', the artist's bed billboards depict a space of comfort – but also of bodily absence and longing – within the commercial sphere. The near monochrome image, entirely devoid of text, offers a bed that bears the impression but not the physical presence of two reclining bodies. González-Torres placed the billboard at twenty-five sites throughout Manhattan, Brooklyn, Queens and the Bronx, only one of which (the Projects gallery at MoMA) was indoors. In MoMA's exhibition brochure we read that González-Torres lost his lover, Ross Laycock, to AIDS in 1991 and that this project might therefore be seen as a kind of individual memorial or tribute to an absent partner. Once offered, this biographical information becomes inextricable from any experience of the work's meaning. Yet in its willful ambiguity and open appeal to fantasy, the billboard cannot be confined to a specific message about the epidemic or to any single act of memorialization. Rather than reconstituting an individual lover (or, for that matter, the self) as the pictorial subject of commemoration and pathos, these billboards figure the trace of bodies that have, as it were, disappeared before our very eyes.
Elmgreen & Dragset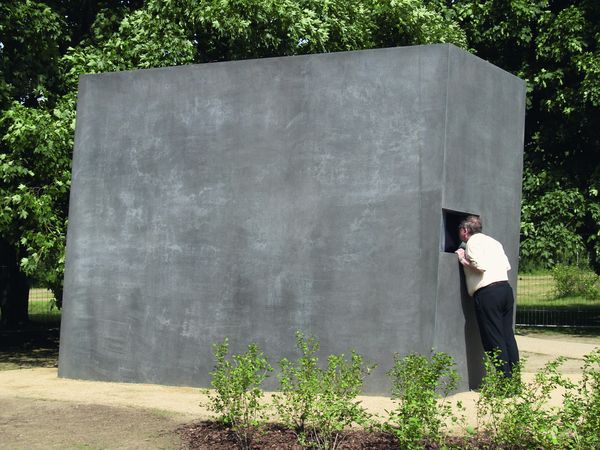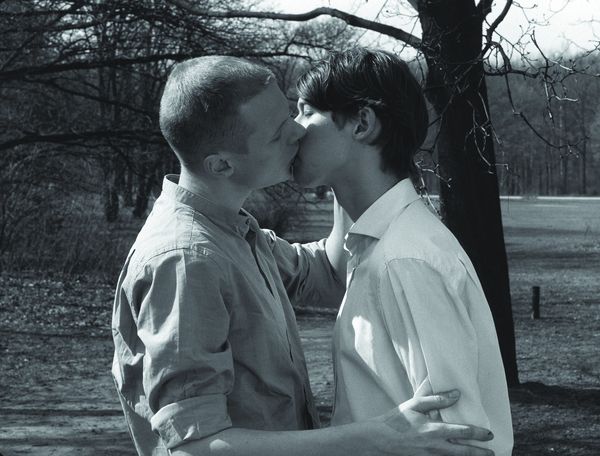 Elmgreen & Dragset Memorial for the Homosexual Victims of the Nazi Regime, 2008
Masters of irony, Michael Elmgreen and Ingar Dragset describe themselves as 'fags from the suburbs' who entered the art scene by an alternative route. One trained as a mime; the other, in the tradition of Jasper Johns and Robert Rauschenberg, worked as a florist's window dresser. Their extended series of Powerless Structures uses the intersection of architecture, art and design to scoff at the icons of queer culture. Their strategies are astutely urban, attentive to unravelling the possibilities of behavioral experiments in public consumption that are often slyly queer. Their proposal for a Holocaust memorial points to Berlin's Tiergarten as a longstanding location for public sex and refers to previous works that use cruising as an embodiment of Michel Foucault's understanding of power as something everywhere present and everywhere subject to subversion. It also draws attention to homosexual victims of the Nazis. In the park the artists have placed a massive, seventy-five-ton cement stele with a window through which the curious can watch a small video projection depicting two men kissing. Every two years the projection will be replaced by a new video of a same-sex encounter, each made by a different artist, ensuring the work's reading as a living memorial and allowing for the inclusion of imagery of and by lesbians – another group who were victims of the Nazis. The memorial opened in 2008 and was vandalized within months.
Zanele Muholi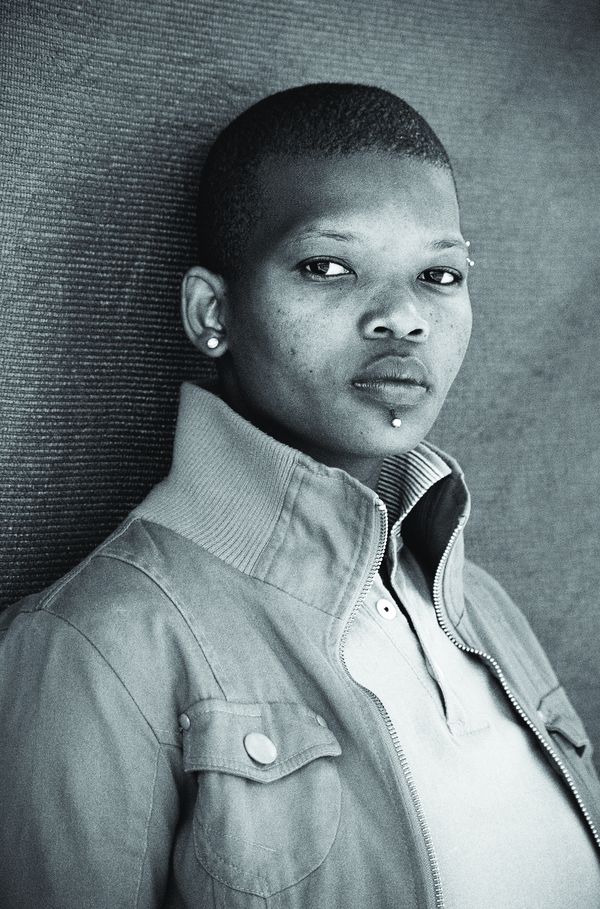 Zanele Muholi Puleng Mahlati, Embekweni, Paarl, 2009
'The reality', says Zanele Muholi, 'is that black lesbians are targeted with brutal oppression in the South African townships and surrounding areas.' In Faces and Phases, the extended series that includes this image, Muholi uses portraiture to create an archive of resistance to hate crimes such as 'curative rape'. She set out to make positive images of black South Africans – lesbians, women and transmen – in order to register a queer presence in the visual record and to honor the victims of hate crimes. (Indeed, some of her subjects died of anti-queer violence before the photographs were exhibited.) The individuals photographed represent various occupations and hail from various townships. They also trouble stereotypes of lesbian and female appearance. Muholi's subject here – Puleng Mahlati – could be biologically female or a transman. We see only wide shoulders, a jacket usually worn by men, a stunning head and an utterly self-possessed gaze aimed directly at the viewer.
Paul Mpagi Sepuya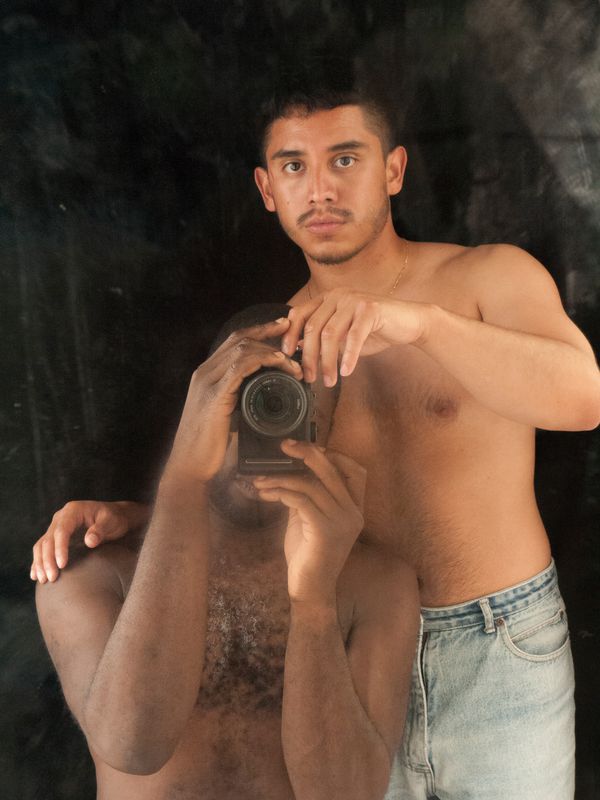 Paul Mpagi Sepuya Darkroom Mirror (_2050038), 2017
Two shirtless men, one seated, the other standing, seem to photograph the viewer, so that even as we look at it, the picture looks back. The standing man rests his hand on the shoulder of the seated man, who in return grazes the belly of his companion. In a tiny gesture of intimacy, the seated man places a single finger on that of his companion atop the camera. The seated man is also the maker of the picture, the Los Angeles-based photographer Paul Mpagi Sepuya. His photograph is from a series called Dark Room, a double-entendre that refers both to the dark room of photography and to the low-lit back rooms in gay bars reserved for cruising and casual sex. Both dark rooms are places of physical contact, whether between chemically sensitive paper and developing agents or between the bodies of men. Sepuya attends to the smallest of visual details and differences: the sheen and sweat on the face of the standing man, the black and grey hair on the photographer's chest, the folds and crush of the black velvet backdrop against which the men appear. The space of the photograph delineated by the black velvet scrim suggests a third 'dark room': one in which desire develops before our eyes.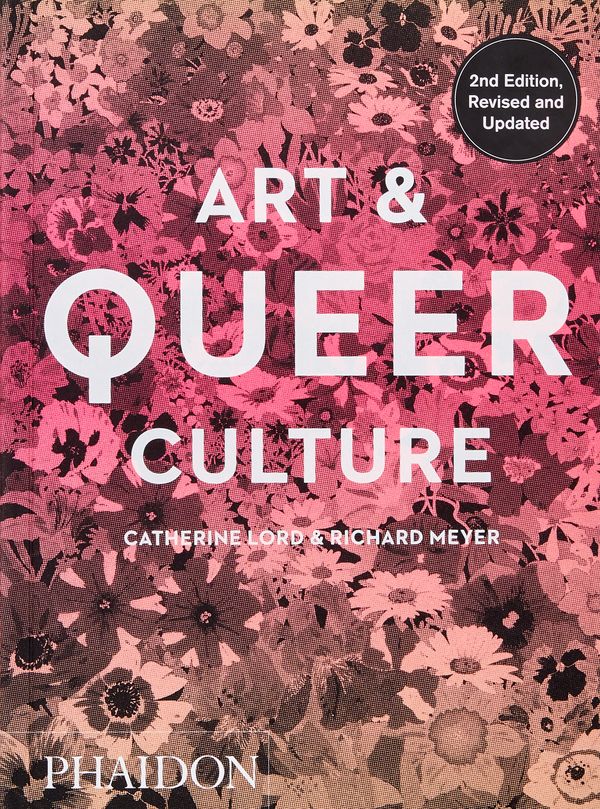 Learn more about Art & Queer Culture here.