The atmosphere was electric last week in the Phillips Berkeley Square saleroom as two Design auctions surpassed their high estimates amid strong bidding both in the room and online.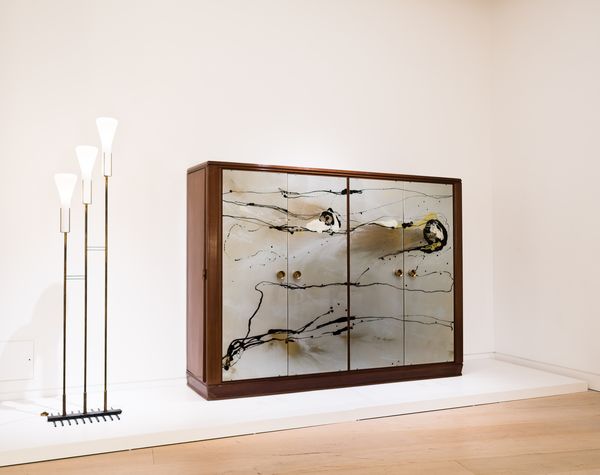 Wardrobe by Lucio Fontana and Osvaldo Borsani realized £275,000
First up was Important Design, which acheived an 88% sell-through rate by lot and 93% rate by value. The top lot was a mid-century wardrobe by Lucio Fontana and Osvaldo Borsani, which blew past its low estimate of £140,000 to acheive a final price of £275,000. More Italian and French design rounded out the top ten lots, with imporant chairs by Carlo Mollino, ceiling lights by Studio BBPR and a golden carp by François-Xavier Lalanne all significantly exceeding their estimates.
Set of four ceiling lights by Studio BBPR realized £81,250
According to Alexander Payne, Worldwide Head of Design and Deputy Chairman, Europe, "What was so evident from today's sales was the high degree of confidence among collectors for European 20th century design. The international design market certainly passed its first test of the year, with the final result far exceeding the high sale estimate. Offering a broad panorama across the design spectrum, the sale was led by Lucio Fontana and Osvaldo Borsani's wardrobe, which captures the unique relationship between the artist and architect, and between object and space. We purposefully set out to carefully select our sales with great care in order to celebrate and promote design in its many forms, and this continues to draw new and existing clients to our market. We look forward to the Design sale in New York on 6 June."
In total, the Important Design sale realized £3.3 million.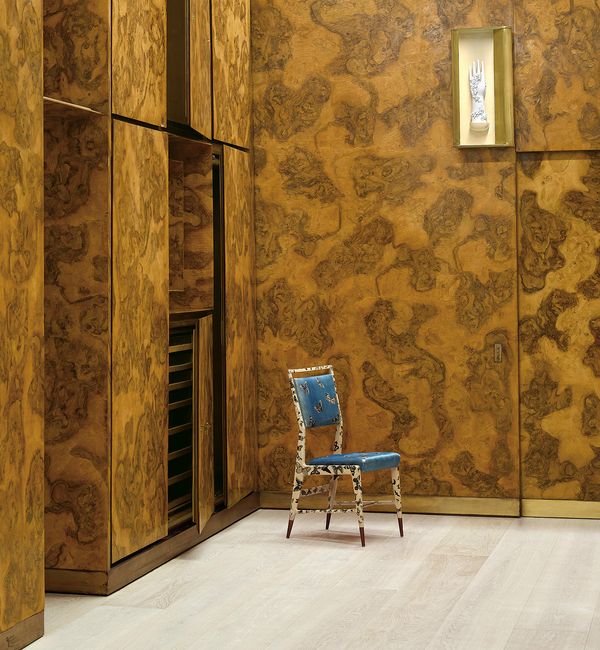 A set of wall panels by Gio Ponti, Piero Fornasetti, Edina Altara and Guido Gambone realized £225,000
Later in the evening, Phillips acheived a white-glove sale for Casa di Fantasia, a collaboration with Italian auction house Cambi Casa d'Aste. With 100% sold both by lot and by value, the sale realized a total of £1.9 million.
This special, single-owner sale featured a unique collection of Gio Ponti design, all custom made in collaboration with other artists for the Casa Lucano, an apartment in Milan's Fiera district. The top lots were two chests of drawers, made by Ponti in collaboration with Edina Altara, which realized a combined total of £587,000 against a combined high estimate of £130,000.
Lot 315, a chest of drawers by Gio Ponti and Edina Altara, realized £337,500
Domenico Raimondo, Head of Design, Europe and Senior International Specialist, stated, "This extraordinary white glove sale marks an unprecedented moment in the global market for Gio Ponti. It has been an incredibly exciting and enriching experience to partner with Cambi Casa d'Aste and to witness such a strong and positive reaction for this seminal interior. Edina Altara, Piero Fornasetti, Fausto Melotti, Giordano Chiesa (to name a few) all collaborated and worked under the guidance of Gio Ponti to create this extraordinary metaphysical scenery, where volumes and materials dissolve in a game of illusion. Thought out as a stage set, it represented and celebrated Ponti's unique approach to design and incorporated some of the most iconic and sought after designs from the architect."
Noting Phillips' history as a market leader in these categories of design, Raimondo continued, "These outstanding prices were achieved as a result of truly international bidding from some of the most established private collectors of 20th Century Italian Art and Design, for which Phillips continues to be at the forefront of the market."
To find out more about the outstanding results from this set of Design sales, read our press release here.