Gerhard Richter Düsenjäger, 1963
Düsenjäger (Jet Fighter), 1963, is a seminal early work by Gerhard Richter. Displaying the gleaming force of a jet streaking past, it is one of the artist's first Photo Paintings, dating from the very inception of Pop Art. Commanding in size and subject matter, it emerged at the most important juncture in Richter's career, in a year when he began garnering significant critical attention and being publicly connected to the movement of Pop Art. That year, Richter wrote: "Pop Art recognizes the modern mass media as a genuine cultural phenomenon and turns their attributes, formulations and content, through artifice, into art. It thus fundamentally changes the face of modern painting and inaugurates an aesthetic revolution. Pop Art has rendered conventional painting - with all its sterility, its isolation, its artificiality, its taboos and its rules — entirely obsolete."
Seen in front of Düsenjäger at Phillips Berkeley Square, Chairwoman Cheyenne Westphal describes Richter's series of photorealist warplane paintings
Düsenjäger belongs to a group of eight celebrated paintings that Richter made of warplanes between 1963 and 1964. Of these, four are in German museum collections and boast what subsequently became Richter's main palette—the grisaille. With its use of pink, Düsenjäger is a rare exception, allowing a warm, blushing light to enter the premises of the sky against which the formidable metallic jet is set. This splash of color, departing from Richter's penetrating, idiosyncratic gray palette, forebodes his later Color Chart series begun in 1966, which investigated different dynamics of color through the neat isolation of monochromatic blocks.

In Düsenjäger, the dynamism of color produces a sense of movement that is accentuated by the cropping of the plane's nose. Truncated at its tip, the plane is as though in motion, only fleetingly captured as it speeds past the photographer's lens. Richter uses this effect to trick the viewer into perceiving a sense of velocity when the paint itself is all too still. Contrasting the immediacy of photography with the lengthy process of painting, Richter poses questions that have concerned artists, critics and art historians since the advent of the photographic medium: How do different artistic media coexist and inform one another? Is it still possible for painting to live without the photographic eye?
The idea that art copies nature is a fatal misconception. — Gerhard Richter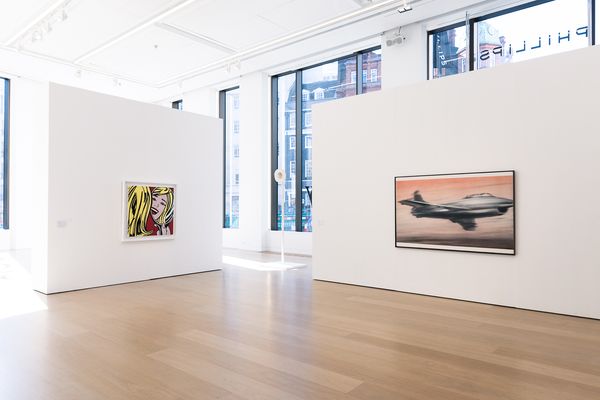 Düsenjäger seen next to Roy Lichtenstein's Girl in Mirror, 1964
With Düsenjäger, Richter provides his own answer to these questions. An easily-read image, the painting is appropriated: a still life, the painterly reproduction of a photograph. This fact is underlined by the pale bands at the top and bottom of the canvas; "The idea that art copies nature is a fatal misconception," Richter explained. "Art has always operated against nature and for reason. Every word, every line, every thought is prompted by the age we live in, with all its circumstances, its ties, its efforts, its past and present. It is impossible to act or think independently and arbitrarily. This is comforting, in a way."

Richter created his first Photo Painting in 1962, but it was in 1963, the year Düsenjäger was made, that he began to see himself as a Pop artist. He had been struck by Roy Lichtenstein's parallel exploration of similar themes; Lichtenstein's crisp, media-based images visibly sourced material from the emphatically dynamic worlds of comic books and advertising. His WHAAM!, also from 1963, displays a palpable sense of excitement, drama, even glamour. For Richter and Lichtenstein, it was indeed in the tension between the explosive dynamism of their images and the slowness of their creation that some of their visceral conceptual power emerged.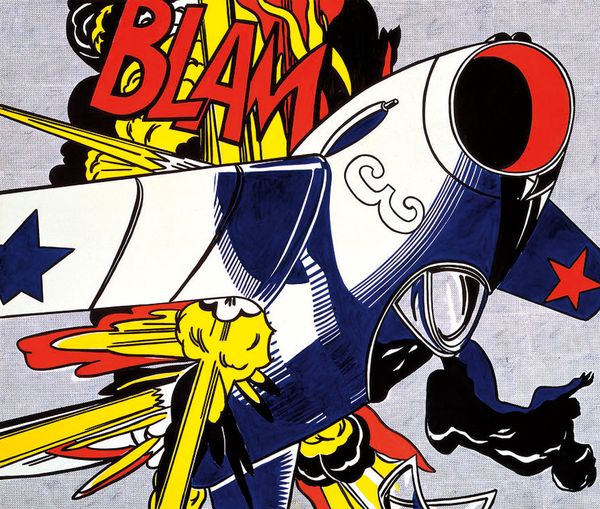 Roy Lichtenstein Blam, 1962. © Estate of Roy Lichtenstein / DACS 2019.
Occasionally attempting to play down the importance of content in his paintings, Richter claimed that it was the act of reproducing a photograph by hand that was key. It appears clear, however, that many of his works contain pointed references to the world around him. Taking the pictures of warplanes as an example, several of them show images of bombers from the Allied forces. In some cases, these essentially represent the bombers that had destroyed Richter's native Dresden during his childhood. A strong sense of violence and gravitas thus emanates from his warplane paintings; as such, they align less with Pop Artless in the vein of Lichtenstein's cartoonish images of aerial heroics than with Warhol's images of Car Crashes and Electric Chairs. A prime example of Richter's thematically ambivalent cycle of works, Düsenjäger bears undeniable political undertones.
Pop Art has rendered conventional painting – with all its sterility, its isolation, its artifciality, its taboos and its rules – entirely obsolete.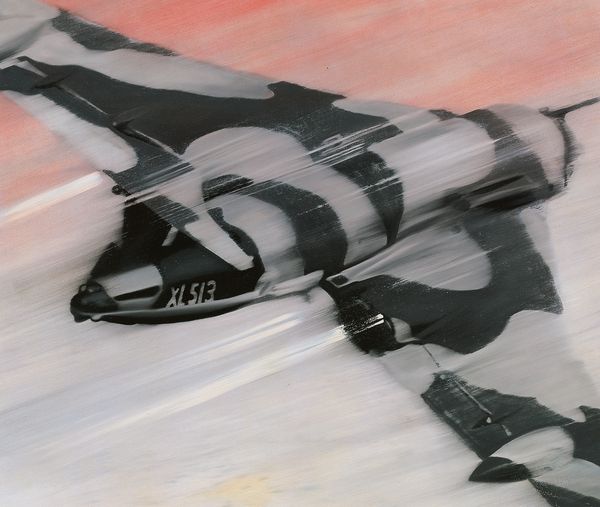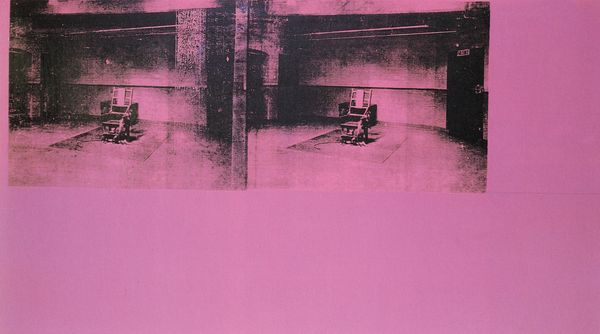 Above from top: Gerhard Richter XL 513 (20-1), 1964, Collection Frieder Burda, Baden-Baden. © Gerhard Richter 2019 (0027). Andy Warhol Double Lavender Disaster, 1963. © 2019 The Andy Warhol Foundation for the Visual Arts, Inc./ Licensed by DACS, London.
Yet, the use of color in Düsenjäger can also be seen as a foil to political invocation. Parallel to Warhol's disruption of his subject matter in his Marilyn works or his gun-toting Elvises, Richter utilizes highly-keyed color to undercut the sense of violence. After all, Warhol's Electric Chairs and Car Crashes were shown in a rainbow of colors. Similarly, there is a sense that Düsenjäger's soft pink has bottled the image of violence, of the kind of hi-tech weaponry that had fascinated Richter when he had been a boy, and undermined the macho sentiment that appears upon first impression throughout the surface. This à rebours effect is akin to Warhol's seminal image of Elvis pointing his pistol. In Elvis' hands, the fatal object evokes high camp rather than menace.

Notably, Richter's use of war machinery as subject matter would have been all the more pertinent in 1963, when he painted Düsenjäger. After all, this was a crucial moment of tension in the Cold War. Richter, who had only recently defected from communist East Germany to the capitalist West, and who had grown up under the National Socialist regime of Adolf Hitler, was all too aware of the danger of idealisms. Düsenjäger was painted against the backdrop of some of the highest tensions since the end of the Second World War. The jet in the painting, a Fiat G-91 nick-named the 'Gina', had been designed for use by NATO at the end of the 1950s and adopted by the Luftwaffe amongst other air forces. Becoming the first warplane to be made in West Germany since the end of the Second World War, the 'Gina' showed an image of post-war reconciliation, and of West Germany's rehabilitation.

Düsenjäger taps into the visual language with which the technology of warfare continues to be fetishized. Richter, despite the supposedly inscrutable deadpan of an appropriated photograph, approaches his subject matter from a point of view that both embraces and critiques this fascination. As such, the work touches on the unresolved, and therefore all the more engaging, perspective of an artist who lived under Nazism, Socialism and Capitalism, painted against the backdrop of an age that veered relentlessly from optimism to pessimism and back again.
Historic, political and artistic tensions course through Düsenjäger—all these varying forces resulting in its becoming both very much of its time, and transcendent of the context of its creation: a masterpiece of Pop.