Lucio Fontana and Osvaldo Borsani's Wardrobe, 1952-1953, seen on view at Phillips Berkeley Square with a painting by Kehinde Wiley
Coming to auction on Thursday 21 March as part of our Important Design sale, the wardrobe designed by the architect Osvaldo Borsani features painted panels by the artist Lucio Fontana, with whom he developed a close collaboration and friendship. It appears simultaneously as being impermanent and permanent, reflecting a shared desire to address conventional relationships between the object and its surrounding space.
The work belongs to a series of furniture designed by Borsani and embellished by Fontana, always enlivening an exceptionally simple design with a dynamic effect in order to create interiors that were both functional and artistic. Borsani and Fontana shared an enduring interest in the new and a proclivity for experimentation in both their individual and collaborative work. Having embraced new ideological and technological advances over the course of his career—which spanned most of the twentieth century—Borsani played an instrumental role in the formation of Italian modernist design while remaining dedicated to the country's tradition of craftsmanship and quality of materials. This enduring commitment, paired with his pursuit and understanding of design as addressing more than just function, underscored Borsani's collaborative approach to his work. Fontana's own spatial research and exploration of dimensionality provided an intersection for artistic exchange between the architect and artist, which expanded the expressive possibilities of both their practices.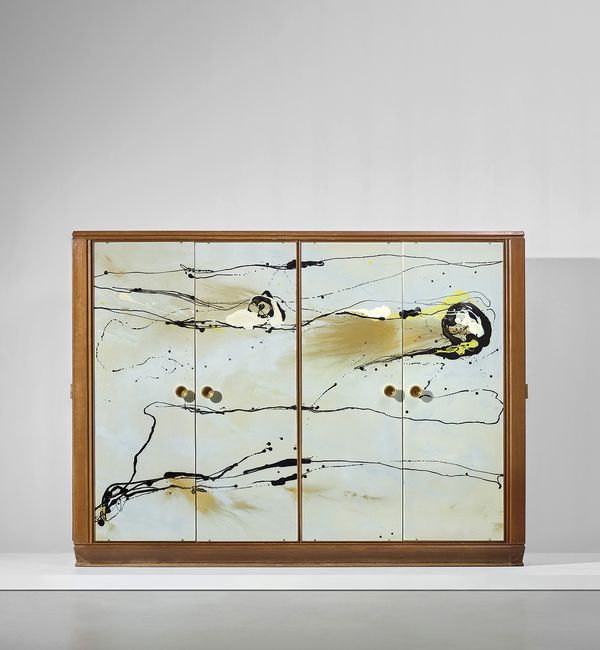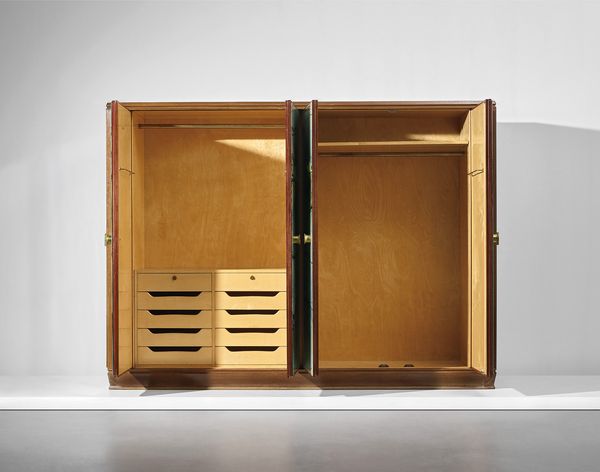 Borsani had first met Fontana while studying at the Accademia di Brera in Milan, along with artists such as Arnaldo Pomodoro and Fausto Melotti, the next generation of Italy's avant-garde, with whom the architect would collaborate with throughout his career. Borsani received his early training under his father Gaetano Borsani, whose workshop in Varedo produced Italian Deco style furniture and was highly regarded for its craftsmanship—an influence that would remain central to Borsani's own production. During the 1930s, Gaetano had begun working with contemporary artists to create furniture with unique decoration, offering his clients additional possibilities for the customization of their commissions. Sharing his father's interest in art and recognizing the creative and experimental potential of this collaborative approach, Borsani developed close relationships with many contemporary artists, establishing a dialogue within his practice that extended beyond the bounds of architecture and design. This interdisciplinary approach to design flourished in the context of post-war Italy and the resulting economic upturn, which created a momentum and openness for an exchange of ideas and research across cultural fields.

While Borsani and Fontana's early collaborative work, comprising highly expressive and cohesive interior schemes, illustrates the latter's interest in the Baroque, their designs later became more abstracted, revealing Fontana's research into Spatialism. Fontana published his first manifesto on Spatialism in 1947—the same year he settled permanently in Milan—in which he called for a synthesis in art of color, sound, movement and time. In his Technical Manifesto given at the 1st International Congress of Proportion at the IXth Trienniale, Milan, 1947, the artist advocated for the need for a new form of art that moved beyond the representation of known forms and repetitive narratives, in order to reflect the ever-changing contemporary conditions of civilization. With Spatialism, Fontana sought to embrace science and technology through the adoption of new media, including neon lighting and television, and examine the relationship between the art object and the surrounding 'real' space.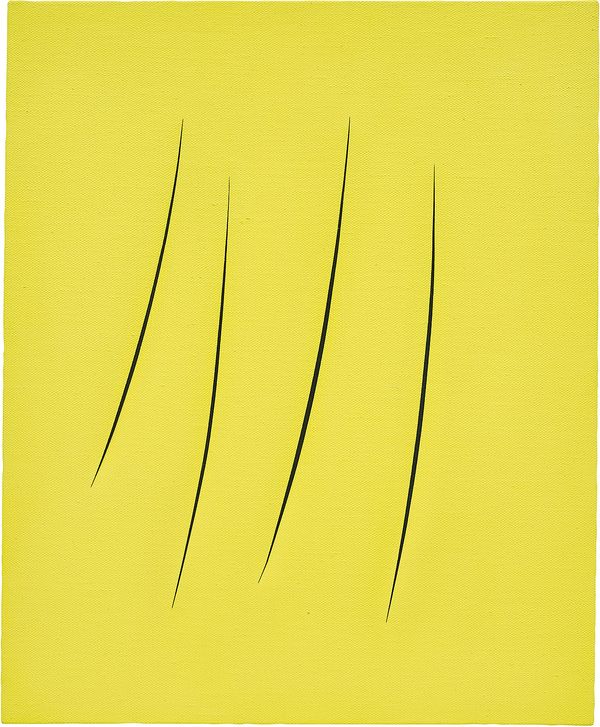 Lucio Fontana Concetto spaziale, Attese, 1963. Sold for £753,000 at Phillips in October 2018.
By 1949, Fontana had begun using the term Concetto Spaziale (Spatial Concepts) to describe his work which he considered neither painting or sculpture. Beginning the same year, in a series entitled I Buchi (Holes), Fontana created constellations of holes made in the surface of his canvases that were intended not only as graphic representation but as "true openings leading to further space." In 1952, Fontana introduced fragments of colored glass to the perforated surface of his oil painted canvases featuring spiraling compositions of holes, producing the series Le Pietre (Stones), which further suggested a spatial dimension in his work. During this period, Fontana also created "spatial environments," presenting his iconic Spatial Light – Structure in Neon for the 9th Milan Triennial in 1951. Through this work, which comprised a rhythmic and intersecting 100-meter-long loop of neon tubing suspended across the ceiling of the grand staircase Palazzo dell'Arte, Fontana sought a convergence of movement and color with the surrounding architectural space.

The present wardrobe, designed between 1952-53, is an early and fine example of the final method in which Borsani and Fontana collaborated. In these works, comprising designs for storage furniture and a series of sides tables, Fontana experimented with pouring paint onto glass sheets to create indefinite compositions, which were set into external structures designed by Borsani. The decorative surfaces created by Fontana convey a sense of infinity, evoking the cosmos, which recall his spatial concept works and relate to his research during this period in which he created environments with a "strong spatial sense." The atmospheric quality and irregular application of paint across the four door panels of the present wardrobe creates an impression of organic movement, drawing the viewer's gaze across the opalescent surface, which would have countered the sense of verticalness that often characterized Borsani's interiors. This effect may have been enhanced by the play of light within the original interior scheme as evidenced by the spatial compositions and use of reflective surfaces in other projects designed by the architect documented from this period.
Fontana experimented with pouring paint onto glass sheets to create indefinite compositions, which were set into external structures designed by Borsani.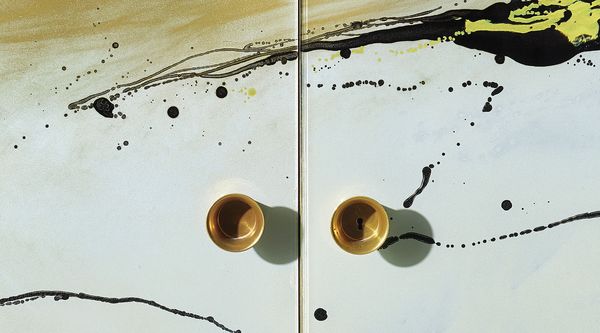 While the solid wood frame grounds the wardrobe within the surrounding space, the surface decoration of the doors, underscored by their inherent function, simultaneously activated the object and dissolved its structural mass. This visual effect is underscored by Borsani's incorporation of two unexpected coat closets at either side of the wardrobe. Through its design and use, the wardrobe seemed to exist in both illusionary and actual time and space, involving the participation of the viewer, and thus realizing the desire to bring art into one's everyday environment.
Borsani also worked with Fontana using this mode to produce painted panels for furniture models that subsequently became part of the production at Tecno, the design and manufacturing firm the architect founded with his brother Fulgenzio in 1953. Reflecting the entrepreneurial spirit and artisanal experience of its founders, and the optimism and collaborative approach of post-war Milan, Tecno combined rigor of form and quality of craftsmanship to embrace new markets, which inspired further innovation and versatility in Borsani's designs. Thus, this particular wardrobe anticipated the unity of artisan knowledge and research-based, technological approach Borsani successfully established through Tecno.
The architect's work achieved a natural beauty through the man-made, exploring the tensions of traditional and technological production methods and their conceptual and expressive possibilities. Integral to Borsani's work was his ability to bridge such ideas by establishing connections, evidenced by his dynamic exchange with Fontana, and their exploration of the continuity of material and space in their work.