Now on view at Phillips Berkeley Square before our 20th Century & Contemporary Art Day Sale, Marc Chagall's Le violoncelliste, 1964, is seen alongside works by Fernand Léger and Sam Francis
For me, the picture is a surface covered with representations of things...in certain order in which logic and illustration have no importance. The visual effect of the composition is what is paramount.
— Marc Chagall
Bringing together the iconic motifs and colors that populated Marc Chagall's oeuvre throughout his career, Le violoncelliste, 1964, is a perfect embodiment of the artist's distinctive style. Belonging to a cycle of works centering on the theme of music, this work on paper from our 20th Century & Contemporary Art Day Sale showcases Chagall's close proximity to the subject: "I'll become a violinist. I'll enter a conservatory," the artist had mused as a child.
Though he later gave up on the idea, Chagall ceaselessly produced momentous works circling the musical realm, most notably the Opéra Garnier's luxurious ceiling in Paris in 1964, and two monumental murals, The Triumph of Music and The Sources of Music, commissioned by the Metropolitan Opera of New York in 1966, all produced alongside the present work in the mid-1960s.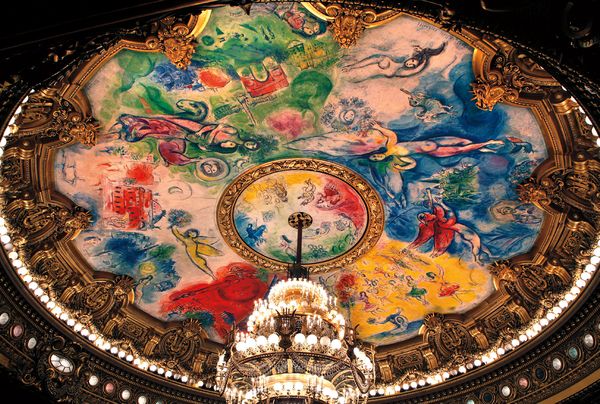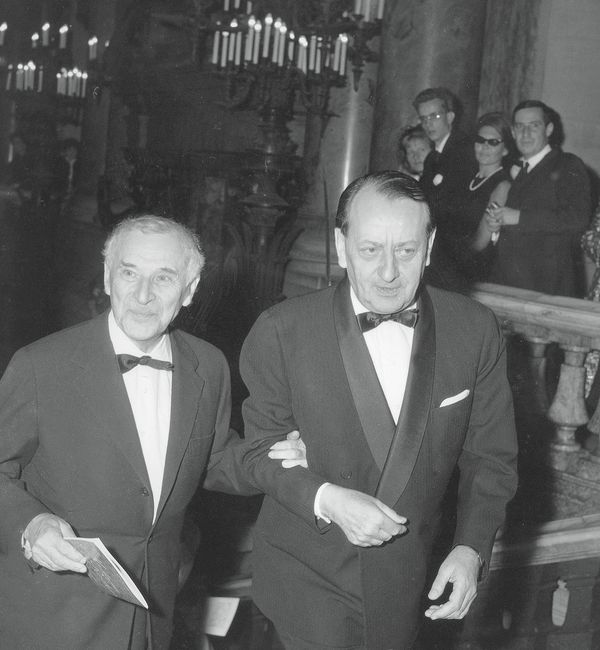 Above from top: View of the brightly colored auditorium ceiling, 1964, by Marc Chagall, Palais Garnier, Paris, France. The ceiling, commissioned by Culture Minister Andre Malraux (1901-76), represents scenes from ballets and operas which might be performed at the Opera House. Picture by Manuel Cohen © Marc Chagall. Image: Scala Images, Florence. Below, Chagall and French Minister of Culture Malraux at the unveiling of the artist's ceiling painting at the Opéra in Paris, 23 September 1964. Image: Bridgeman Images.
Resting their head against their instrument while looking into the distance, the artist's Le violoncelliste touches on various themes that were bolstered by Chagall's boundless imagination. Moving beyond the realm of music, this work on paper is evocative of childhood memories in the artist's native Vitebsk, invoking visions of fiddlers, birds and cold wintery tones while simultaneously presenting itself as a universally understandable allegory for nostalgia.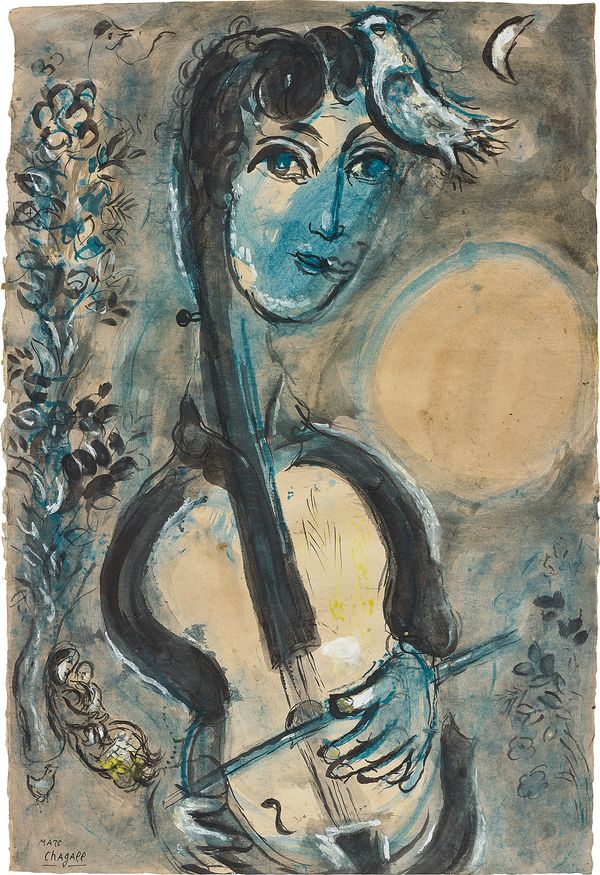 Buttressed by each symbol's overarching thematic association, Le violoncelliste brings forth powerful evocations of freedom, passion and the past, dexterously typifying the artist's ability to coalesce "mysterious delicacy and charm of feeling" ('Art Exhibitions: The Leicester Galleries', The Times, 1 May 1935). Emerging from an indiscernible background, the painted cellist's restful position within an imaginary world further highlights the composition's elusively poetic aspect.

A myriad free-floating Chagallian signs populate the work: a wide, round sun, a smaller crescent-shaped moon, a cascade of flowers, a mother holding her child and an elegant dove entwined within the cellist's hair. Finally, the leading musician takes center stage, embodying Chagall's poetic vision; embracing his instrument as he would a lover, the musician and his violoncelle fuse into one, alluding to a bodily transformation sparked by the force of an all-consuming passion.
Invoking this quasi-incantatory dimension, Chagall further likens the violoncelle to a powerful life force, imparting it with a pigment similar to that attributed to the sun, metaphorically expressing music's transformative capacity to elicit potent illumination.