Allen Jones, Private Collection
© Allen Jones, Image: Bridgeman Images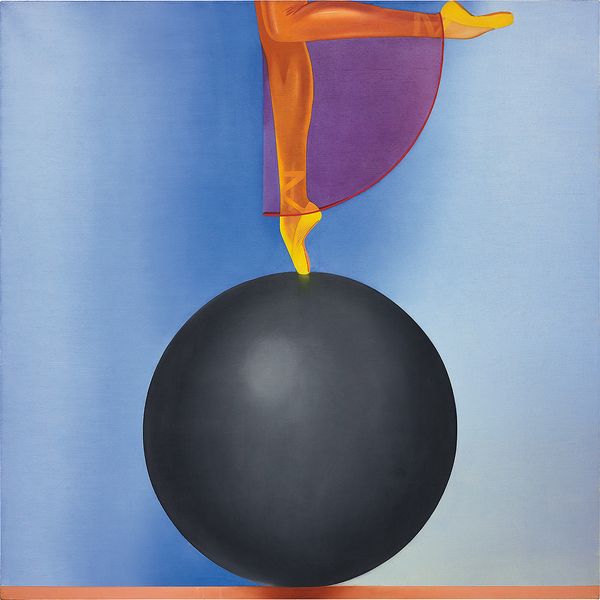 Allen Jones Encore, 1977
Allen Jones enrolled in the Royal College of Art in 1959 at the age of 22, where he studied under Richard Hamilton alongside a group of young, imaginative and inordinately talented contemporaries such as R.B. Kitaj, Peter Phillips and David Hockney. This intellectual and artistic milieu established a generation of artists who would become instrumental in the birth of the nascent British Pop Art movement. Following his expulsion from the Royal College after only one year, Jones embarked on a formative trip to the US in the 1960s, including a stay in New York during the height of American Pop. Jones's early work became heavily influenced by the sleek imagery of contemporary American advertisements and pin-ups. Upon his return to London, Jones explored a variety of media including sculpture and four-dimensional representation.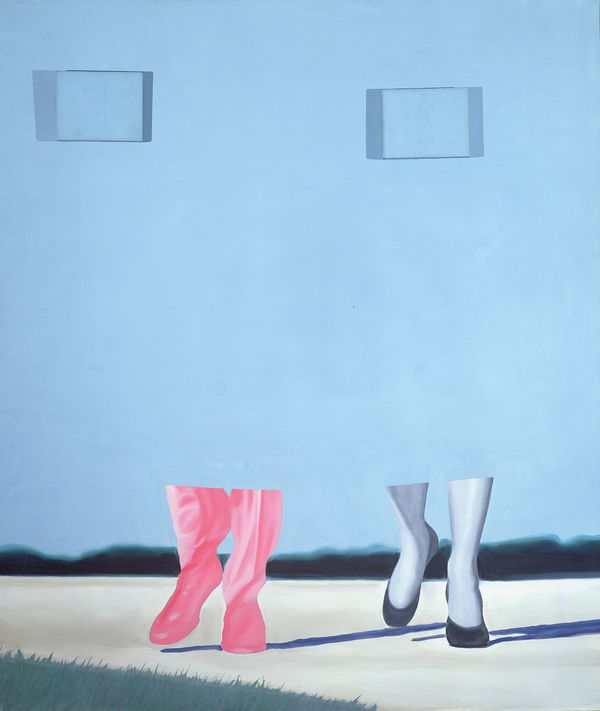 James Rosenquist Untitled (Blue Sky), 1962 © James Rosenquist/VAGA
In Encore (1977) Jones' exploration of the female form, namely the elongated leg, is the central focus, creating implicit tension through the poised, high arch of the dancer's foot. The abstracted sensuality of Encore invites a comparison with another pioneer of the American pop art movement, James Rosenquist, whose abstracted aesthetic language similarly incorporated fragments of advertising, automobiles, food and cut out figures to create surreal re-imaginings of postwar America. In both artists' works, abstraction is not an end in and of itself but is instead reflective of the Modernist tradition of using abstraction to convey emotional and thematic concerns.
Through the 20th century artists have been preoccupied with balancing the illusion inherent in image making with the need to recognise the objective fact of the canvas as being part of the picture. 'Encore' plays with this idea with the sphere bulging into our space. Colour aids the illusion as well as the geometry of the image that balances the sphere on the very threshold of the canvas. — Allen Jones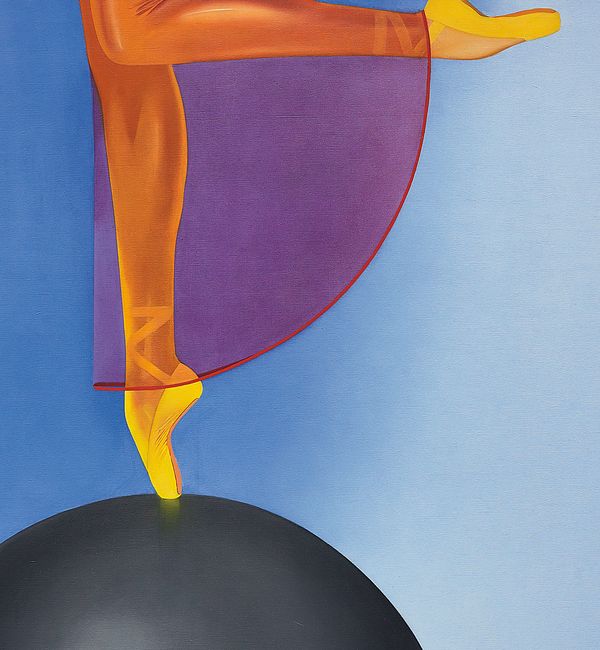 Detail from Encore by Allen Jones
Key to Jones's depictions of legs are the inherent improbability of his compositions, as evidenced in the structural intrique created by the pivotal, precariously balanced foot. Poised en pointe on top of a sphere and teetering on the edge of a fall, the dancer's legs are enclosed by the sweeping balletic arch of a quarter circle, suggestive of both a delicate transparent skirt or a cartoonish signifier for movement. The scene is rendered in strikingly flat, saturated block colors that create a chromatic intensity reminiscent of the Pop Art movement. The subsequent two-dimensionality of the shapes, their illusionistic shadows and spotlighting and the incompleteness of the heavily-stylized human figure all work counterintuitively against the implicit tension created by the possibility of the performer's fall. The scene is at once static, precarious and wholly imaginary – a geometric quandary that creates a visual scepticism in the viewer which perfectly accords with the experience of viewing an illusory circus performance.
Writing on the recurring motif in his painting of female legs balancing on a sphere, Jones notes 'I liked the idea that the picture contained information that was manifestly untrue: the sphere painted so that it defies the picture surface. The figure standing on it accentuated the fact that it is existing in an illusionistic space by definition.'