Detail from Rose Wylie Queen of Sheba with Gold Lump
Tschabalala Self and Rose Wylie come from distinct generations, nationalities and artistic styles. Wylie, 85, projects candid visions of the world onto her canvases, and Self, 29, assembles pieces of fabric, discarded paintings and found materials to convey fantastical, otherworldly compositions. Though their pictorial repertoires are radically different, their works tell a cohesive story. Focusing on powerful and historic female figures that draw on Hebrew legends, Wylie's scintillating Queen of Sheba with Gold Lump, 2012, and Self's visually arresting Lilith, 2015, challenge the roles that are typically associated to gendered bodies in the art historical canon.
Only achieving recognition at the age of 74, Wylie is today considered one of the most exciting living artists in the United Kingdom. In her idiosyncratic compositions, all types of visual quips emerge: slender girls doing splits, floral and cosmic decors, vibrant outdoor scenes and a myriad of other imaginative motifs. Often, a work's picture plane will be adorned with a kind of loose, free-floating handwriting that is as much a part of the final image as the figures populating it. Brimming with energy and color, Wylie's wondrous pictorial universe brings together diverse elements from films, history and pop culture iconography, ultimately concocting an altered or magnified reality that resembles the world as seen from a child's eyes.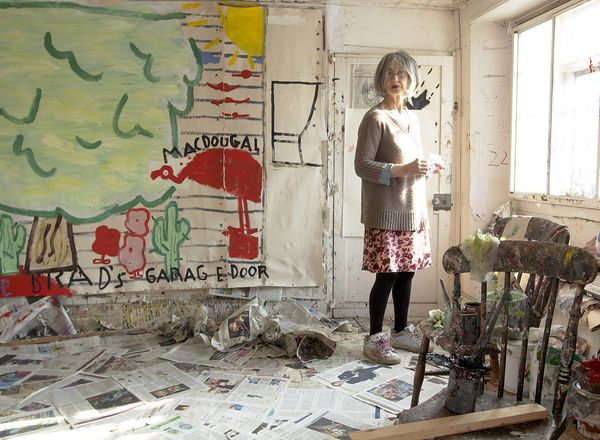 Rose Wylie in her studio. Image courtesy Tate Modern
Presenting a seminal figure from the Hebrew Bible, Queen of Sheba unfolds in two parts. One side of the painting spotlights the eponymous Queen surrounded by colorful charms and ornaments; the other stages a large gold lump dazzling by itself, as though reflecting the royal presence beside it. Echoing the biblical narrative from which she originates, the Queen appears to bear the same "spices, gold and precious stones" that she brought to King Solomon in Jewish tradition.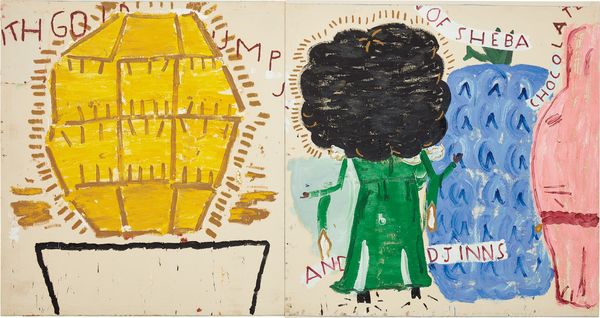 Rose Wylie Queen of Sheba with Gold Lump, 2012
Though the depicted character is most notoriously associated to a scene of gift exchange between the two figures, the composition eschews dual portraiture and geographic specificity, centering instead on the Queen, whose luscious background betrays a unique and generous energy. Her quirky silhouette, adorned by a verdoyant dress, is concealed at face level, hidden by what could be a piece of fruit, candy floss or Afro. Propelling a tale of the past into the present through a distinctly irreverent rendering, Wylie presents the viewer with an enchanting sample of her energetic visual syntax.
Wylie weaves a kaleidoscopic image that does not attend to the rigid standards of classical painting, but rather expresses the artist's own unbridled and youthful vision. Retaining all the images she sees and storing them in her mind as she would confessional thoughts, she subsequently transforms mental conflations into brutally honest forms, sweetened or softened by pastel-like colors. Commenting on her strong art historical lineage, the artist notes, "The childlike quality [of my work] is difficult for some people...But then they find that actually there's stuff in it relating to Dürer and Cézanne — indisputable figures: Dürer, crikey! Cézanne!"
Equally, Tschabalala Self's Lilith is a study in texture and pictorial complexity. Comprising sculptures, monoprints and paintings made of sewn, printed and painted materials, the artist's unique practice explores the iconographic importance of the black female body in contemporary culture. Holding singular visual energy, and executed the year Self completed her MFA at Yale University, Lilith is a striking work from the artist's young corpus, touching on penetrating, socially-driven themes, and it marks the artist's auction debut. Self's practice has been widely celebrated worldwide, most recently alongside the work of Georgia O'Keeffe at Crystal Bridges Museum of American Art, Bentonville, and in her first solo museum exhibition in the United States at the Frye Art Museum, Seattle.
I am attempting to provide alternative, and perhaps fictional, explanations for the voyeuristic tendencies towards the gendered and racialized body; a body which is both exalted and abject.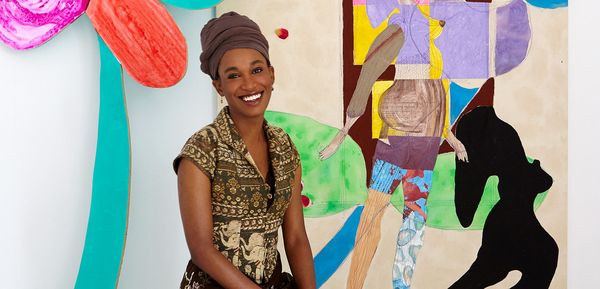 Tschabalala Self in her studio. Image courtesy Galerie Magazine
Viewing all mediums as an extension of her painterly practice, Self presents dynamic characters that span a variety of artistic and craft traditions. In Lilith, the titular figure — who in Jewish tradition was Adam's first wife before Eve — confidently strides across the canvas, pushing aside painted leaves with a collaged hand as though profoundly unaware and untroubled by the viewer's gaze.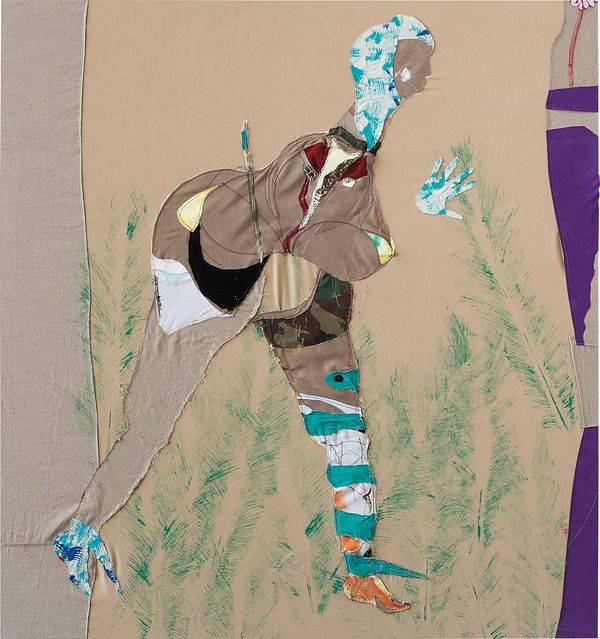 Tschabalala Self Lilith, 2015
Confronting gendered renderings of history, Self's voluptuous and exaggerated depiction of the female form belongs to a body of work that echoes her own cultural outlook towards race, gender and sexuality. Her panoply of subjects — which she calls her 'avatars' — manipulate, illuminate and destroy imposed collective ideals. As stated by the artist, "The fantasies and attitudes surrounding the black female body are both accepted and rejected within my practice, and through this disorientation, new possibilities arise. I am attempting to provide alternative, and perhaps fictional, explanations for the voyeuristic tendencies towards the gendered and racialized body; a body which is both exalted and abject."

Starting with a simple line drawing, Self subsequently delineates her character's faces, features, bust and ornamentation through stitching. Instilling each painting with distinctive personality, the artist collages materials, paintings, paper and old clothing from her family home into her work. Through her pioneering artistic practice, she masterfully and creatively depoliticizes — and therefore arguably politicizes — the body, harnessing the concept of voyeurism to reflect the reality of the black female experience.
Achieving compositional sophistication through contrived naïveté, Wylie's Queen of Sheba with Gold Lump and Self's Lilith exude an unmatched energy that will kick off our Evening Sale.