Eva Violante examines a Lalique necklace on display at the Met
It is hard to fathom how something as simple as a jewel can carry so much meaning. Often commemorating momentous occasions in one's life, jewelry symbolizes unions, achievements, social status, political views and can even bring the wearer closer to God—or so posit the Metropolitan Museum of Art's curators with their latest exhibition, Jewelry: The Body Transformed. The show explores Jewelry's uses through six provocative lenses: Adorned, Divine, Regal, Transcendent, Alluring and Resplendent. Jewelry: The Body Transformed illustrates how these various corporeal themes give meaning to the jewels that embellish us.
I was fortunate enough to walk through the exhibition with the Met's own Beth Carver Wees, Ruth Bigelow Wriston Curator of American Decorative Arts and consulting curator for The Body Transformed. Through each piece, Wees shared important historical context that created a powerful image of the human body over 5,000 years. According to Wees, this exhibition took six years to put together, though the Met acquired its first piece of jewelry within five years of its founding in 1870. From just one, their collection has grown to almost 8,000 pieces of jewelry, with more than two hundred on display in this exhibition.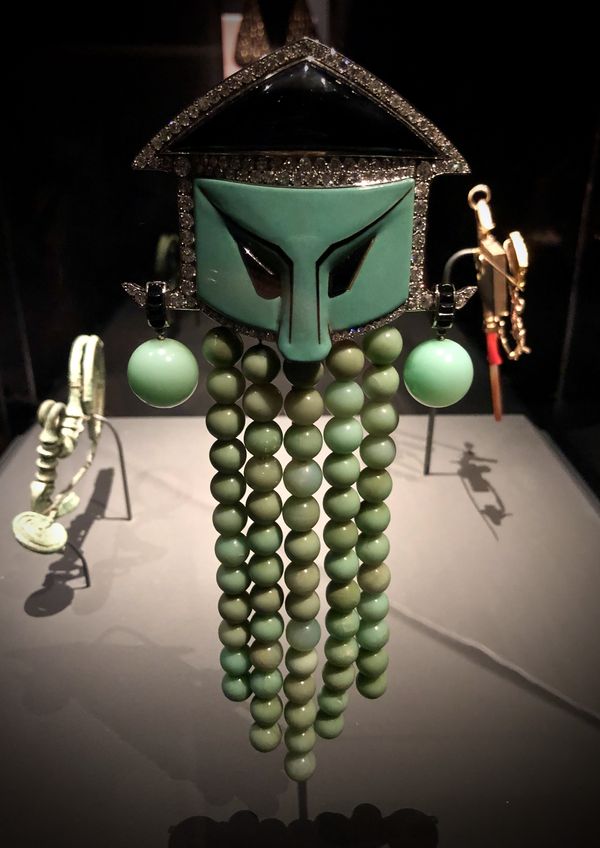 Georges Fouquet Dress Ornament of Jade, Onyx, Diamonds, circa 1923
As I entered the Met's dimly lit exhibition hall I was first encouraged to examine a case of brooches. I peered in to find a Bronze Age fibula (a large pin for fastening garments) and a sensational Art Deco jade and onyx masked dress ornament by George Fouquet alongside a chaotic collage of materials designed as a Celtic brooch by contemporary New York artist William Harper, a superb enamellist. Harper's brooch, to me, was a direct reference to works by surrealist Salvador Dalí; ironically, it was titled "Brooch: Homage to Cy Twombly and Joseph Cornell." I looked down at the safety pin on my own blouse and experienced a rush of thoughts about time, utility, regality, fashion, art and the medium where it all converged.
The Adorned Body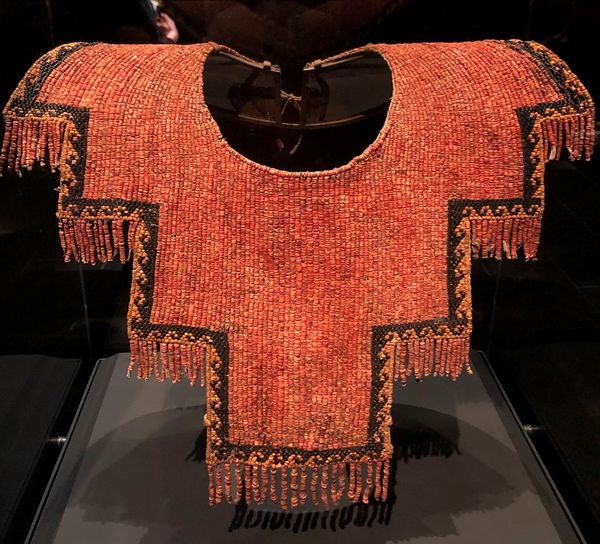 Collar of Spondylus Shell, Beads, Cotton, Peru, 12th to 14th Century
Precious to the indigenous Chimú people of Peru, the Spondylus shells found on this breastplate were sourced from the north, crossing the modern border into the west coast of Ecuador. The people of pre-Columbian Peru regarded these shells as sacred objects, so it may not be a coincidence that this beautiful orange decorative collar also shields the body as armor would. Additionally, the precious shells proclaimed the status and wealth of its wearer.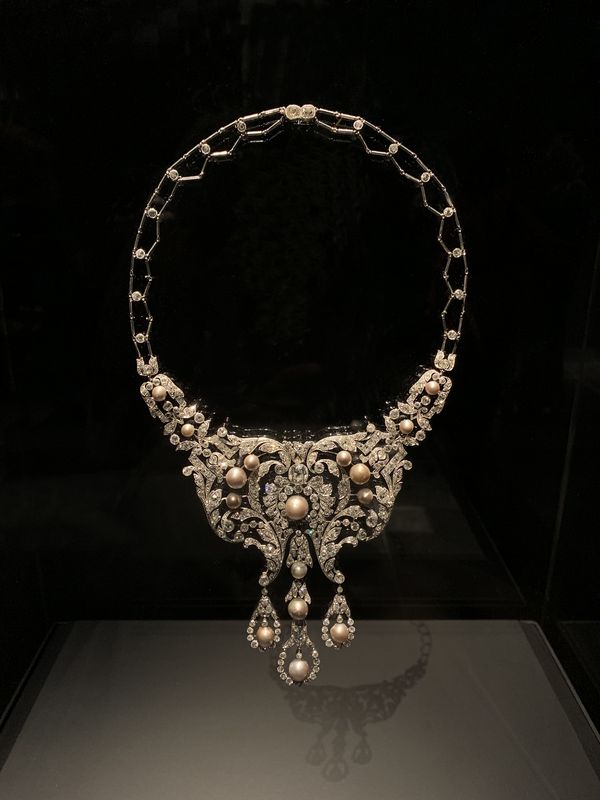 Dreicer and Co. Necklace with Diamonds and Natural Pearls, 1905
Another notable necklace on view is this Edwardian diamond and natural pearl platinum necklace by Dreicer and Co., circa 1905. Dreicer, one of the premier luxury jewelry retailers in America during the first quarter of the 20th century, famed for its top-quality natural pearls, was seen as great competition to houses such as Cartier and Tiffany & Co. Limited production makes these jewels especially collectible, as the Dreicer family business suddenly closed when both the father and son died in the 1920s. Cartier then purchased Dreicer's remaining stock of jewelry for $2.5 million.
It was believed that you needed all of the help that you could get to make the perilous journey to the afterlife.
The Divine Body
This section examined how jewelry was an attribute of the gods in the ancient world. We closely examined an exquisite Egyptian assemblage of funerary jewelry worn by one of the wives of Thutmose III during burial and into the afterlife.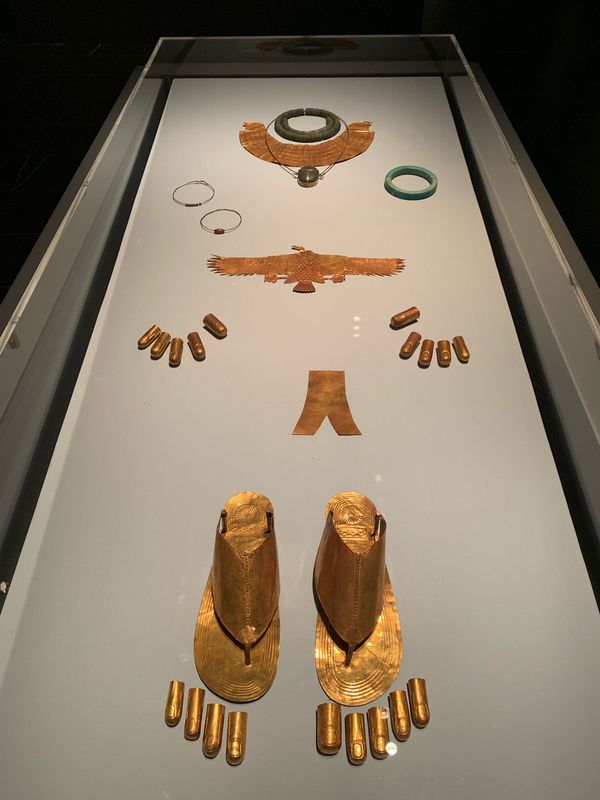 Funerary Jewelry from the Tomb of the Three Foreign Wives of Thutmose III, Egypt, 1479-1425 B.C.
According to Wees, the body was laid out and adorned with: a string of Egyptian blue beads, a broad collar with falcon-head terminals, a scarab amulet covering the heart, a Vulture pectoral over the breast, an armband, sweret and melon beads strung on wire, a folded cloth gold amulet, sandals, finger and toe stalls. Once the jewels were in place, the mummification of the body began. Wees explained, "it was believed that you needed all of the help that you could get to make the perilous journey to the afterlife. The finger and toe stalls, for example, were worn because people transitioning from one life to the next were fearful that their fingernails and toenails would fall off, and of course, you need all of your body parts to make the journey."
Noisy adornments could call gods and goddesses into being. — Beth Carver Wees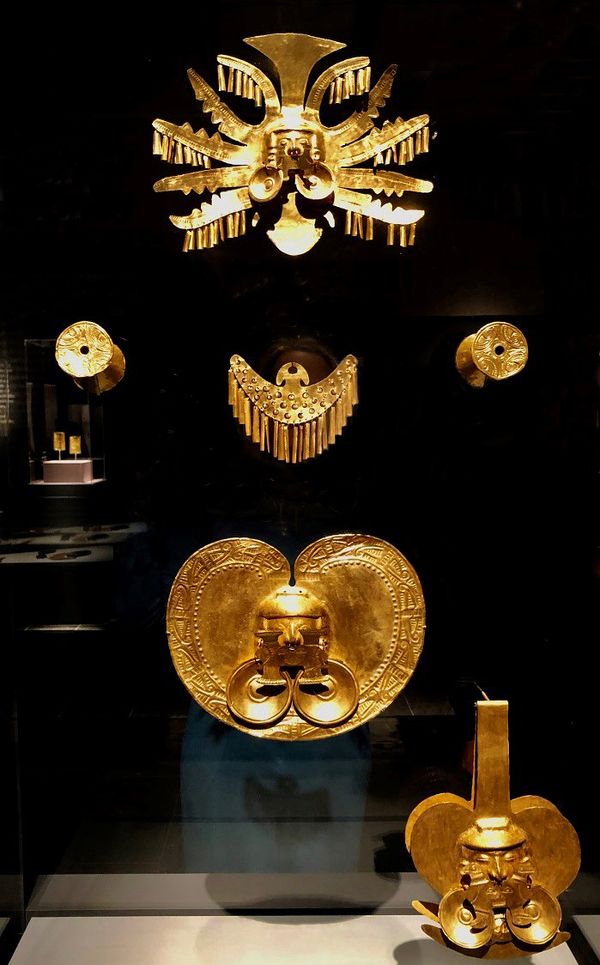 The Golden Man of Calima, Colombia, 1st-7th Century
In ancient Colombia, during the Yotoco period (100 B.C. – A.D. 800), the Calima civilization in the Cauca Valley practiced a ritual in which their leaders were essentially covered from head to toe in a variety of gold ornaments. But what I found most fascinating is that they would place their gold ornaments outside under the sun so that they could be recharged. The sun would give the object more energy, renewing the relationship with celestial bodies and the divine power. The headdress, ear spools, crescent nose ornament and pectoral, among other ornaments, show us once again the wonderful way in which the body was revealed and concealed, according to who the wearer wanted to be and even where they wanted to go.
It is now so easy for me to imagine the transformation of the masked Calima, taking flight on a celestial journey, empowering himself to rise above the terrestrial realm and connect with broader powers. In my imagination, I can hear the articulated portions of these ornaments sounding off like a wind chime from the wearers most simple movement. "Noisy adornments could call gods and goddesses into being," Wees reminded us.
The Regal Body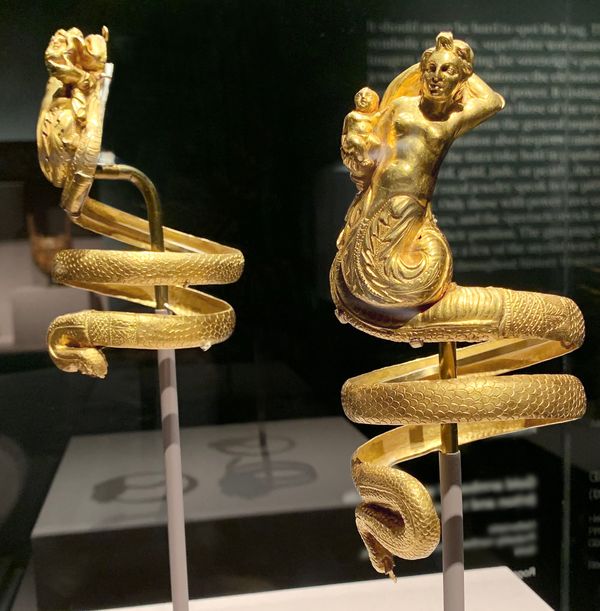 Golden Armbands with Sea Gods, Hellenistic, 200 B.C.
Hellenistic gold armbands, probably from Northern Greece, 200 B.C, were designed as sea gods and made to wind around the wearer's arm. Each is a chased Tritan with serpent scales. Loops on the top of each of these armbands allow them to be stitched onto your garment because they are so heavy. "This is all about nobility and being regal." says Wees, "And one of the wall texts that I love begins: 'It should never be hard to spot the king!'"
The Resplendent Body
Now one of the most iconic Jewelry houses in the world, Charles Tiffany founded his namesake company, Tiffany & Co., in 1837. By the 1870s, this small family business had become America's jewelry purveyor of choice, dominating the industry. The Tiffany orchid was produced in small quantity for the 1889 Exposition Universelle in Paris by one of Tiffany's master designers, Paulding Farnham. There, Farnham received a gold medal for the firm in recognition of his botanically accurate orchid creations. The one pictured below is in its original blue Tiffany box.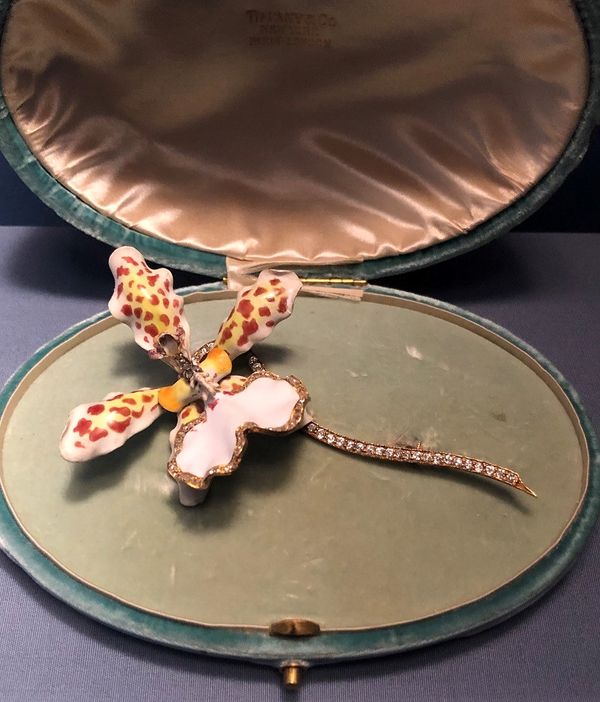 Paulding Farnham for Tiffany and Co. Orchid Brooch with Gold, Diamonds, Enamel, 1889-96
Louis Tiffany, Charles' son, was a scholarly artist whose expertise spanned a number of categories. He is remembered principally as a stained glass artist, but he also made ceramics and paintings in addition to jewelry — an endeavor that he didn't take on until his famous father died in 1902. Louis' jewels first went on display in 1904 at the St. Louis Exposition where he debuted Queen Anne's lace hair ornaments. The largest of three lifelike flowers, pictured below, is carefully set with tiny opals, white enamleled blossoms, demaintoid garnets and red garnets in the center.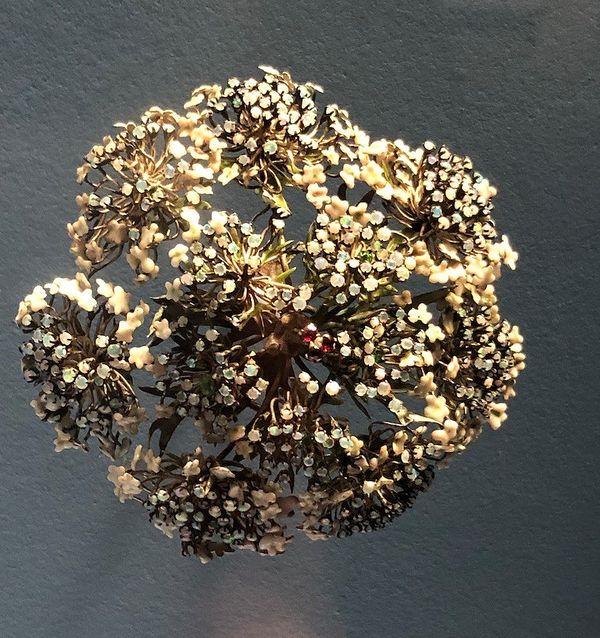 Louis Comfort Tiffany Queen Anne's Lace Hair Ornament, circa 1904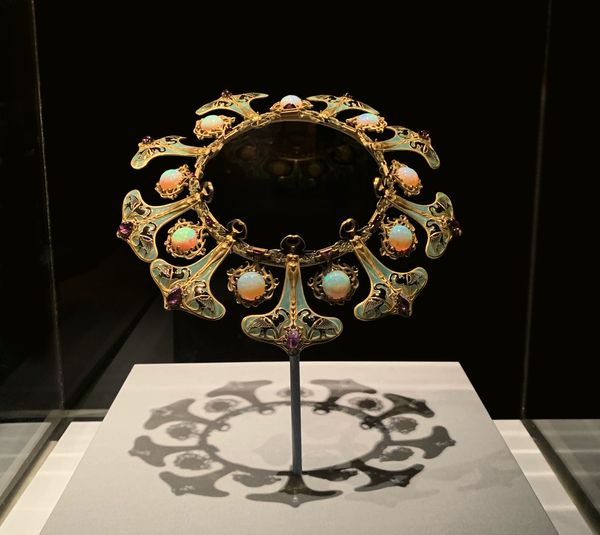 René-Jules Lalique Enamel Necklace with Opals and Amethysts, 1897-99
Perhaps the largest-scale and arguably most fascinating piece that I have ever seen in person by René Lalique, the above enamel necklace has an equally dramatic story. According to jewelry folklore, Lalique made this necklace for his second wife while she was pregnant with his child; however, he was still married to his first wife. This may explain his dark depiction of horned women with black swans resting at their feet.
Throughout the show, the works of art not only provide insight into the wearers but also into the cultures that produced them. To see for yourself the kinds of transformations that jewelry has enabled over the centuries and still enables today, visit this amazing exhibition on view through Friday 24 February.