Sam Gilliam So They Can, 1966
Sam Gilliam's So They Can is a stellar example of the artist's celebrated color-field paintings. Painted in 1966, this work marks a turning point in the development of his technique, in which he moved away from a strict linearity and towards a freer compositional structure. Treating his acrylic like watercolor and his canvas like paper, the materials coalesce into a united expressive element. Being recognized for his unparalleled depiction of abstract forms, Gilliam was honored a year later by The Phillips Collection in Washington, D.C. with his first solo exhibition, signifying the breakout of his career.

Displaying a full range of hues, So They Can exemplifies Gilliam's adoration of color and ability to synchronize seemingly disparate pigments. The bright blues and vibrant yellows of the composition bleed together in the center to form a radiant green. This application of paint simultaneously exhibits both an effortless randomness and a refined control that conjures a sense of immediate action from within the canvas.
As the rhythm of jazz music sways the listener, Gilliam's composition fluidly guides its spectators throughout the work. The pools of luminous jewel tones of dark blue and deep orange catch the viewers' eye, creating a tension between the corners of the canvas as they act dynamically to draw the viewers into the work.
Before painting, there was jazz. I mean cool jazz. Coltrane. Ornette Coleman, the Ayler brothers, Miles Davis. It's something that was important to my work, it was a constant. You listened while you were painting. It made you think that being young wasn't so bad. — Sam Gilliam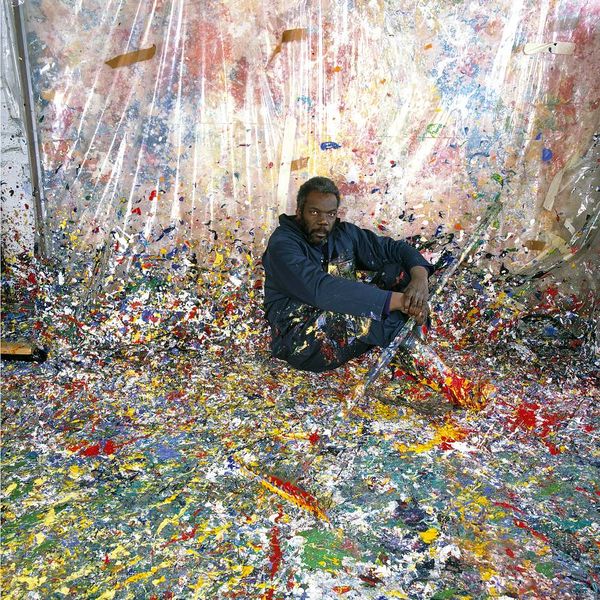 Artist Sam Gilliam poses in his paint-splattered Washington, D.C., studio in 1980. Anthony Barboza / Getty Images
Associated with the Washington Color School but even more of a maverick, Gilliam pursued a deeply personal and more radical aesthetic. Directly related to Light Fan, 1966, held in the permanent collection of the Smithsonian American Art Museum, Washington, D.C., So They Can similarly displays that seminal transition from strict geometry to organic flow. This non-hierarchical composition became Gilliam's signature style and culminated in his drape paintings, which abandon structure and line altogether.
At a time when artists—particularly artists of color—were more or less expected to create politically oriented material, Gilliam consciously rejected to conform. He instead, as quoted in the Corcoran Gallery of Art, Washington, D.C.'s 2005 exhibition catalogue, praised the idea that "art is at least as important as politics when it comes to creating new ways of thinking about society and moving it forward."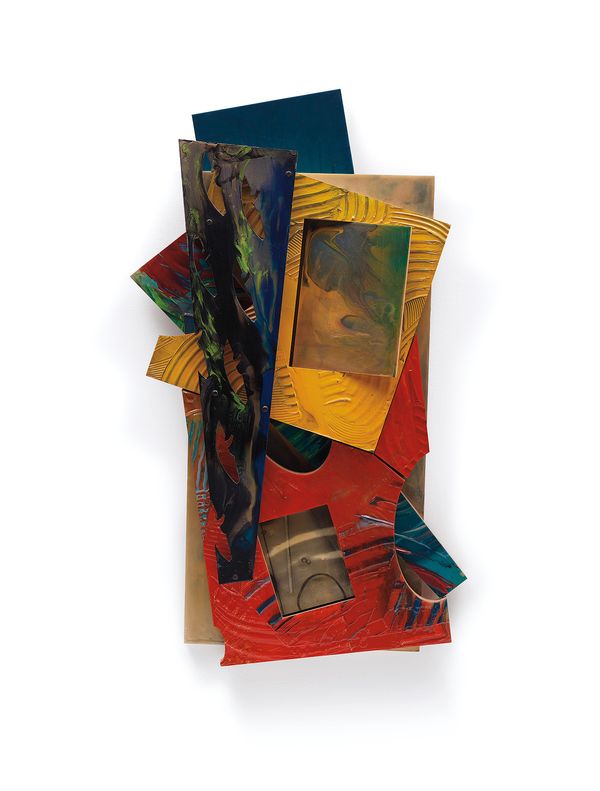 Sam Gilliam All Colors Stacks, 1996. Displayed at Phillips for AMERICAN AFRICAN AMERICAN
By committing to radical abstract art and avoiding political content, Gilliam believed that he could have a more compelling role in society. Embodied in the expressive manifestation of its abstract aesthetic, So They Can carries limitless potential for conceptual experiences and interpretations.