Photo courtesy of Quil Lemons
You may know writer, curator and all-around cool girl Kimberly Drew from her Instagram, @museummammy. Or maybe you saw her in a glossy magazine profile, or sitting front row at Milan Fashion Week—because Kimberly Drew is everywhere. Having grown up in a family of artists and art lovers, Kimberly began championing African American art at an early age. While studying art history at Smith College, she started a Tumblr blog call Black Contemporary Art as "a place for art by and about people of African descent."
After a series of jobs working for some of New York's most significant cultural institutions, she recently went solo to focus on writing a book, being a fashion muse, advocating for diversity in art around the world and other personal projects too numerous to mention. When Kimberly stopped by our Park Avenue gallery to see AMERICAN AFRICAN AMERICAN, we sat down with her to get her take on the show and where she sees black art going in 2019 and beyond.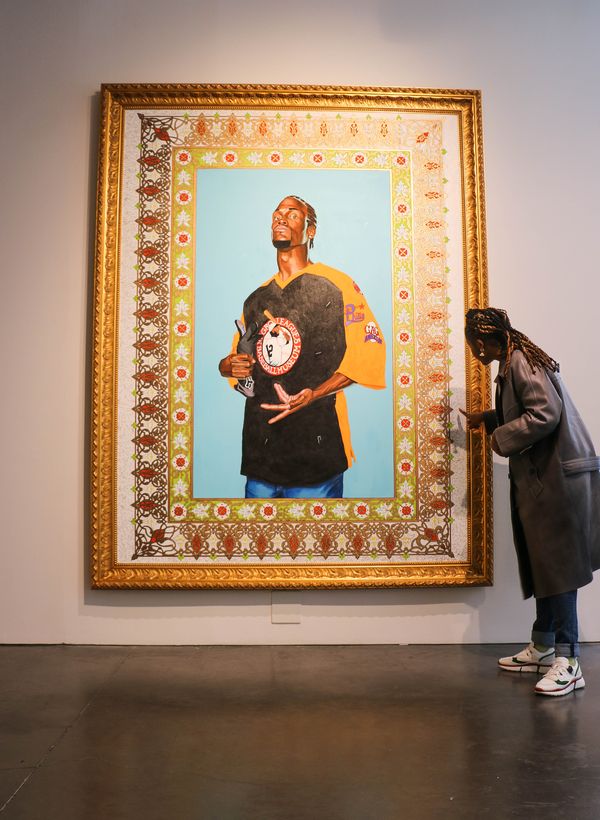 Photo courtesy of Quil Lemons
PHILLIPS: Tell us a little bit about how you ended up where you are now. How did you first know you wanted to work in the art world?
KIMBERLY DREW: Well, it was especially amazing to see this exhibition because some of the key figures who really drove me down this path are in it. Looking at the Kehinde Wiley, for example, reminded me of seeing his work for the first time. That was really moving and motivating for me back then, because he was one of the first black artists I recognized in a museum at a point when I could really understand the importance of seeing that work. I really wanted to translate that experience to other people, if that makes sense.
And also Trenton Doyle Hancock: he was one of the artists who I learned about when I was an intern at the Studio Museum in Harlem in 2010. Learning about Trenton's work at the museum, all I could think about was how few opportunities I would have to learn about artists like him because I was in an art history curriculum that didn't teach me about those artists. I studied art history, like a lot of people in the art world, and did a very traditional track, but it was really working at the Studio Museum for a summer that became a catalyst in my life for me wanting to amplify the voices of African American artists. It began with work on a Tumblr blog called Black Contemporary Art, and then also I've utilized tools like Instagram to, hopefully, bring people together in a global dialogue about artists of color.
P: Like you just mentioned, you've really connected with the art world through your Instagram. I was wondering about how you came up with the handle @museummammy and what that name means to you.
KD: When I was in college, I started using the handle @maudmammy. I love Gwendolyn Brooks' text Maud Martha because, for one, I think Gwendolyn Brooks is one of the greatest writers of our time. But secondly, that book is very much told from the perspective of the protagonist's subconscious, and it's one of the few books I've read that is explicitly told through the point of view of a black woman.
I've always loved the word 'mammy' because it's a really loaded word. I like the idea of deconstructing the ways in which we think about black women's domesticity and black women's labor, and I think that 'mammy' is a word that speaks to both of those axes of being. I like thinking about how powerful it can be to be considered a caregiver, without thinking about the way in which a mammy figure may be disempowered.
When I was in school I took a museum studies course on digital communications in museums—I was literally studying what I do now—and at the time I found the user @museumnerd. I loved what he was doing in terms of live Tweeting visiting galleries, visiting museums, that kind of thing. Once I began taking on what he was doing I decided to make my handle @museummammy and it's stuck ever since then. I've had it for six years now.
I've always loved the word 'mammy' because it's a really loaded word. I like the idea of deconstructing the ways in which we think about black women's domesticity and black women's labor.
P: In 2018, one of the biggest stories was an explosion in demand and prices for black art—what was your take on that?
KD: I would say it was thrilling to observe. Especially as someone who worked in a gallery (I worked at Lehmann Maupin for a year) but have otherwise been on the non-profit side of the art world. So the art market has always been kind of mysterious to me, and I think anyone knows it can be kind of an opaque world generally. But it was thrilling to be a part of conversations every day with people and friends who aren't even in the art world. I had so many more conversations about Kerry James Marshall than I would have under any other circumstance.
I was thrilled by the fact that this pop culture moment happened because of those sales. And I think there are multiple causes: you have mainstream TV shows like Empire featuring these artists. I watched this show called Greenleaf and they mentioned Mickalene [Thomas]. I love that it's becoming a part of our day-to-day conversation.
I do think that when talking about the market, and about African American artists specifically, it's important to talk about how it still is a really uneven playing field. The sale numbers just don't match up. A lot of artists speak really articulately about this—but I do think last year gave a glimmer of hope.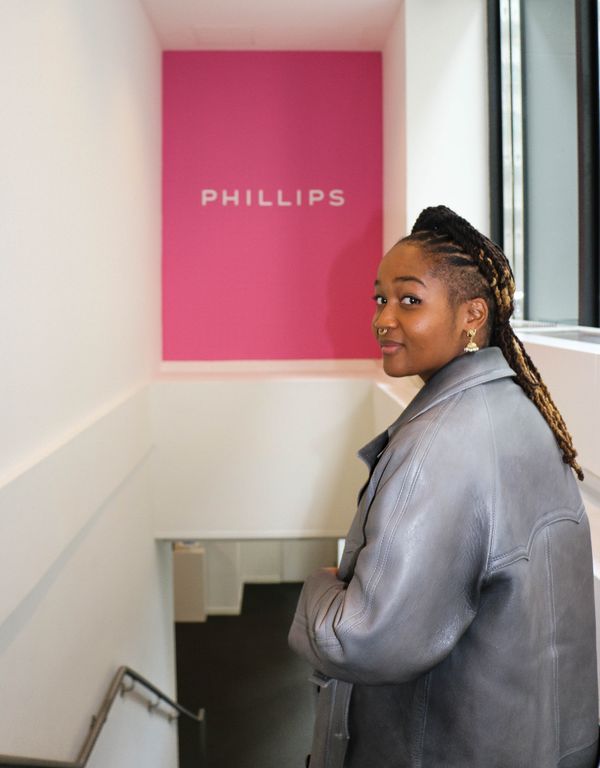 Photo courtesy of Quil Lemons
P: Speaking about Kerry James Marshall, some of the most expensive artists get the most lip service—when we talk about the market generally but also within the sphere of black art. Having seen AMERICAN AFRICAN AMERICAN, were there any up-and-comers you were happy to see, or even any names that were completely new to you?
KD: Yeah, it was so nice to walk through the show because it was great to see so many people who I love from the bottom of my heart as people. And seeing their work out in the world is awesome. I mean, Mickalene, she was one of the first artists I posted on my blog, and she's also now a dear friend. Seeing Tomashi Jackson's work—I think Tomashi is brilliant, and I wish the world for her. So seeing her work was quite a delight. I think Rashid Johnson is having such a huge moment right now, especially working in film as well; he's just a super cool person. Always great to see Adam Pendleton. I had never seen work by Clotilde Jiménez—but I've met him. He's such a kind person, and it was really beautiful to know, "Okay, this is what you're thinking through and what you're making."
I love that [artists like Marshall and Thomas are] becoming a part of our day-to-day conversation.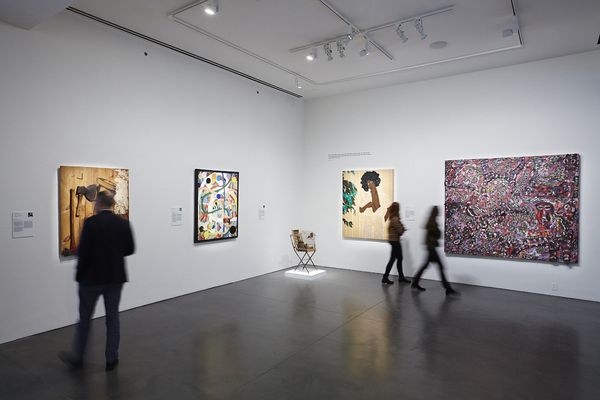 P: You mentioned that you began your career interning at the Studio Museum, which has really centered its mission around putting artists of color first. But you've also worked at larger, predominantly white institutions—and I'm wondering what you've learned in those two different environments about curating and exhibiting work by black artists?
KD: I started my career in earnest at Creative Time, and there I learned about displaying art, writ large, in public spaces. And then, working at Hyperallergic, I learned what it meant to write about art and display it in the digital space. When I was at a commercial gallery, I learned about what galleries do for artists, how these things come together—I planned so many dinners!
But once I ended up at the Metropolitan Museum of Art, it became a question of, "What does it mean to be working at an institution that can literally write artists into history?"
So I've had the great privilege in my career to be able to see the art world from so many different angles, and when it comes to marginalized artists I've seen how certain opportunities are irreplaceable, and a lot of them come behind closed doors. When you see how the sausage gets made, you see how important it is to have those voices present. When curators get inspired by a region, or a time period, or a set of artists, that spark of inspiration can make someone's career. It's so critical to be cognizant of that power.
I'm especially interested in what it means to be black in the age of social media.
P: When you look towards your own career, who are some people who you look towards as people you would like to emulate?
KD: Oh my god, there are tons. I think my big-time hero, now and forevermore, is Dr. [Deborah] Willis. She is one of the most kind, generous and thoughtful people I've encountered. She makes brilliant art, has written over 50 books, and somehow is also a teacher. She's just this Swiss Army Knife of a woman and I'm always impressed by her.
Obviously, Thelma Golden is a goddess and a legend. And really a kind person as well. I think, oftentimes, we look at Thelma as the sum of her big-picture accolades, but I find her to be most compelling as a human being because she's an earnest leader. And working at the institution she runs, you see that it's so much more than a figurehead role. She sees you, she hears you, she affirms you. Last night I was at the opening for She Persists at Gracie Mansion, curated by Jessica Bell Brown, and the way that Thelma was so generously introducing Jessica...she is someone who has 100% shown up for the people who have come after her. I'm profoundly thankful for her tutelage and leadership.
I think Sarah Lewis is an amazing figure. She's another person who's been a trailblazer, especially thinking about black photographers. I look to all of these women as examples of the fact that working is difficult. Writing is difficult. Articulating yourself is difficult. Showing up is difficult. But there can be such a flowering from just putting your head down and getting it done.
P: Are there any projects coming up later this year that you're really excited about?
KD: I'm finishing a book called The Black Futures Project. It's an anthology, thinking about what it means to be black and alive right now. I'm especially interested in what it means to be black in the age of social media. We're more connected than ever, whether that be to the mythos of black culture or thinking in terms of the diaspora. The connecting tissues for all of us are so unstable, in a way. Like if you think about my trajectory, if Tumblr disappeared tomorrow, all my work on that platform would just be gone. Thinking about Twitter and the birth of Black Lives Matter...the internet has been a catalyst for so many things, but there's no way to archive it. So we're trying to remedy that in some small way. So that's really my everything now, and it's what I was doing before I stopped by this exhibition!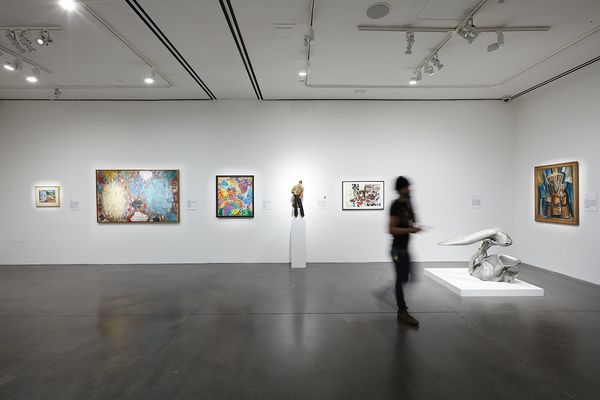 P: If budget was not a factor, who is one artist who you would definitely want to add to your collection?
KD: Oh wow, if budget was not a factor I would choose so many! Such a hard question. I honestly don't know who I would pick. But thinking strategically when it comes to my money and the way that I really spend it, I'm really more keen on supporting institutions. So if I had any sum of money, I would just donate it to the Studio Museum. That's just where I am right now, in terms of thought: I'd rather share that art with the world.