Works from Evening & Day Editions will be on view at 30 Berkeley Square until the auction on Thursday 24 January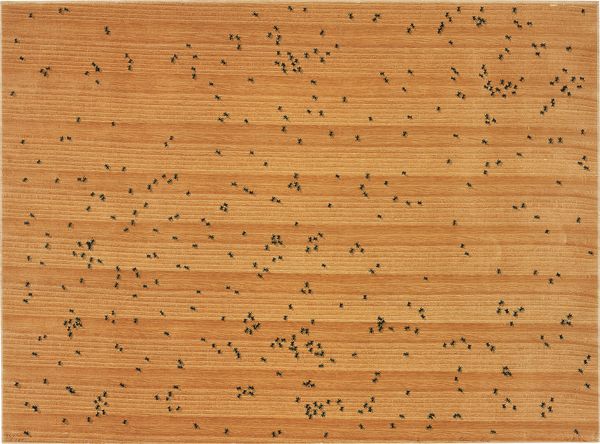 Ed Ruscha Black Ants (from Insects), 1972
Louisa Earl, Cataloguer
Scurry, scuttle, flurry and bustle. The dichotomy of order and chaos plays out in Ed Ruscha's Insects portfolio. In Black Ants there is a seeking of balance between the carefully precise layered strips of veneer and the minutely manicured invertebrates racing across the surface in disarray. Disorder and commotion bombard the viewer, causing confusion, as the coordinated and methodical behavior of ants is lost from afar. The resulting chaotic image laughs at the precision of creation, highlighting Ruscha's wry humor.
The life-like swarm of a meticulously detailed species placed against the three-dimensionality of the veneer gives this image a realness—that optical illusion with familiar imagery that we have come to recognize in the work of Ruscha. As another example of Ruscha's exploration of unconventional and organic mediums, the combination of inks and wood converge to form a typically disregarded scene from everyday life. These ants could be your daydream or nightmare; close your eyes and they could beetle away.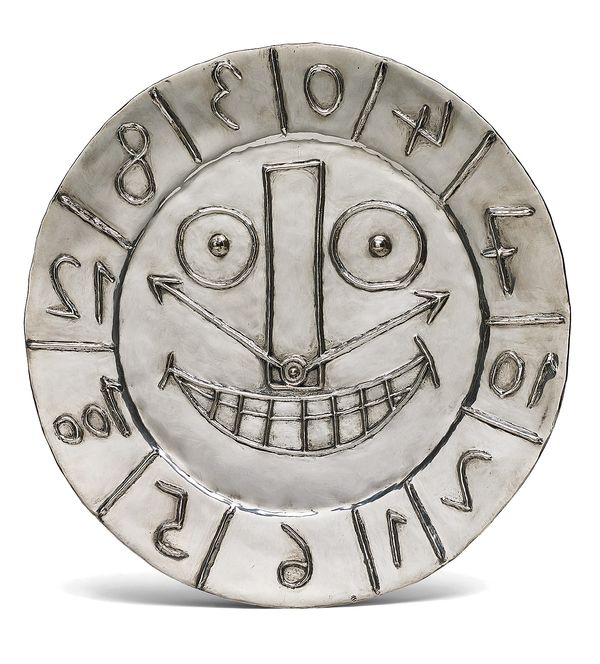 Pablo Picasso Horloge aux Chiffres (Clock with Figures), 1956
Rebecca Tooby-Desmond, Specialist and Auctioneer
A plate from which you cannot eat, a clock that refuses to tell time, all topped off with a Cogsworth-meets-Cheshire Cat grin! Picasso's cheeky humor bubbles to the surface in all of his media, but nowhere as keenly as in his ceramics, of which this precious metal plate served as a counterpart, cast from his 1956 earthenware design.
Kept secret for a decade, and limited to only editions of 20, this work is one of 24 precious metal plates that must have been a private treasure for Picasso. I could imagine him inviting VIPs to elaborate banquets only for them to discover the table laid with hordes of pirate bounty: plates, dishes and medallions in gold and silver, brimming with the vim and vigor of the true guests of honor — Picasso's most treasured characters and motifs.
From the bugging eyes to the vibrating mustache of the clock-hands standing at attention above the banana-split smile, the horloge wriggles and giggles with sheer fanciful delight. Even a stopped clock has the time right twice a day…but not if your clock strikes hour 100!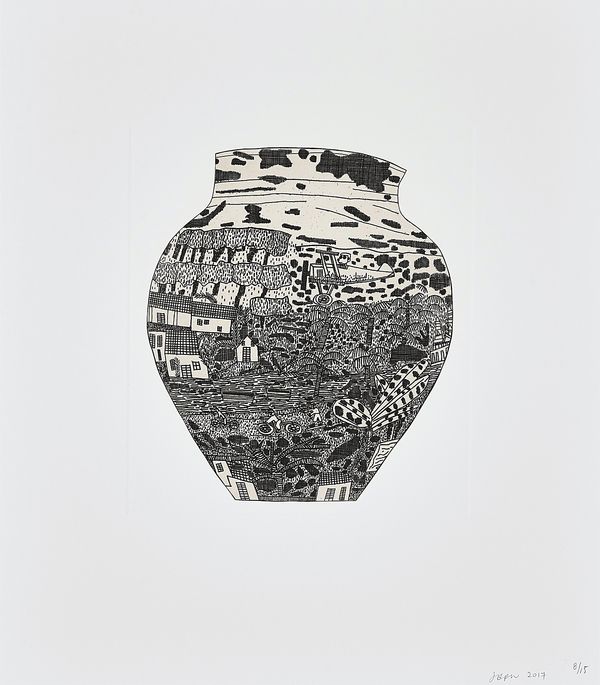 Jonas Wood Untitled (from 8 Pots), 2017
Amelia Wooding, Administrator
When deciding which lot from our January sale I would most like to have hanging on my wall, it was the contrast between the intensely busy central design and the wide, serene margins of this Jonas Wood etching that caught my eye. Often Wood's paintings feature similarly designed pots, plants and other still life objects, cluttered together against an equally decorated backdrop of pattern and design. However in this etching, despite the detailed scene hidden within the pot itself, there is a certain calmness knowing that the hustle and bustle of the landscape finishes neatly at the edge of the pot silhouette.
I'm always amazed at the level of detail that can be created in etchings, and this work is no exception as cyclists and pilots go about their business among the strange landscape combination of woodland and palm trees. Our natural desire to follow their journey contributes to the pot's spherical look, without impeding upon Wood's typical 2D style. Coupled together with some subtle hints of Picasso's ceramics, I so enjoy the timeless familiarity of this beautiful print.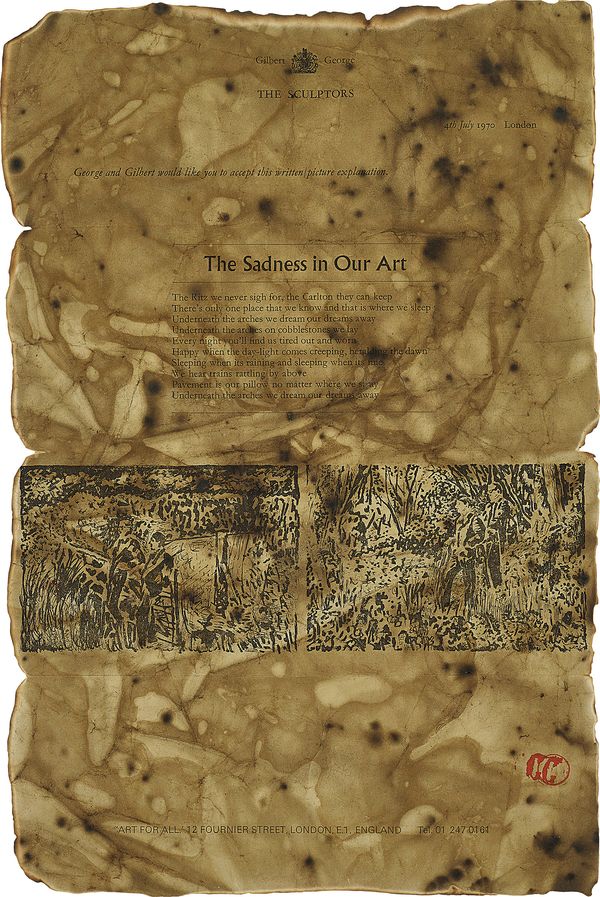 Gilbert & George The Sadness in our Art, 1970
Cary Leibowitz, Worldwide Co-Head of Editions
My favorite is Lot 103, The Sadness in our Art by Gilbert & George. How can I resist? This is great on so many levels: It's mechanical, it's tactile, it's ephemeral and it's personal. You might as well just Youtube the artists (as) "Singing Sculpture" singing comedy double-act, Flanagan and Allen's 1930s music hall song 'Underneath the Arches', about the homeless men who slept under railway arches during the Great Depression.
Along with the text, there are two images that you really need to look at carefully and then probably still will need to look in another G&G book about the monumental charcoal sculptures—drawings for those who like to lump things into the familiar—the gents did of themselves. The Miss Marple in me likes to also point out—hey, wait a minute!—these charcoal sculptures are dated 1971 and the letter is 1970! So isn't it great: this edition even pre-dates and is married to another important Gilbert & George work. It is a folded letter (letterpress printed), and of course, it has a hand-addressed stamped envelope.
Oh, and this is probably the sort of piece you want to keep in your most favorite metal box in your favorite sock drawer.