An important necklace composed of 102 white natural pearls and four large black pearls, suspending a drop-shaped white pearl pendant and a tassel of pearls with emerald and ruby cap
In June 1904, the famed Galeries Georges Petit of Paris auctioned the estate of recently deceased Princess Mathilde Bonaparte, niece of Emperor Napoleon I. The auction was one of many important royal and aristocratic estates put under the hammer at auction in Paris and London during the late nineteenth and early twentieth centuries.
Described as an "inexhaustible" jewel case, purportedly filled with ornaments "no ordinary person could possess and every queen would envy," the jewels were carefully catalogued by experts of the time including André Falize, son of famed jeweler Lucien Falize. The surviving auction catalogue allows us the opportunity to pry open the Princess' jewel case, revealing only a portion of her collection as the majority of her jewels were left to the Duchess of Aosta and her niece the Princess Clothilde.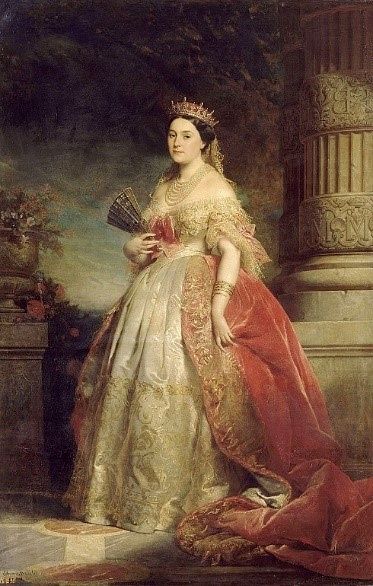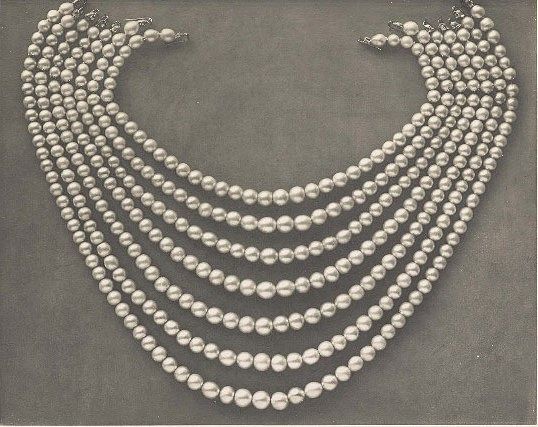 Portrait of the young Princess in the famed seven-strand pearl necklace (below), sold in 1904
Known as an artist, collector and philanthropist, the Princess' passions for art and for collecting are described in equally strong measure as having been born during a youth spent in Italy exploring the "vast sculpture and picture galleries of flower-crowned Florence." Her surrounds, as described by those at her literary and artistic salons, evoke a kind of storybook catalogue of treasure belonging to an independent spirit.
The jewels, originally belonging to the Bonaparte family, were pledged by Prince Jerome, the Princess' cash-poor father and brother of Emperor Napoleon, as a dowry for the marriage of Princess Mathilde's to the Count Anatole Demedoff in 1840. Pledged in place of the usual monetary dowry, the jewels became the Count's legal property and the subject of many years of fighting in the French judicial system. The troubled marriage, marred by infidelities, ended in divorce in around 1846 after coming to an abrupt end at a soirée at the Palazzo San Donato where the Count is said to have slapped the Princess across both cheeks on account of her brazen display of one of her paramours. When the Princess fled with her jewels, the Count was never able to retrieve them.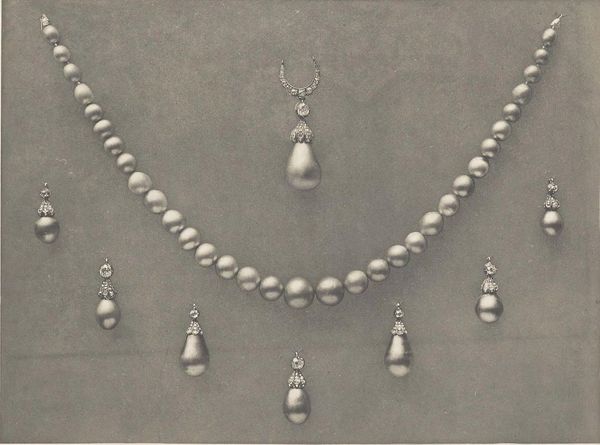 Lots 48, 5, and 16-22: including an important black pearl necklce of 1040 grains, which originally belonged to Catharina of Wurttemburg
The Princess subsequently pledged the jewels to her cousin Louis-Napoleon's successful electoral campaign to be made President of the Republic following the revolution of 1848. At some point, they were returned to her.
Of the jewels, Frédéric Masson writes in 1904, "…whether she took out her seven-rowed collar of pearls, her black pearl necklace, the three-rowed pearl necklace given by the Emperor Napoleon to the Queen of Westphalia on her marriage, the stream of enormous diamonds, the diamond necklace with the rare setting, the Imperial diadem which suited her head so well, or the diamond eagle which she wore on her bodice, the jewels were always of inestimable value, and of a beauty that defied all rivalry."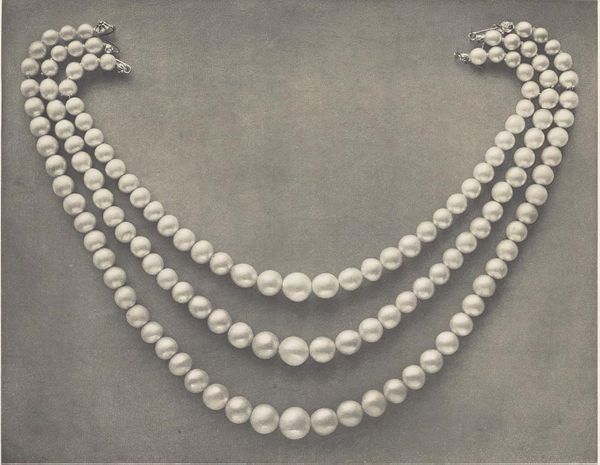 Lots 2-4, top lot from the 1904 auction, a natural pearl necklace gifted to the Princess from Queen Sophie of Holland
Considered the most important lot of the sale was a three-strand necklace of 133 large, round natural white pearls weighing a total of 3,320 grains. The necklace was inherited by the Princess from her cousin and childhood companion, Queen Sophie of Holland, having been originally given to the Queen on her marriage by Emperor Napoleon. This necklace alone was said to have raised 700,000 francs of the collection's total 4,000,000 franc value at auction.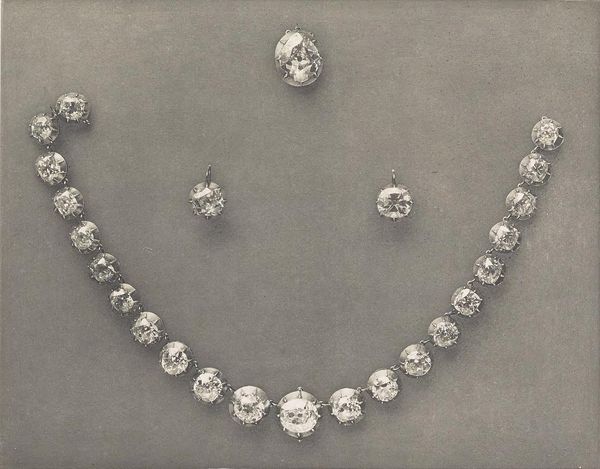 Lots 63, 93 and 58, including the pink diamond pendant in its original setting
Incredibly, over one century after the auctions, a few important pieces have re-surfaced at modern auctions, having escaped the clutches of a destiny to which most historical jewels fall prey, being broken up and re-set, losing their life's provenance to gold dust on a jeweler's workbench.
Catalogued in the 1904 auction as 'a Splendid Pink Brilliant-cut Diamond in the shape of a pear mounted in a pendant', the diamond first re-appeared at auction in New York in 2012 in the collection of American heiress and recluse Huguette Clark. Titled 'The Clark Pink', weighing 9.00 carats and certified as 'Fancy Vivid Purplish Pink', the diamond had been re-cut into a cushion-shape and was set in a platinum ring mounting by the American jeweler Dreicer & Co. The diamond is believed to have been purchased by Dreicer directly from the 1904 auction and then sold to Willliam Andrews Clark Sr., a U.S. senator and industrialist who died in 1925. It was then left to his daughter Huguette and hidden in a vault until her death in 2011.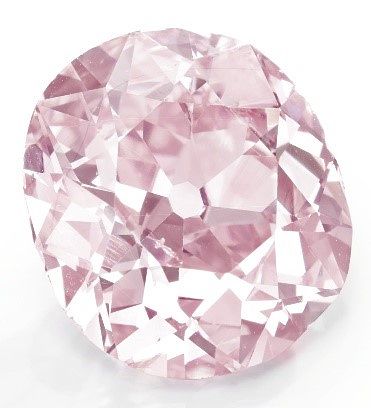 'The Historic Pink,' re-cut in its current cushion shape
The ring sold at auction in 2012 for more than $15,700,000, without any mention of the diamond's royal provenance. It was only when the diamond traded again at auction in 2015 in Geneva that it was identified as originally belonging to Princess Mathilde. In this most recent sale, the diamond was offered as 'The Historic Pink' at a slightly lesser weight of 8.72 carats having been re-fashioned to improve its clarity and enhance its color to 'Fancy Vivid Pink'. It sold for just over $15,900,000.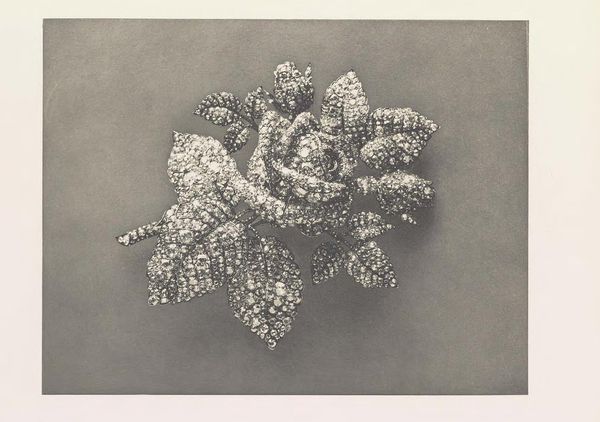 Lot 65, an important corsage brooch later known as the 'Vanderbilt Rose'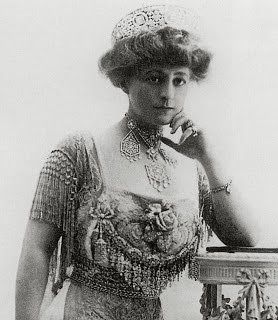 Grace Wilson Vanderbilt, who later came to own the Princess' corsage brooch
Another important jewel from the original auction which sold most recently at auction in 2004 is a magnificent diamond corsage brooch in the shape of a rose, originally catalogued as being an important corsage spray, "composed as a blossoming rose and two rose buds with eleven leaves entirely pave-set with very beautiful Brazilian brilliants."
It is believed that it sold in 1904 to the jeweler Janesich for the equivalent of $247,750 and was later acquired by Cartier, who sold the brooch to Mr. Cornelius Vanderbilt III who named it 'the Vanderbilt Rose'. The brooch subsequently sold in 1972 at auction in Geneva for a mere $28,682, to a private collector, then later to Fred Leighton, and most recently in 2004 to renowned New York dealer Lee Siegelson for $701,900.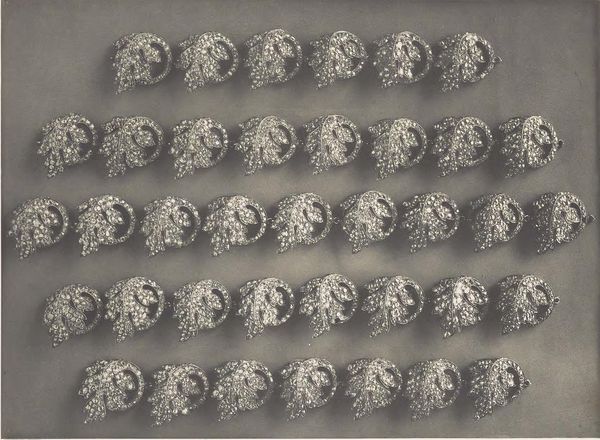 Lot 60, a large necklace composed of 38 diamond acanthus leaves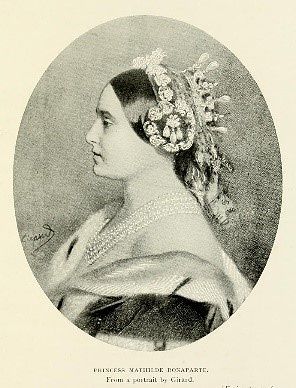 Princess Mathilde wearing the acunthus leaf piece in her hair
The rose flower itself was thought to have been an important part of Princess Mathilde's life. Her salons were purportedly filled with Ming vases of roses, and it is said that one of her favorite pastimes was to tend to her rose garden at Saint-Gratien, perhaps inspiring the commission of the diamond brooch from Paris Jeweler Theodore Fester.
Whether fact or fiction, the diamond rose, a hallmark of a storied life, along with her few surviving jewels and the 1904 catalogue, bring to life the contents of the jewel case of one of France's most remarkable women.