Installation view of AMERICAN AFRICAN AMERICAN at Phillips New York, 450 Park Avenue
By Arnold Lehman, Senior Advisor to the CEO and Director Emeritus, Brooklyn Museum
AMERICAN AFRICAN AMERICAN offers an inclusive and dynamic reshuffling of the American art world order. Bringing together works by over 60 important artists from the 1950s to today, this major exhibition looks towards the increasingly powerful signature of a growing number of American artists who happen to be black, as well as those who look deeply into their blackness or black culture to create exceptional works of art.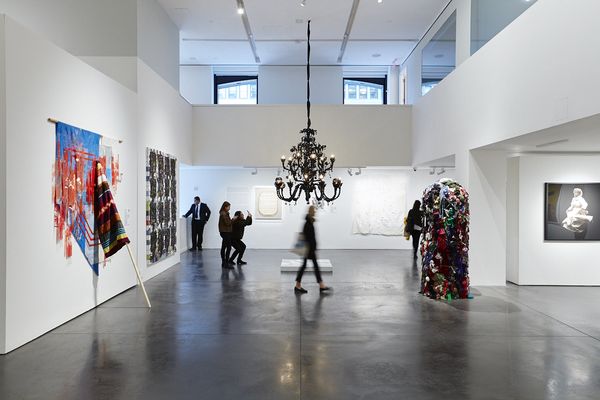 In her groundbreaking 2001 exhibition Freestyle at the Studio Museum in Harlem, then curator (and subsequently director) Thelma Golden, whose brilliant career has been dedicated to the almost limitless creativity of these artists, carefully assessed the critical moment in time for African American artists: "… they create work that refers to multiple histories of contemporary art and culture – both non-Western and that of the Western modernist tradition...Like the generations before them, they resist narrow definition. They are both post-Basquiat and post-Biggie…
"Most importantly, their work…speaks to an individual freedom that is a result of this transitional moment in the quest to define ongoing changes in the evolution of African-American art and ultimately to ongoing redefinition of blackness in contemporary culture." Golden's assessment nearly two decades ago is, perhaps, even truer today.
For years I imagined that blackness was like the shell of a hard-boiled egg, which, if tapped frequently and methodically, could be peeled away; or that blackness could be scraped off like the surface of burnt toast – Glenn Ligon
After the first iteration of AMERICAN AFRICAN AMERICAN in November 2017 at PHILLIPS London, we take this opportunity to look further back into the 20th century to help unravel the threads of influence across generations.
Works by both established and emerging contemporary artists – ranging from Hale Woodruff to Romare Bearden to Jean-Michel Basquiat, and Kara Walker, and today to Adam Pendleton, Tomashi Jackson and Dread Scott – act as critical markers on an artistic trail that leads back to what is now seen as the formative and sometime revolutionary years, allowing us to more fully appreciate the far-reaching legacy of the trailblazing artists who paved the way for generations of black artists to come, such as Harlem Renaissance artist Charles Alston and AfriCOBRA co-founder Gerald Williams.
My engagement and initial commitment to African American art and artists extend back to the 1968 opening of the Studio Museum in Harlem and the highly contentious 1971 exhibition Contemporary Black Artists in America at the Whitney Museum of American Art. It continued throughout my nearly four decades as the director of the Baltimore Museum of Art and the Brooklyn Museum with exhibitions following and building upon one another that brought the work of scores of African American artists into public view and acclaim.
Among the last exhibitions during my tenure at Brooklyn was Revolution! Works from the Black Arts Movement and Witness: Art and Civil Rights in the Sixties. Both exhibitions align directly with Tate Modern's powerful Soul of a Nation: Art in the Age of Black Power, which can now be seen at the Brooklyn Museum through 3 February 2019. Indeed, I was keen to open AMERICAN AFRICAN AMERICAN while Soul of a Nation remained on view so that visitors might benefit from seeing both the parallel early work and the continuing trajectory of this visually stunning and important work here at Phillips.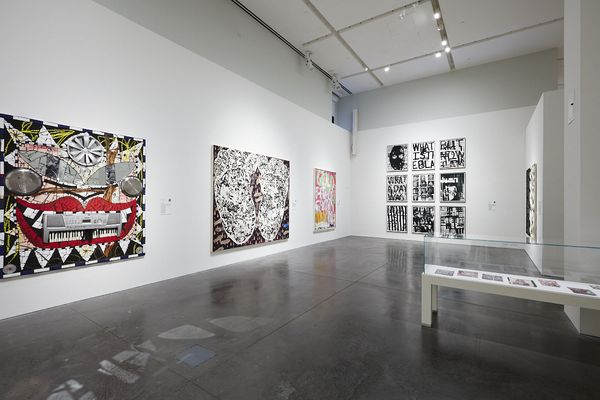 In dialogue with Soul of a Nation, AMERICAN AFRICAN AMERICAN offers profound engagement with and brilliant continuity of the art made in the United States by African American artists after WWll – with new vocabulary and redefinition at every turn.