Senior Specialist Eva Violante examines a ruby and diamond ring from December's New York auction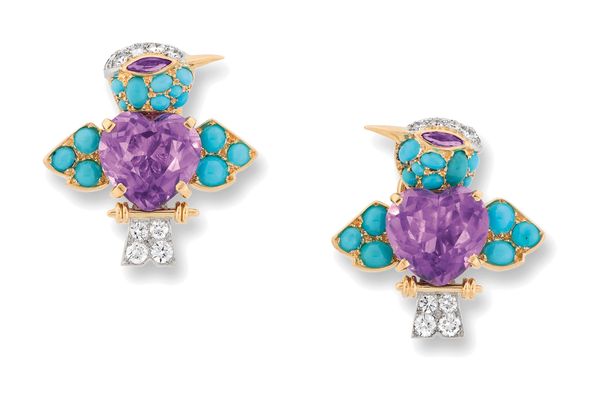 These colorful Cartier earrings sold for $47,500 against a $10,000 estimate
On 6 December 2018 in New York, these beautiful amethyst, turquoise and diamond Cartier bird earrings soared past their $10,000 pre-sale low estimate in a lively New York saleroom, finally selling for $47,500 after competition from multiple bidders. Our New York live and online sales brought to a close a year of tremendous growth for the Phillips Jewels team internationally—setting us up to fly even higher in 2019.
1. Expanding Team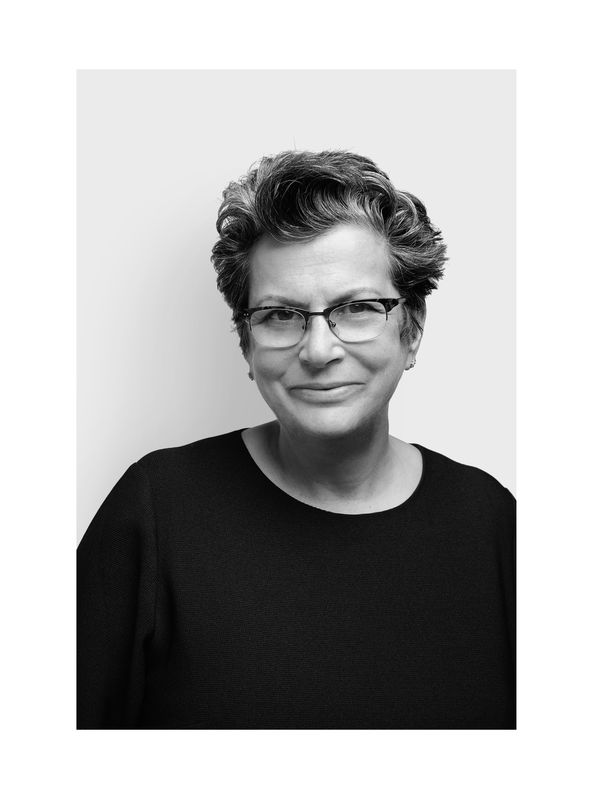 Head of Department Susan Abeles
Susan Abeles arrived in February as Head of Department, Americas, and the New York team quickly expanded under her leadership to include new members Eva Violante, Anne Mock and Alexi Riggins. In the spring we welcomed Yoki Chan in Hong Kong as a jadeite specialist and, in October, Bart von Son was appointed co-International Business Director, Watches and Jewelry, based in London.
2. Contemporary Jewels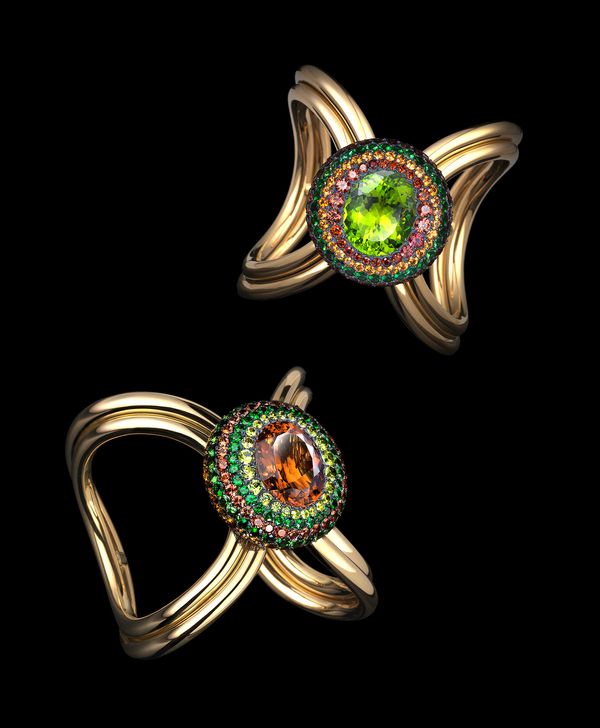 A set of 'XO' cuffs by London designer Lauren Adriana, photo courtesy of Richard Valencia
Susan joined shortly before the opening of the Lauren Adriana Jewels Now selling exhibition in our galleries in both New York and London. This was the first time an auction house had mounted an exhibition of this scale for a contemporary jewelry designer, and it demonstrated our commitment to championing the aesthetic movements of the 20th and 21st centuries across categories. Lauren's bold, abstract jewels are at the forefront of contemporary design, setting a fresh dialogue for what jewelry should be in the decades to come.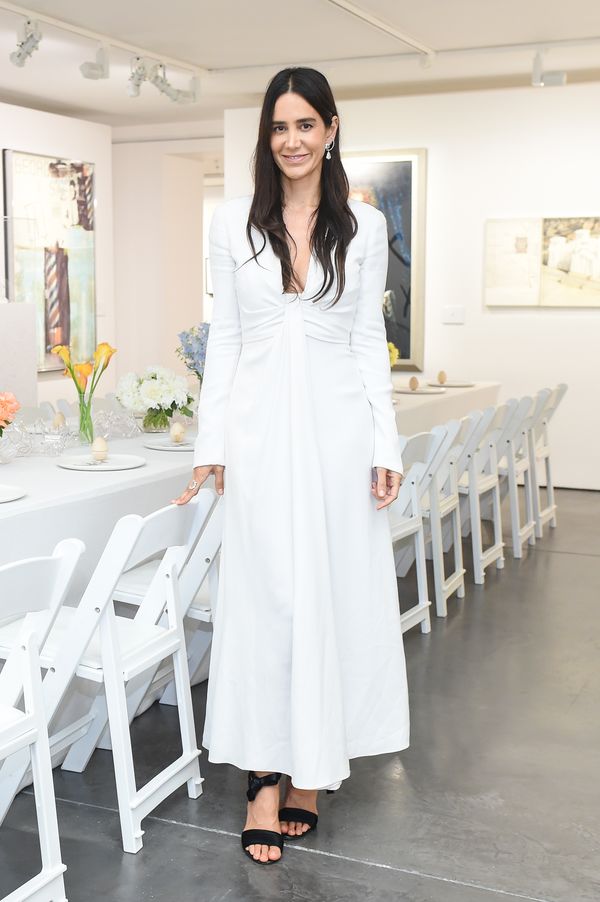 Brazilian jeweler Ana Khouri in Phillips' New York gallery space
In September, the work of another contemporary jeweler, Ana Khouri, went on view in New York. Her geometric and organic jewels are designed with ingenuity and grace to conform to the wearer's body. Jewels writer and editor Rachel Garrahan gave an exclusive interview with Khouri in advance of the show's stunning opening.
3. Jewels as a Design Collectible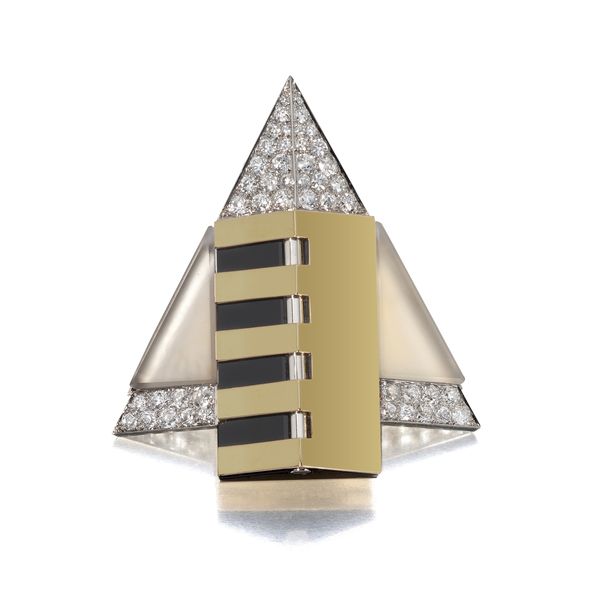 A George Sandoz brooch, image courtesy of Siegelson
The success of our Jewels selling exhibitions evidenced the growth in the presentation and perception of contemporary jewelry as a design collectible. An increasing number of jewelry exhibitors, including Hemmerle, Siegelson, Suzanne Syz and Taffin, were to be found at Art Fairs such as Design Miami, PAD, Masterpiece and TEFAF in 2018. The best of vintage and contemporary jewels, as well as 'artist jewelry' by the likes of Dali, Picasso and Calder, was in high demand from clients seeking one-of-a-kind creations made with the highest level of craftsmanship.
4. Phillips Jewels on Tour
Phillips Jewels returned to Geneva this autumn with highlights from our New York auction and received a warm welcome at Hotel La Réserve. The highlights traveled on to Hong Kong, and the December auctions saw a number of the top lots finding new homes in Asia, as well as elsewhere across the globe. Hong Kong highlights from our May and November sales were also previewed by discerning collectors at showings in New York, Shanghai, Singapore and Taipei, where we also hosted a talk called 'Royal Jewels: East and West'.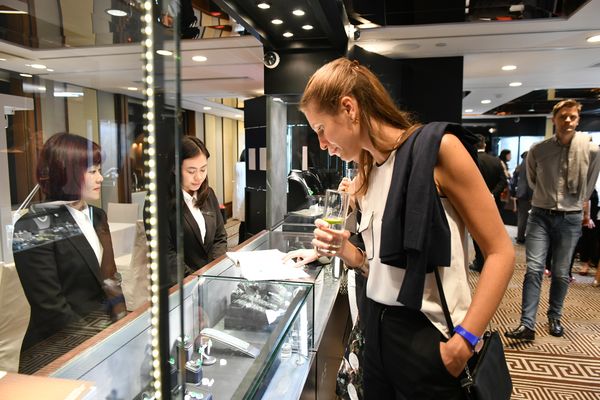 A selection of jewels on view during our Asian tour
5. Colors of the Rainbow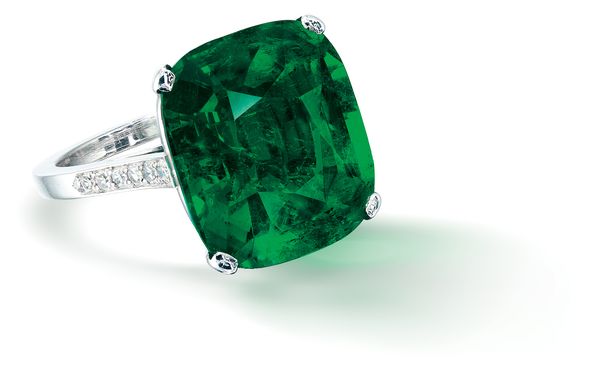 Cartier emerald and diamond ring, sold in Hong Kong for $610,844 in November
The results of our sales in 2018 highlighted the international appreciation of exceptional colored gemstones, with fine no-oil Colombian emeralds leading the way and inviting fierce bidding. A Cartier 10.72 carat Colombian emerald and diamond ring sold in Hong Kong in November for $610,844 and a stunning 2.80 carat Colombian emerald sold for more than $40,000 per carat in New York in December.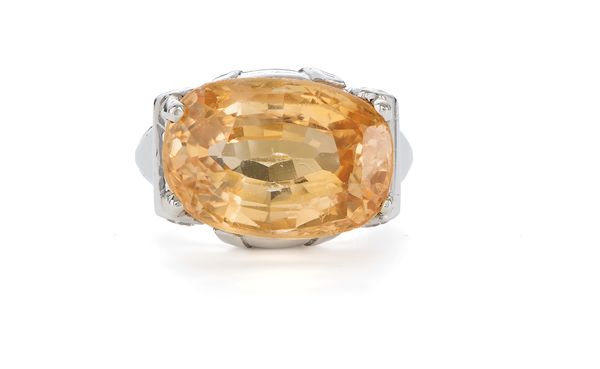 A yellow-orange golden Ceylon sapphire ring
Green was not the only color with star appeal this year. There was furious bidding for a sensational yellow-orange golden Ceylon sapphire in New York. The pre-sale high estimate of $15,000 was smashed by the final selling price of $53,750.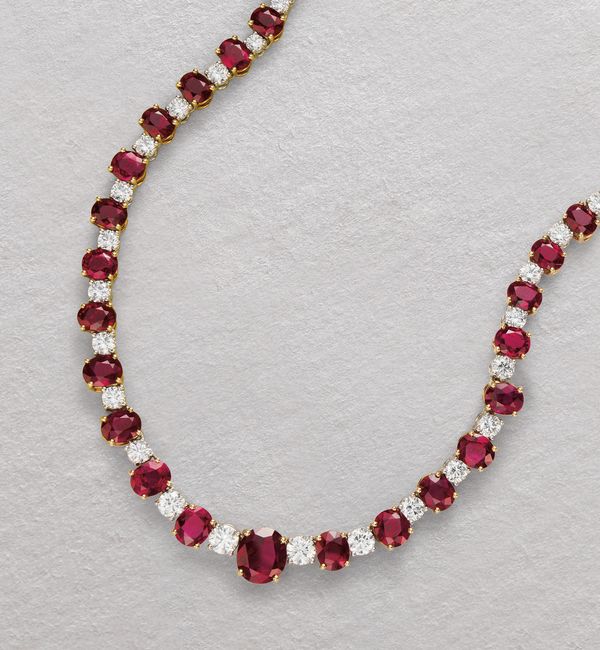 An important Bulgari Burmese ruby and diamond necklace was one of the most popular lots in December's New York auction
The finest reds and blues of unheated rubies and sapphires also performed well. The elusive Kashmir sapphire proved ever-sought-after with an Art Deco Cartier Kashmir sapphire and diamond ring of 5.22 carats selling for $472,860 in November in Hong Kong, while a Burmese ruby and diamond necklace by Bulgari was one of the most popular lots in the New York sale, realizing a total of $200,000.
6. A Bit of Whimsy
Whimsical and playful jewels by the great jewelry houses proved similarly attractive to collectors.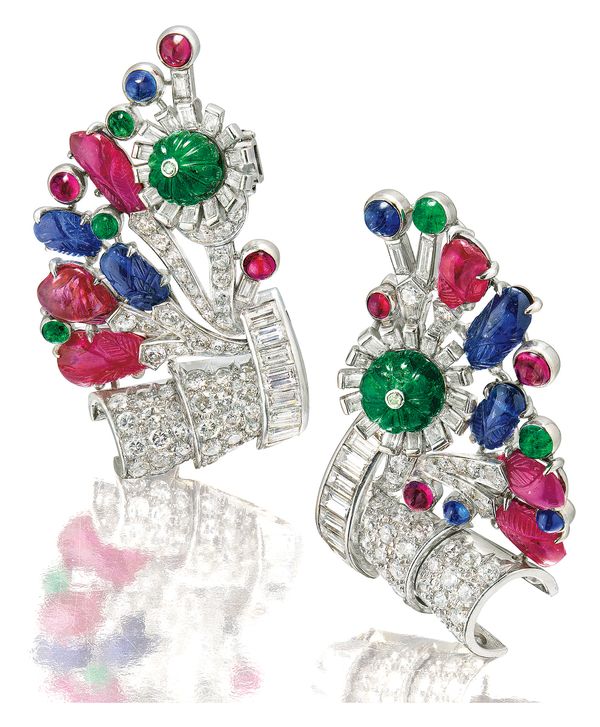 Art Deco 'Tutti Frutti' brooch by Henri Picq for Cartier
The Art Deco 'Tutti Frutti' double clip brooch by Henri Picq for Cartier was a favorite on the Hong Kong spring auction tour, and in the autumn, the 'waiter rabbit' brooch by Raymond Yard amused with its free-swinging ice bucket.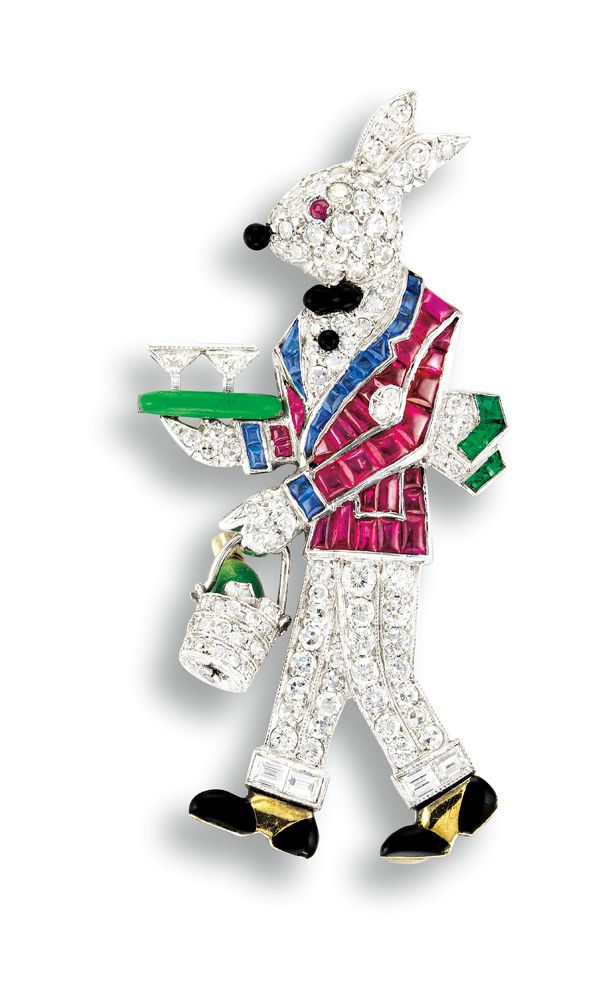 A Raymond Yard "Waiter Rabbit" Diamond, Gem and Enamel Brooch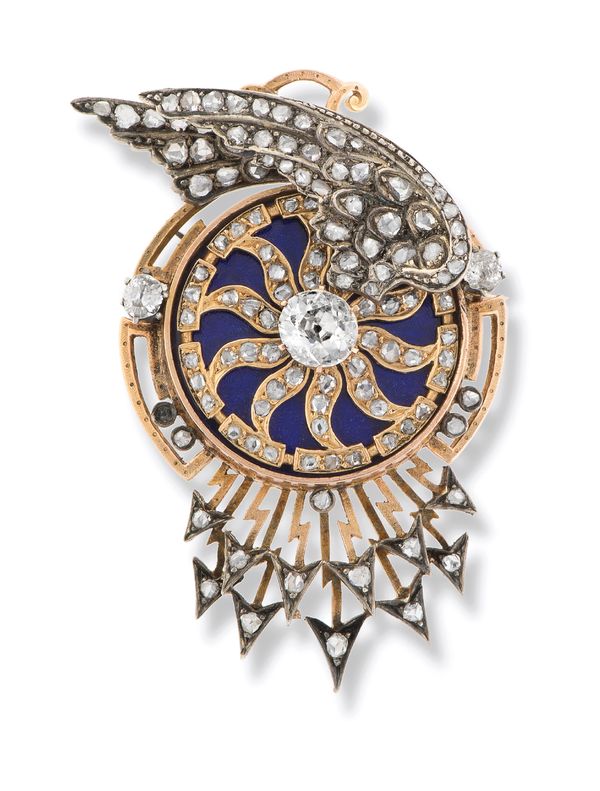 Diamond and enamel automaton brooch
No maker's mark was needed for buyers to appreciate the glittering, spinning pinwheel effect of a rare Victorian diamond and enamel automaton brooch made circa 1860.
7. Looking Forward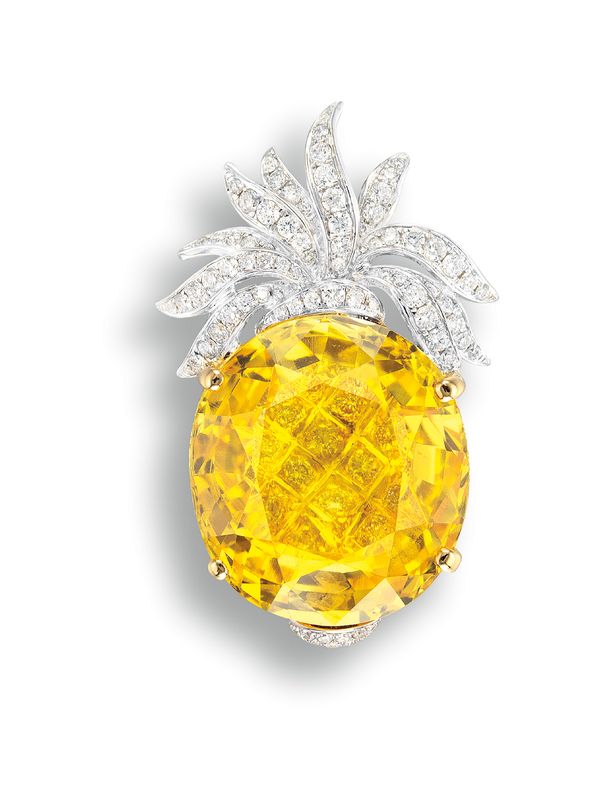 An auspicious yellow sapphire and diamond 'Pineapple' pendant
As we move into 2019, our global jewelry team wishes all our clients good fortune and prosperity, and we look forward to continuing to bring the very best selection of jewels to market.