Artist Mary Heilmann in her studio
Mary Heilmann painted with ambient rave music on blast during the early 1980s. The California-born, New York transplant often titled paintings after tracks by the ambient musician Brian Eno. Heilmann explained that Eno's songs "felt like they meant something." Eno wanted listeners to "find your own way" within new paths generated by ambient echoes.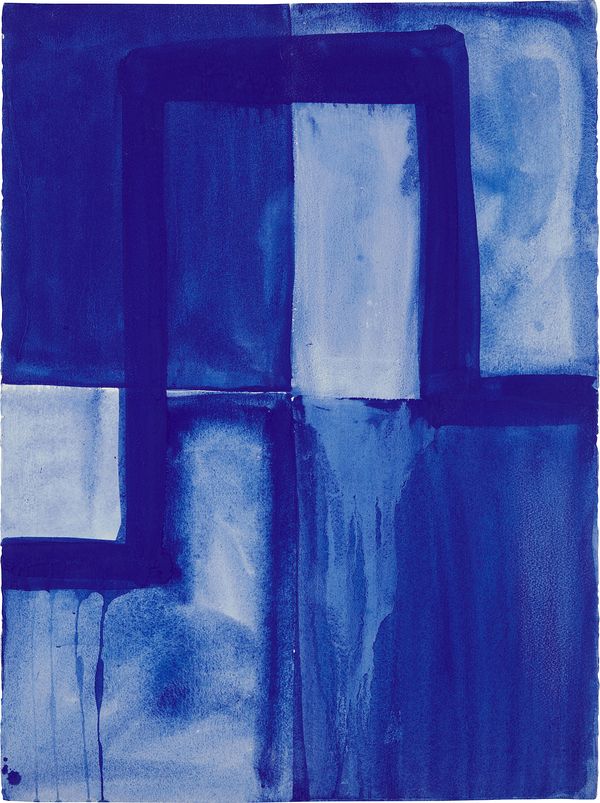 Mary Heilmann Ming, 1982
Ming, a chill and aqueous 1982 work on paper, forged a new path between Mary Heilmann and art history. Ming's malleable and imperfect grid echoed across works from the '80s that Heilmann described "like a day dream." By adding a big brush mark atop an underlying cruciform composition that referenced Mondrian, Heilmann interjected rhythm and irregularity to the history of hard-edged painting.
The cadence of ceramic making characterized Ming as well as Heilmann's studies at UC Berkeley. Heilmann recalled "I did a lot of blue and white ceramics...I do remember being inspired by Chinese Porcelain," elaborating, "I just like...the Chinese Ming dynasty idea that the glaze is totally blue and clear, just blue and white." Heilmann molded the patient process of coloring ceramics into a layered palette that set off a stream of associations: ancient pottery, modernists like Mondrian and recollections of her own childhood's beachy shorelines.
I became interested in discovering the emotional states called forth by blue...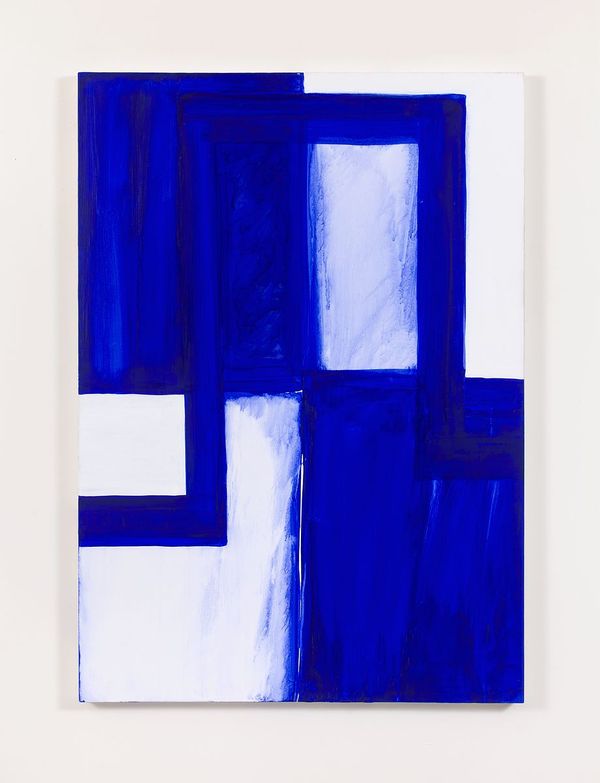 Heilmann returned to this theme in a work on canvas in 1986.
This lot precedes a canvas of the same subject that anchored Heilmann's 1986 debut at Pat Hearn Gallery, which was purchased by Julian Schnabel and later bought back by Mary Heilmann. The prominent East Village space gave Heilmann a platform for paintings uniting memory with art history during an extremely challenging personal period.
Heilmann recalled: "I became interested in discovering the emotional states called forth by blue...[it] has so many different associations; it's the sky, it's holy, it's a kind of...music, which evokes...romance and longing." Ming set the score to Mary Heilmann's new soundtrack.