Pieces from our New York Jewels sale and Jewels & More: Online Auction are on display at 450 Park Avenue until 6 December
Susan Abeles, Head of Department and Senior International Specialist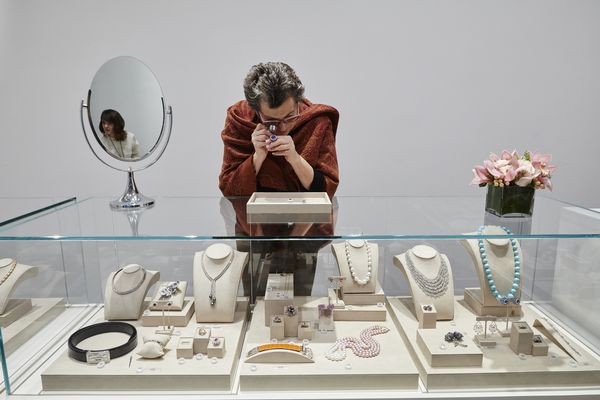 Like any form of adornment, there is a personal connection with jewelry. Today, I feel connected to these lots, tomorrow I will find others that attract my attention. What today's picks have in common are their modernity, wearability and unusual form.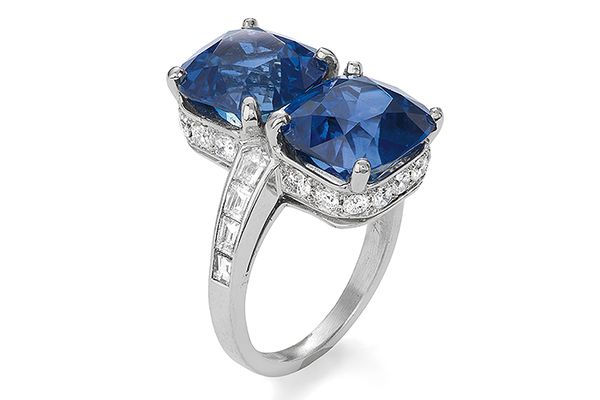 For instance, lot 170 from the live auction calls to me. Initially, I found the mounting odd, despite the gem quality twin sapphires and diamonds. I was even resistant to trying the ring on because it was different. Yet, and surprisingly so, the ring looks great and its uniqueness makes it stand out. I call this ring "the Daphne Guinness" because it is bold, sexy and commanding. Most jewelers would have mounted the sapphires as a pair of earrings, yet this design is daring, challenging the classic style. Additionally, the sapphires are well-matched in color, clarity, brilliance and proportion, all adding value to the unique design. In terms of value, finding matched Madagascar sapphires is a plus—but still in the ranking of sapphire origin, not yet fully appreciated. Although not as coveted as sapphires from Kashmir, Burma or Ceylon, Madagascar sapphires have been used by the famous jewelry houses — Van Cleef & Arpels, Cartier, Jahan, Bulgari and others — beginning in the last quarter of the twentieth century. I embrace their beauty based on their gem characteristics (rich even color, brilliance and clarity) and, in the same way, the stand-out-and-be-noticed modern design that this ring offers.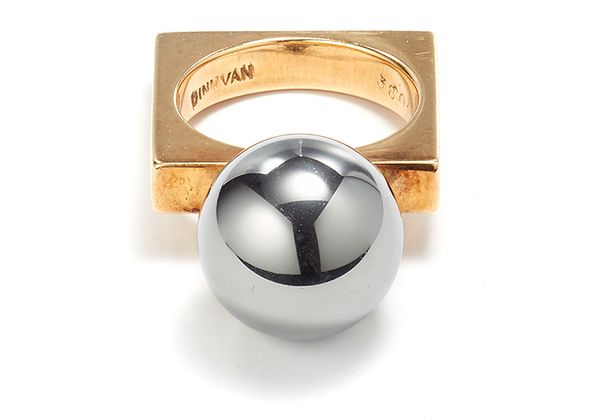 I also adore the Jean Dinh Van for Cartier ring—lot 136 from the online sale. It represents a bold modernity from the collaboration of Dinh Van and Cartier dating to the 1960s and is recognizable by the iconic square shank. Personally, I identify this work with my mother, who was an art history professor and historian, industrial designer and a collector of contemporary American artists. She loved his work and gifted me her favorite rings by him. My mother preferred to collect art over jewelry; therefore, these rings that I now have from her represent small but important works of art, like sculptures. Not only do I have an appreciation of Dinh Van's works but an intimate relationship born from a love of jewelry and the contemporary, as well as private family and spiritual references.
I grew up in a George Nelson house constructed on a beautiful hill on Long Island. It was my mother's relationship with Nelson (and Chadwick) and her love of simple, elegant and open design that permeated my life. After studying chemistry and behavior, I was still unsure of what I wanted to do in life. Luckily I answered an ad in The New York Times and found my first job at an auction house. Only by accident did my path lead to jewelry, which I have worked with for more than 30 years. Research and design have always been my interest. Therefore, I am at home here at Phillips celebrating jewelry and art.
Nazgol Jahan, International Specialist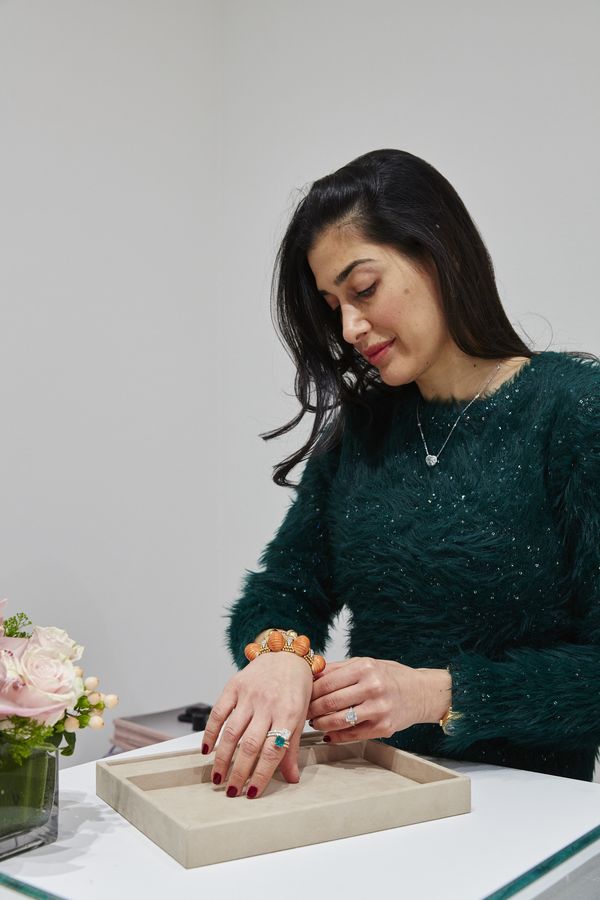 My fascination with gems and jewels began when, as a young girl, I would explore the scintillating treasures in my mother's jewelry trove. Growing up in a family of jewelers, I would often spend a day off from school going to work with my father. My eyes would glisten sifting through the arranged trays of colorful, flawless gems and extraordinary jewels — some taking form in the workshop. Armed with my own loupe and guided by my father's expertise, I would assist in selecting the gems with infinite care.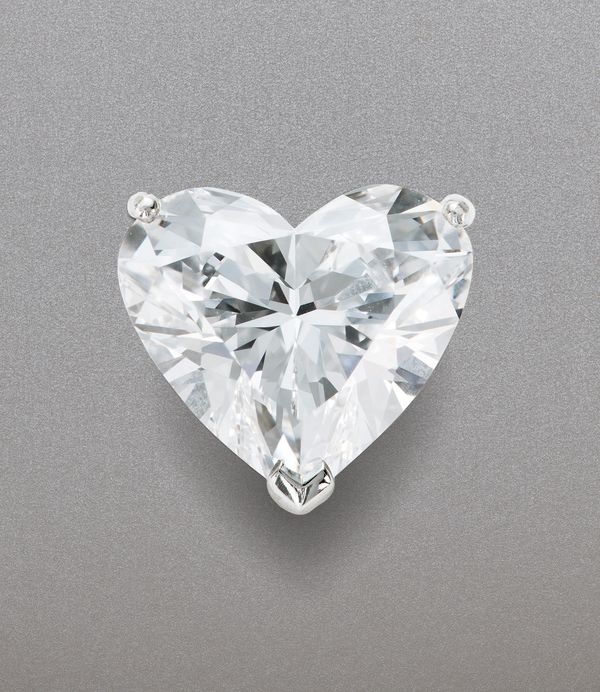 I was most captivated by the mesmerizing sparkle of diamonds and their rarity. Miraculously formed a billion years ago, a diamond originated and emanated from deep within the earth, surging closer to the surface through volcanic eruptions. A symbol of love and romance, a diamond must be cut with precision to unlock its magical beauty. Over the past decade of working at Phillips, I have been fortunate to come across some of the most exquisite diamonds. One fine example being offered this sale is the glinting heart-shaped diamond by Graff Diamonds. Graff is known for their masterful cutting and handling of some of the most important diamonds in the world. Weighing 5.39 carats, with D color and Internally Flawless, this impeccable and luminous diamond needs no embellishment other than to be suspended from a simple platinum chain, appearing to float on the wearer's chest.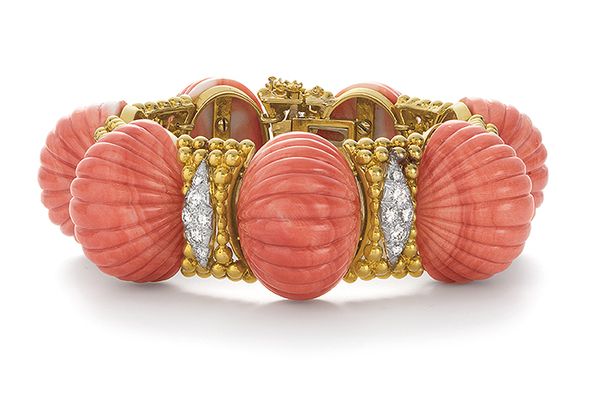 A David Webb Coral, Diamond and Gold Bracelet, Lot 75 in New York Jewels
Shifting to my affinity for statement jewels in the collection, I am drawn to the unique and sculptural David Webb coral diamond and gold bangle bracelet for the designer's bold use of color and volume. David Webb is an iconic American jewelry designer known for his expressive jewels featuring carved stones, enamel and diamonds. Webb's distinctive designs were sought-after by both celebrities and jewelry enthusiasts including the Duchess of Windsor, Jackie Kennedy and Elizabeth Taylor, to name a few.
Eva Violante, Senior Specialist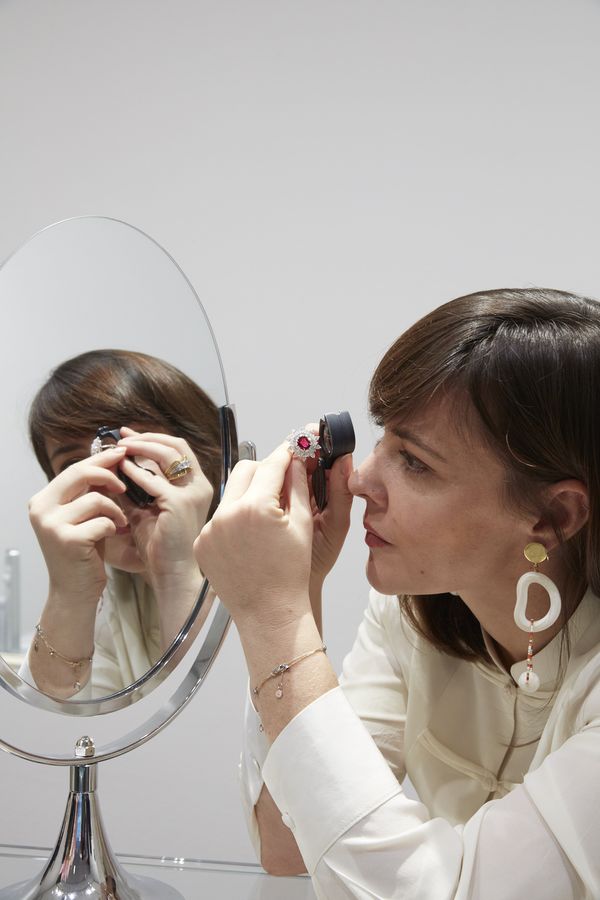 I am inspired by design-forward, sculptural jewels and Eastern motifs. My favorite period is arte moderne, and the most courageous jeweler of that era is, in my opinion, Suzanne Belperron.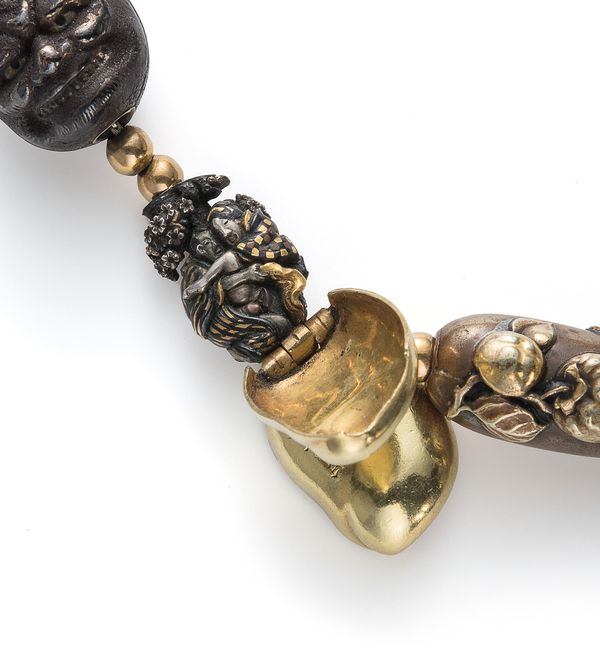 One of my favorite pieces in the live auction is this Ojime bead necklace. The beads date back to the Meiji period in the second half of the nineteenth century. Though Ojime were not historically worn together on a strand, I like the thoughtful selection of hand-carved beads and the way that they compliment each other as a collection in this necklace. This example is comprised of a variety of metals, but what makes the piece so desirable are the two highly-coveted gold ojime beads. One gold cylindrical bead depicts a "rakan" or holy man, while the other gold bean-shaped ojime opens to reveal a clandestine hand-carved erotic scene, making this bead the most unusual ojime on the strand.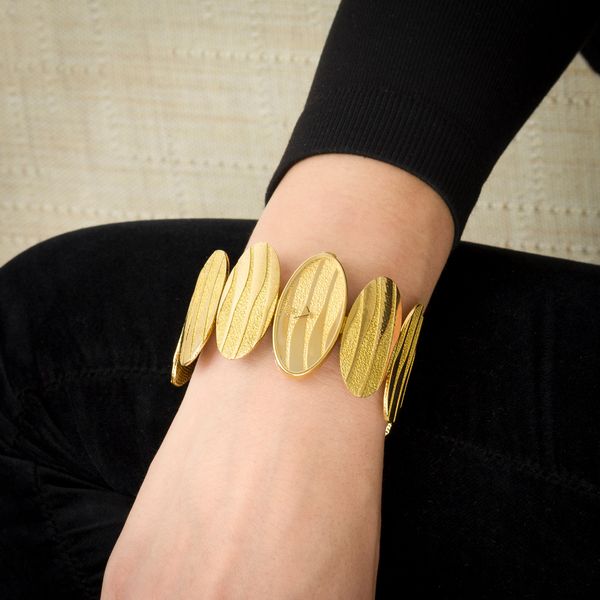 My other favorite piece in our Jewels sale is this George L'Enfant for Rolex watch from the Optical Collection. An excellent illustration of L'Enfant's distinctively recognizable "Tissu Milanais" technique, this style of finish contrasts rows of alternative textured matte against a polished finish in a pressed wavelike pattern. Varying circular and twist motifs, finely woven textures and combinations of different colors of gold are all signature combinations of L'Enfant creations. These modernist designs are chic statement pieces, which are easy to build a collection around.
Anne Mock, Associate Specialist, GG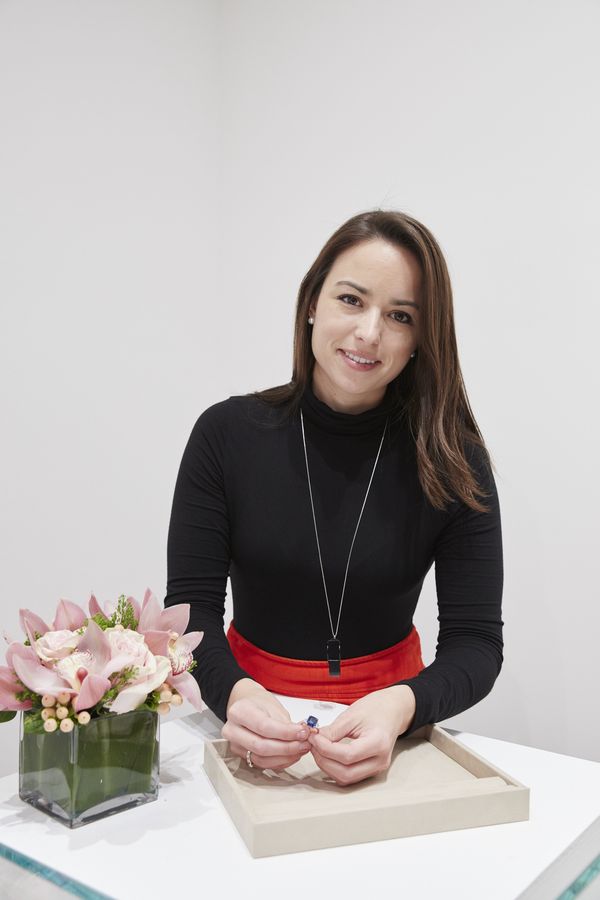 My passion for fine jewelry and gemstones began at a young age. My mom likes to joke that I began my career in the industry as a two-year-old jewel thief trying to pick diamonds out of her friends' engagement rings.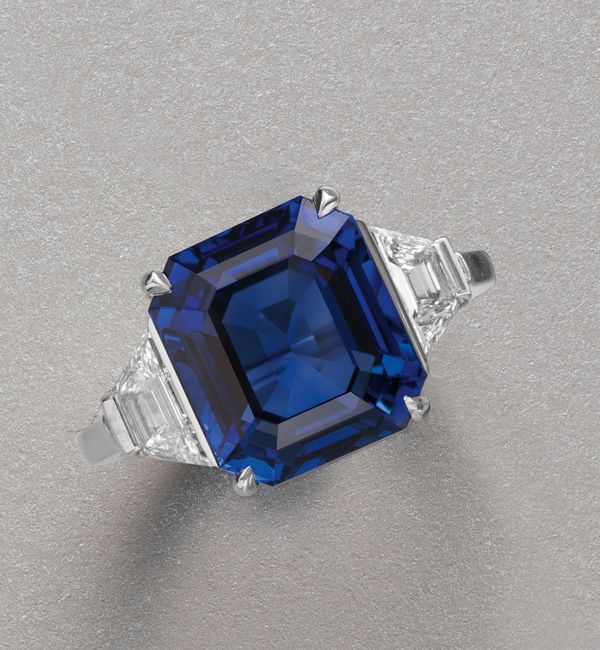 A Fine Burmese Sapphire and Diamond Ring, Lot 184 in New York Jewels
Growing up in New England, many of these treasures were classically mounted three stone rings, consisting of diamonds, and more often than not, sapphires. You wouldn't want the diamond to get lonely, would you? I consider my mother's three stone diamond and sapphire engagement ring as the gold standard — it's the design I hope to mimic one day in my own ring. This similar Burmese sapphire and diamond ring is one of my favorite pieces in the sale: it's the epitome of classic jewelry. As a Graduate Gemologist, I appreciate the liveliness in the stone that is not typically seen in Burmese sapphires. The gem's attractive saturation and remarkably fine purity, along with its unheated nature, makes it exceedingly rare. From the three stone setting to the step-cut sapphire, it's a timeless ring. And what can I say? It reminds me of home.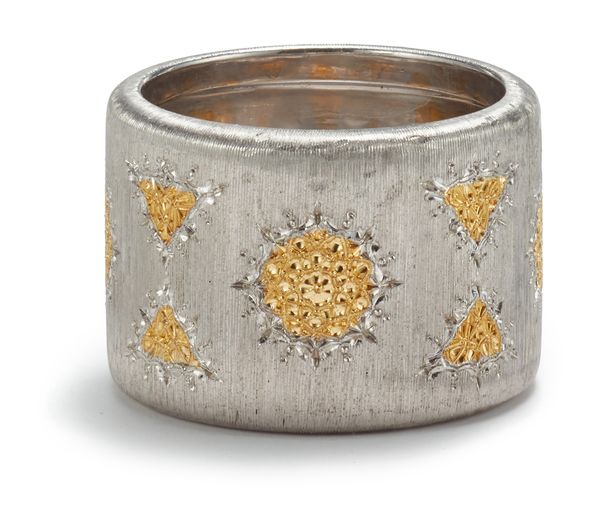 I lived in Florence for a year in college and I would frequently visit the Ponte Vecchio after my internship at the nearby Uffizi Gallery. It was there, by the infamous bridge, that I was first introduced to Buccellati. Their jewelry is worthy of great Renaissance artists, which, having received my BA in Art History with a concentration in Italian Renaissance art, makes me appreciate it even more. As a former quality control analyst at Harry Winston and someone whose attention to detail is boarder-line manic, I relish the meticulous care that is given to every inch of Buccellati's creations. At first glance, this ring appears to have a simple silver and gold design, but upon closer inspection, you see their signature engraving techniques that seemingly transform precious metals into fine fabrics such as tulle, linen, silk or lace.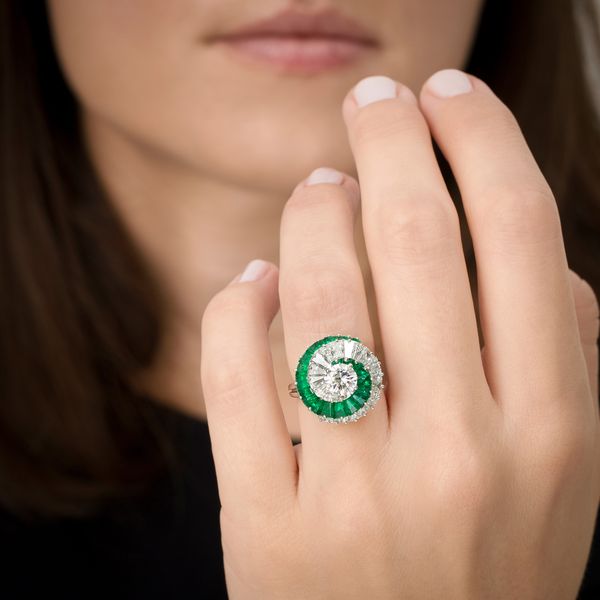 Though my personal style tends to be more classic and conservative, this beautiful diamond and emerald ring made by Oscar Heyman & Brothers for Cartier has had me salivating from the moment it came across my desk. Oscar Heyman is known as "the jewelers' jeweler," creating fabulous pieces for some of the world's elite houses such as Cartier, Van Cleef & Arpels and Tiffany & Co. This particular ring is a fine example of their work, with its expertly matched, high-quality stones and attention to detail. Though many would presumably wear this beauty with cocktail attire, I would rock it every day if given the opportunity.
My love of jewelry has ultimately led me to a career at Phillips, where I am lucky enough to view incredible pieces of jewelry every day. Outside of work, I have my own fine jewelry line, Annie James, whose mission is to promote awareness and raise funds for thyroid cancer — I'm a survivor. I also design engagement rings and other custom pieces for private clients, while maintaining my own jewelry appraisal business.