Cartier A Pair of Amethyst, Turquoise and Diamond Earrings, circa 1955
By Levi Higgs
New York City is a metropolis constantly in a state of flux, but it's always been a hub for exquisite jewelry. On December 6th, the public will have a chance to see what Phillips has been busy gathering, and the selection features work from many of the great houses and designers of the last few centuries, running the gamut from Cartier to Tiffany & Co. and Boucheron to Buccellati. Some of the unsigned pieces are also just as wonderfully unique and interesting.
I'm here to introduce you to several pieces I will certainly be keeping my eye on, as well as pointing out some of the interesting historical narratives associated with certain designs or periods represented in this sale. A little bit about me: I'm a jewelry archivist and decorative arts historian with a Master's Degree from Parsons The New School in partnership with the Cooper Hewitt Smithsonian Design Museum. I write about jewelry history and am often posting about my glittering day-to-day on my Instagram account @Levi_Higgs.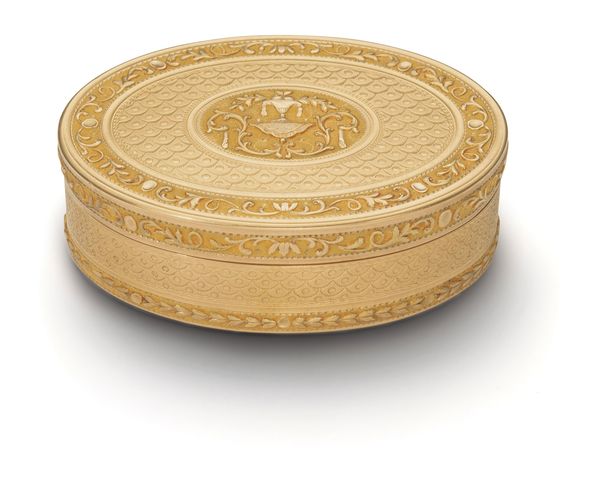 The first piece in the Jewels auction that caught my attention is one of several gold boxes. Now, this perfectly falls through the cracks of what I specialized in, but it also falls squarely in the lap of things I'm rapturously interested in. I always marvel at the astounding and vast collection of golden snuff boxes at the Metropolitan Museum of Art, which were once in the personal collection of J.P. Morgan, the most powerful man in New York City of his time. This grouping is the perfect starter set for any aspiring titan of industry. The one that caught my eye was the 18th-century golden box seen in Lot 1. It was made by Jean-Francois Kalandrin in 1788-89. This is one of the oldest lots in the entire sale, but it's one of the most elegant boxes on offer this December.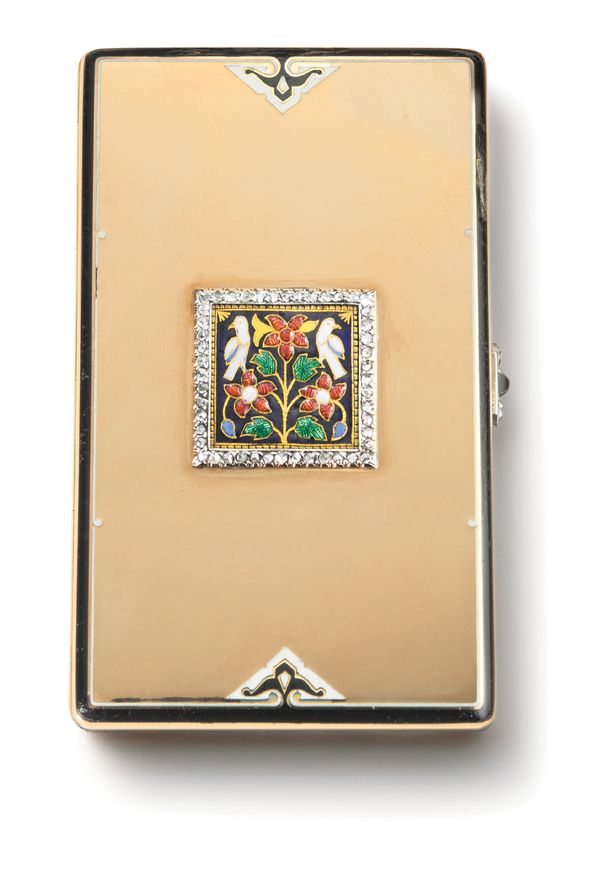 I can't really move on from these jeweled boxes without mentioning the Cartier box in Lot 8 from circa 1930. It's an example of the best taste of the Art Deco movement and perfectly features the iconography of Persian Mythology, a common trope of the period. At the time, many houses were interested in all things Eastern, and Cartier also drew heavily from this romanticized source of inspiration. This would be a case that would be right at home in the collection of Prince Aga Khan, which has recently been touring the United States.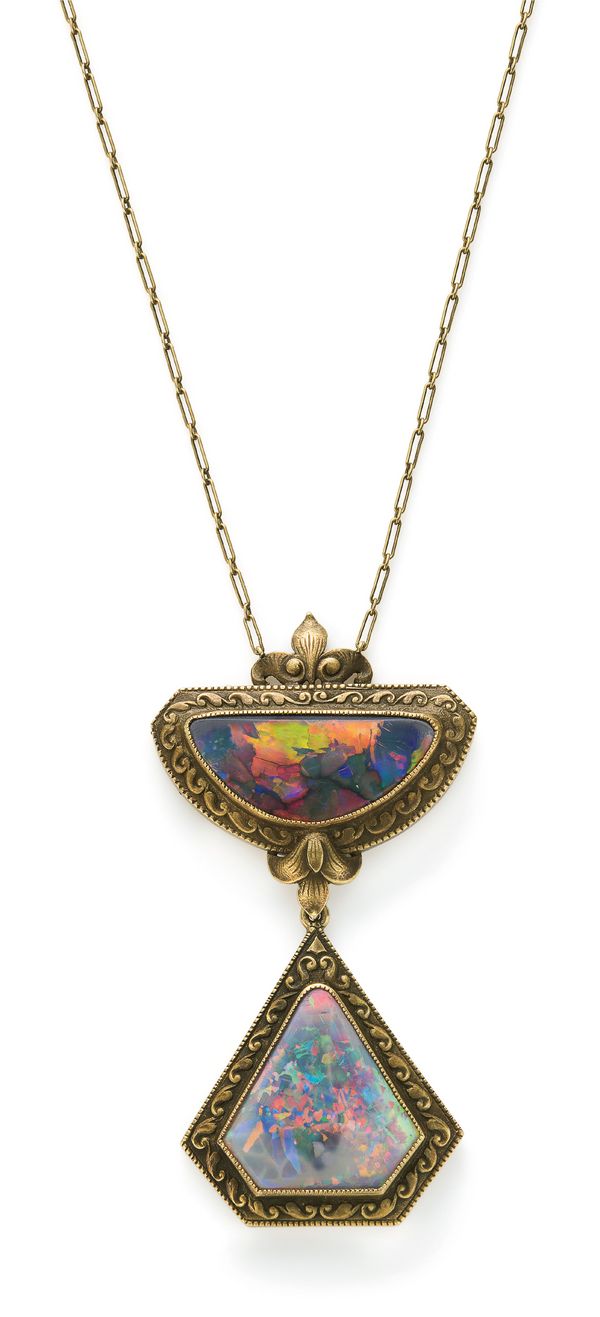 Lot 14, made by Tiffany & Co. with two opals set into 18K gold, is a perfect, vibrant example of an American Arts and Crafts pendant. This pendant is certainly tame from a contemporary standpoint, but the use of the multi-hued opals with gold scroll-work place it firmly in the kaleidoscopic mindset of the company at the outset of the 20th century.
I'm always drawn to oddities, so naturally, the Victorian Automaton Brooch caught my eye.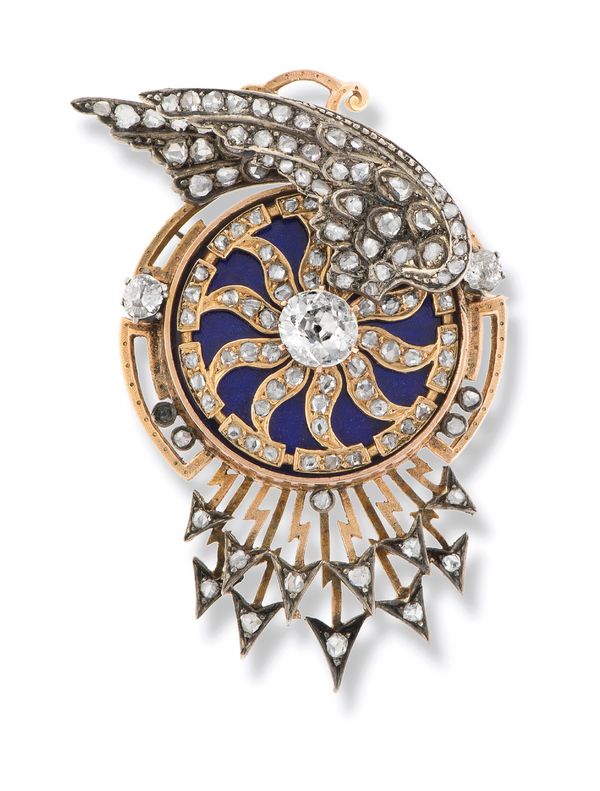 I'm always drawn to oddities, so naturally, the Victorian Automaton Brooch in Lot 15 caught my eye. The provenance of Edith Weber is also enticing, as she collected with a connoisseur's eye for pieces that would stand the test of time. This brooch spirals arrows around a winged disc, and will strike adoration into the hearts of anyone who bids.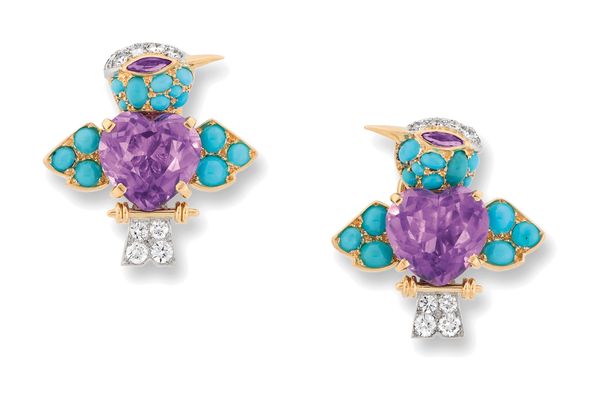 Cartier became known for their arresting color combinations of amethyst and turquoise in the mid-century. The earrings in Lot 30 from circa 1955, styled in the shape of birds, are part of a long continuum of Cartier's use of animal motifs and exemplify the whimsical sensibilities of the era.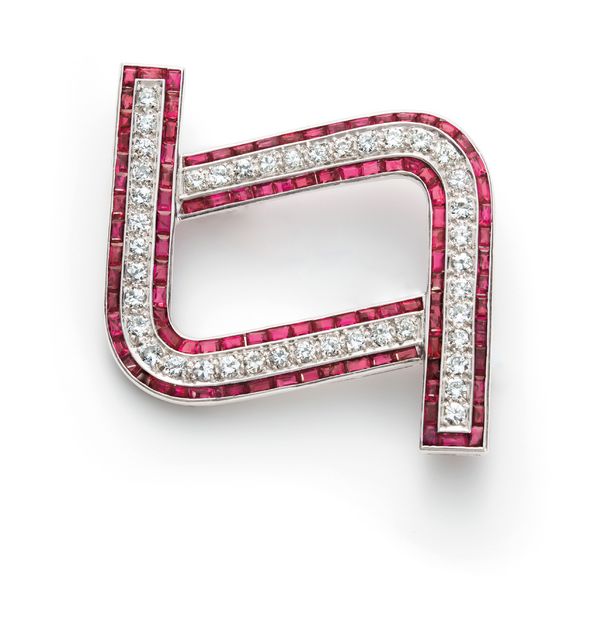 In Lot 38, Charlton & Co. made this ruby and diamond brooch in circa 1925, and to me, it evokes both poised Japanese textiles and bold graphic design elements simultaneously.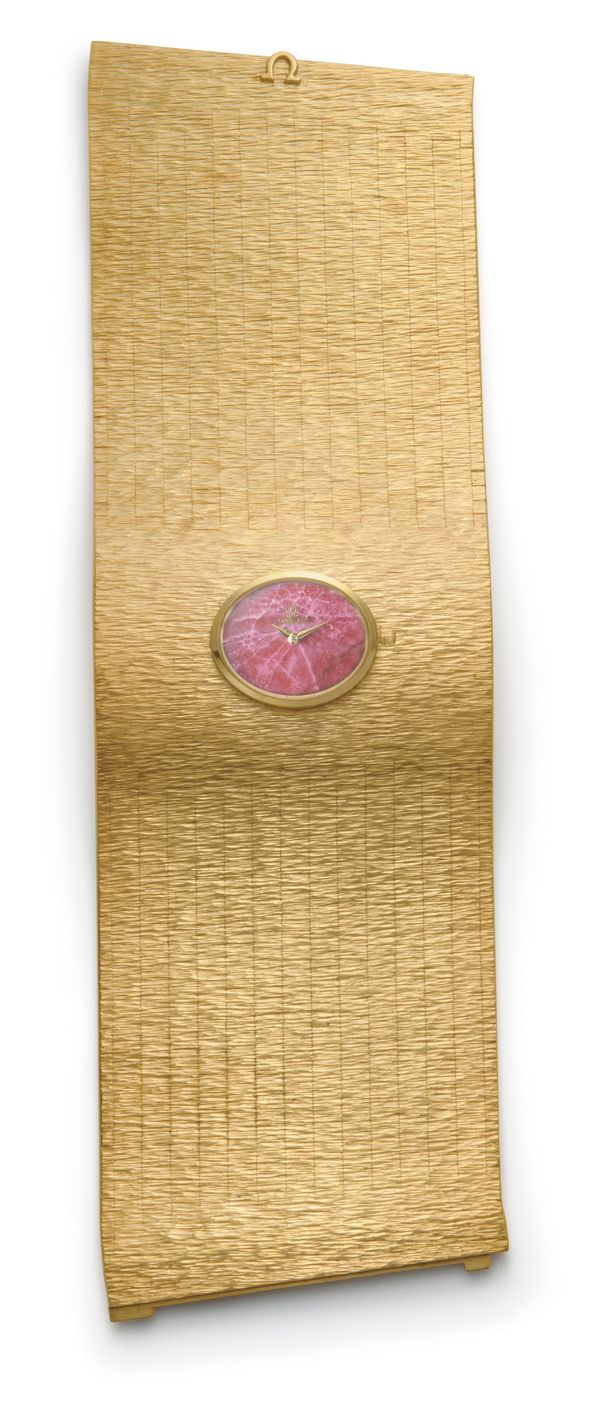 Veering slightly more modern, the Omega gold and rhodochrosite watch from 1971 in Lot 58 is delectably simple. The textured 18K gold wraps around the wrist like a wide-bodied ribbon, blurring the line between a garment's cuff and a jeweled watch. The face of the watch is made of a beautiful pink veined hardstone and helps the piece transcend utilitarian timekeeping to become a piece of true fine jewelry.
J.K. Rowling in her Buccellati brooch, similar to Lot 66. Photo: Jane Barlow, PA Images.
Lastly, the Buccellati thistle brooch in Lot 66 is close to my heart, mostly due to my recent discovery that author J.K. Rowling wore one very similar. The Edinburgh-based author is a Buccellati fan, wearing the Lace Rombi earrings when she received the Companion of Honour at Buckingham Palace in 2017. Her Buccellati brooch has only two thistle heads, but earlier this year she proudly sported hers at a NatWest Six Nations match between Scotland and England at Murrayfield Stadium on 24 February 2018 in Edinburgh, Scotland. The thistle is an international symbol for Scotland, so for the author to bejewel herself symbolically, aligning with her team of choice, goes a long way to show just how jewelry can be used to send pointed messages.
All in all, Phillips reintroducing jewels auctions in New York is an exciting prospect for savvy collectors; it's a fantastic avenue through which to discover jewelry that can fit into any collection, established or fledgling.