A tourmaline, sapphire and gold brooch by Buccellati
by Anne Mock, Associate Specialist
Mario Buccellati, founder of Buccellati, began his career in 1903 as apprentice to the goldsmiths Beltrami e Besnati. Having descended from a family of renowned goldsmiths and jewelers including eighteenth-century jeweler Contardo Buccellati, Mario's expertise and skills set him apart from his jewelry-making contemporaries. Both his jewelry and silver objects became recognizable by their distinct textures and finishes. The Buccellati hallmark, '15 MI', is one of the oldest in Milan. Today, more than 1600 stamps have been issued, but there are only three surviving companies with stamps lower than 15.
During his life, Buccellati created jewels for the most important collecting families across Europe, including papal figures. In 1919, he took over Beltrami and opened a string of boutiques under his own name in Rome, Florence and New York. When Mario passed away in 1965, the business was inherited by his children, Gianmaria and Federico, and today the house continues its tradition of unmistakable design and quality under the management of Andrea Buccellati, Gianmaria's son.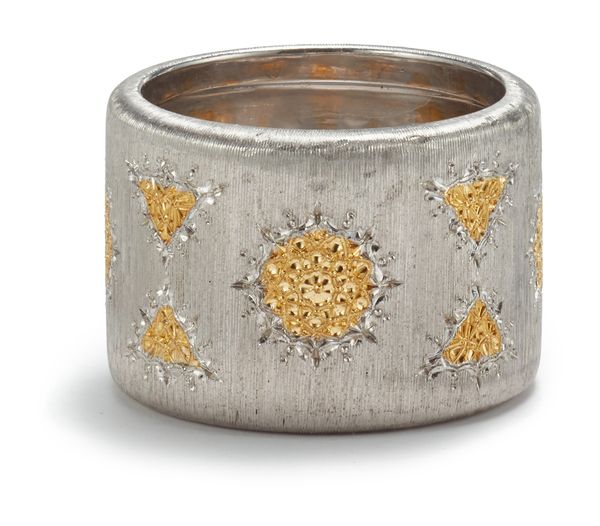 A silver and gold ring by Buccellati
One of the qualities that characterizes every piece by Buccellati is the meticulous care given to every inch of its surface, even if it is not visible to the naked eye. What makes their jewelry so unique is their signature engraving techniques that seemingly transform precious metals into fine fabrics such as tulle, linen, silk or lace. The rigato technique, illustrated in this silver and gold 'Prestigio' ring, requires cutting parallel lines onto the surface of the metal to obtain a sheen effect.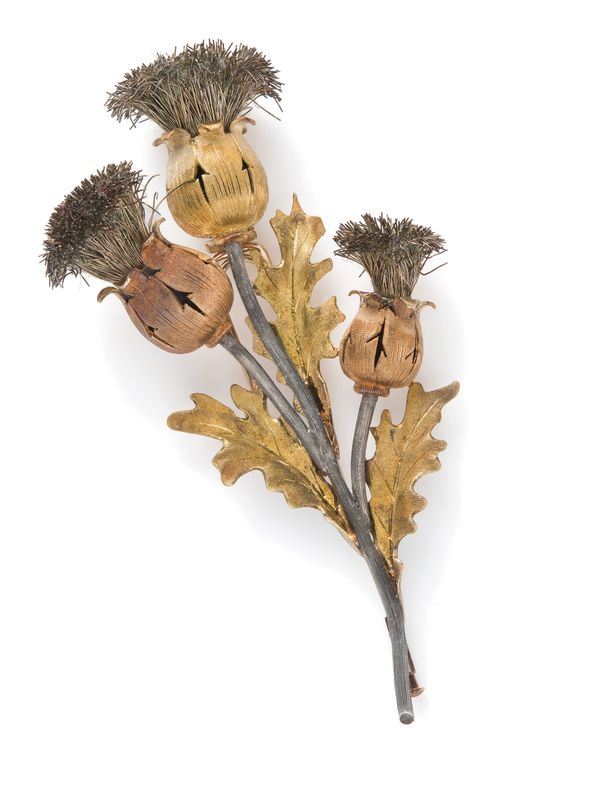 A gold 'Thistle' brooch by Buccellati
The gold 'Thistle' brooch, signed 'M. Buccellati', is a perfect representation of the ornato technique, which uses decorations based on forms found in nature such as animals, leaves and flowers. It incorporates rigato in the stem and segrinato – engraving in multiple directions, creating overlapping textures – in the leaves. Ornato and rigato are often seen together in works by Buccellati, giving the jewels the illusion of having sparkling diamonds, when in reality, there are no stones at all.
The tulle technique, a process exclusive to Buccellati, creates beautiful lacework perforations and damascening, the art of inlaying different metals into one another, in the metal. Each individual cell of 'fabric' is created by piercing a sheet of metal and finishing it by hand, followed by hand engraving mountings for each individual stone as illustrated in this gold and ruby ring.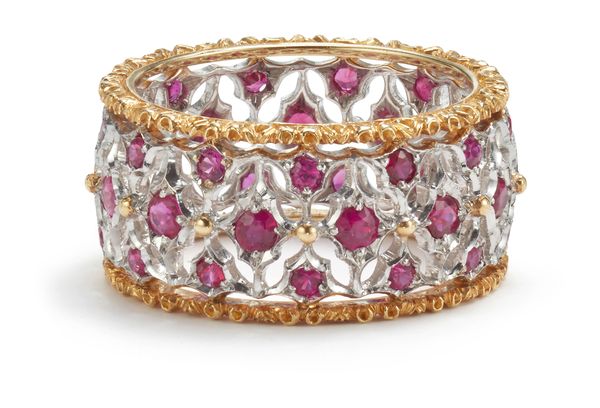 A gold and ruby ring by Buccellati
Other techniques include telato (a texture obtained by fine cross-hatched lines), modellato (the reproduction of several designs chiseled in three dimensions on a small scale) and graffito (the process through which small ornamental motifs are engraved on an object.
The jewelry of Buccellati descends from a legacy of great Renaissance artists, including Lorenzo Ghiberti, Bassio Bandinelli and Benvenuto Cellini, all of whom were goldsmiths before gaining notoriety as painters and sculptors. These craftsmen believed that fashioning precious objects is a necessary part of creating universal art and that art is a supreme form of awareness of the world and its beauties.
The Buccellati family applied the same approach to their jewelry in order to make each piece a perfect example of their aesthetic. The Buccellatis find inspiration in anything that strikes their imagination, and when reproduced, they succeed in creating a beautiful piece of jewelry on both a visual and tactile level.