A Fancy Intense Yellow Diamond Ring from Jewels
This season, Phillips officially relaunched the Jewels category in New York, featuring our first live auction in December alongside an online-only companion sale, Jewels & More. Together, these sales offer a diverse collection of objects for both seasoned collectors looking for investment pieces and jewelry enthusiasts looking for a beautiful bargain.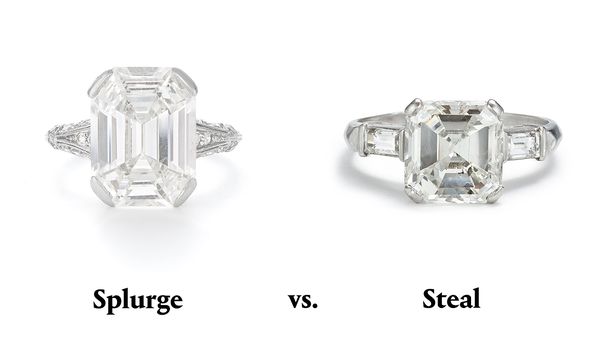 On the left, a gorgeous 5.27 carat stone (Lot 183, Estimate $80,000-120,000) rests in its original Belle Époque mounting. Nearly colorless and with VS2 clarity, this piece commands an impressive premium at auction. Only slightly smaller at 3.02 carats, the Art Deco piece on the right (Lot 29, Estimate $6,000-9,000) can be purchased for about a tenth of the price—largely owing to the faint color and I clarity.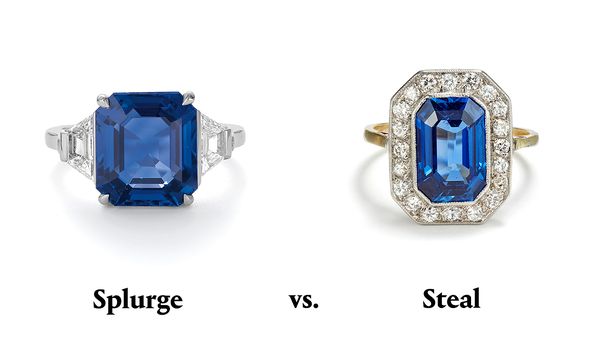 Size matters, but minute differences in color can have a huge impact on the price of jewelry. The beautiful Burmese sapphire on the left (Lot 184, Estimate $120,000-150,000) is a splurge due to the rarity of the stone. The color of the other sapphire (Lot 41, Estimate $1,000-1,500) is arguably just as beautiful, at a much more attainable estimate!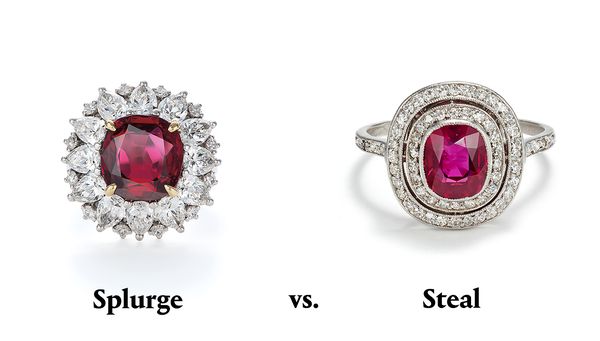 Classic Thai rubies (Lot 143, Estimate $25,000-35,000) are exceedingly rare. If you're willing to compromise on a gem's place of origin, a similarly styled piece (Lot 34, Estimate $2,000-3,000) nets a huge difference in price.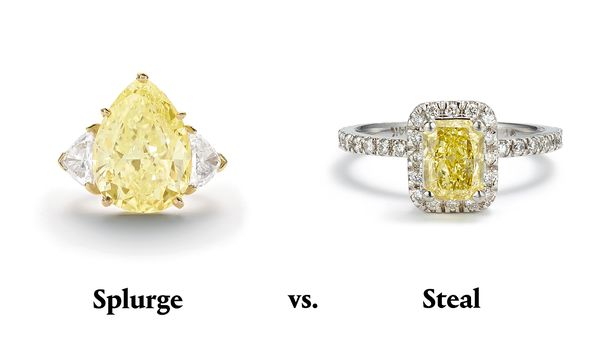 Again, we see the impact sheer size can have on a piece's price point. Though both rings feature fancy intense yellow diamonds (framed by even more diamonds), the massive size of the piece on the left (Lot 152, Estimate $350,000-550,000) makes it cost about 90 times as much as the ring on the right (Lot 231, Estimate $4,000-6,000) from our online sale.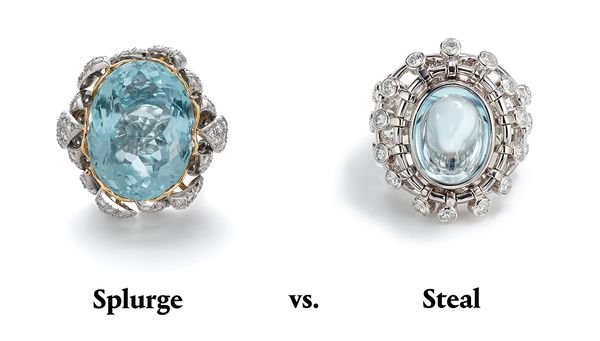 Cocktail rings bring a dramatic size and flair often reserved for costume jewelry. The price difference here isn't the most drastic on this list, if only because these pieces are so very similar. Both are signed rings featuring an aquamarine surrounded by diamonds: on the left, Schlumberger for Tiffany & Co. (Lot 112, Estimate $8,000-12,000); on the right, Christian Dior (Lot 238, Estimate $5,000-7,000).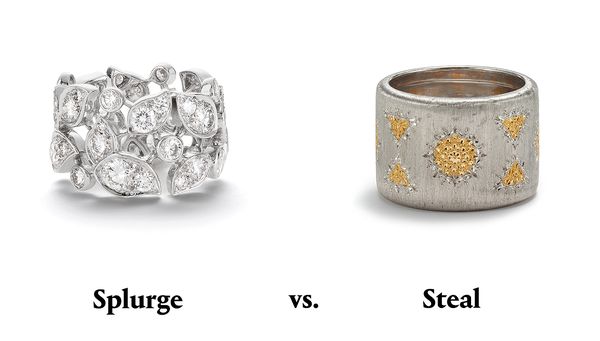 Similar concept, executed with two distinct aesthetics. Both are signed rings but popular designers, Cartier (Lot 165, Estimate $12,000-14,000) and Buccellati (Lot 167, Estimate $700-1000). One has diamonds and one is silver and gold. Either can be dressed up or worn with jeans and a t-shirt.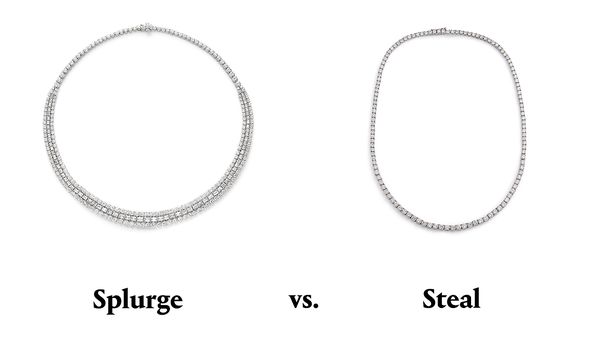 Rivière necklaces (long favored by legendary editor Anna Wintour) are so named for the way they elegantly drape a continuous flow of jewels around the neck. The necklace on the left (Lot 173, Estimate $30,000-50,000) totals 38.00 carats of diamonds while the example on the right (Lot 218, Estimate $6,000-8,000) totals 14.65 carats.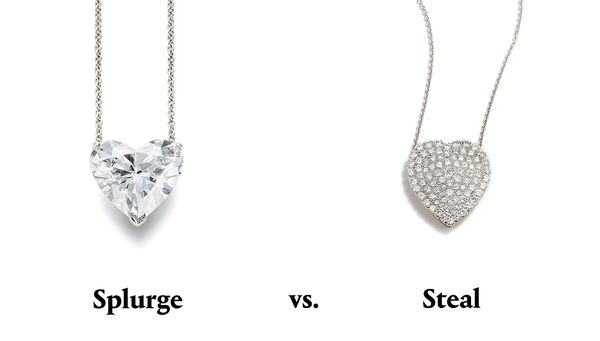 On the left, a D (colorless)/IF (internally flawless) stone—the top grading from GIA—is extremely desirable (Lot 172, Estimate $160,000-260,000), but you can get the Graff heart look for a lot less with this pave-set diamond pendant (Lot 257, Estimate $4,000-6,000).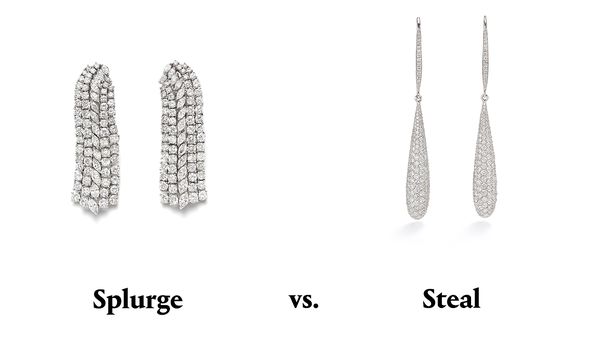 Both of these stunning pairs of diamond earrings put a modern spin on the classic cascade shape. Go for a heavier, more substantial feel on the left (Lot 171, Estimate $15,000-20,000), or keep things sleek and feminine on the right (Lot 250, Estimate $2,500-3,500).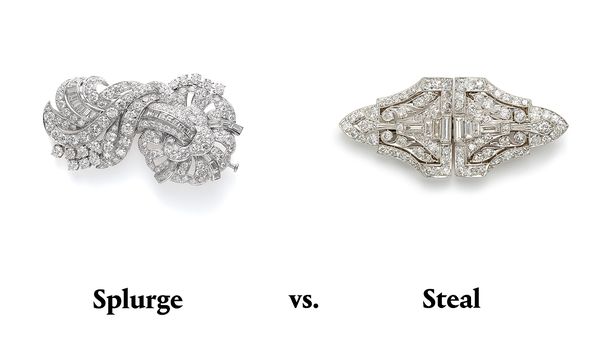 Each of these Art Deco brooches brings forth classic Hollywood glamour. An asymmetric, more organic shape on the left (Lot 41, Estimate $6,000-8,000) contrasts with staid geometric symmetry on the right (Lot 17, Estimate $1,500-2,500).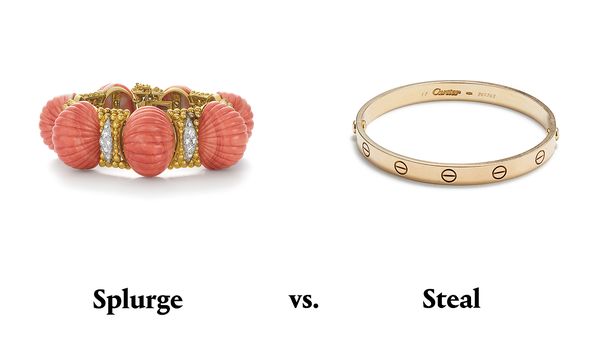 A gold Cartier 'Love' bracelet (Lot 162, Estimate $3,000-4,000) is a wardrobe staple—timeless, versatile and effortless in its simplicity. But when the time comes for a piece with more to say, this David Webb cuff on the left (Lot 75, Estimate $30,000-50,000), decorated with diamonds and coral, just may be worth the splurge.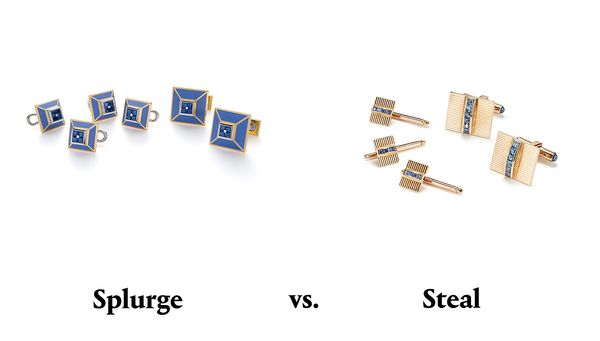 Dress cufflinks are one of the few opportunities a man has to make his unique mark on standard black-tie attire. Both examples here feature gold and sapphires, but a gorgeous azure blue enamel and accent diamonds make the cufflinks on the left (Lot 83, Estimate $6,000-8,000) about double the cost compared to the gold and sapphire Tiffany & Co. set on the right (Lot 43, Estimate $3,000-5,000).
For all these pieces and many more, browse Jewels and Jewels & More: Online Auction.