Lizzie Glendinning, Founder of the Woolwich Contemporary Print Fair (22-25 November 2018)
Phillips: Tell us about how the Woolwich Contemporary Print Fair got started. How has it grown and changed since its inception?
Lizzie Glendinning: Woolwich Contemporary Print Fair was set up in November 2016. We had been invited to take over an incredible former factory within the Royal Arsenal with a visual arts offering. It is an extension of our 'New Collector's Evening' that we used to host at Brocket London, our gallery in Kennington, where we would use original prints from our gallery portfolio artists to encourage and learn about art collecting through this medium. The nature of prints and multiples often means the price for original artwork can be more accessible, thereby creating an arena to discover new artists, learn about processes, develop tastes and a vocabulary surrounding your choices and confidently build or enhance a collection.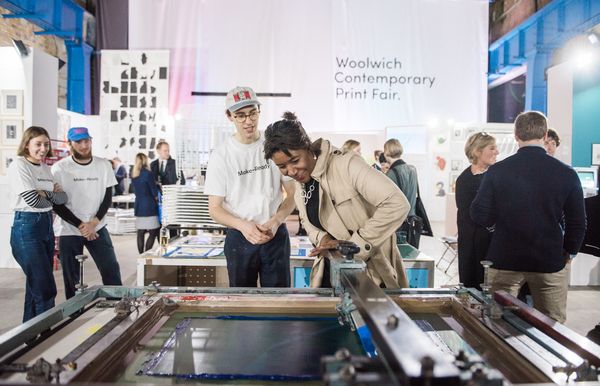 The fair has been running for three years within the Royal Arsenal in Woolwich and has now moved into the former Firepower Museum, doubling the exhibition space available in previous years and giving us the opportunity to welcome new partners and exhibitors. The high caliber of artworks through emerging to well‐known contemporary printmakers is starting to be recognized by artists and art collectors alike, and we are noticing people returning, reapplying for the open‐calls and asking to be involved directly which is really flattering and demonstrates that we are doing something pioneering.
P: What are some of the biggest misconceptions about printmaking? How do you hope to change them?
LG: I think the biggest misconception is definitely that a print is simply printed from a computer file on a digital printer. This couldn't be more removed from the technical processes and innovations in the many different types of printmaking, which all create an original piece of work. We are providing ongoing demonstrations and workshops throughout the fair, with the opportunity to have a go yourself, led by artists and studios who are leaders in this field. It is one thing looking at an image, but to have an interactive approach to truly understanding the developmental stages of a work of art can engage a viewer many different levels.
I think the biggest misconception is definitely that a print is simply printed from...a digital printer. This couldn't be more removed from the technical processes and innovations in the many different types of printmaking.
P: How were the artists on view selected?
LG: WCPF hosts an international open call for all artists who make original prints, not solely printmakers. Initially, artists submit up to four works for consideration to the Print Fair. These works are then judged on a piece‐by‐piece basis by a selection panel consisting of several industry leaders. We all meet up and spend a day working our way through the full presentation of entries where the judges individually select the works they want to include. It is very democratic – when a work gets a majority vote then it is exhibited within the fair.
This year's panel was made up of myself, Jack Bullen (Fair Director), Javier Pes (Artnet), Caroline Manganaro (London Original Print Fair), Jessica Doyle (Interiors Editor, Telegraph) and Trevor Price (Printmaker) who was Vice President of the Royal Society of Painter Printmaker at the time. We also invite a number of well‐known artists to showcase work alongside the open‐call artists, which automatically situates the emerging artists within the same milieu.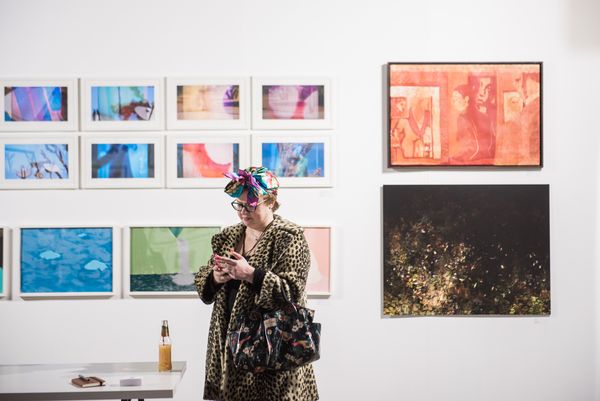 P: Who are some of the exhibitors you're most excited about this year?
LG: I am particularly excited about launching our first series of Woolwich Contemporary Editions. We have invited a small selection of artists to create an edition exclusive to WCPF that we will launch at the fair and will continue to sell online as a legacy project for the artists and ourselves.
We have some beautiful work, including pieces from Katherine Jones, Katja Angeli and emerging artists Josephine Hicks and Arabella Hilfiker whose works I really love. Emily Crookshank is our 2018 Artist in Residence and has created the most fantastic body of work while in residence at Brocket London in August where she transformed the gallery into her own working studio. These works will have a designated space. Shinyoung Park who recently graduated from the Royal College of Art and will be showing her work for the first time. There is an element of humor and a historical narrative through her work that we very much like.
P: Why did you feel it was important to provide a focused evening for new collectors?
LG: We wanted to provide a social event that has the feeling of a private view without the exclusivity – it is ticketed – but that attracts culturally engaged and curious people who might be interested in establishing an art collection and would like an enjoyable atmosphere where they can discover new artists, learn about techniques and processes through artist-led demonstrations, talk to curators, other collectors, interiors advisors and see why prints and editions are a great place to start. Basically find an approach that is comfortable and accessible to each individual who might be looking to build an art collection, while enjoying an evening with friends over a drink.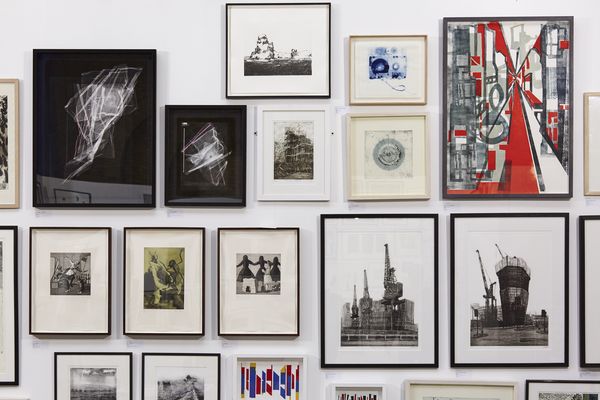 P: What advice would you give a new collector who's interested in prints?
LG: Go to a designated sale or fair of original prints. Here, professionals will be knowledgeable on the subject and would have catalogued the works – ask them questions, build your confidence. There will also be a greater opportunity to explore the types of printmaking in the flesh, and a range of styles and prices. Think about your budget and a comfortable entry point for your purchase – you can often find original work from world-famous artists by purchasing one of their prints or editions. Own Art is a great payment scheme we use, as do many other galleries and fairs, to split the cost of an original work over a number of months. Do your research. Small publications like Helen Rosslyn's 'A Guide to Buying Prints' are an accessible, informative step‐by‐step guide to the types of printmaking and how to start or enhance a collection.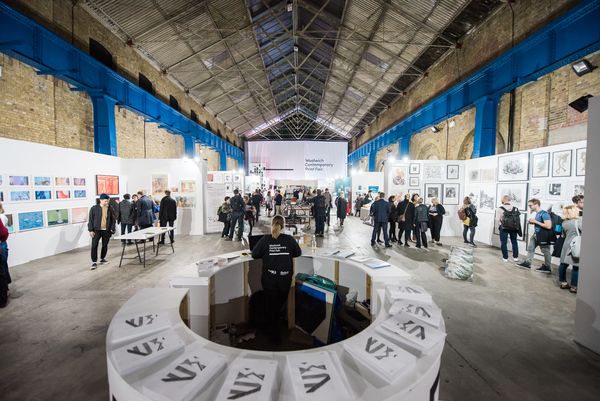 P: How would you like to see the fair evolve moving forward?
LG: We would like WCPF to be recognized as one of the key fairs for artists and dealers to attend or be part of. We are already putting legacy projects in place such as the Woolwich Contemporary Editions, so our brand can grow and reach wider audiences. We are actively looking to partner with organizations who share our message – both in terms of outreach and literally in terms of promoting fine art printmaking, collecting prints and situating the medium within the high art milieu – driving new audiences, providing an innovative and unique art experience. As the first and largest visual arts offering in the historic Royal Arsenal regeneration, we are part of the new Woolwich Creative District, which will be 20 minutes from Bond Street once Crossrail's Elizabeth Line launches next year. So we are not only aiming to bridge gaps in the sense of educating people on the pertinence and relevance of prints within contemporary fine art but also closing physical distances between the emerging creative districts and the heart of London's art market.
We aim to keep growing and providing new approaches to engaging with this medium and to be an active platform for budding collectors to make full use of. Ultimately, we intend to showcase the best in contemporary printmaking and continue to develop this into the future.