Breguet Ref. 3355: A fine and attractive yellow gold skeletonized tourbillon wristwatch with presentation box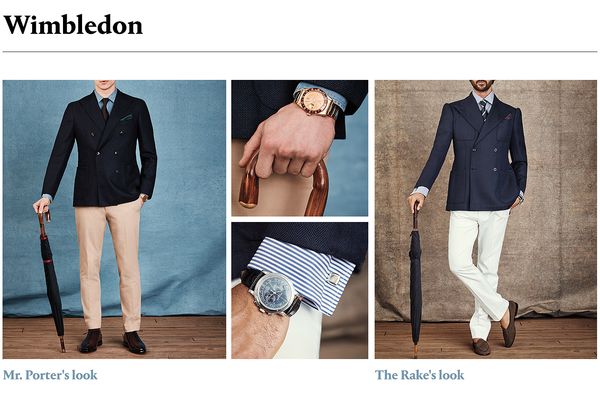 Dressing for Britain's annual lawn-tennis event should not be taken lightly, especially when the David Beckhams and Jude Laws of this world like to frequent what is rather grandly called The All England Lawn Tennis and Croquet Club. If you find yourself invited to the Royal Box, meanwhile, beware of falling foul of the stricter codes there: a tie, jacket and shoes here are imperative. The watches seen at Wimbledon should straddle the line between casual elegance and functionality – but above all, they should make a decisive statement. While the tennis superstars of the world compete against each other for athletic dominance, celebrities and socialites rub elbows – and likely trade glances at wrists - with royalty on the sidelines.
From Mr. Porter, a slightly more informal approach here is signified by the inclusion of a blue Chambray shirt. Its inclusion with a six-button double-breasted navy blazer from Boglioli makes for a witty juxtaposition, with one of Drake's trademark polkadot ties in brown creating a lovely, earthy color spectrum. Rolex's GMT-Master is one of the brand's most iconic and well-known tool watches, and nearly 65 years since its launch in 1954, it still remains in production. This example is one of the first and best preserved examples of a gold reference 6542 to be offered at auction in recent years. The majority of the reference 6542 were manufactured in stainless steel, with very few examples produced in yellow gold. This metal rarity, along with its exceptional condition, makes this timepiece a must have for connoisseurs of mid-20th century tool watches.
Both looks here involve the wearer carrying an umbrella – not so much a precaution as a necessity at Wimbledon, unless the center court's retractable roof is at your disposal. But The Rake pursues a tentative tweaking of the rules as this ensemble sees the vertical stripes of a shirt from Cordone 1956 paired with diagonal stripes on a tie from Turnbull & Asser. The Patek Philippe reference 5070 was the first modern-era chronograph-only wristwatch released by the firm since the 1960s. The appeal of the present reference 5070P is heightened due to its outstanding state of preservation and completeness, where all accessories, even its original hang tag, accompany this fine collectors' timepiece.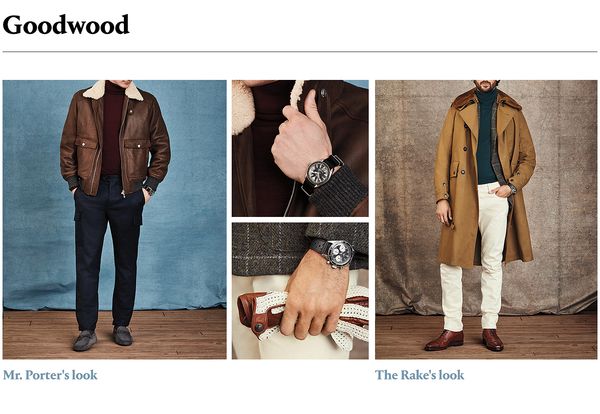 With F1 becoming an increasingly predictable tech-fest, interest in historic races such as Goodwood has been rocketing of late. This three-day event each September sees the West Sussex circuit become a microcosm of Britain during Goodwood's heyday from 1948 to 1966. The choice, when dressing for Goodwood Revival – an occasion on which you'll encounter flannels and tweeds, pleats and turtlenecks, brogues and bell-bottoms - is pretty much limitless. Whether from the great triumvirate of watchmaking – Patek Philippe, Audemars Piguet and Vacheron Constantin – or the utilitarian Rolex and Heuer, these watches evoke the heady smell of motor oil and burnt rubber.
Mr. Porter pays heed to the turning of the seasonal tides around Revival time with a sturdy, fur-lined bomber style jacket from Italian luxury goods brand Bottega Veneta. Driving moccasins from Tod's add another jaunty automotive touch to this look. Omega introduced the Seamaster 300 in 1957 as part of its "Professional" line of watches. While the vast majority was produced for professional and recreational divers alike, a very small batch was made for military use from 1967 until approximately 1970, and custom designed to meet the needs of members of the British Royal Army and Navy. Military watches have remained collectible for their tangible ties to historic moments and rugged good looks, and this Seamaster 300 is a wonderfully preserved, premium example for the elite collector.
In keeping with the Autumnal weather, The Rake selects a raincoat from Grenfell with a fur-lined collar perfect for battling the elements in the stands. Meanwhile, windowpane check tweed is a loyal regular at Revival, and this jacket from Edinburgh outfitters Walker Slater will pay dividends on the layering front. One of the most coveted of Heuer's many Autavia models, reference 2446H was especially favored by its namesake, the rakish Formula One champion, Jochen Rindt. This lot stands out with its exceptional condition, featuring a stunning matte black dial with contrasting crisp white subsidiary registers, and sporting a narrower rotating bezel calibrated for twelve hours: perfect for either counting elapsed time or tracking a second time zone.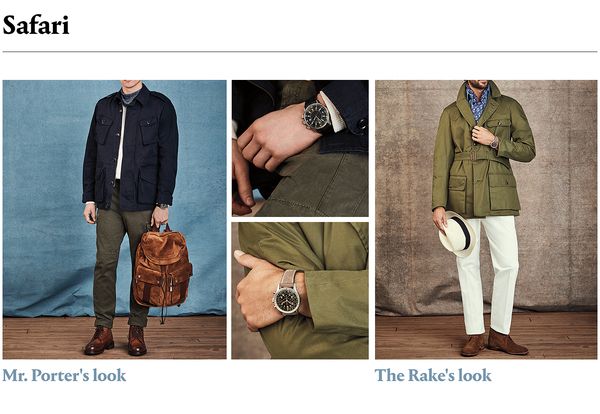 The story of safari attire begins 150 years ago in colonial Kenya, with those now iconic jackets in crisp drill cotton with pockets, buttons, epaulets and a belt becoming part of the British military uniform for soldiers in the tropics. As exemplified here, the modern safari goer – a man hopefully more likely to point his iPhone around the Savannah than a shotgun – has the original jacket's more distant relations at his disposal when it comes to roaming the wilds of Africa (or his urban milieu of choice). Today, safaris are synonymous with sophisticated cameras and ecotourism, though the original safari ethos remains, and the accompanying wristwatches are durable and practical. A Rolex Explorer II or robust Patek Philippe Aquanaut strapped on the wrist easily withstands these environments.
Mr. Porter spurns the safari jacket in its purest form here, in favor of a cotton-canvas field jacket made by Aspesi. A waffle-knit Henley t-shirt from RRL lies beneath, while a pair of herringbone stretch cotton cargo trousers ensure the military flavor continues below the torso. The famed Jaeger-LeCoultre "Memovox" was introduced in 1950, quickly gaining traction as one of the most desirable and reliable alarm wristwatches on the market. Known in the United States as the Polaris, and in the European market as the "Skin Diver Memovox," the reference E859 was made in 1714 total examples. Finding original vintage examples of the Polaris, in crisp, unrestored condition has become increasingly difficult due to their growing popularity. This American "LeCoultre"-signed model is well-preserved in unpolished condition, retaining all of its sharp edges and lines as delivered from the factory 50 years ago.
On the right, this 'Shooter Jacket' – a special version with a slightly larger lapel, created exclusively for The Rake – is an ultra-functional, rugged classic. Meanwhile, the Rubinacci pleated 'Manny' trousers, and the Anderson & Sheppard silk and cashmere scarf inject the spot of military chic requisite in any safari get-up. On the wrist, we find one of Breitling's most popular aviator's wristwatches ever: the Navitimer. A tool watch in the purest sense, each element of the watch was designed specifically for accuracy and efficiency in execution. Retaining all of its original parts and having survived in remarkable, unpolished and unrestored condition, it's a rare and exceptional watch for the connoisseur.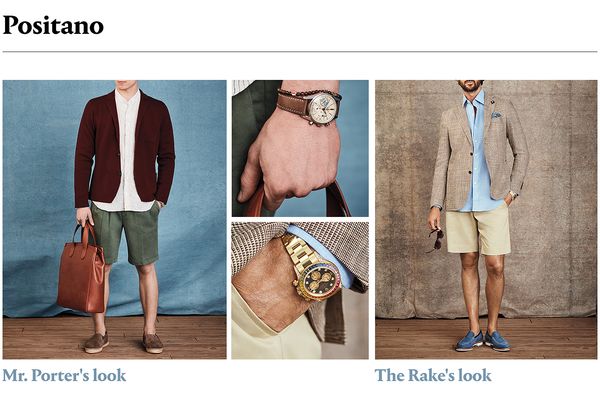 When it comes to dressing for summer, the go-to reference guide for many a sartorially-informed man is the jet-set era: a time when, enabled by the introduction of passenger aviation services, people began to enjoy spells of weapons-grade decadence in places such as Cannes, Capri, St. Tropez and Positano. The watches here must be light on the wrist: for example, an ultra-thin Patek Philippe perpetual calendar in cool platinum with an exquisite blue dial. If it is weight you seek, so as to deserve the multi-course feast ahead of you, a multi-colored, gem-set Rolex sports watch in gold will reflect the array of colors featured in the surrounding architecture.
According to the editors at Mr. Porter, tote bags becoming a bona fide men's accessory is a fashion tide-shift that couldn't have come sooner. Alongside the beaded bronzite bracelet by Japanese brand Miki, this tan tote by Dunhill is a neat fit with Bottega Veneta's 'Intrecciato' suede Espadrilles. Produced in 1964, this early example of the Heuer Mareographe features an immaculately preserved dial, retaining the iconic sky blue colors in the 3 and 9 o'clock subdials. The sharp, luminous dauphine hands balance with the steel faceted baton indexes, all elements which further harmonize with the Carrera-style case. Unpolished and unrestored, the present watch is in wonderful original condition making it a great example for the collector.
The Rake's ensemble so chilled, a glance at it slows the pulse. The look's gently beating heart is a blue shirt in lightweight Italian linen from Jermyn Street's shirting queen Emma Willis: a garment whose summery tone strikes a mellifluous chord with the brown checked jacket, from Italian house Lardini, which will enshroud it when the chillier evenings draw in. Set with 36 rainbow-hued sapphires, 56 diamonds adorning the lugs and crown guards, and diamonds indicating the hours, to call the Rolex Rainbow Daytona luxurious and lavish is an exercise in understatement. Due to the difficulty in sourcing these stones, subjecting them to Rolex's high standards, and then fitting them into the watch, production numbers remain extremely low and only a handful have surfaced at auction.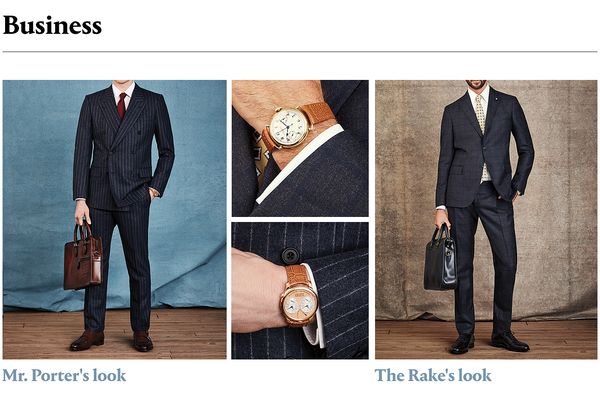 Perhaps the most important criterion of all with business attire is balance: knowing how to negotiate the boundary between tastefully bold and clumsily flamboyant. The au courant office denizen should aim to look inconspicuous yet distinctive, understated yet bold, effortlessly dapper – these are not oxymorons in the modern professional realm. As such, the office is deceptively the most difficult location to choose the appropriate watch. So many different considerations – age, level, setting, industry – all come into play and lead to a diverse variety of watches on the wrists of the modern businessperson. In the end, it all comes down to the effect you wish to have on your colleagues, counterparts and perhaps your professional adversaries.
The leading role in this ensemble goes to a six-button, double-breasted suit from Mr. Porter's Kingsman collection: a collaboration, named after the movies starring Colin Firth, with director Matthew Vaughn based on Arianne Phillips' costume design. The elegant white shirt and red tie combo comes courtesy of Charvet – the famed French shirt-maker and haberdasher. With an eye on technical innovation for superior timekeeping, F.P. Journe has always sought to create watches that are both beautifully designed and technical works of art. In keeping with this ethos, the Chronomètre à Résonance has become, since its inception in 2000, one of contemporary horology's most iconic pieces. Not only a wonderful tribute to technical watchmaking, this (now discontinued) version of the Chronomètre à Résonance is also an extremely useful dual time watch with a superbly executed design.
Lardini, the 40-year-old Italian outfitter, plays protagonist in The Rake's look with a softly silhouetted charcoal suit with a distinctive navy windowpane check, while Drake's and Ettinger provide the finishing touches with a patterned yellow tie and a smart briefcase respectively. With only 27 examples known to the market, Patek Philippe's single-button chronographs are among the rarest and most sought after in the field of complicated wristwatches. Fresh to the market, this single button chronograph is a charismatic and elegant watch that will delight collectors for its beauty, rarity and overall excellent condition.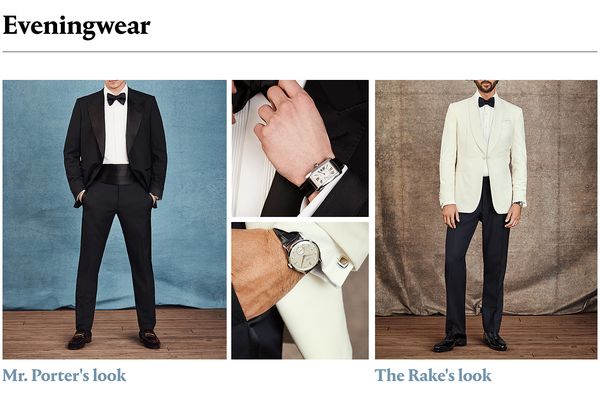 Those who think the words "black tie" on an invitation stand for sartorial constraint have a wonderful world of evening wardrobe to explore, for this stylistic genre has evolved into a gloriously multifarious affair. Your bow-tie can be smooth silk or grosgrain, your shirt cotton or linen (with a whole range of different bib fronts on offer), while your shoes can adhere to a number of classic formal styles. Two clichés summarize evening wristwatch wear: one, the devil is in the details, and two, rules are made to be broken – especially in this ever more casual world. Classic, slim profiles in precious metals and small case diameters used to dominate the wrists of the tuxedo-clad; nowadays if it fits under the cuff, it works – and if there are diamonds on the dial, all the better.
"Menswear," according to American fashion titan Tom Ford, "is a detail-driven business." His label certainly lives up to that axiom in Mr. Porter's look with a black, slim-fit, satin-lapelled 'Shelton' tux lovingly made in Italy. The same brand is also behind the cummerbund seen here, as well as the ensemble's piece de resistance: chain-trimmed velvet loafers. The Cartier "Tank" has become an icon in horlogerie for its classic design and wearability. This example is in excellent overall condition with a crisp case and its original factory finish.
From The Rake, a white, wool, one-button, shawl collar tux with silk covered buttons is the very definition of the "carte blanche." A white pocket square from London purveyors of classic British elegance Drakes is another quiet nod to restrained elegance, while the black tie itself is twinned, chromatically, with a pair of black patent leather from George Cleverley. This Patek Phillippe is a remarkable find, being the first known platinum example of a reference 1589 to ever appear on the market. Research indicates Patek Philippe made the majority in either yellow or pink gold, with approximately 43 known examples. Today, diamond-set watches are often over the top, and it is a pleasure to find a vintage watch tastefully set with diamonds that is understated watch and perfectly suited to the 21st century.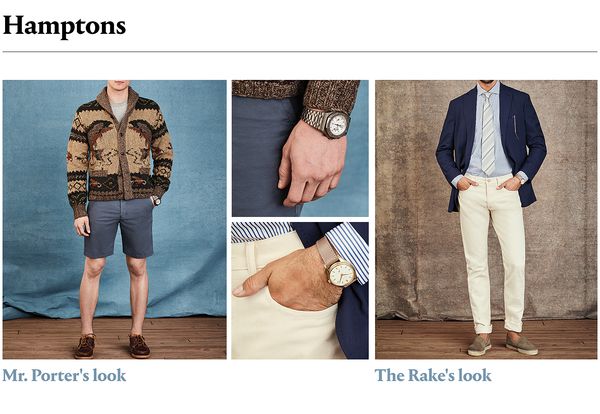 Clearly, your choice of clothes for your annual break is hugely impacted by your destination – and during a short break in The Hamptons or Martha's Vineyard, preppy stripes and earthy linens are de rigueur. On holiday, you're choosing different ensembles for each segment of the day. This makes versatile clothing (non-patterned blazers in neutral colors; organic-hued shorts; linen shirts in a range of unobtrusive colors) a sage choice. Lavish lawn parties require quite separate apparel than evening beach bonfires, and the watches of the Hamptons are suitably diverse. A shimmering green-lacquered 'Stella' dial Day-Date captures the sunlight during the day, while the glossy dials and gilt printing of a boldly, masculine oversized IWC Portugieser or classic vintage Rolex Submariner are wonderfully illuminated by an evening's bonfire.
Mr. Porter's look goes for some simple yet effective layering, pairing a RRL chunky shawl collar cardigan with a grey tee from James Perse, made in Japan from lightweight cotton blended with handle-softening silk. Audemars Piguet first released the Royal Oak wristwatch (often associated with sailing) in 1972, updating the design with a larger 42mm case in 1993. This watch, featuring a prestigious perpetual calendar in addition to a chronograph function, remains in excellent, unpolished condition and is offered complete with presentation box and its original guarantee.
The Rake opts for a slightly more formal look, with an unstructured, Neapolitan-style jacket for those wanting to be both dapper and comfortable in balmier climates. Rubinacci are the style gurus behind the piece, and can also take credit for the beige wool trousers (note the curtained, split waistband, detail buffs). On the wrist, Patek Philippe's reference 2526 is a paragon of mid-20th century modern design aesthetic. Introduced in 1953, it has a timeless quality that renders it as relevant today as it was 66 years ago. This example's original state of preservation, easy wearability and iconic design make this an exceptional wristwatch for any collector.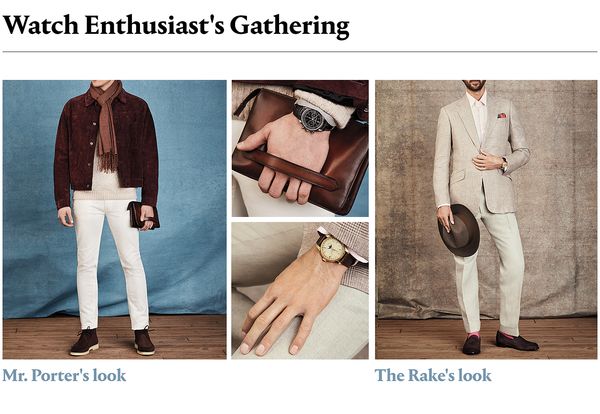 As anyone who's attended the social events surrounding watch fairs – or even an auction such as this - knows, the relationship between timepiece and attire is reciprocal. The type of people who relish and intricate geometry etched painstakingly onto a bezel in a century past are likely, too, to be attuned to the finer nuances of fashion. Though a fashionable ensemble is certainly not out of place at a watch gathering, sartorial choices are always overshadowed by horological ones. In fact, it's not uncommon to buck the single watch on the wrist norm for double – or even triple – wristing. The point isn't to wear your most expensive watch, but your most special watch: it's the subtle nuances that count the most.
Mr P. – a range created by Mr. Porter – can be thanked for the 'Jacques' suede boots and dazzling white jeans, while the illustrious French house Berluti is behind the supple suede jacket and brown leather tote bag. Initially introduced in 2015, and offered only in platinum, the Cornes de Vache from Vacheron Constantin's Historiques collection is based on the iconic reference 6087, manufactured in 1955. The moniker 'Cornes de Vache', meaning 'bull's horns' reflects the flamboyant and powerfully curved lugs, present on both the vintage and this modern iteration.
A watch fair gala dinner is inherently relaxed, but likely to be packed with attendees who will be both personal friends and professional peers – hence, a strong impetus to impress. According to The Rake, the safest bet is to go British, which explains this look. Two stalwart tailoring houses, including Huntsman, with their cream Prince of Wales check jacket, and Edward Sexton's linen Hollywood top trouser, make a poetic combination. The Rolex Reference 8171, known as the "Padellone" (Italian for large frying pan) amongst collectors, is one of the most legendary and consequently sought-after vintage wristwatches ever made. This lot has a desirable two-tone dial, with the inner dial having aged to an even lemon crème color that harmonizes well with the luster of the case. Fresh-to-the-market, it is even fitted with its original Rolex strap and buckle, indicating the watch was hardly ever worn.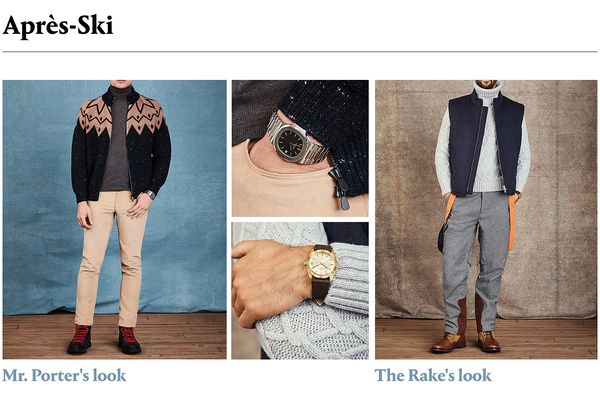 Skiing's status as the world's high society sport is said to go back 150 years, when St. Moritz started to accrue a reputation as an Alpine playground for the wealthy and famous. But what to change into once those downhill blades have been put away for the day? The aim should be to fit into an ultra-cozy and social environment - yet remain distinctive from the many revelers have gone no further than removing the salopette straps from their shoulders. Ski enthusiasts must select watches robust enough to weather freezing temperatures and double black diamond runs, but with the appropriate versatility to accompany a warm drink and a casual tour of the boutiques. A tool watch from brands such as Rolex, Omega or Heuer is the logical choice when choosing a timepiece to brave the slopes.
A hygge approach to haute-fashion, from Mr. Porter, is perfect for a winter wonderland. The Canali roll-neck sweater, knitted in Italy from soft woolen yarns, has a pleasingly tactile feel, while another Italian purveyor of world-beating fabrics, Loro Piana, has here provided the multi-seasonal, finely waled corduroy trousers in beige. The result of a collaboration between Patek Philippe and designer Gerald Genta, the Nautilus' unique appearance was named for Captain Nemo's submarine, the Nautilus, in Jules Verne's Twenty Thousand Leagues Under the Sea. This lot, manufactured in 1980, is a premium example in superb condition, with a well preserved case, immaculate dial and taut bracelet that is certain to delight a collector.
In The Rake's look, an oyster grey trellis-knit merino wool jumper from Irish knitwear company Inis Meáin underlies a Grenfell gilet. The boots, in almond-grained calf leather with a shearling lining and a Dainite rubber sole with excellent grip by Cheaney, will prove the perfect antidote to a day in ski boots. Vacheron Constantin's production of sport/ tool pieces is nowadays extremely restricted, and in the 1950s was virtually nonexistent. That is, until the release of the "Turnograph", nicknamed as such due to its similarities to the Rolex reference 1625. While the overall production numbers for the reference cannot be confirmed, it appears to be a very rare timepiece judging by the frequency of its appearance on the market.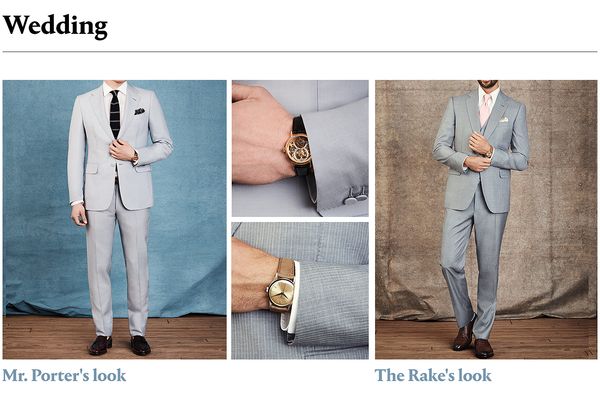 Assuming your nuptials don't entail either morning dress or black tie, then the plethora of choice you have here is generous. Silks, satins, linens, velvets, wools, worsteds, tweeds – all are within your sartorial arsenal. Lighter tones have an appropriately buoyant tone to them, and complement the kind of socks, ties and squares in pastel colors that are so often the smart choice for wedding attire (although these can also be an opportunity to throw in a gentle splash of chromatic flamboyance). Often, a groom is gifted a wristwatch by his bride on the occasion of his wedding: serving to remind the groom of his wedding day each time he glances down at his wrist while providing a memento to pass down through future generations. No matter the origin, the watch selected for such an occasion should be timelessly elegant, memorable, and reflect the sensibilities of the person who will wear it.
According to Mr. Porter, light grey is the rightful default choice here: this particular example comes from the British suiting experts at Dunhill. The Canali tie, thin (6cm), striped, knitted wool – is a wittily subtle deviation from convention, especially when paired with the printed wool and yak blend pocket square from Anderson & Sheppard's Clifford Street haberdashery. The tourbillon is one of the most sought after complications found on watches today, attractive both for the elegance of its design and technical innovation. This skeletonized wristwatch is iconic Breguet with classic clean lines.
A similar look from The Rake combines a slightly darker three piece suit from Cifonelli with a pink tie by New & Lingwood. While nothing shouts 'tasteful nuptials' quite like light grey paired with bright pastels, antique brown capped-toe Cleverley's manage to steer things a bit further from staid convention. Officially introduced in 1932 and still in production today, Patek Philippe's Calatrava is a true icon – a family of watches considered by many as being amongst the most beautiful watches of all time. This lot is an opportunity to own a rare version of a benchmark reference of the twentieth century, which is preserved in wonderful condition.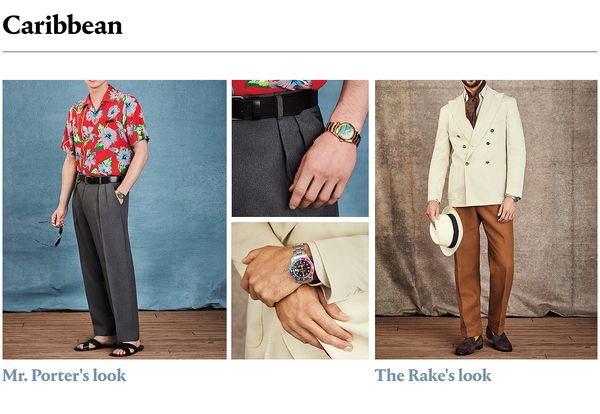 Picture a hybrid of the salubrious ambience of St.-Tropez and the laid-back nonchalance of Caribbean lifestyle, and there you have the irresistible vibe of Saint Barth's: an overseas collectivity of France, with an all-pervading Gallic glitz factor. So what to wear when the perennially couture-clad, the barefoot beach lovers and the jeans-wearing clubbers all mingle together? Here, our two style consultants could not have diverged more wildly. Whether you choose to wander the streets of Old Havana in Cuba, or anchor your yacht in the turquoise waters near St. Barth's, the associated wristwatch should be adequately colorful and able to withstand a bit of heat and lots of humidity. Some watches, such as the Rolex GMT-Master have been beautifully transformed by these elements, with its dial turning a deep and uniform shade of tobacco brown due to exposure to sunlight.
Mr. Porter's more casual ensemble pairs a colorful, boxy camp collar shirt from Prada with a pair of Gucci wide-leg pleated wool trousers, and the kind of belt that'll last one a lifetime from Dries Van Noten. From its introduction in 1956, the Day-Date has continued to embody the Rolex ethos of luxury and power. The true attraction of this Day-Date, aside from its superb original condition, is the vibrant dial made of malachite. Hardly worn and preserved in stunning condition, it is certain to please the demanding connoisseur.
Earthy hues dominate The Rake's look, which will equip the wearer for swanky nights out. As per many of the other, comparatively casual, looks in this set of 12, Rubinacci's structurally laissez-faire, but sartorially dashing, credo works perfectly in this double breasted cotton jacket. Topping off the outfit is the ne plus ultra of appropriate hats in warmer climes: a Panama from Lock & Co. The Rolex GMT-Master's fascinating history began with Pan American Airways' collaboration with Rolex to develop a watch that would allow their pilots to simultaneously keep track of time in two time zones. This example displays many of the desirable traits of an early iteration of the reference 1675 GMT-Master: a small arrow tipped 24-hour hand, glossy lacquer dial, and gilt printing. Accompanied by a complete array of Rolex documentation including its original punched guarantee, the magnetic appeal of the present reference 1675 is sure to turn the heads of even the most casual of collectors.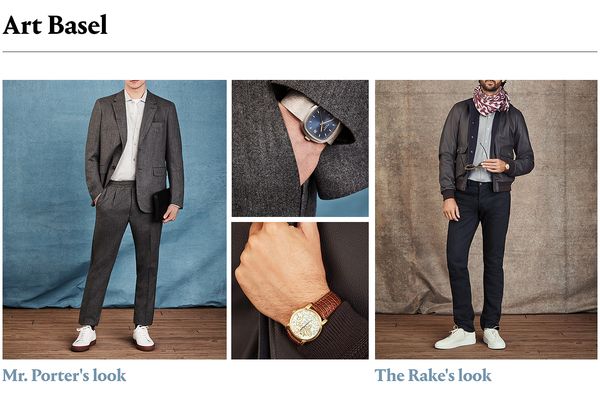 There are certain occasions in a man's life when he wishes to eschew, if only briefly, certain regular features of his ordinary apparel. Art Basel Miami – the annual art-fair-turned-bacchanalian mega-soiree, the 17th edition of which will hit Miami Beach this December – is emphatically one of those occasions. Shorts are a staple for down time, but this is no beach-bonanza, despite the coastal setting: so pack some gentle, measured idiosyncrasy. Art Basel is also the perfect opportunity to deviate from the norm with one's wristwear, choosing something obscure, or even audacious, for this celebration of the arts. Unusual case shapes and unconventional complications dominate this selection: an oversized cushion-form watch with stunning blue dial from Patek Philippe, or an über rare Opus V from Harry Winston that, with its retrograding minute hand, marks each passing hour as uniquely as the art on display.
Mr. Porter's ensemble testifies to the fact that there's nothing intrinsically formal – and certainly nothing 'stuffy' – about wearing a suit. The Berluti two-piece shown here is made in Italy from smooth herringbone wool, its softly tailored, minimal internal structure and double vent working wonders for its silhouette. Patek Philippe's reference 3587/1 was introduced in 1969 at Basel as their frst quartz wristwatch. The watch is the synthesis of 1970s modernity with an oversized cushion-shaped case and screw-down case back that is opulent and glamorous. This example with integrated bracelet, weighing almost 200g, is in excellent overall condition with a shimmering blue dial and luminous hour markers and hands that have all aged nicely over time.
The Rake nails artful, unexpected elegance by juxtaposing a pair of boardroom-friendly jeans from Blackhorse Lane with the slim-fit, 'Valstarino' coat in brown deerskin from Valstar. A stylish foundation is provided by the white trainers from Grenson, before the look is then hiked into quirkier territory by one of Anderson & Sheppard's plum and cream 'Ikat' silk scarf.
Vacheron Constantin's Mercator wristwatch pays homage to Gerard Mercator, a 16th century German/Flemish cartographer, and the timepiece was released in 1994 for the 400th anniversary of the scholar's death. In exceptionally well-preserved, original condition, this example is offered complete with original warranty and authenticity certificate, as well as presentation box.