Lot 77: The Rolex Submariner "James Bond" reference 6538
STYLED. Timeless Watches And How To Wear Them features 120 collectible watches, including some of the rarest and finest timepieces from the 20th and 21st century. We asked the specialists who put the sale together to present their favorite models, and after some debate, here are the five watches they ultimately chose to highlight: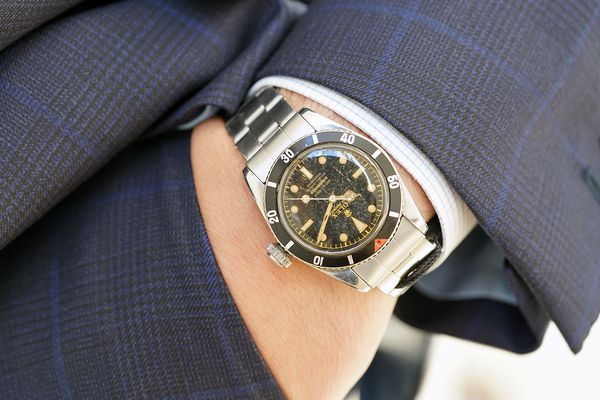 Lot N° 77: The Rolex Submariner "James Bond" reference 6538, made in 1957
There are so many things about the Rolex "4 Liner Big Crown" reference 6538 Submariner we are offering this season that led me to choose it as my top pick. We had received some less-than-ideal images when the consignor first contacted us, but even from those images, we knew immediately the watch was special – and my heart raced with excitement. When the consignor invited me to come see it, I was stunned by its quality. An early example of the reference made in 1957 – just three years after Rolex's initial launch of the Submariner, the condition of the watch is simply incredible. It is totally unpolished, retaining its sharp crisp lines, beveled edges, and factory finishing as originally delivered from the factory over 60 years ago.
Fitted with its original domed crystal which has aged beautifully with characteristic crazing, once we took the movement out and were able to get a close look at the dial, we were thrilled with how glossy and vivid its lacquered surface remained. All of the luminous hour markers are original, as are the luminous hands, having aged to a very pleasing beige tone. Three words on the dial at 6 o'clock beneath the depth rating and model name, "Officially Certified Chronometer", make it a coveted and very rare "4-Liner". Perhaps most importantly, the watch comes with its original box, guarantee, and chronometer rating certificate – in accordance with the chronometer-certified movement as indicated on the dial. It's a model made famous by Sean Connery who also wore a reference 6538 Submariner as James Bond in movies such as Dr. No and Goldfinger, and this particular example, offered for the very first time publically, is amongst the finest and most complete we've ever come across. Paul Boutros, Head Of Watches, Americas.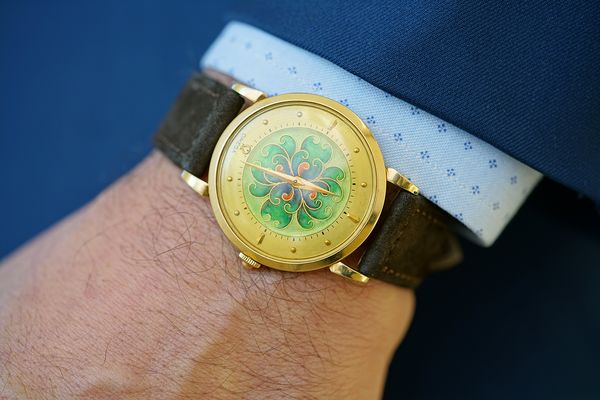 Lot N° 62: The Omega with cloisonné enamel dial, circa 1948
Omega is historically known for their iconic Speedmaster Professional line of wristwatches, also known as the first watch worn on the Moon, however over their long history they have produced some of the most novel and interesting vintage timepieces available today. This lovely cloisonné enamel wristwatch from 1948 is a rare reference produced for a short span of ten years. The "fantasy" dial is in unrestored condition, while the case remains unpolished. Coming from the family of the original owner, this is an opportunity to own a timepiece that fully embodies the golden age of horology, both technologically advanced with an automatic movement, and artistically rendered. Doug Escribano, Senior International Specialist.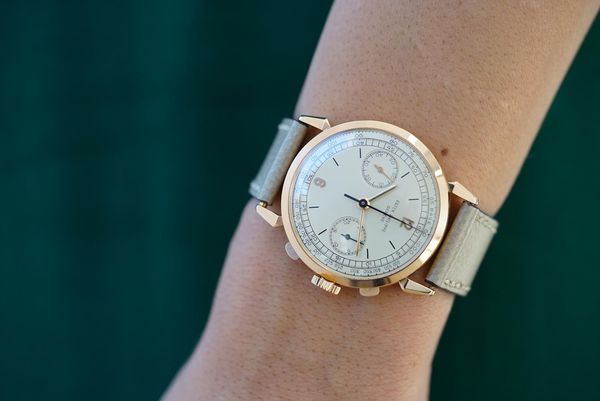 Lot N° 18: The Patek Philippe reference 1579 with spider lugs, in pink gold
I often pose the question – mostly to myself – whether there is a watch that could be the only watch one wears for the rest of their life. Not many watches can measure up to this burden – something durable yet instantly classic, a chameleon wrapped around your wrist. It needs to fit into all the different aspects of your lifestyle, from evening engagements to casual weekends in the country side – on the wrist of a man or a woman. Lot 18, a Patek Philippe chronograph reference 1579 in pink gold, is certainly up to the challenge. At 36mm, it was large for its day, but it continues to give the impression of being oversized due to its dramatically elongated and faceted lugs, nicknamed "spider lugs" and angled bezel. A creamy off-white dial in its original condition is offset by inky black raised enamel printing with no loss at all. Seventy-four years after its creation, it remains fashionably relevant and impressive, a wristwatch with incomparably enduring value and style. Isabella Proia, Associate Specialist.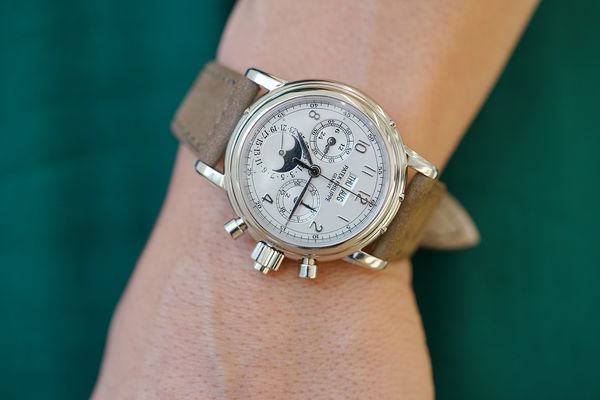 Lot N° 99: The Patek Philippe reference 5004P Perpetual Calendar Split-seconds Chronograph
Ever since I started working for the Patek Philippe Salons in Geneva, I have had a huge crush for this watch. I remember I used to try it on my wrist all the time and stare at all the details. I would admire the beauty of the case. It is graceful, wonderfully balanced, and its size – 36mm – really suits a woman's wrist.

The 5004P feels like a much larger watch because of its height. The watch houses one of the most complicated movements, the caliber 27-70, and naturally it requires a lot of space. A perpetual calendar with a split-second chronograph, the movement is based on a Lemania ébauche, considered by collectors to be one of the finest calibers.
Each component has been perfectly polished and the finish displays true craftsmanship. You can really dive into the mechanism's architecture by turning the watch over and looking through the watch's sapphire case back. The combination of the case's design, oversized crown, highly complicated movement, packaged in a wearable and legible watch makes this a "prouesse horlogère" and as a result, my number one choice for this fall season's NY auction. Manon Bega, Business Development Manager.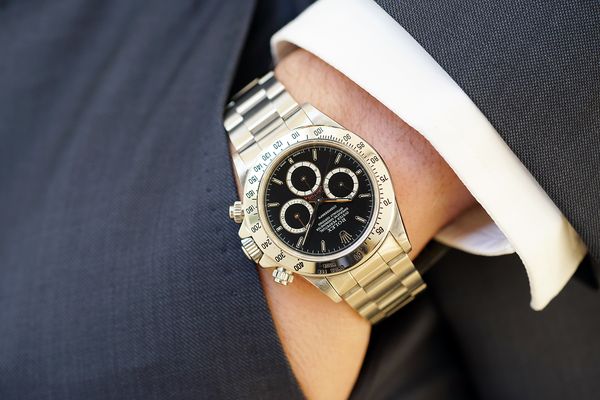 Lot N° 46: The Rolex Cosmograph Daytona "Floating Cosmograph" Reference 16520
It is Rolex's constant desire to perfect its product that fascinates me. Despite the instant success of the Zenith movement, the Daytona ( the industry's only self winding chronograph movement that met Rolex's high quality standards, but with just 50 percent of parts kept from the donor) in 1988 with its contemporary case design and Calibre 4030 based heart the manufacturer felt the need to constantly listen to its clients and refine dial and bezels over a period of four to five years. From Porcelain to four line and floating, like this desirable E series example, Rolex played with aesthetics until the classic five line 200 unit bezel configuration was chosen to become what has become the favourite of a new generation of collectors to vintage Rolex watches. James Marks, International Specialist.
For more informaiton about STYLED. Timeless Watches and How To Wear Them, please visit the auction's online catalogue.