Jim Dine in his studio, 1977.
Drawing on personal experiences and natural intuition, Jim Dine creates works that are at once intimate and playfully accessible. Dine has painted since he was a child, and after several years of study, he no longer saw the value in formal art education. The artist instead drew inspiration from museums and art journals, weaving elements of contemporary and historical artworks into his own practice, and was particularly inspired by Robert Rauschenberg's Combines and Jasper Johns' Flags and Targets.
After moving to New York from Ohio in 1958, Dine was associated with the Pop movement, though his works lack the cool irony central to Pop and instead exude a raw quality, inviting the viewer to interpret what is being portrayed. Reflecting on this distinction in 1963, Dine explained: "Actually I'm interested in the problem and not in solutions. I think there are certain Pop artists who are interested mainly in solutions. I paint about the problems of how to make a picture work, the problems of seeing, of making people aware without handing it to them on a silver platter" (the artist, quoted in Jim Dine: Walking Memory, 1959-1969, The Solomon R. Guggenheim Museum, New York, 1999, p. 166). In addition to their distinct materiality, A Study/ Your Yard, Crescent Wrench, and Harry Mathews Skis the Vercour are each titled with poetic phrases, inspiring further contemplation.
Jim Dine Crescent Wrench, 1962
Executed in 1962, Crescent Wrench dates to the beginning of Dine's career, a period marked by increasing art world recognition and intense creative development for the artist. Soon after moving to New York, Dine had a flurry of prominent solo exhibitions, starting with his first ever solo exhibition at Reuben Gallery, New York. After visiting the artist's studio in 1962 where she saw his recent Tools paintings, Illeana Sonnabend gave Dine a show in Paris in 1963, and Sidney Janis Gallery began representing the artist in New York that same year. A number of Dine's works were chosen for inclusion in the 1964 Venice Biennale, and due to the controversial lack of space in the American pavilion, a parallel exhibition was held at Boston's Institute of Contemporary Art, Rauschenberg & Noland & Johns & Chamberlain & Dine & Stella & Oldenburg: The Biennale Eight, where further works were shown to truly showcase the talent of the artists, including Dine's Crescent Wrench. Previously in the legendary collection of Mr. and Mrs. Burton Tremaine, Connecticut, Crescent Wrench stands as testament to the success of Dine's early work, evidenced by this particular lot's rich history.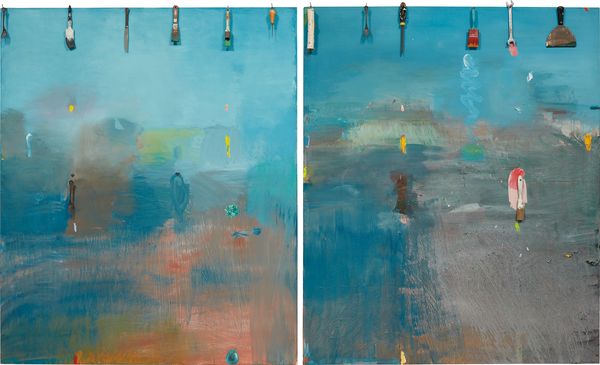 Jim Dine Harry Matthew Skis the Vercour, 1973
Crescent Wrench and Harry Mathews Skis the Vercour are exceptional examples of Dine's mixed-media works and his lifelong love of objects. His assemblages feature objects projecting from the canvas or dangling daringly close to the surface, blurring the line between reality and the painted space and creating a dialogue between the objects and the canvas. Though the works take on an almost surrealist quality, this pairing of seemingly disparate objects came naturally to the artist, as Dine described: "A piece of red paint is no different than a pencil if I use it, or vice versa. If I use a yellow pencil, I use a yellow pencil. If I use a piece of yellow paint, that's another kind of object. They all have history" (the artist, quoted in Jim Dine: Walking Memory, 1959-1969, The Solomon R. Guggenheim Museum, New York, 1999, p. 27).
The motif of the tool first appeared in Dine's work in 1960 and harkens back to his childhood days playing in his grandfather and father's hardware stores. As such, his works incorporating tools are imbued with an autobiographical element and are an expression of the artist's feelings and memories, rather than conceptual constructions. Fascinated by the inherent aesthetic beauty of tools, Dine described his visits to hardware stores to source materials for his paintings: "Sometimes I'd buy dozens of hammers. But also, I got so excited to find something that was inspiring. Not just because it's some sort of phallic object in itself. It has been refined to be an extension of one's hand, over the centuries, in a process of evolution. And it can inspire you that way. It has all this history" (the artist, quoted in Jim Dine: Walking Memory, 1959-1969, The Solomon R. Guggenheim Museum, New York, 1999, p. 132). Dine considers tools as an extension of one's hand, and, as such, his assemblage paintings are at once a self-portrait and a visual representation of the act of making the work itself.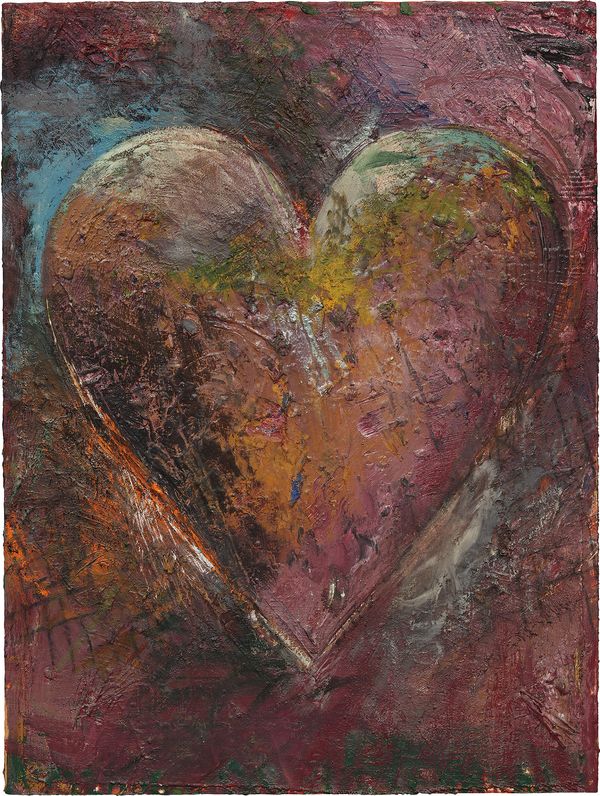 Jim Dine A Study/ Your Yard, 1981
The motif of the heart is central to Dine's oeuvre, and is one that he has explored in depth throughout his career. Painted in 1981, A Study/ Your Yard is a stellar early example of this iconic image and was included in the artist's solo exhibition at Pace Gallery, New York that same year. In the introductory text for the exhibition catalogue, Dine explained that the works were all executed in the spring and summer of 1981 during a period in which he was worried about a friend. A symbol of hope and compassion, he believed the familiar image of the heart could be particularly comforting and described: "I've tried to depict in these works, years of joy and pain. In painting, I would not care to 'illustrate' those emotions. I would rather keep looking very hard and see if the paint itself can do the job. Actually I know it can" (the artist, quoted in Jim Dine: Recent Work, exh. cat., Pace Gallery, New York, 1981, n.p.).
Rendered in exquisite vibrant and jewel-like hues, A Study/ Your Yard is imbued with the deeply personal emotions of the artist, and the gestural brushstrokes and dense impasto demonstrate Dine's unique and celebrated application of paint.