— By Arthur Touchot
I remember running into Toby Bateman in 2016 at Baselworld, a crazy place where everyone in the watch industry meets once a year to discover new collections, negotiate important deals and collectively worship at the altar of the watchmaking industry.
We were both in between meetings so the conversation was brief and most of it centered around the usual topics: our favorite watches of the fair, followed closely by the least favorite, and finally, the lack of decent Wi-Fi—argualy a staple for all fairs. However, what I distinctly remember was Toby's general surprise at the industry's lack of enthusiasm for online retail.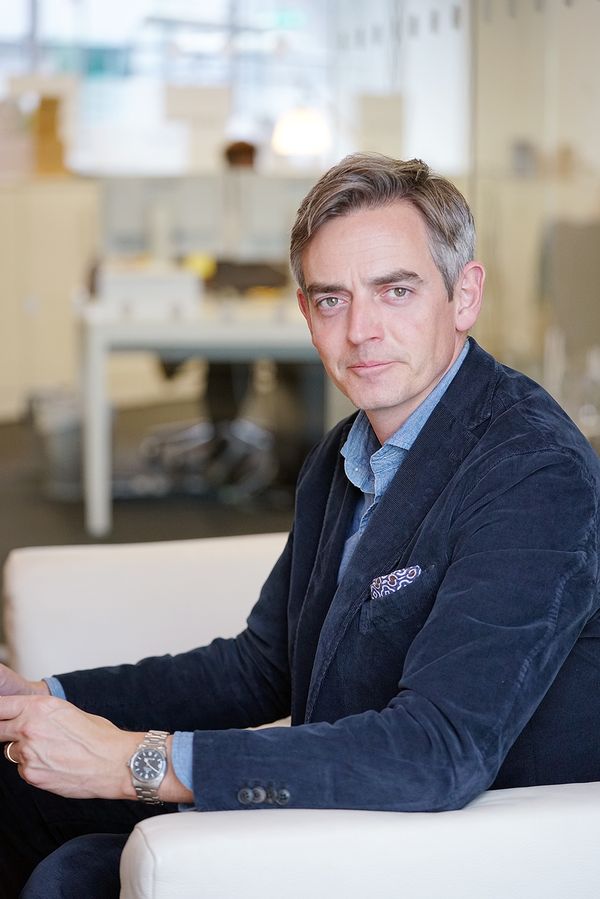 Toby Bateman, Managing Director at Mr Porter
Toby was one of the first people who really believed you could sell a watch online. For years, the Managing Director of Mr Porter had been flying out to Switzerland to convince watch companies to use the retailer's online platform to sell their watches.
Very few people believed it could be done. I was then at Hodinkee and we were having the same kinds of conversations with watch brands, with pretty much the same results. Things have of course changed drastically since then — in many ways thanks to Toby's perseverance.
Watches are now regularly sold online by Mr Porter, Hodinkee and Phillips — a network of buying and selling demonstrated by a 2017 model by Laurent Ferrier, previously sold excluively online by Hodinkee and now coming to auction in The Geneva Watch Auction: EIGHT this November. In fact, the watch department of Phillips has seen an important increase in online participation during our most recent sales, and collectors predominantly choose to bid online nowadays.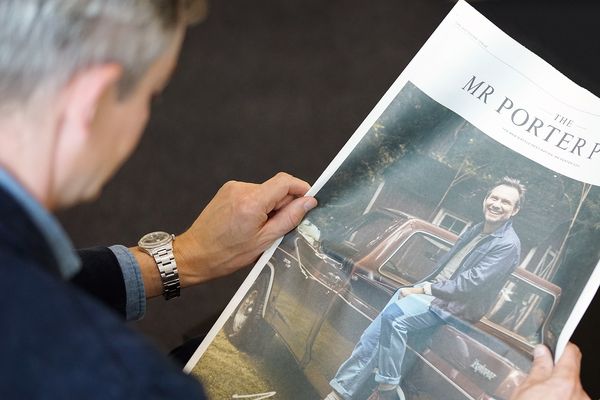 Toby's go-to watch is his Rolex Explorer Ref. 1016
What I think many failed to fully appreciate about Toby's determination to sell watches online is that he has a genuine desire to make them more accessible to a generation of enthusiasts used to buying things online.
Toby cares deeply about watches and has since the age of 25, when he purchased what he calls his first "decent" mechanical watch, a vintage Rolex.
A few weeks ago, Toby very kindly invited me to Mr Porter's headquarters in West London to learn more about his favorite watches and how they came into his life — and I knew this was going to be good as soon as he handed me an accessory every serious collector has: a travel tube.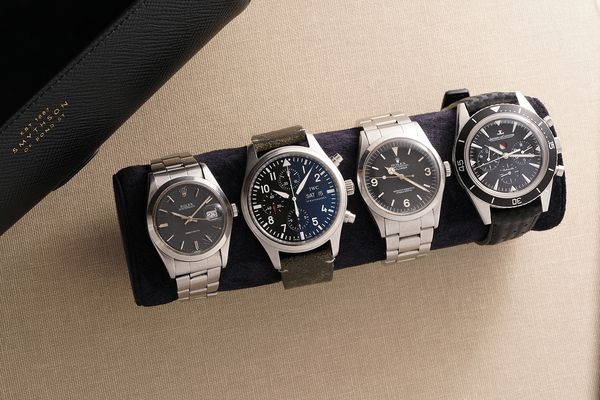 1970s Rolex Oyster Precision
Toby: My first vintage watch was this Rolex Precision, and I got it when I was 25. I hadn't, until that point, owned what you might call a decent watch. I wanted to get myself a good watch and I thought a Rolex would be a good place to start. It's kind of the obvious choice; it's square one, isn't it?
So this was the beginning of both my proper watch journey, but also my vintage watch journey. And I think off the back of this, I really became a fan of Rolex Oyster watches. I just think they're the perfect size; they're very comfortable to wear—which sounds like a silly thing, but you know, it's very important. Precisions in those days, they weren't terribly expensive, so this was a route in.
I had a little bit of money that was left to me by my grandparents. I think my older brother wisely put his down as a deposit on a flat, and I unwisely bought a Rolex, and then I also bought a BMW 02 series Cabriolet. I have to say, the Rolex was a better investment than the BMW because when you're not a very wealthy 25-year-old and you are off-street parking, a convertible 1973 BMW is not the most practical car, so that deteriorated pretty quickly and I couldn't afford to maintain it.
IWC Pilot's Watch Chronograph
Toby: The next watch I got was an IWC pilot's chronograph. I know exactly when I bought this watch; it was ten and a half years ago because I bought it when my daughter was born, and this watch was sort of a small present to myself.
It's a watch that I've just always really liked. In fact, the friend that sold me the Oyster Precision used to wear a 1970s IWC pilot's watch and I always really loved that. But again, when I bought this watch, I wasn't even thinking about vintage. Even though I'd been wearing this Oyster Precision for quite a few years, I certainly didn't consider myself either to be into watches or learning about vintage at that stage.
I've worn that watch for a long time, and it's been through multiple strap changes — and I still really like it. I remember wanting something that was noticeably sportier. It's completely different to the neatness and even slight dressy-ness of the Precision, with just the baton indexes.
Rolex Explorer Ref. 1016
Toby: My wife then bought me a gilt dial Datejust with white gold bezel from the 1950s. It had the red and black alternating date, which I really liked. I probably had that for a couple of years.

And then one day I was having lunch with my friend Mark, and he was wearing this Rolex Reference 1016. By that stage, I had become much more interested in vintage watches and I was reading Hodinkee, Revolution and several other watch magazines, as well as following Watch people on Instagram. And I had decided that I just loved the Explorer.
I ended up trading the gilt dial Datejust plus a little bit more to get it, and this was about five years ago, and I'm super happy with it. At the time, I thought I'd spent a little too much on it, but I've always loved it. It's incredibly comfy to wear. I do appreciate the story of it. If I'm not wrong, I think it's the longest single production reference that Rolex have ever had and I think that means something.
It's been getting a lot of press in the last couple of years, or at least I noticed, but prior to that it was kind of flying under the radar so you wouldn't see them, but what would happen is that I'd be out and I would be introduced to someone and I'd noticed that they were wearing a ref. 1016, and what you would do is pull your sleeve up and give yourselves a knowing nod of approval. It's definitely a bit of a club, which I like, and I don't think you can say that about all Rolexes.
Having previously worn a couple of Datejusts, this was, of course, a very familiar feel on my wrist. I love the simplicity of the 3-6-9 dial. I'm a big fan of sports watches, and this dial is basically a very early Submariner dial but put in an Oyster case. I like all of these things about it and this particular one was in quite good nick and came with box and papers, and hadn't been polished.
Things with me—and I think this is in keeping with my professional career—aesthetics play a large part. I think some people will buy watches based on their historical significance, others because of the movement, others because of the rarity of the reference, and some because of a combination of the three.
Jaeger-LeCoultre Deep Sea Chronograph

Toby: This is my most recent watch, and it's another chronograph. It's also a vintage-inspired watch. Chronographs just appeal to me visually more than anything else.
This is probably the watch I've been wearing the most lately. It's a great summer watch, and unlike the others here, this is a watch you can take in the water.
I can't profess to use chronographs as a tool; I just like them as complications. But this one's really quite neat and I like this little red/white indicator that shows when the chronograph is engaged, which tends to be quite useful when you're in the water.

I think people tend to think of dressier watches when they think about Jaeger-LeCoultre, but the brand has been doing quite well with their latest sports watches. Those do well online for us, and I think just like the IWC chronograph, this is a lot of watch for the money.

For more information about our upcoming auction in partnership with Mr Porter and The Rake, please read our official announcement of the sale, right here.