The Geneva Watch Auction: EIGHT catalogue was published online earlier today. With more than 200 watches in the auction, including early single-button chronographs, previously unknown minute repeaters, popular contemporary models, and many more extremely collectible watches, it's perhaps one of the most diverse catalogues in recent memory. With that in mind, we asked the specialists who put together the sale which models they're most excited about. It's a tough question, given the depth and the quality of the sale, but they finally settled on these five watches.
Lot N° 146: Jean-Daniel Nicolas, Two Minute Tourbillon

As Head of Sale, it is always very difficult to choose one watch and give it center stage as opposed to all the other watches in the sale that also deserve the limelight. However, my choice based primarily on an emotional approach will go to the Jean Daniel Nicolas Two Minute Tourbillon. One of my very first high-end watches was a Daniel Roth with its easily recognizable case design and a salmon dial. For those of you who don't know it, Daniel Roth is the man behind Jean Daniel Nicolas! Having sold his watch company and consequently not being able to use his own name anymore, he decided to merge the names of his son (Jean-Daniel), his wife (Nicole), and his own to continue creating superb timepieces. His first and only watch is this superbly designed and constructed two-minute tourbillon wristwatch which comes in two different cases: a very audacious 8-shaped case and a more classic round version like the present lot. This timepiece is exceptional on many accounts. It was conceived and assembled by Daniel Roth himself, each component superbly and painstakingly hand-decorated. So much attention goes into the construction and decoration of each timepiece that only two to three watches leave his ateliers each year. Where the techniques used are traditional, the design is quite striking with its mirror polished "bat wing" bridge taking center stage. The later has this shape not only for looks but it enables the seconds section placed at the bottom part of the tourbillon to remain unobstructed. Twin barrels offer a power reserve of 60 hours and the traditional low beat tourbillon cage completes a full revolution every two minutes. It is extremely rare that a Jean Daniel Nicolas tourbillon appears at auction and this watch is not only from a legendary watchmaker but represents a superb tribute to horology. - Alex Ghotbi, Head of Sale in Geneva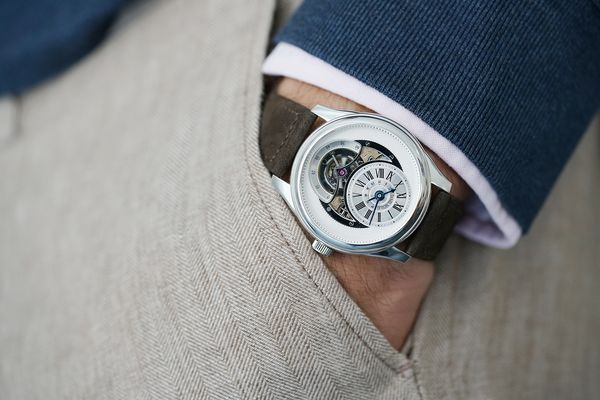 Lot N° 149: Patek Philippe, Gondolo in pink gold
This pink gold Patek Philippe Gondolo wristwatch is to me source of endless fascination. It incorporates virtually all the characteristics which make some vintage time-only Patek Philippe watches true "endgame" timepieces, crown jewels of any collection. Its design is elegant and timeless without appearing excessively restrained: the presence of the Breguet numerals, the "spade" hands, and the large dimensions supply abundant character and flair. These Gondolo timepieces are historically important, as they represent one of the first examples of true co-marketing between Patek Philippe - or any watchmaker - and a third party retailer, in this case to bring the company to the Brazilian market. The rarity of these masterpieces cannot be overstated. Little more than 10 examples of this model are known, but most of them are in yellow gold. This previously unknown treasure is only the second model made in pink gold to ever appear at auction. Finally, the condition of the watch is simply breathtaking. It is completely devoid of any kind of restoration. No part of the watch - down to the unusual hands and old-school crown - has ever been substituted during service and every component remains preserved in absolutely stunning condition. The engraved/enameled details of the dial are flawless and the case has acquired a deep layer of oxidation which indicates decades spent in a safety deposit box. This truly is the highest echelon of vintage time-only wristwatch collecting, and on top of that it is surprisingly in line with today's fashion thanks to the large case and Breguet numerals - traits today commonly seen in modern pieces - Marcello De Marco, Specialist and Business Development Associate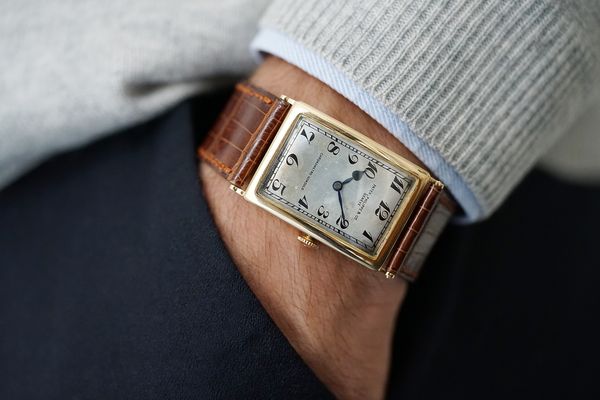 Lot N° 111: Omega, Speedmaster Reference 2915-1 with tropical dial
Possibly one of the most remarkable reference 2915-1s to ever grace the auction market, this example displays an exceptional "tropical" dial that has aged to a vibrant milk-chocolate shade. Research shows that this watch was originally delivered to Singapore - quite literally, the tropics. I am particularly impressed by how correct all the details are, from the first generation double bevel case back with no seahorse and "SPEEDMASTER" on the outer edge, to the first generation bezel displays a "flat top 3". Even the semi-expandable bracelet with "6" end links are original - Tiffany To, Specialist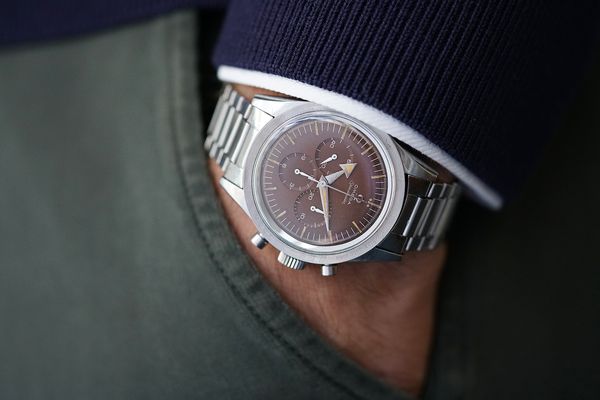 Lot N° 180: Universal Genève, 'Exotic Nina Rindt'
It's always hard to say which wristwatch excites you the most when you look at an auction catalogue but if I had to pick one, I would go for this amazing blue Universal Genève Compax « Exotic Nina Rindt ». I've always been attracted by unconventional dial color schemes and watches with history, and I must say that this watch didn't go unnoticed to me. The 1970s were an important era for design, marked by both exuberance and freedom, two things that perfectly embodied Nina Rindt. The wife of Jochen Rindt. Nina spent most of her free time by the racing track wearing the most fashionable outfits and she could be seen wearing a Universal Genève Compax identical in shape and function to the present example, but with a more conventional black and white dial. The peculiar dial of the present watch is one of the two "Exotic" dials offered by the brand in the late 1960s / early 1970s. At the time, neither the blue/grey nor the reverse grey/blue dials met any strong interest which makes these very exciting but difficult models to find. For me, this watch calls to mind a period when everything was possible and color was a powerful substance in life - Virginie Liatard-Roessli, Specialist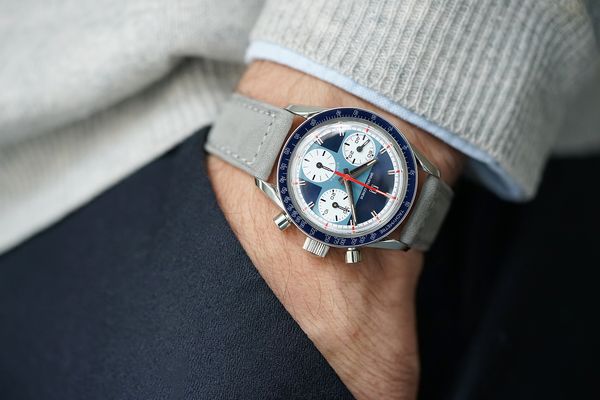 Lot N° 224: Patek Philippe, Single-Button chronograph from 1924
The quality and diversity of this catalogue makes it almost impossible to pick an absolute favorite. I have to give an honourable mention to a few watches, including the Omega Ranchero CK 2990 - a personal favorite and a reference that's absolutely underapprecitated when you consider how difficult it is to find; the probaly unique Ulysse Nardin Minute Repeater and the stainless steel Rolex Day-Date prototype - certainly two of the most interesting watches in the sale historically speaking; and Emmanuel Gueit's personal Royal Oak Offshore - a watch I've already covered, and whose influence on the watchmaking industry cannot be ignored. Of course, I'm also thrilled to see an old friend in the Laurent Ferrier Galet Traveller for Hodinkee. Still, it's hard for me to look past one watch in particular, the beautifully restrainted Patek Philippe single-button chronograph which closes out the Geneva Watch Auction: EIGHT. This is a watch I've been aware of for many years, though this is the first time I handle it in person. It's easily one of the most beautiful wristwatches ever made. It also happens to be one of the oldest wristwatches, which isn't necessarily obvious given the amazing condition of the watch and its contermporary aesthetic. The model was launched almost 100 years ago, way before the adoption of a reference system by Patek Philippe. It belongs to an extremely low production run of 27 single-button chronographs and this one features a movement based on a Victorin Piguet ébauche featuring a column-wheel cover, an element that has become a Patek Philippe signature ever since. If I could walk away from the sale with any watch, this would be it - Arthur Touchot, Specialist and Head of Digital.