Become an auction insider this fall with Phillips First Reveal. Each Friday we'll be showcasing a new work from our upcoming New York 20th Century & Contemporary Art sales, installing it inside The Box @ Phillips, a newly dedicated exhibition space located in the plaza of 450 Park Avenue at the corner of 57th Street. Each Saturday, we'll unveil the work exclusively on Instagram along with insights about the artist from our specialists. Stay tuned for a new reveal each week through 19 October.
First Reveal | Friday 5 October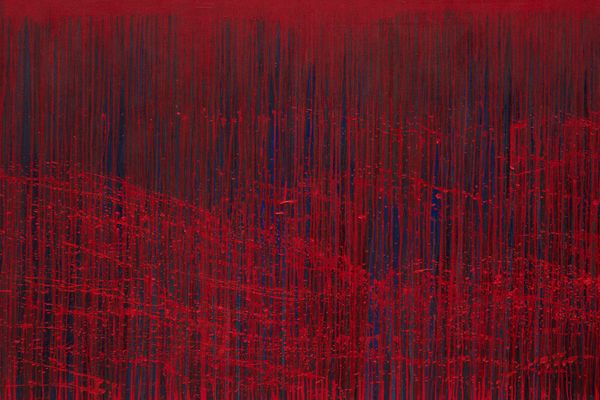 Pat Steir Top of Niagara Daylight Waterfall, 1993
Executed in 1993, Top of Niagara Daylight Waterfall is an expressive tour-de-force hailing from Pat Steir's most renowned body of work—the waterfall paintings. Profoundly influenced by the Chinese Yi-pin painters of the eighth and ninth centuries and Taoist philosophy, Steir began this meditative series in the late 1980s, in which she drips, splashes and pours paint onto an upright canvas, allowing action, gravity and chance to determine her final compositions. The effect is both mesmerizing and seductive. In Top of Niagara Daylight Waterfall, Steir captures the movement and dynamism of a waterfall as a tantalizing cascade of cherry-red drips down the deep blue canvas. Yet for Steir, the painting does not exist as a mere representation of a waterfall. Instead, the viewer, positioned in front of this all-encompassing composition, is overcome with a sense of awe, as though he or she is, in fact, standing at the top of Niagara Falls.
Steir's early waterfall paintings were executed in a monochrome palette of greys, whites and blacks; however, the 1990s saw a dramatic shift in her practice. During these years, Steir began incorporating bold primary hues, championing the expressive power of color in her compositions. This transition coincided with the artist's growing international recognition, as she participated in the 45th Venice Biennale in 1993, the same year in which the present lot was created. Steir discusses the public's reaction to her use of color in works such as Top of Niagara Daylight Waterfall, noting, "When I did my first colored paintings. I had been looking at Tibetan painting. People had violent reactions either against or for them when I first showed that work. Now they are among the most desired of all my paintings." (Pat Steir, quoted in Anne Waldman, "Interview with Pat Steir", BOMB, no. 83, April 1, 2003, online)
[The viewer] is overcome with a sense of awe, as though...standing at the top of Niagara Falls.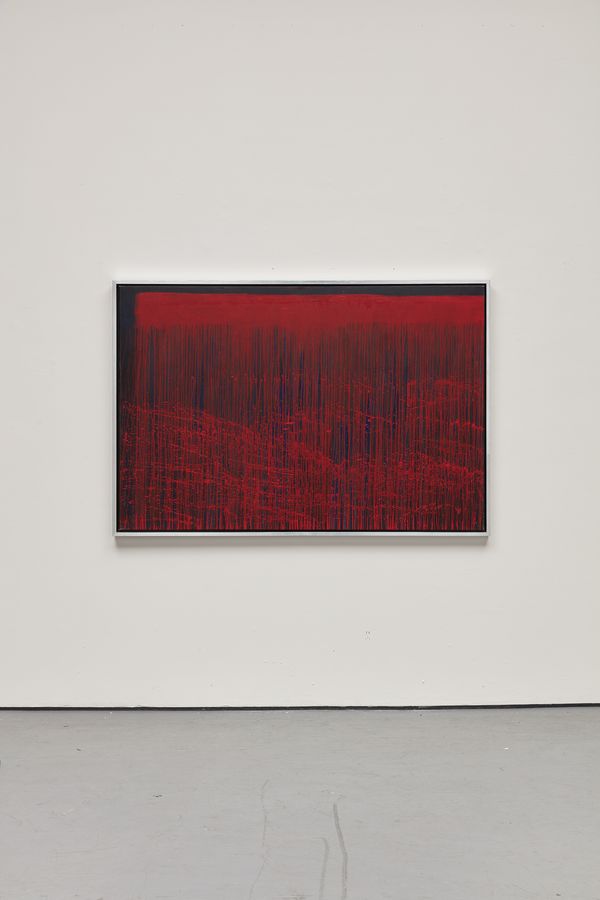 In Top of Niagara Daylight Waterfall, Steir both works within and distinctly challenges the hegemony of Jackson Pollock's celebrated drip paintings of the 1940s and 50s. Borrowing from Pollock's famed action paintings, Steir too practices the act of splashing and splattering paint on canvas, with the ultimate goal of recording such movement on a two-dimensional surface. However, while Pollock worked on the floor, Steir positions her paintings upright, exploring chance through gravity as she allows paint to drip down the canvas.
For Steir, there is a studied, deliberate release of control associated with this practice, and a ritualistic aspect inspired by Chinese and Japanese artists of prior centuries. As such, Top of Niagara Daylight Waterfall explores several dichotomies —action versus meditation, figuration versus abstraction, East versus West — and ultimately situates Steir amongst a long tradition of artists who have tirelessly explored these indeterminate borders.