Françoise Gilot © Jody Rogac/Supervision
Pablo Picasso indexed his relationships with prints that collected moments and consolidated memories. His lithography practice broke almost every technical rule and reconciled his tumult in both the outside world and within.

Imperfection lent unique vitality to Picasso's lithographs. Legendary master printmaker Fernand Mourlot noted he was an assiduous artist who learned from masters who were trained to approach lithographic stones with great care, often in facial masks so as to avoid errant moisture. Mourlot described that Picasso abandoned such strict processes, moving freely and uncovered, "[he] did the opposite of what he learned...", and " ...is not prepared to accept the slightest retouching..." Picasso countered: "the saliva makes a blank, and we can make use of it!"
In 1944, a fateful printmaking 'lesson' began the courtship of the artist and his new young muse, Françoise Gilot; they studied proof images together of his 1930s Vollard Suite which would be published in the '50s. Françoise served as a catalyst for Picasso to work seriously with lithography, and, by the fall of 1945, he anxiously brought four frontal head drawings of Françoise to the Mourlot atelier—ready to be transferred to the stone and developed into an edition.
Françoise served as a catalyst for Picasso to work seriously with lithography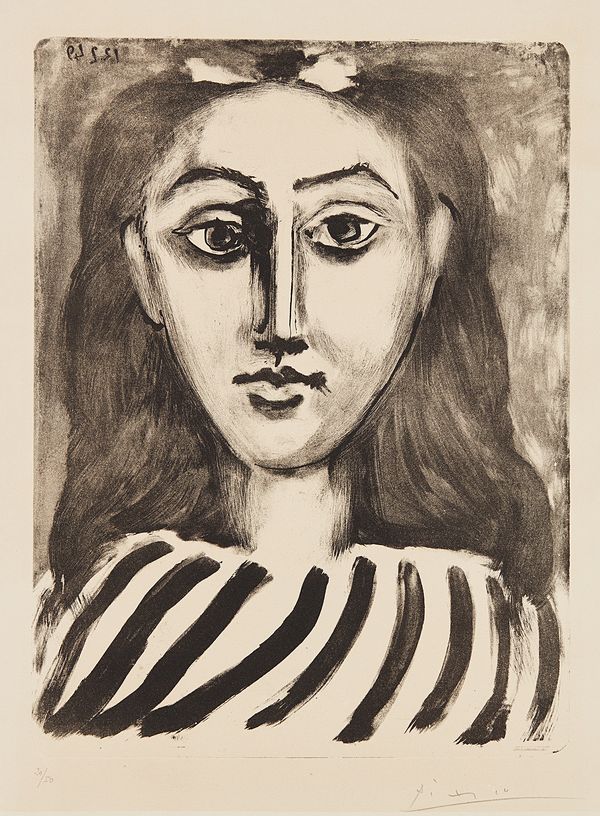 Pablo Picasso Tête de jeune fille (Head of a Young Girl), 1949, lithograph
From November 2, 1945, Tête de femme (Head of a Woman) is one of those images. Picasso's 10-year relationship with Françoise led to a decade of masterwork with the medium as he produced three-quarters of all of his lithographs during this time while he was with her. She served as the woman who obsessed and disturbed him in all of his mediums: paintings, prints, sculpture and ceramics. Though, she did not see herself in many of these female portrait images.

Picasso's lithographic portraits of women were at once iconoclastic, yet also rooted to the great traditions of Post-Impressionist and Spanish painting. Adhering to formats of formal portraiture seen in works by favorite masters such as Velázquez, Cranach, Delacroix, Ingres and Cézanne, Picasso did replace conventionally attractive pictures with emotionally belabored gestures. Tête de jeune fille (Head of a Young Girl) from 1946 typified this process: a portrait of Françoise in several states worked, re- and over-worked and erased countless times—each with pure virtuosity—ranging from painterly to rich density and, finally to this tenth and final state, one that hews close to abstraction.
Each work carries her strong underlying identity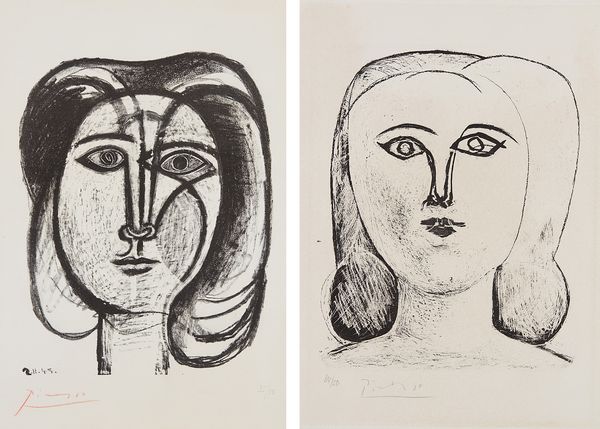 From left to right: Pablo Picasso Tête de femme (Head of a Woman), 1945; Tête de jeune fille (Head of a Young Girl), 1946
For Gagosian Gallery's seminal exhibition in 2012, Picasso and Françoise Gilot, Paris-Vallauris, 1943-1953, the art historian Charles Stuckey described Picasso's lithographs as "his side of the story" that "go beyond documentation to diagnosis, providing something like case studies of how he understood his lovers' multiple personalities and moods." Gilot, however, never wanted to be the face of his art, stating: I tried to explain to him that it was his work that held me, not the image of myself that I saw in it. What I did see in it, I told him, was him, not me.
"In all of his lithographs of her, a constant tug-of-war presided, between how she wanted him to see her — the way she was — and how he saw her as she filled his consciousness with fantasies and frustrations. To the extent that they convey his mystification, as a group, they stand among Picasso's most moving portraits," said Stuckey in The Face of Picasso's Lithography.
Pablo Picasso Buste au fond étoilé (Bust with Star Spangled Background), 1949
The four works illustrated above, each on offer from a different owner during our Editions & Works on Paper auction on 17 October, form a cross-section of portraits illustrating the iconic role Françoise played in Picasso's world during this time. Some may provide more obvious likenesses than others, but each carries her strong underlying identity.