Detail from John Baldessari Airplanes / Parachutes, 1988
In an interview with art critic Calvin Tomkins, John Baldessari recalled an instance in the early 1990s when Barbara Kruger and Cindy Sherman came up to him with unsuppressed excitement. "You know, we couldn't have done it without you," acknowledged Sherman. Though Baldessari's work took a few years to garner widespread recognition among the general public, peers and contemporaries never doubted the artist's forward-looking methods, nor did they fail to perceive him as a towering figure in contemporary art.
Today widely considered a pioneer of conceptual art, Baldessari has continuously created, since the 1960s, works that have stretched the parameters of aesthetics. In the words of Hans Ulrich Obrist, "his influence on the trajectory of contemporary art is immeasurable." Cindy Sherman, one of the most influential contemporary artists to have drawn inspiration from him, then became a standard-bearer of the Pictures Generation—her work continuously subverting the stereotypes of women in media through self-portraiture.
This fall in London and New York, Phillips has exhibited four important works from seminal series by Baldessari and Sherman. The pieces by Baldessari stand out as examples of his most iconic unique photo collages in the same way that Sherman's Untitled Film Still #53 and Untitled #447 captured the quintessence of the artist's pivotal Film Stills and Clown series, respectively.
I am interested in what gets us to stop and look, as opposed to simply consuming images passively.
— John Baldessari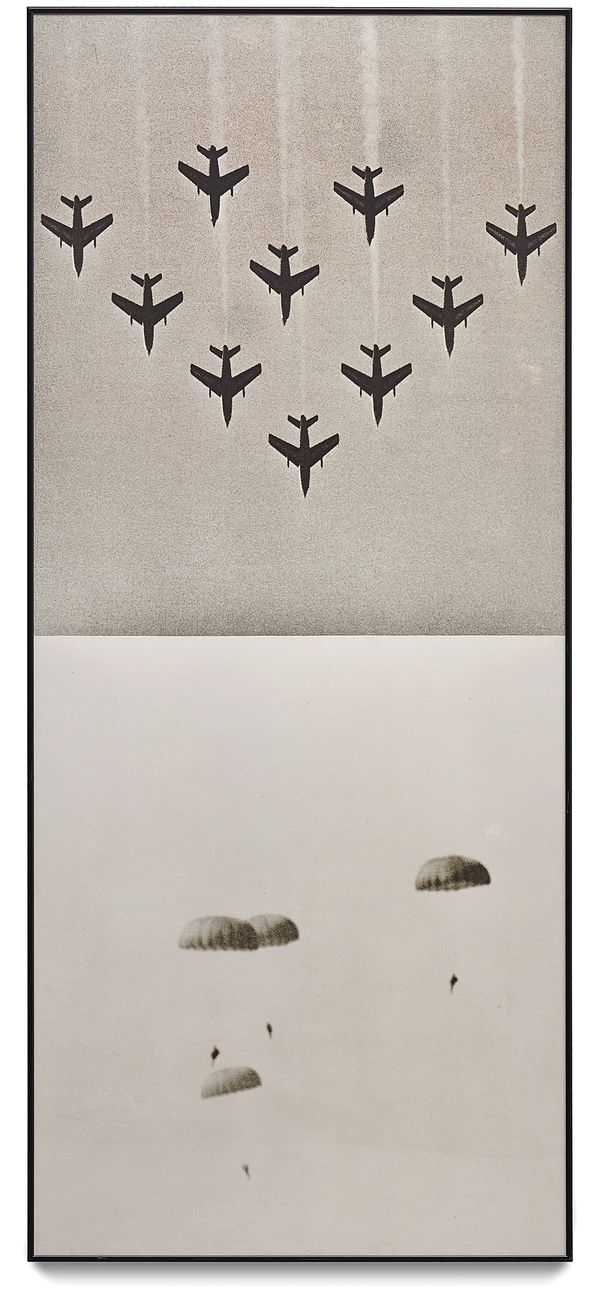 Understanding the complex power of mass media and cinema on society, Baldessari's savvy knowledge of pop culture and mainstream iconography is paired up with Semiotics theory and Structuralism, repurposing visual signifiers and providing a deep commentary on how we can further understand the complex world around us. While Baldessari explores the gap between words and images, Sherman vulnerably becomes the main character of her own work, alternating between hero and anti-hero figures. In the Film Still series developed in the 1970s and the Clown series in the early 2000s, Sherman famously adopts multiple roles as director, author, set designer, make-up artist, casting director, costume designer and actress—a veritable one-woman show.
Not without humor, Baldessari and Sherman offer profound commentary—if not existential debate—on their surroundings through restless visual plots. Their imagery arouses a certain je ne sais quoi of uneasiness in their viewer, who can hardly remain a passive observer, thus activating Baldessari's resounding words, "I am interested in what gets us to stop and look, as opposed to simply consuming images passively." Cinema, as such, is a major presence and inspiration in both of the artists' work. While Baldessari conjugates Hollywood iconography with Nouvelle Vague inputs and other literary references, Sherman draws inspiration from independent European filmmakers. Borrowing from the visual style and aesthetic Universe of Italian Neorealism—particularly Antonioni's heroines—Sherman transforms her photographic lens into a cinematographic one.
The tension between narratives is a key theme in Baldessari's Airplanes / Parachutes and Upward Fall. Replete with polysemic iconography and visual oxymorons, both works exude fateful interrogations. The very title of Upward Fall implies a summit and a base—two opposite directions—and thus encourages the viewer to ponder upon a "Quo Vadis" — where are you going? Equally, Airplanes / Parachutes' vertically stacked planes are built up within and against the parachutes below, as though coming in and out of their bisected frame. The sky provides the composition with a sense of cohesion, yet probes the question: Are both events occurring in the same space-time continuum? Is this a ceremonial military display or an actual attack? The dynamic V-formation of airplanes elusively coupled with static cascading parachutes urges the viewer to fabricate their own plot.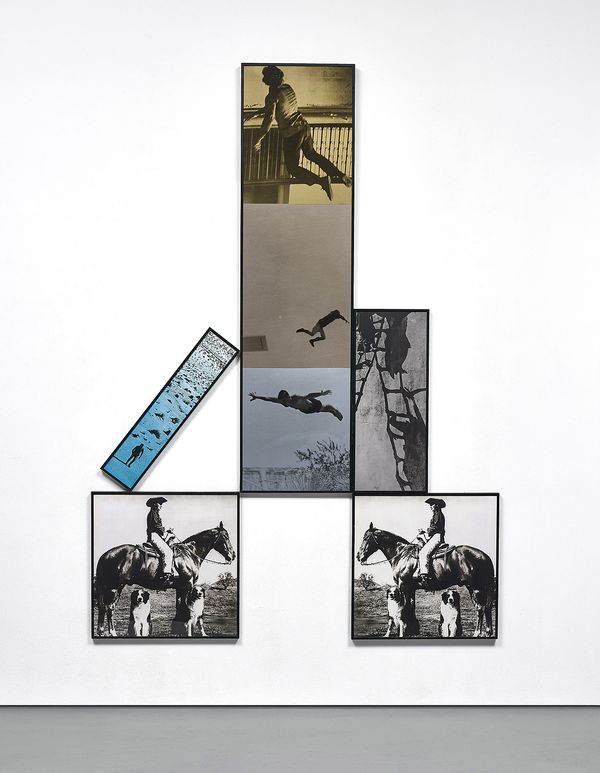 John Baldessari Upward Fall, 1986. This work sold in London for £441,000.
Upward Fall evokes a secular altarpiece, presenting itself in the manner of the Sienese or Florentine compositions of the Quattrocento. A dislocated narrative unfolds as our eyes move from panel to panel. Two cowboys flank the base of the composition. Spaghetti Western thus appropriates centuries of European iconography, as the two grounded figures recall aristocratic patrons and their dogs, commonly depicted at the base of religious altarpieces. They stand guard on horseback, symmetrically reflected, in mirror-like composition. In contrast to the anchoring cowboys, horses and dogs, three figures free fall through air and space at the top of the altarpiece, reminiscent of both Yves Klein's Leap into the Void, 1960 and the Christ's Ascension.
An ascetic sense of vertigo contrasts with the down-to-earth ranchers in an almost humorous collision in Upward Fall. To the right of the composition is a wooden ladder, a further reference to the possibility of heavenly ascension...or is it a descent into hell, as the word 'fall' implies? Baldessari highlights this dualism of meaning, stating, "I am interested in when two images abut each other. It's like when two words collide and some new word in some new meaning comes out of it."
By intentionally cropping out context, Baldessari probes the viewer to dig deeper into his or her own subconscious to construct new storylines. A master in the art of "visual frustration," Baldessari was a powerful inspiration for Sherman, whose Untitled Film Still #53 can only be seized as a fragment. The Californian artist claims, "If I make a picture a guessing game, I might capture your attention for a little longer." Sherman applies this economy of both feelings and context in her own work. Traditionally, film stills are used as a tool for promotion: "the still must tease with the promise of a story [that] the viewer of it itches to be told." By contrast, Sherman consciously refrains to feature strong emotions in her pictures. "In a lot of movie photos, the actors look cute, impish, alluring, distraught, frightened, tough, etc., but what I was interested in was when they were almost expressionless," she declares. In line with this, Sherman carefully selects the close-ups, rare in the series, zooming into specific but enigmatic expressions. Untitled Film Still #53 immerses the viewer into her intimate cinematic realm. The action just happened or is about to happen, thus transforming the spectator into a witness or an accomplice, invited to reconstruct the meaning of the scene—or is it a crime scene? There is as much left outside the frame, if not more, as there is inside it.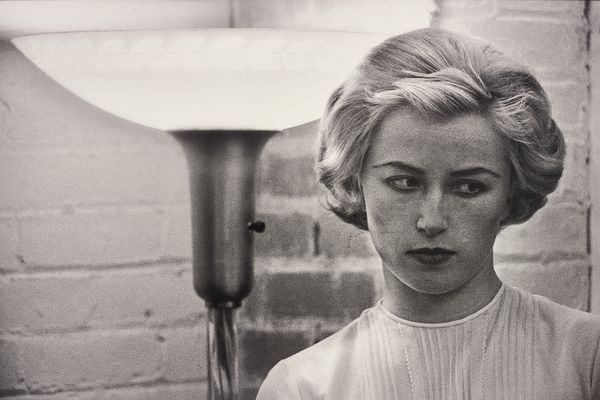 Cindy Sherman Untitled Film Still #53, 1980. This work sold in London for £249,000.
The composition of Untitled Film Still #53 specifically recalls, among other sources, Hitchcock's archetypal film structure. As observed by Sherman, the fate of female characters in early Hollywood films is often tragic: "Rebellious characters are either killed off in the script or see the light and become tamed, joining a nunnery or something…Usually, they die. I think I must have been unconsciously drawn to those types of characters." Untitled Film Still #53 would fit into today's cinematographic sub-genre of psychological thrillers. As with all the impersonated women in the series, the protagonist in this photograph is "on [her] way to wherever the action is (or to [her] doom)… or [has] just come from a confrontation (or a tryst)."
...the clown version of Sherman in 'Untitled #447' enacts an accomplished subversion of the male gaze.
Cindy Sherman Untitled #447, 2005. This work sold in London for £175,000.
Untitled #447, created more than twenty years after Untitled Film Still #53, also tackles issues of identity, gender and desire. While Untitled Film Still #53 pictures a solemn and distant Sherman, evasively looking down, self-absorbed in her own thoughts, Untitled #447 addresses a mischievous gaze at the viewer, urging him or her to look back directly into her eyes, asking to see beyond the overstated layers of make-up covering her face. Overexaggerating the gestures of a sexy pin-up, the cliché of desire is again mocked by the clown dress and the hyperbolic representations of female sex symbols. Both breasts and pubis bone are caricatured. While the film still portrayed Sherman as a female lead from a 1950s movie, cynically conforming to the stereotype of a passive woman whose existence matters solely as an object of desire, the clown version of herself enacts an accomplished subversion of the male gaze.
Cindy Sherman'colorful Clown series is a cogent progression of the artist's interest in disguise, which started in the early 1970s. The clowns represent a universe of their own, exuding a sense of authority and self-sufficiency, yet alluding to nonsense and absurdity. At once sad and hysterically happy, clowns are able to accurately express confusion and tragedy as living embodiments of ambivalence. Commenced in 2003, and stemming from a struggle to "figure out what [Sherman] wanted to say" in the aftermath of 9/11, clowns represented a solution to turmoil and mixed feelings. Ambivalent meaning—emotions that seem to collide and take opposite directions while coexisting—as they did in Baldessari's Upward Fall, became relevant again for Sherman that year. These torn feelings had never ceased to be a key artistic exploration for her, but the clowns seemed to represent their most radical incarnation.
John Baldessari and Cindy Sherman's respective bodies of work, subverting the rules of the photographic medium over time, are inextricably tied in the wider narrative of art history. Both leading voices navigating an increasingly image-saturated society, they continue to challenge prevailing assumptions about visual culture, media and communication today.