What connects all my work is finding the right balance between intention and chance, doing as much as I can and knowing when to let go.
— Wolfgang Tillmans
Rising to prominence in the early 1990s, German artist Wolfgang Tillmans captured scenes of seemingly everyday life, from composed still-lives of shells and sliced fruit to intimate, half-naked portraits. Pivotal within this impressive and varied body of work is the acclaimed Freischwimmer series which showcases Tillmans' adroit ability to manipulate photographic techniques to produce sublime and poetic planes of light and color.
In the introduction to Wolfgang Tillmans: Freischwimmer, the catalogue for the 2004 exhibition organized by the Toyko Opera Cultural Foundation, assistant curator Iida Shihoko writes that Tillmans' photographs "capture the essence of the kind of expression unique to photography." Indeed, it is how one connects his early portraits—images of his friends imbued with the casual aesthetic of a snapshot—with his subsequent abstractions. The former is a celebration of the medium's ability to document the world with immediacy; the latter a celebration of its most basic principle: the transformation of light into line. Indeed, at the core of his work is a keen awareness of the fluidity of the photographic process and its ability to capture the real and to create the abstract.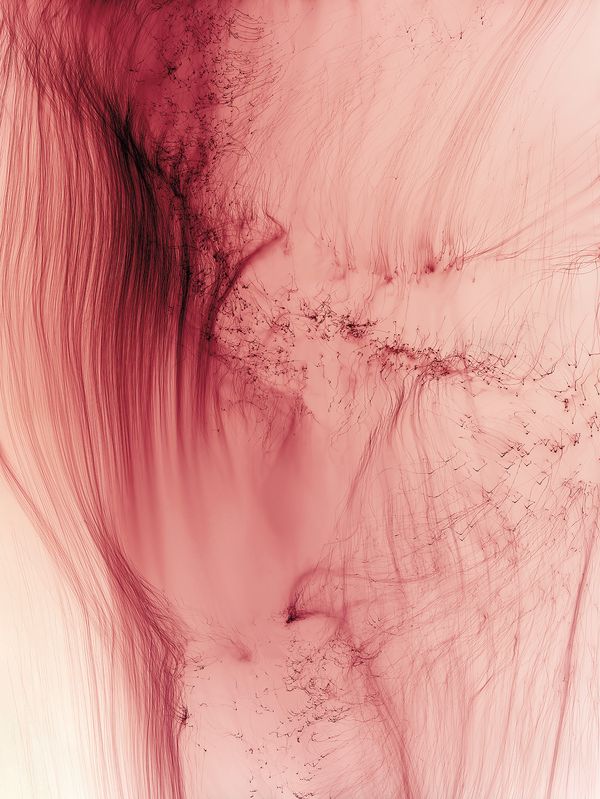 Wolfgang Tillmans Freischwimmer 20, 2003. This work comes to auction in the Photographs sale on 4 October in New York.
Fresichwimmer 20, 2003 and Freischwimmer 34, 2004 are two exemplary works from the series. Created with a manual manipulation of "light-sources and light-emitting tools" over light-sensitive paper in the darkroom, his work references the cameraless photography of his predecessors Man Ray and László Moholy-Nagy, whose practices were similarly reduced to the most elementary components of the medium: light, paper and chemistry.
Translated from German literally as 'free swimmer', Freischwimmer provides a poetic edge to the entire series, denoting the name of a child's badge bestowed to signify the passing of a swimming test. Aptly, the phrase also holds a figurative meaning: learning to stand on one's own two feet. The image's subtext of liberation is evoked in Tillmans' use of laser-light to generate the surface pattern, as the artist relinquishes control and allows light to imprint spontaneously upon the paper's surface.
At the core of his work is a keen awareness of the fluidity of the photographic process and its ability to capture the real and to create the abstract.
Wolfgang Tillmans Freischwimmer 34, 2004. This work comes to auction during the 20th Century & Contemporary Art Day Sale on 4 October in London.
In both examples, Tillmans presents the inkjet print on bulldog clips, subverting traditional notions of pictorial presentation and transporting us to the artist's studio or dark room. Traversing between abstraction and figuration, his execution allows us to interpret the surging, ambiguous form but denies us explicit access to figuratively represented objects and relationships. Tillmans aims to "disturb" the traditional use of photography as a documentation of reality and to expose "an object in space." Instead, the artist presents us with a mixture of paper and dye and an image of mechanics and processing. We also find traces of Tillmans' own childhood fascination with astronomy which added to the artist's development and "visual understanding," as he was quoted in 'Excerpts from Interviews, Lectures, and Notes' from 2015.; this work is evocative of a telescope's visual rendering of the sun's swirling photosphere.
Tillmans has compared his technique of 'light painting' to that of the Romantic British landscape artist, J.M.W. Turner, in that Turner captured light and translated it into matter—as scumbled, encrusted marks of thick paint—whereas Tillmans presents light as palpable, vigorous and present.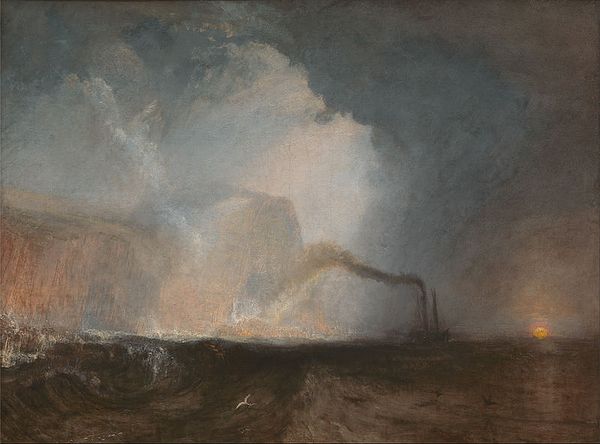 Joseph Mallord William Turner Staffa, Fingal's Cave, 1832. Yale Center for British Art, Paul Mellon Collection, USA. Image: Bridgeman Images
It is important that these are not paintings. As the eye recognizes these as photographic, the association machine in the head connects them to reality, whereas a painting is always understood by the eye as mark making by the artist.
— Wolfgang Tillmans
Weaving an intricate narrative between photography and contemporary art in a manner that challenges viewers' perceptions and expectations, this series has been represented internationally at the artist's recent retrospective, Wolfgang Tillmans: 17, at Tate Modern, London, which later traveled to Fondation Beyeler in Riehen.
Both works will be on view beginning Friday 28 September: Freischwimmer 20 in New York and Freischwimmer 34 in London.