Become an auction insider this fall with Phillips First Reveal. Each Friday we'll be showcasing a new work from our upcoming New York 20th Century & Contemporary Art sales, installing it inside The Box @ Phillips, a newly dedicated exhibition space located in the plaza of 450 Park Avenue at the corner of 57th Street. Each Saturday, we'll unveil the work exclusively on Instagram along with insights about the artist and work from our specialists. Stay tuned for a new reveal each week through 19 October.
First Reveal | Friday 7 September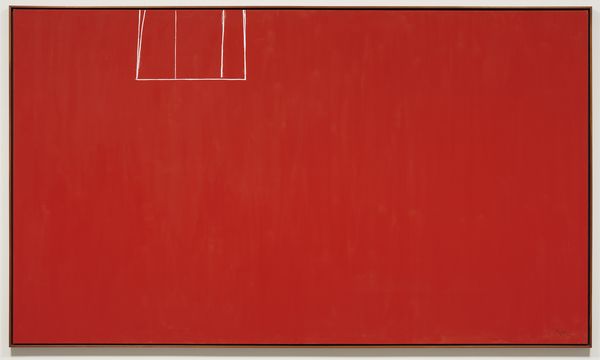 Robert Motherwell Open No. 153: In Scarlet with White Line, painted in 1970. Signed with the artist's initials "R.M" in the lower right.
Visually sparse yet resplendent in color, Robert Motherwell's Open No. 153: In Scarlet with White Line, 1970, envelops the viewer in an atmospheric red color field, the vast expanse of which is only interrupted by minimally rendered white lines. Encountering this work is to experience an overwhelming sense of serenity, contemplation and Zen-like harmony that is wholly unique to Motherwell's Open series, which the artist began in 1967 at the height of his career.
An early example from this seminal series, this painting takes a prime position as one of the three largest paintings that the artist created in 1970, which includes Open No. 150: In Black and Cream (Rothko Elegy), Modern Art Museum of Fort Worth. It is in works such as the present one that Motherwell proves himself a remarkable colorist. Anticipating such paintings as Phoenician Red Studio, 1977, Museo Guggenheim Bilbao, Open No. 153 is a monumental ode to Motherwell's love for the color red.
I have always loved the redness of red in vermillion, Fire engine, scarlet-red range of hues.
— Robert Motherwell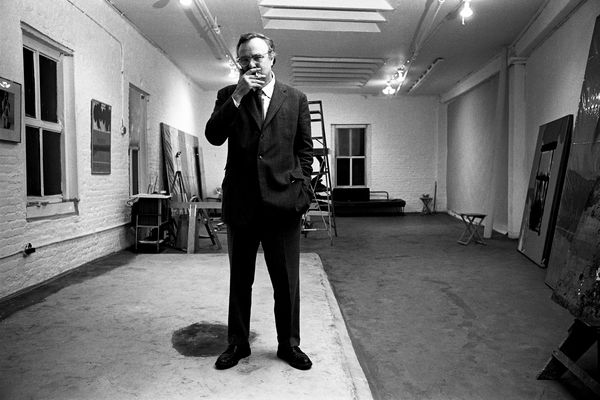 Robert Motherwell in his studio with works from his Open series
Artist Biography
One of the youngest proponents of the Abstract Expressionist movement, Robert Motherwell rose to critical acclaim with his first solo exhibition at Peggy Guggenheim's Art of This Century gallery in 1944. Not only was Motherwell one of the major practicing Abstract Expressionist artists, he was, in fact, the main intellectual driving force within the movement—corralling fellow New York painters such as Jackson Pollock, Willem de Kooning, Hans Hoffman and William Baziotes into his circle. Motherwell later coined the term the "New York School," a designation synonymous to Abstract Expressionism that loosely refers to a wide variety of non-objective work produced in New York between 1940 and 1960.
During an over five-decade-long career, Motherwell created a large and powerful body of varied work that includes paintings, drawings, prints and collages. Motherwell's work is most generally characterized by simple shapes, broad color contrasts and a dynamic interplay between restrained and gestural brushstrokes. Above all, it demonstrates his approach to art-making as a response to the complexity of lived, and importantly felt, experience.
Insights
- Motherwell is perhaps best known for his iconic Elegy to the Spanish Republic series, in which he painted more than 150 variants of large black forms onto white backgrounds. In May 2018, Motherwell's At Five in the Afternoon from his Elegies set a new world auction record when it sold for $12,690,000. Read more >
- In 1940, Motherwell matriculated at Columbia University and studied art history under the redoubtable art historian Meyer Schapiro.
- In 1951, Motherwell joined the faculty at Black Mountain College and taught artists like Cy Twombly and Robert Rauschenberg.