Hank Willis Thomas The Liberation of T.O. I'm not goin back ta' work for massa in dat' darn field, 2003
This spring, Phillips debuted a series of intimate panel discussions about the critical significance of the art gallery and the evolving relationship between artists, galleries, auction houses and collectors. Moderated by Arnold Lehman, Senior Advisor at Phillips and former Director of the Brooklyn Museum, Art Matters brought together a variety of voices from today's global art community, including artists Hank Willis Thomas, Joel Shapiro, Sharon Core and Liliana Porter and gallerists Jack Shainman, Yancey Richardson and Pace's Douglas Baxter.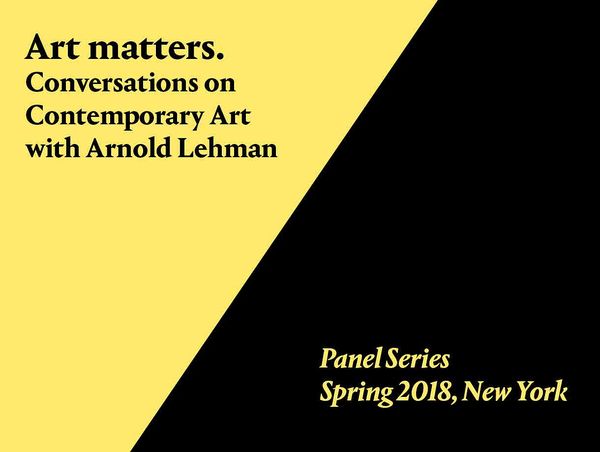 This fall, Art Matters will expand to London with a series of discussions hosted by Francesco Bonami, Senior Advisor at Phillips and former curator of the Venice Biennale.
As we look ahead to a new season, watch our first-ever panel series from this spring at 450 Park Avenue.
1.
Art Matters, Part 1
28 March 2018
Panelists: Gallerist Jack Shainman; artist and activist Hank Willis Thomas
2.
Art Matters, Part 2
17 April 2018
Panelists: Pace Gallery President, Douglas Baxter; artists Fred Wilson and Joel Shapiro
3.
Art Matters, Part 3: Radical Women in Latin American Art
8 May 2018
Panelists: Curator Carmen Hermo; artists Liliana Porter and Tania Bruguera
4.
Art Matters, Part 4: Photography
4 June 2018
Panelists: Gallerist Yancey Richardson; artists Sharon Core and Andrew Moore
Art Matters: Fall 2018 Dates
Tuesday 2 October, New York — Sean Kelly
Wednesday 3 October, London — Contemporary Ceramics
Monday 15 October, London — Italian Design
Sunday 4 November, New York — The Haas Brothers
Monday 5 November, New York
Monday 10 December, New York
If you haven't already registered, sign up to receive emails about our upcoming auctions, exhibitions and special events at Phillips in New York, London, Paris, Hong Kong and other cities around the world.