By Elizabeth Semmelhack, Senior Curator at the Bata Shoe Museum, Toronto
Sneakers are not blank canvases.
Their various forms and functions are embedded in a larger cultural nexus that moves them far beyond the bounds of athleticism and sport. Indeed, since their invention in the middle of the nineteenth century, sneakers have been central to expression of status, group cohesion and, increasingly, self-expression.
The storied histories embedded in classic silhouettes, the cultural significance of specific brands and the increasing importance of sneakers in the creation of personal identity intersect with gender, race, socioeconomic position as well as the politics of inclusion, exclusion and cooption.
Today, prominent artists are engaging with the complicated cultural significance of sneakers by creating thought-provoking and highly coveted works that straddle the divide between fashion and art. Their work points to new directions that sneakers can take as vehicles for social engagement. Their work also triangulates the relationship between brand and consumer through their active reconstruction and reconfiguration of the widely sought-after name brand products.
From works that reimagine the architecture of sneakers to those that use sneakers to advocate for change, the works in our 'Tongue + Chic: Sneakers x Artists' exhibition—on view at Phillips New York now through 31 August—show just how far a pair of sneakers can go.
'Tongue + Chic' Highlights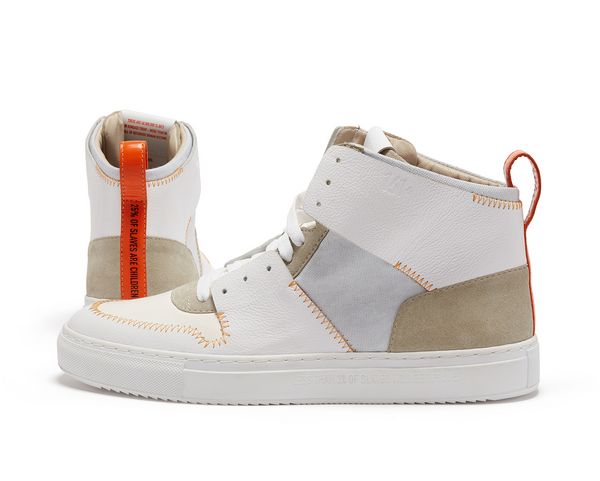 TBWA NY x Thomson Reuters Foundation x Shoe Surgeon, 2018
The Thomson Reuters Foundation is committed to ending modern slavery. Today, it is estimated that over 40 million people are enslaved globally—more than in all of human history—and slave labor has infiltrated the supply chains of almost everything we consume from food to fashion and technology. Although the scope of this exploitation might seem overwhelming, raising awareness of this issue can lead to meaningful solutions. This is what motivated the Thomson Reuters Foundation to reach out to TBWA NY. Inspired by the mission, TBWA NY decided to use the power and influence of sneakers to convey Thomson Reuters Foundation's message. They commissioned the Shoe Surgeon to hand make a pair of bespoke sneakers subtly interlaced with facts and messages about modern slavery, symbolic of how forced labor is hidden deep within supply chains. The tension between the elegant handmade sneakers and the haunting narrative spun through their design has indeed garnered much-needed attention to this worldwide problem.

Phillips will auction these single edition sneakers with proceeds going to the Thomson Reuters Foundation.
Shantell Martin's worn and drawn upon Converse All Stars
Shantell Martin's drawn line weaves across mediums, questioning boundaries and drawing viewers into larger conversations. Committed to making connections between people and ideas, Martin draws on many things, including sneakers. For years, Martin has customized her own footwear, frequently debranding and then rebranding her sneakers by using them as canvases for her work. In 2016, she was approached by Puma to do a collaboration that resulted in a line of clothing and sneakers covered with her recognizable mark. Seen above are a pair of Converse All Stars customized for her own personal use, one of two pairs by Martin that feature in 'Tongue + Chic'.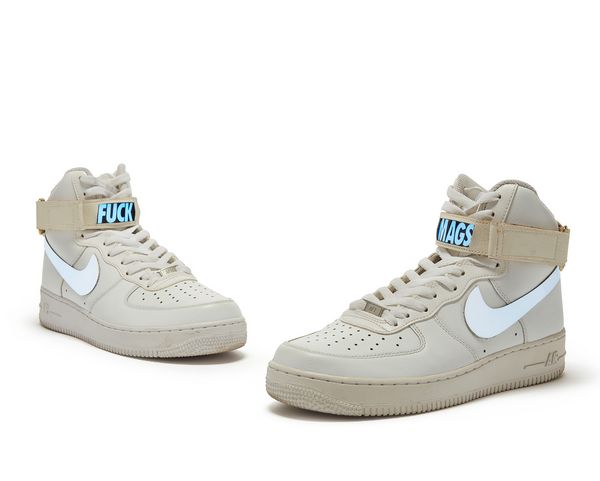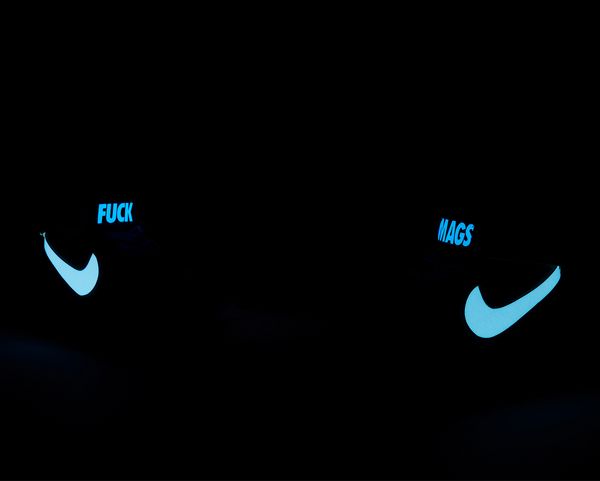 Theheyyman, Fuck Mags, 2012
Theheyyman, Nicholas Avery, began customizing sneakers in Buffalo, New York and, in 2012, he made this ironic pair of Fuck Mags in reaction to the extremely limited release in 2012 of one of the most coveted sneakers of all time, the Nike Air Mag. Avery had dreamt of owning a pair of Air Mags since he first saw Back to the Future II, the 1989 iconic film which featured the self-lacing sneakers of the future. With no possibility of being able to afford a pair from the 2012 release—the few that were available were auctioned off to raise money for Parkinson's research in honor of Michael J. Fox, the star of the film—Avery decided to make his own version. He researched how the internal lights in the sneakers worked and experimented with various patterns, eventually creating the Fuck Mags to "capture the feelings of true sneakerheads at that time."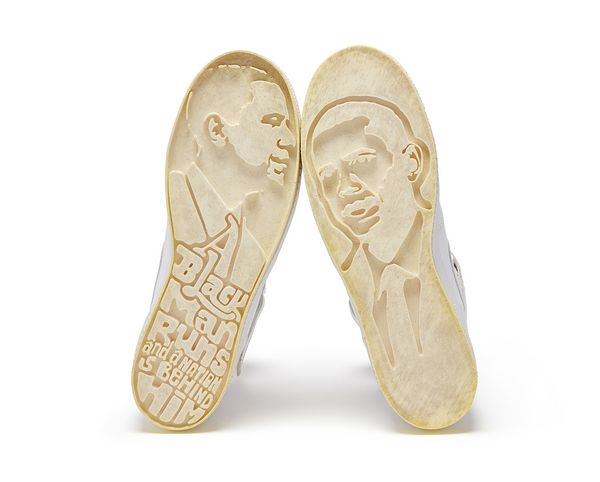 Jimm Lasser, Obama Force One, 2008
In 2008, Jimm Lasser wanted to mark what he considered to be the most significant moment in the history of his generation, the election of President Obama. He took a pair of iconic Nike Air Force 1s and transformed them into a commemorative sculpture through the addition of customized rubber soles. One sole is meant to be read as though we are behind Obama following his lead and features the text of Clarence Ford. The other is designed to leave an imprint of Obama's portrait marking his advance. Lasser is a Creative Director at Wieden + Kennedy, whose work, both public and private, pushes boundaries.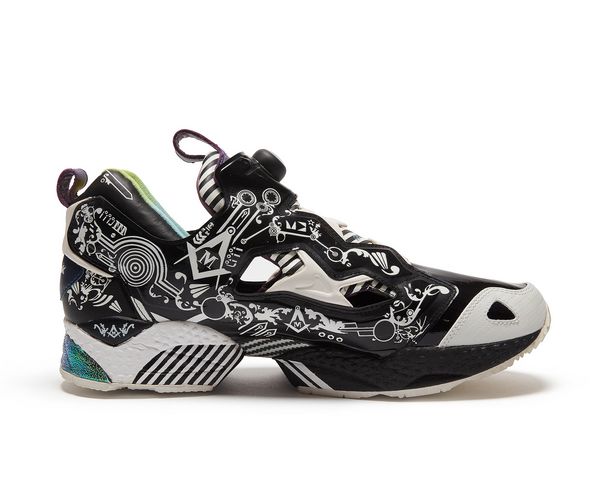 Kenzo Minami x Reebok InstaPump Fury, 2005
In 2005, Reebok approached artist/designer Kenzo Minami to do an InstaPump Fury collaboration as part of their I AM WHAT I AM campaign. The resulting limited edition release of only one hundred pairs quickly became a highly desired collaboration. The original InstaPump Fury was designed in 1993 by Steven Smith. Its radical architecture was shocking. Even today, it remains one of the most forward-looking sneaker designs and is a perennial favorite for collaboration. Minami used his signature chaotic yet tightly controlled graphics to embellish the InstaPump Fury.
Browse the full selection of sneakers on view here.